Real Weddings
Tips and Trends
|
February 19, 2021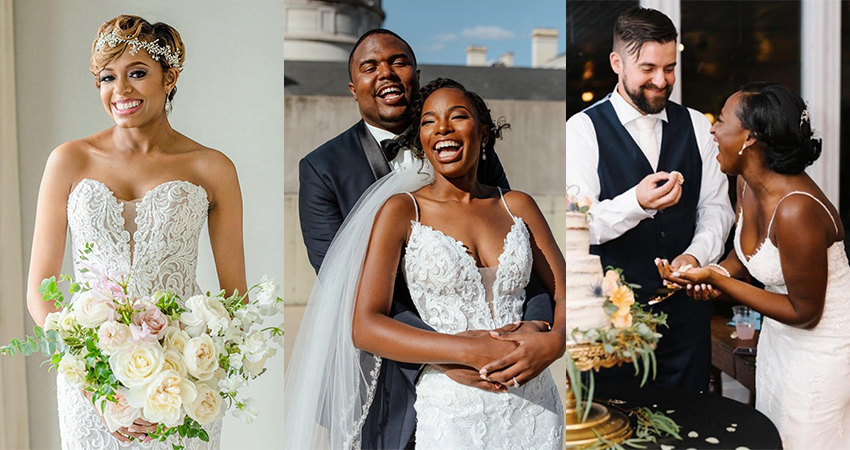 So many widely-known phrases, traditions, and practices originate from Black cultures, but the origination is not widely known. By sharing and amplifying Black voices and stories, we can truly see how intertwined our cultures are and also how important Black culture is in the overall influence of our society. Read on to hear some of our favorite stories from black brides!
Dress: Tuscany Lane by Maggie Sottero
Wedding Tradition:
Everyone know the phrase "tying the knot," right? Well its not so widely known that it originated from an age-old African ritual! This ceremony features a bride and groom with their wrists ties together, either using a Kente cloth, a string of cowrie shells, or another material.
The couple then share their vows in front of the officiant, who ties the knot in the rope for them, confirming their commitment to each other and their marriage.
Photographer: @lovelylight_imagery⁠
Dress: Nola by Maggie Sottero
Love Story:
Loving v. Virginia (1967) was a monumental civil rights case that protected interracial marriage under the Equal Protection and Due Process Clauses of the Fourteenth Amendment to the U.S. Constitution. Read on to see how this #MaggieBride's had her love story tie in to this landmark case.
The Proposal
"Eric had asked me to marry him on the 50th Anniversary of the Supreme Court case Loving v. Virginia, which legalized interracial relationships next to an exhibit in a DC museum memorializing the occasion.
He had hoped to get married on that day (June 12, 2017), but decided to just propose to me instead. We still wanted a super important date to get married on, so we chose the date of our fifth anniversary together (September 8). "
The Dress
"When we first got engaged, I had imagined a somewhat different dress. Something tight, with long sleeves and lots of lace. I tried on Nola though, and it was absolutely breathtaking. It was the first dress of nine that I tried on, and I could not get my mind off of it each time I tried an additional one on. The dress was absolutely stunning."
The Wedding Day
"We got married at Seasons at Magnolia Manor in the small town of New Windsor, Maryland which overlooks the Catoctin Mountains. Our photographer, Winnie, was amazing. She came with a team of people to help out and captured every imaginable photo. She is great with lighting, so even with the rain, the photos were bright and romantic."
"We used stamps on our invites that had a photo of the museum we got engaged at–which Winnie included in our photos. This was an extremely hard year for our family, as Eric had lost his grandmother shortly before we got married.
We included lots of little details–like the mints that Eric always used to get at her house, a special seat at our reception for her accompanied with roses. We also had our dogs there–because they are our family! They wore peach bowties to compliment the guys accessories and the accent flowers in the bouquets. Despite the rain, the day was absolutely perfect."
Dress: Tuscany Lynette by Maggie Sottero
Wedding Tradition:
Who had their spouse ask for your parents' permission to marry you before they proposed? Well this tradition can actually be traced back to Ghana! One version of the tradition from Ghana is called Knocking on the Door, and is also known as kokooko. Read on to learn more about this Black wedding tradition!
First, the groom knocks on the door, asking permission to enter the home. The groom then provides gifts to the family, such as alcohol or money. After making his desire to marry his girlfriend known, the family then discusses the groom as a prospect before the father then gives his blessing for the marriage.
When the 'dowry' or other terms are determined, the father then asks the bride if she wants to be engaged x3 times. After the bride's final answer, the engagement becomes official and the entire family celebrates!
Dress: Florina by Rebecca Ingram
Wedding Tradition:
The Libation Ceremony! Alcohol seems to be a staple at sooo many weddings, but one Black wedding tradition uses libations, such as alcohol or holy water, to honor loved ones that have passed or acknowledge the elderly present at the wedding. During the ceremony, the libation pour in each direction: north, south, east, and west.
Toasts and prayers follow that help connect the couple to their ancestors. This ceremony is also held so that the married couple can gain wisdom and guidance from their ancestors that have passed on. What a sweet way to honor your ancestors! So many black bride's stories feature wonderful traditions.
Photographer: @emmanphotography_
Dress: Tuscany Lynette by Maggie Sottero
Love Story:
"Ryan and I met in 2012 at the University of Maryland, College Park while working as Resident Assistants. We became each others' favorite people to walk rounds with!
From late-night study sessions in our on-campus residence hall, waffles with friends on Saturday mornings in the Dining Hall, Walking Dead and House marathons when we should have been studying, playing intramural flag football together to finally learning senior year we wanted to be more than just friends.
Seven years later from when we first met, long-distance, 4 states, multiple degrees, a few moves we finally got to say I Do in front of all of our family and friends.
The Dress
The very first dress I tried on was my Maggie Sottero dress. I tried on other dresses and even visited other shops, but nothing made me smile inside and out like the Maggie Sottero Tuscany Lynette. I knew it was the one. My Mom passed away when I was little. I dreaded the wedding dress shopping experience without her, but the women in my life supported me on that day and helped me find the dress of dreams and it fit me incredibly.
The Venue
When I dreamed of our Wedding I always imagined a dark, moody, Fall industrial wedding. I knew that a traditional ballroom, event hall wasn't quite my style. We really wanted to pick a venue that would have a convenient location for all of the guests and decided Ryan's hometown of Baltimore, MD would fit the urban feel we wanted and provide lots of opportunities for guests to make it a long weekend.
We visited The Assembly Room with our parents in May 2018 and we fell in love. The exposed brick, the high ceilings, built-in bar, the natural light upstairs, and the flexibility of the space were a dream. My husband is an engineer so he was super into the structure of the space.
I knew that I wanted our colors to be burgundy and navy because they were the perfect Fall colors with florals like black dahlia and burgundy protea. I spent hours and months on Pinterest looking at florals and decor. Ryan sat back and told me to do my thing. He wasn't super into the planning, but loved seeing how happy it made me…as long as I didn't go crazy out of budget.
The Wedding Day
When planning our wedding I knew that the moody, industrial look would not be complete without filling the space with romantic candles everywhere. I wanted candles and lanterns on tables, ledges, the stairs, the alters, the entryway, seriously anywhere possible. It added a glow to the room and complimented the brick and the string cafe lights that hung around the space.
When I looked around the room it was the true industrial romantic wedding I dreamed of. My Dad and I did a surprise fun Father-Daughter dance complete with the Jackson Five, Stank Lag, and a few other throwback songs.
Our day was absolutely magical in all the best ways from the incredible food to the ring bearer running down the aisle, to the most amazing DJ who kept the floor packed and had guests excited for every song he played. I can't imagine a more perfect Wedding."
Dress: Alistaire by Maggie Sottero
Wedding Tradition:
Tasting the Four Elements is a tradition that originated in West Africa. Couples taste four 'elements' that represent the various stages within a marriage: cayenne for spiciness, vinegar for bitterness, honey for sweetness, and lemon for sourness. Guests are very fond of this tradition and seeing the various facial expressions of the couple when they taste the separate 'elements.'
Photographer: @terribaskin
Dress: This style is discontinued, but discover our Mavis gown
Wedding Tradition:
Jumping the broom is a tradition performed after vows are exchanged at some Black weddings. The newlyweds will hold hands and jump over the broom to seal their union. Swipe to see this couple jump the broom! And read on to learn about this black bride's sweet story.
Love Story:
"I was born and raised in Nairobi Kenya. Later, I came to the (US) for my undergraduate degree at University of Connecticut. Tiedah was born and raised in Connecticut. On an unexpected night in July 2013, we bumped into each other in the parking lot of a restaurant in Hartford on a girl's night out. I literally almost ran him over with my car! I was frustrated with the amount of chaos in the parking lot and that he wanted my number. My friends encouraged me to get his number instead. After a week of contemplating whether I should call I finally did & we hit it off. We have been inseparable ever since.
In 2016 Tie, who had never stepped a foot in Africa, traveled to Nairobi, Kenya where my parents resided. He asked for my hand in marriage from my father. Little did I know he would muster up the courage on his first trip. He cited the fact that he didn't travel all that way for nothing. My father's condition was that I finish school, so I did in 2018. We finally said our civil vows in May, 2019. It was in front of Tiedahs close family & friends in Connecticut.
We jumped the broom to signify tying the knot in African American tradition…. [Then] we rallied up a few of Tiedah's family, and flew them to Kenya Africa for the first time along with my Maggie dress in tow. We hosted a Kenyan tribal wedding, first. 3 days later we hosted our part 2 Catholic Ceremony wedding at St Austin's in Kenya in front of 300 members of my family. We feel highly blessed knowing we could celebrate both joyous days with families from 2 parts of the world."
More Real Wedding Inspo:
Love reading about these real brides? Submit your own images and story here!
For more real wedding inspo from black brides, check out these blogs!
Ultra-Romantic Styled Shoot Featuring a Sleeved Boho Wedding Dress
Fairytale Wedding at Disney's Pandora the World of Avatar
Classic Wedding Featuring Elegant Details and a Historic Venue