Dresses
Real Weddings
|
January 12, 2018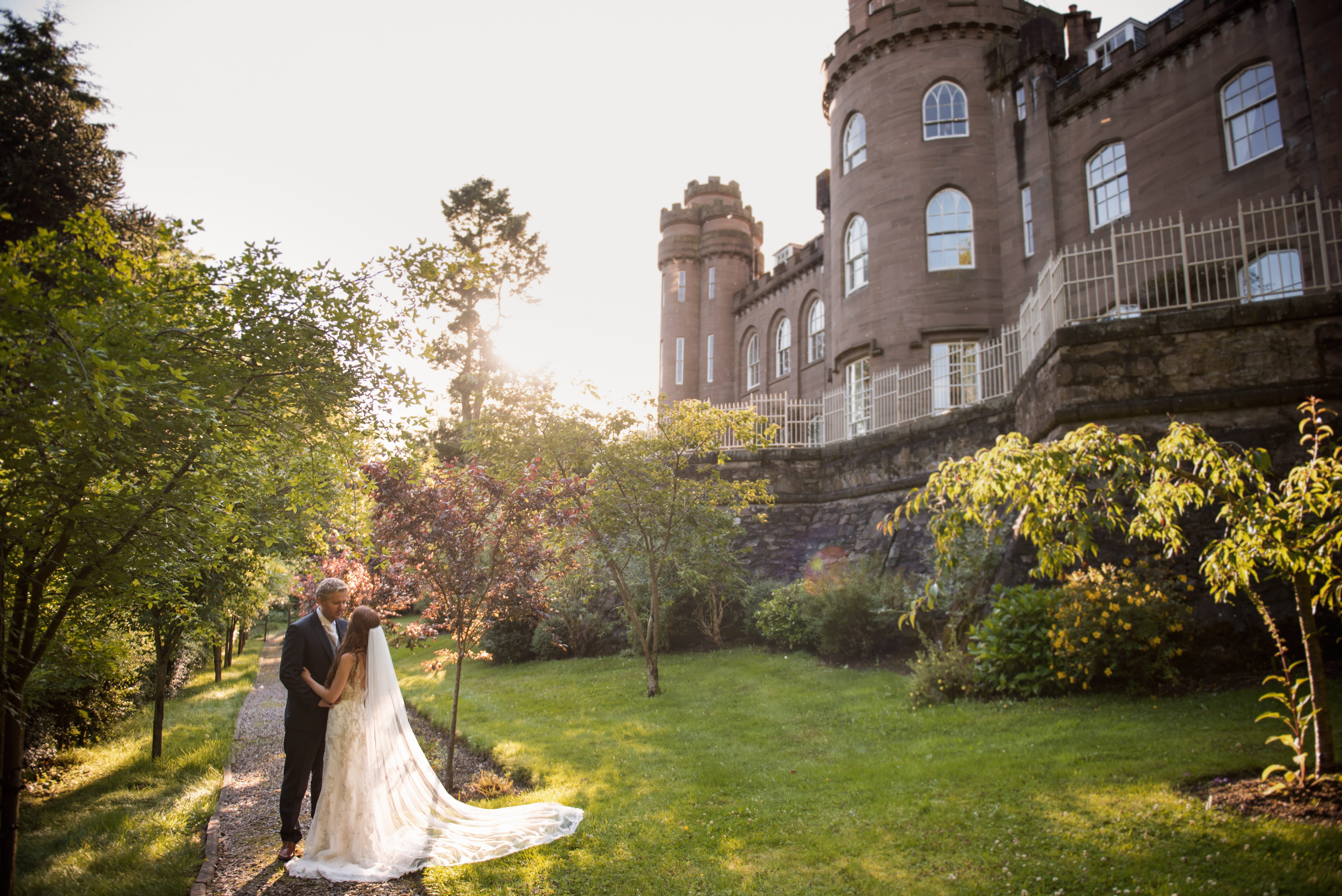 Our favorite thing about Natalie and Adam's Scottish wedding is the personal touches—the bride truly wanted to create a lovely experience for her guests, from the unity candle ceremony to the speeches and reception extras. We're also quite thrilled (not surprisingly) that Natalie fell in love with vintage-inspired gown Greer pretty much the moment she tried it on… keep scrolling!
This lovely UK occasion was captured by Karolina Kotkiewicz Photography. Head to an Authorized Retailer to experience more golden dresses by Maggie Sottero!
Which Maggie Sottero gown did you wear?
Greer in Ivory/Pewter Accent, purchased at the Harrogate Wedding Lounge.
| | |
| --- | --- |
| | |
How did you know when you found "the dress"?
I knew even before we got engaged I wanted to be a Maggie bride. I went to many wedding fayres for inspiration but only your gowns stood out to me. They are just so intricate and beautiful! Then I saw a trunk show was coming to the boutique near me so I just had to go. That's where I tried on Greer for the first time. I had a bit of a battle with myself as my venue was a Scottish castle so I thought I should go for a big princess ball gown, but I just didn't feel like 'me' in them and I just loved how flattering the dress made my figure look. The color was just amazing but I thought, "No Natalie, you can't just get the first dress you try on." So off I went to pretty much all the dress boutiques that North Yorkshire has to offer, I think I must have tried on the entire Lisette collection along with many Sottero and Midgley gowns but I just kept thinking about the first dress in the first shop! Greer. So that was it I went back to the first shop and ordered it in ivory. I felt amazing but I thought something was missing—I didn't really like any of the veils I tried on. I wanted something WOW so I asked the boutique to order extra lace from the dress from you, and the seamstress made me a matching chapel length veil in ivory, which just completed the look.
| | |
| --- | --- |
| | |
What was your favorite part of the dress?
Hands down the intricate bead embellishments on the lace with the Swarovski crystals—so timeless and vintage. I never thought I wanted a "blingy" dress but details were just beautiful and there was just the right amount of sparkle to catch the light. As I'm quite fair being a natural redhead, I loved the color of the lace and beads (had a champagne tone to them) along with the warm creamy ivory slip made the perfect pairing and really complemented my coloring. I felt like a princess in it and the most important thing was I wanted to be able to dance and feel comfortable but show off my figure, which is usually a lot to ask from a dress, but this one did! (and boy did I dance to our Scottish Ceilidh band…I kicked off the Jimmy Choos and danced like Rose off Titanic!)
| | |
| --- | --- |
| | |
How did you and your partner meet?
I actually met my partner when I was working in Lincoln City as an estate agent. In order for me to progress in my job I needed to be able to drive but I needed extra funds to carry out my driving lessons and test. Then along came Adam—he runs student nights and events and asked if I wanted to work for him. So I did—I worked two jobs and he was kinda like my boss? Which is quite funny as I'm completely the boss now haha! He would always offer to make sure I got home okay and was not the stereotypical 'lad' that promoters tend to be, so yeah, we just started dating and the rest was history.
| | |
| --- | --- |
| | |
| | |
| --- | --- |
| | |
How did he propose?
As we have a little Cavalier King Charles called Charlie, we tend to go on holidays where we can take him and shut off from the world. Last December we booked a beautiful ski lodge in the Cairngorms, a mountainous range in Scotland. It was covered in snow and had no neighbors around for miles, which was our idea of heaven. So one morning without me knowing, Adam decided to take a hike up a mountain. He then suggests we take a walk to go and watch the sun set. We started walking and I kept asking him to "Get a move on," "This was your idea," "My feet hurt, shall we go back," etc., not knowing he'd already hiked up that morning (poor guy), but when we got to the top the views were amazing and there was this old weathered wooden picnic table, with a blanket of snow on top and an ice bucket with champagne nestled in it—I thought what on earth this is so random? But then as I got closer I saw two glasses and as I looked around there he was on one knee with a Tiffany box and our little puppy sat down next to him and he asked me "Will you marry me?" And it just started snowing, like nature's confetti. Very romantic. I said "Yes!" and cried a little, and we sat and had some champagne and enjoyed the views. Then had a rather funny drunken walk down the side of a slippery snowy mountain. He had the ring with him for a good few days before that just waiting to find the perfect spot.
| | |
| --- | --- |
| | |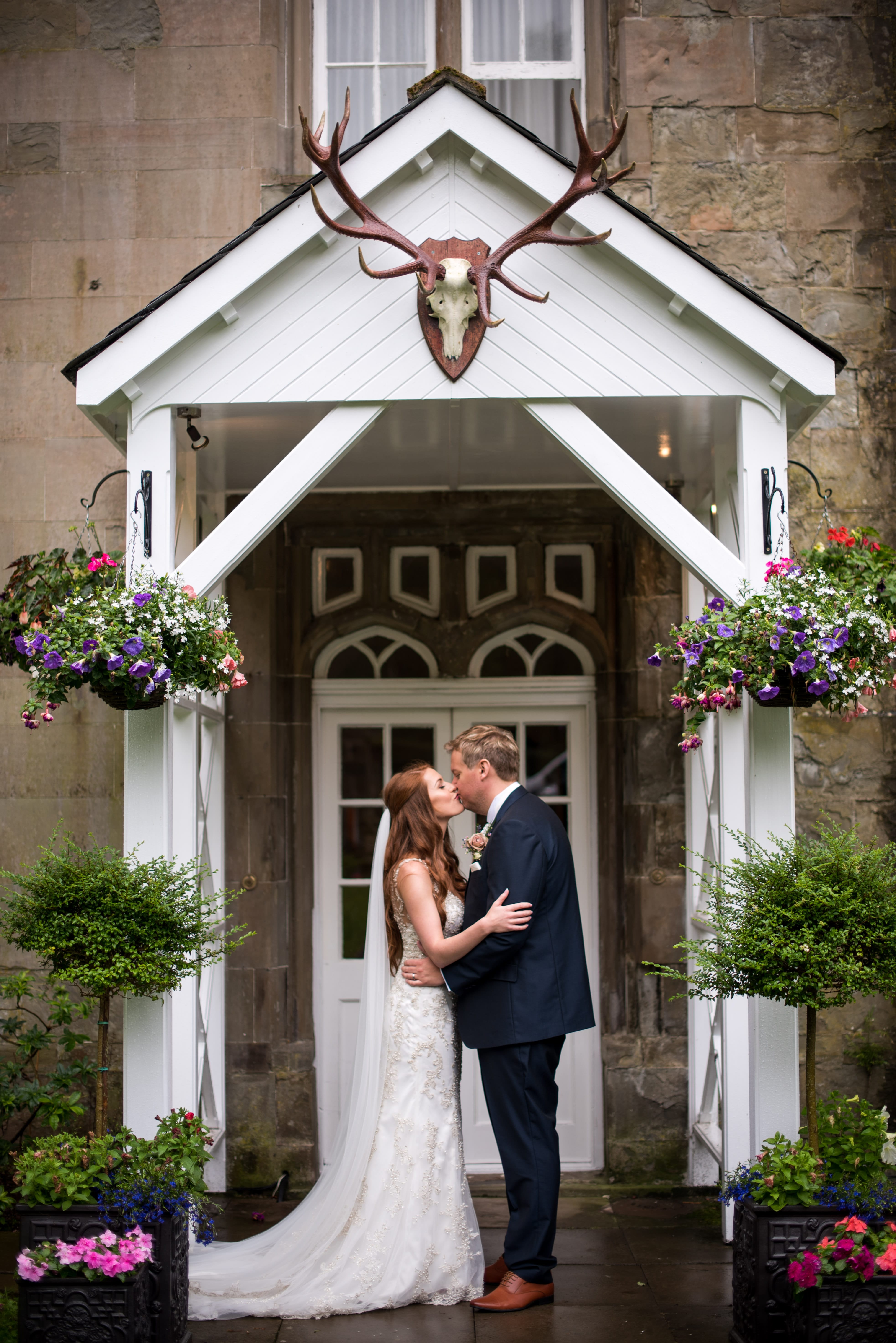 | | |
| --- | --- |
| | |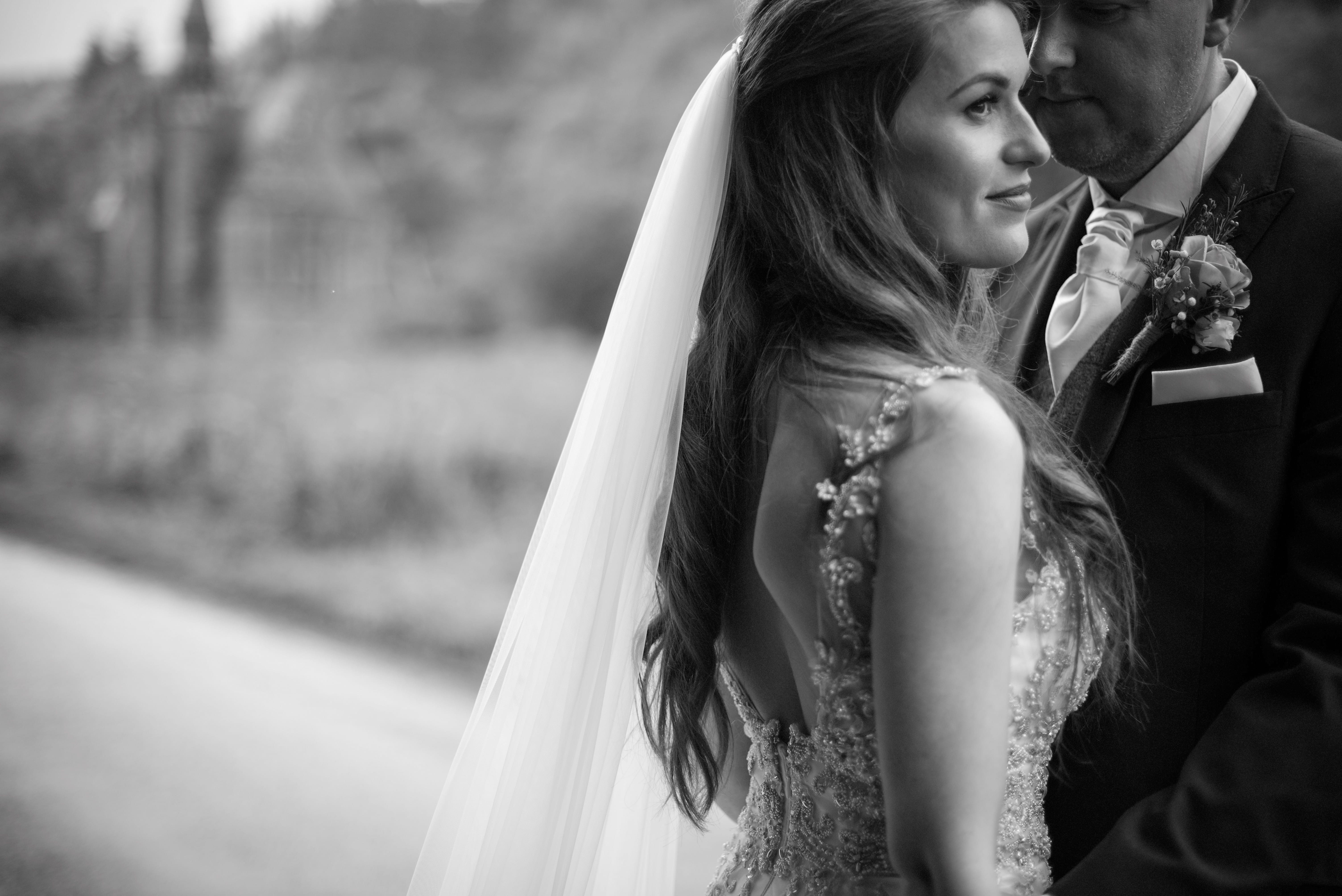 Where did you get married?
We decided as Scotland holds many great memories for us that this would be the perfect place to continue to make more memories. I searched through Google and came across the stunning 19th Century Scottish Drumtochty Castle hidden away in a wild woodland glen. You can hire the whole castle exclusively for two days, which was just perfect. Just a short carriage ride to the castle gates takes you to the fairytale church of St. Palladius which iswhere we had our ceremony. We didn't fill the church as we wanted a small intimate wedding with around 50 guests.
| | |
| --- | --- |
| | |
Did your wedding have a theme?
I love vintage, classic and rustic. So it's a combination of all these really. I'm an artist and graphic designer by trade so I designed all our wedding stationary and I also painted the church on the order of service and all the wedding signs myself. I just love putting a personal touch to things, I think it means more when you know how much effort you put into it. I love love love lavender; the smell, the color and seeing it in summer in bloom, usually full of bumblebees and life. So we went for a dusty lavender color scheme with soft pinks. As the castle is situated in a woodland glen, I wanted to bring some of that inside which was the inspiration for our cake and table centerpieces. There were a lot of Scottish influences too—we didn't go for kilts as were not actually Scottish, but we included Tweed waistcoats. Tweed derives its name from its association with the River Tweed which is indeed in Scotland. We also had a bag piper to set the scene on the morning. I've always wanted my fairytale happily ever after, so there were a few references to that in places, like Donald the horse, who took me to the church in the carriage and then me and Adam back to the venue. Donald was absolutely gorgeous but he had arthritis so he was very very slow (bless him) making me a "wee" bit late to the ceremony. We did giggle on the way back to the castle I always wanted my prince to whisk me away on his trusty arthritic steed.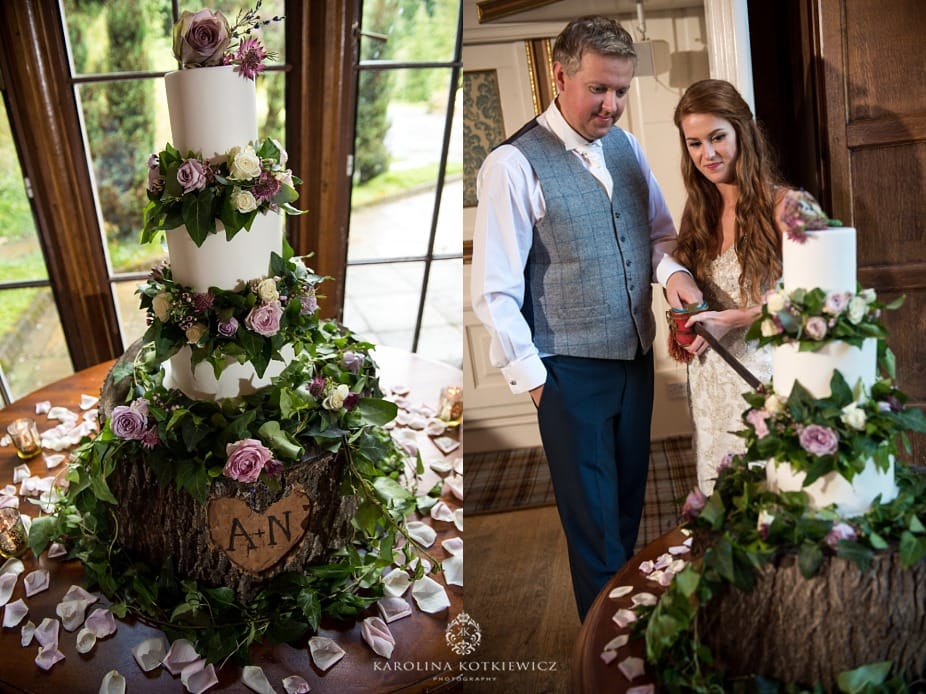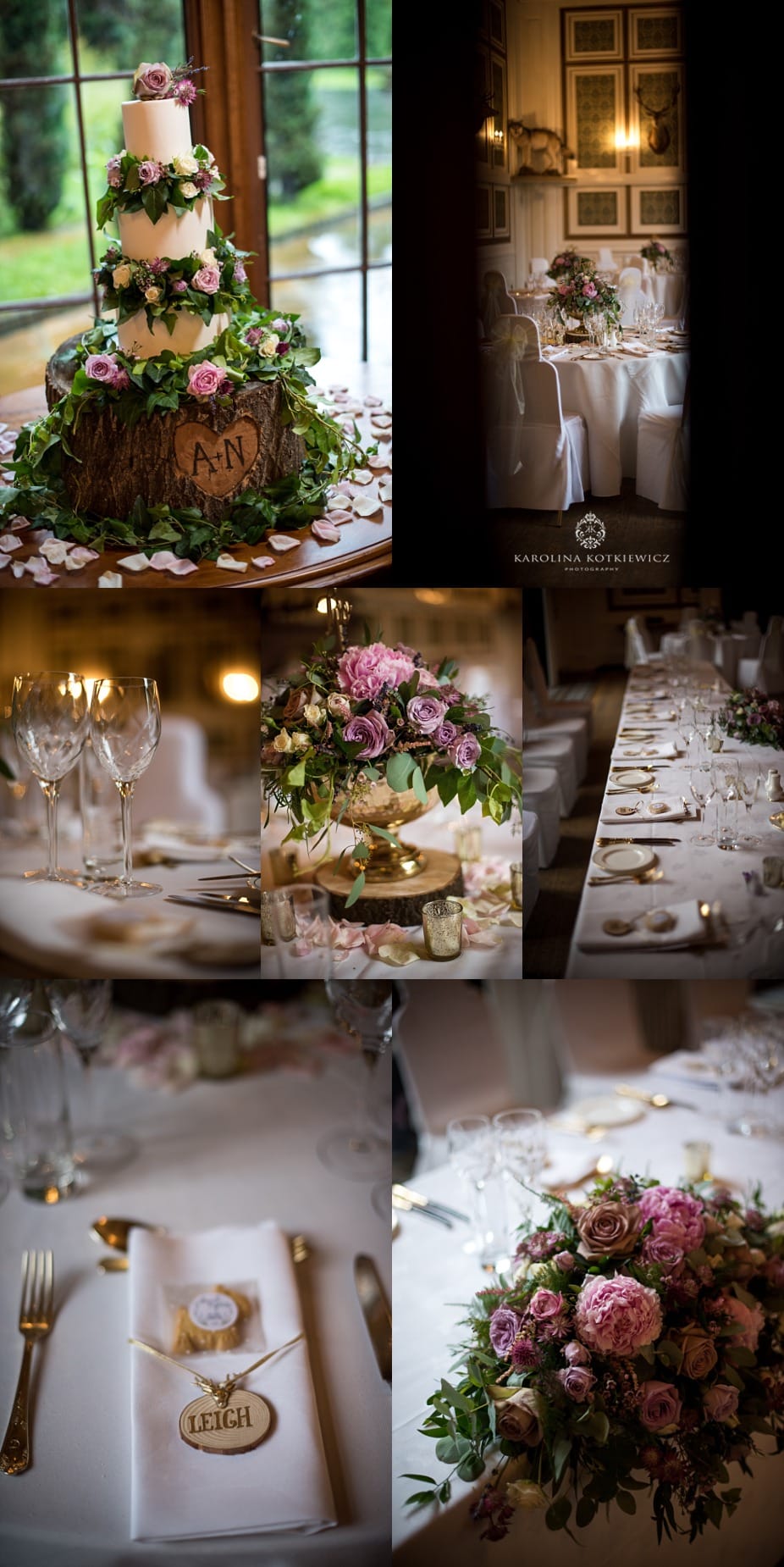 How did you decide what you wanted your wedding to look like?
I think it's a combination of seeing many blogs of other people's weddings but also wanting to create something that could be Pinterest-worthy. The main thing for us is we wanted people to relax, enjoy themselves and when they left they felt like "That was a great wedding" and that they not only had shared in our special day but also felt like they had a little break too.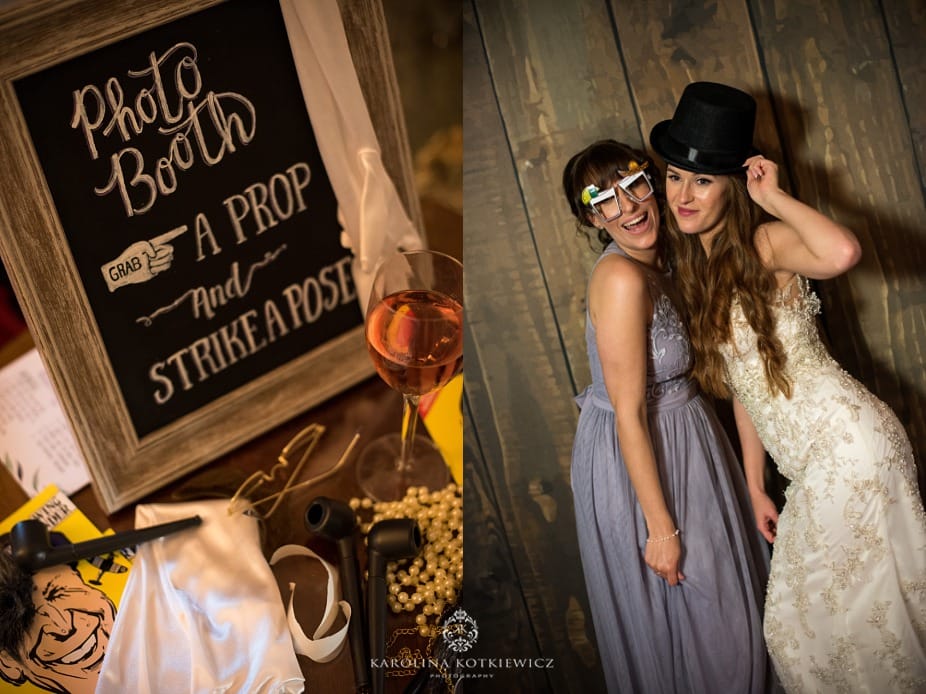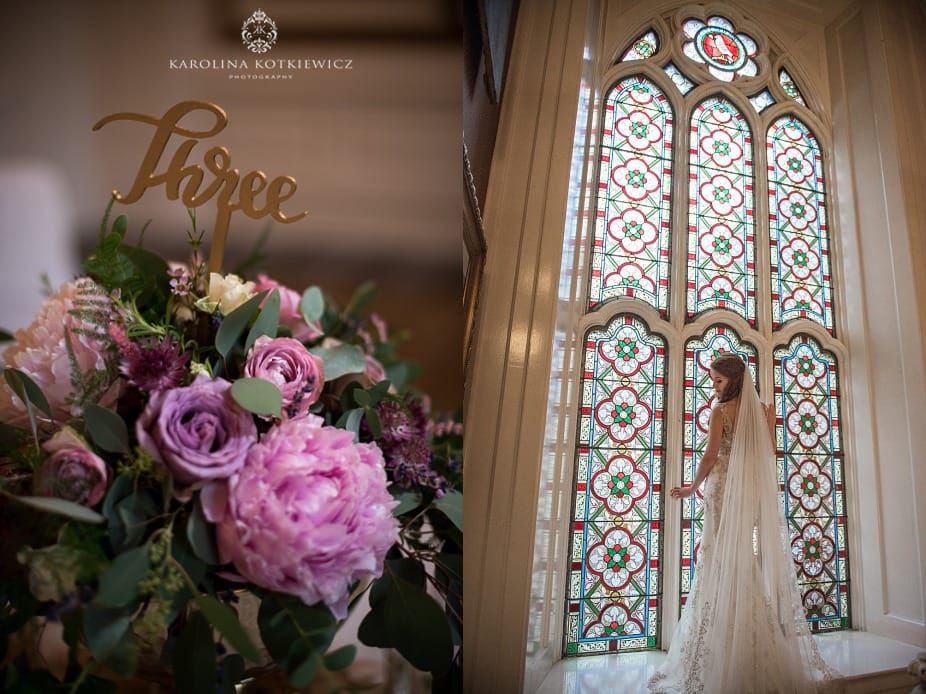 What was your favorite wedding day moment?
Adam's speech—he's a very got-it-together business man and doesn't really show emotion in front of people, but right there in that moment he was just a guy standing up in front of a room full of people talking about the girl he loves. It was short and sweet but he had to stop to compose himself and it just showed me how much I mean to him—I didn't need a lengthy "Reasons why I love you" paragraph. It was real and I was just in awe of him. The whole room could feel it too and there wasn't a dry eye. Also The candle lighting ceremony—it's not very popular here in the UK, I took a spin on it. We lit our candles from the unity candle which was lit throughout the wedding, then our parents came and lit theirs from us, who lit the person's next to them and so on—and then it was just magical seeing the flicker of everyone's candles sharing the light and love to the sound of a harp playing and my aunt reading a poem.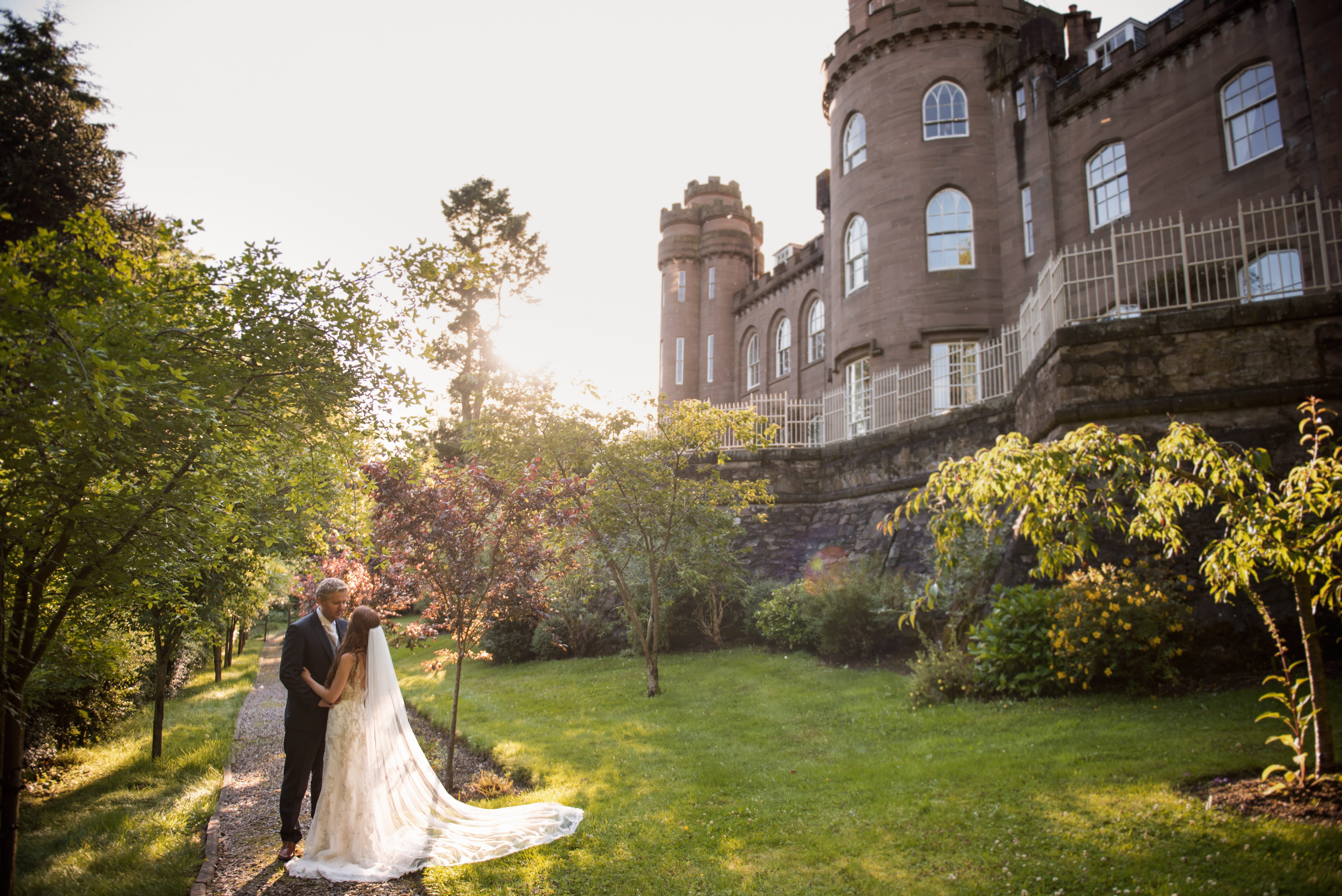 | | |
| --- | --- |
| | |
Describe your wedding in one word.
Magical.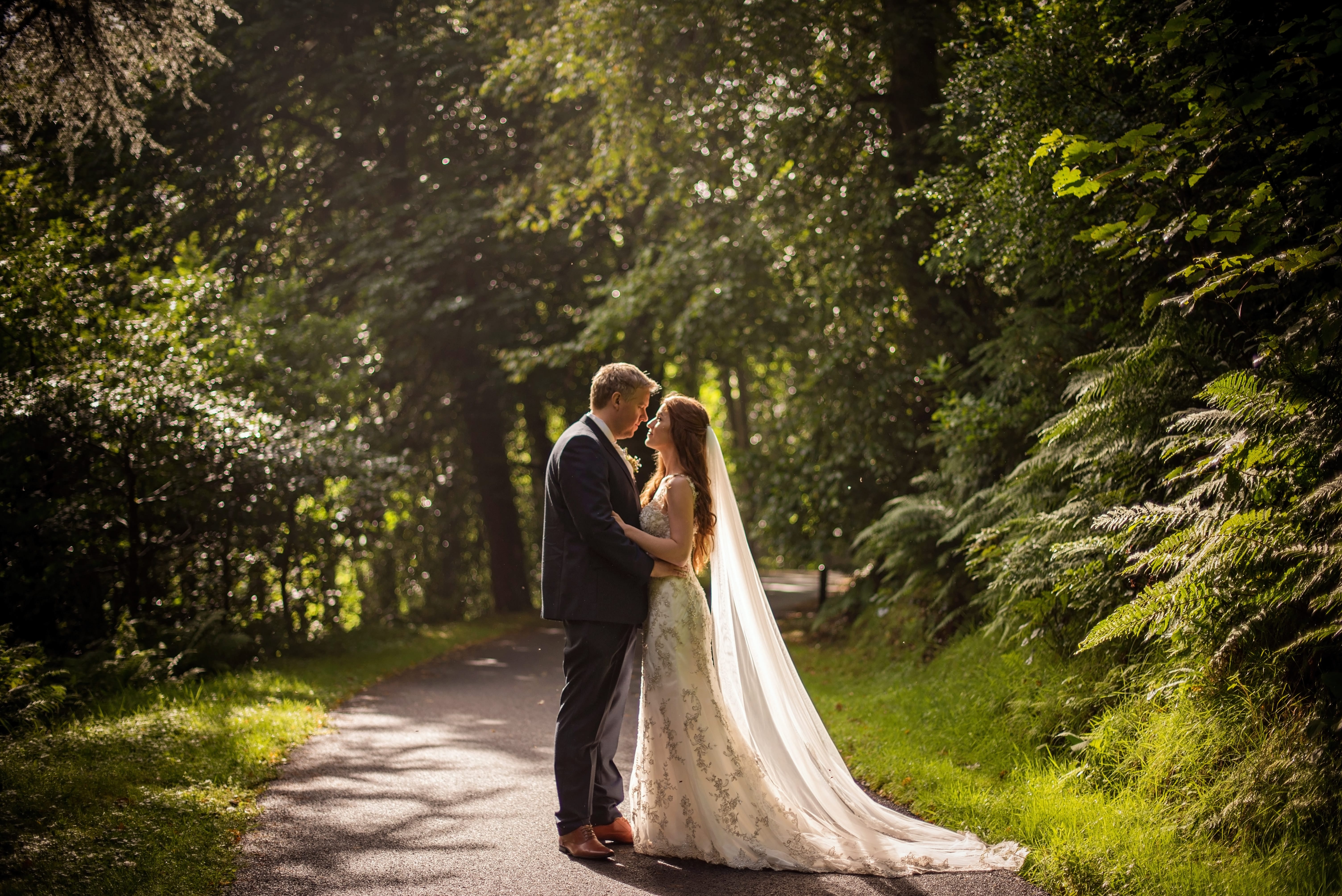 | | |
| --- | --- |
| | |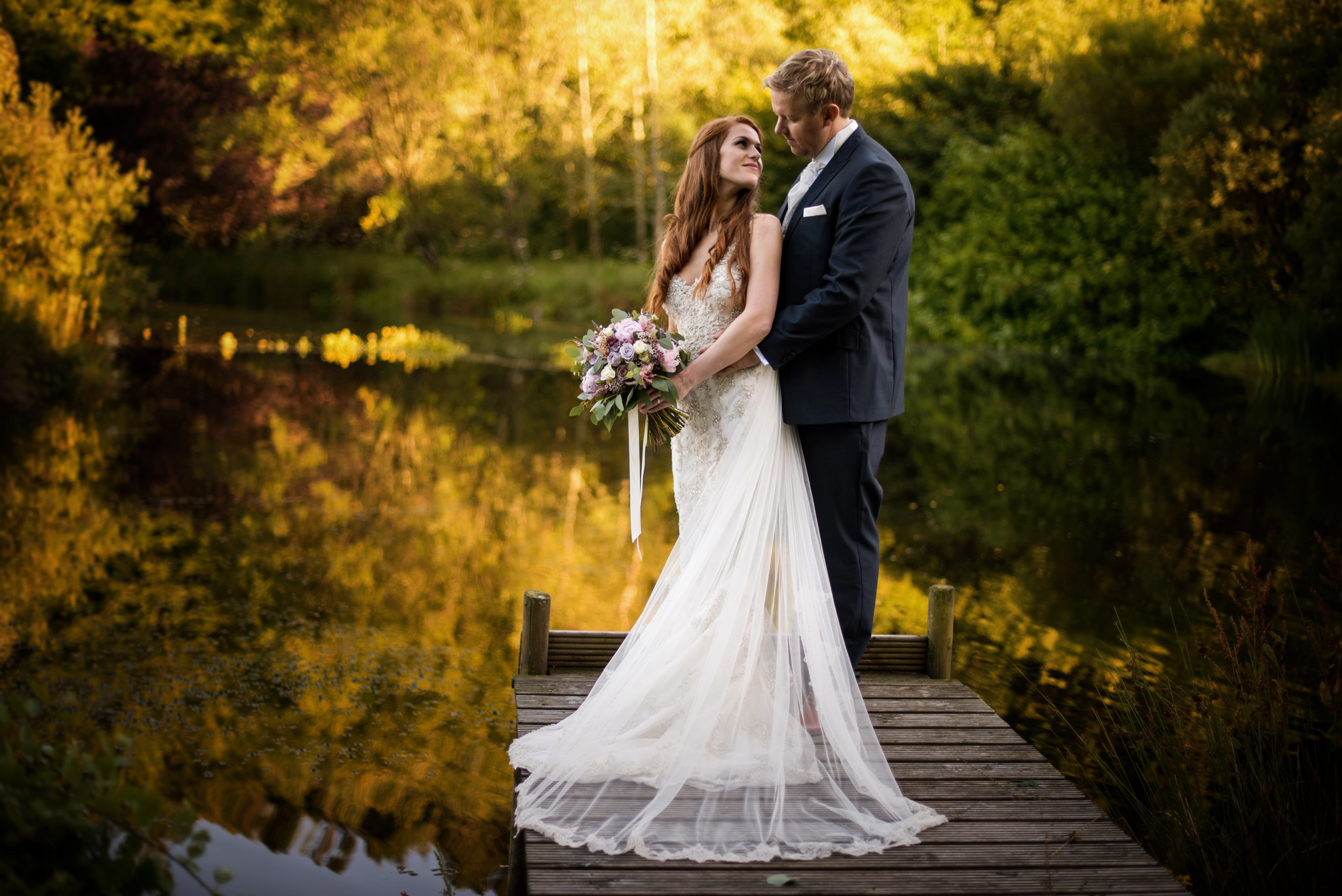 What advice do you have for future brides?
Don't worry about searching for that "bridal moment." I've watched way too many guilty pleasure bridal programs where they burst into tears and scream for joy. I didn't cry at any dress I tried on and it confused me. In my head I was like "Am I not normal, where is my emotion?" and I thought even though I love the dress I'm not crying so is it really the one? But I learned it was so overwhelming trying on so many dresses that don't quite fit and sometimes it's hard when you have too many people with you, so go with your gut. Once my dress fit me perfectly and I had my shoes and earrings, I had my moment and fell in love.Invest time in finding the perfect photographer to capture the day, really look around and find one whose images just pop out to you. Our photographer Karolina Kotkiewicz was amazing, she went above and beyond. At one point it got to about 10am and she could see I was struggling with nerves and feeling a little dizzy so she fed me a protein bar while I was having my hair done. Such passion for what she does and kindness too. Me and my husband aren't really the typical look at the camera and smile type of people, we just wanted natural looking and we overjoyed with how they turned out. We were really lucky with how all our suppliers turned out—they were all great!