Tips and Trends
|
February 8, 2022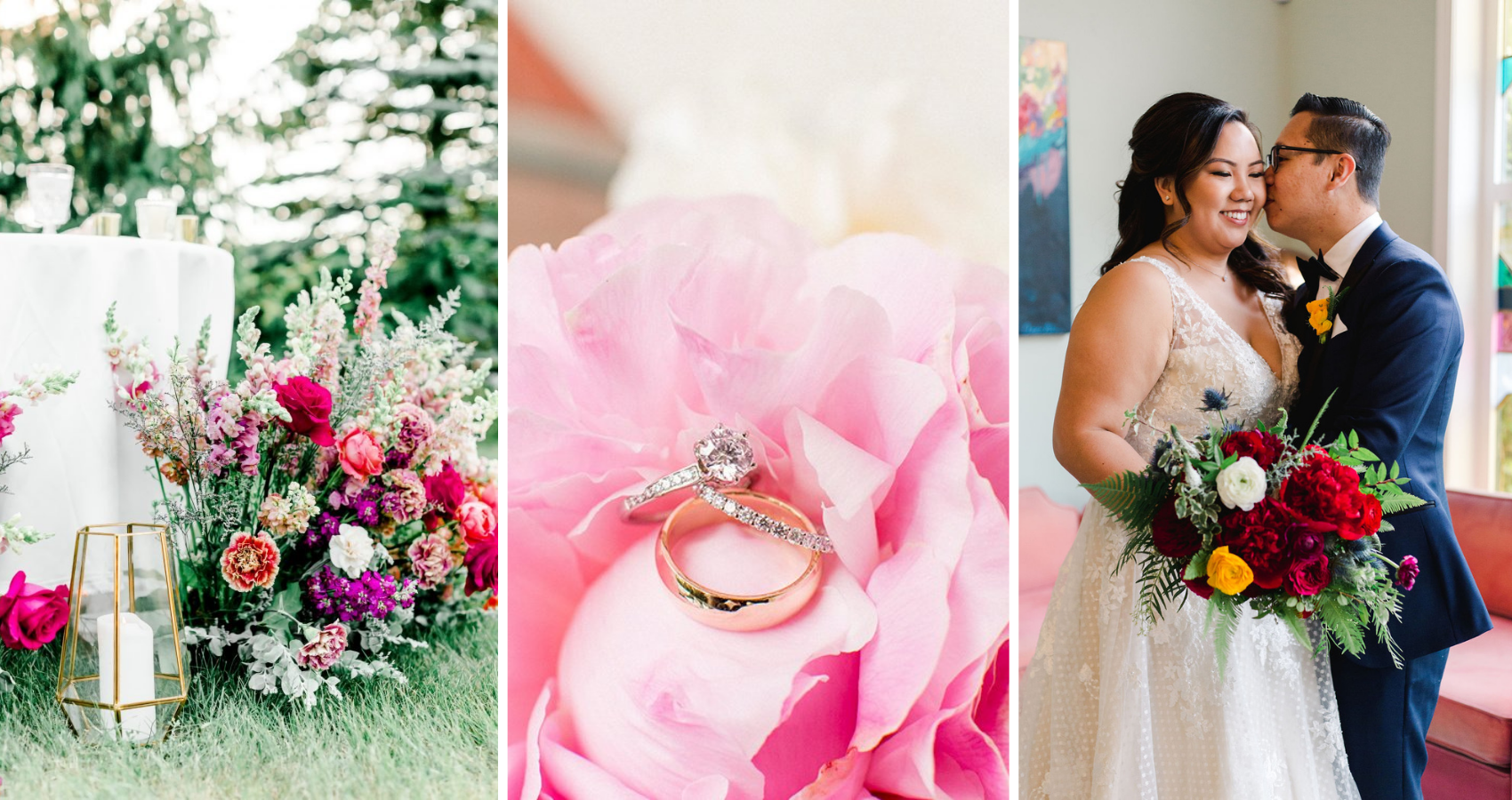 Looking at your first February 14th as an engaged couple? Congrats! With all the chaos of wedding planning, budgeting, and COVID stress, you probably need some easy, cute, and cost-effective Valentine's Day ideas for a relaxing date at home with your sweetheart…
Pandemic or otherwise, it's probably a good idea to skip the pomp and pressure of a full-blown Valentine's to-do anyway. The expectations are always so high (not to mention the spending), and you'll probably have way more luck planning a lowkey evening with food, games, and a few well-chosen flourishes. (And with your wedding coming up, it's also prime time to save extra cash and start shopping for wedding dresses!) Without further ado, here are our top tips for planning Valentine's Day on a budget.
Cute and Cheap Ideas for Valentine's Day: Cook an Intimate Meal Together
PC: Jimmy Dean Photography
If you're looking to celebrate Valentine's on a budget, make it a meal! Whether you're total newbies or seasoned foodies, making a new or time-honored recipe is a great way to collaborate. This cheap Valentines Day idea also allows you to spend quality time together and indulge. Go simple and elegant with a pasta, salad, or seared protein, or up the ante with savory risotto, fragrant sauce, or homemade pizza. (And of course, don't forget the dessert!)
Here are a few tips to make cooking at home feel romantic and special:
Deep-clean the kitchen a few days beforehand. (It's much more relaxing if you start with a clean slate.)
Design a meal that doesn't need a lot of cooking dishes. This will make prep and cleanup much more enjoyable.
Set mood lighting and make a vase of fresh flowers.
Wear something cute and comfy.
Pick up your favorite liquor or mocktail ingredients a day or two before. (Beat the last-minute crowds!)
Design your menu around a special ingredient or tradition you both love.
If you're trying a new (i.e., riskier) ingredient or cuisine, give yourself an easy backup option. (Think frozen pizza or deluxe nachos—just in case things go haywire.)
Create a playlist of favorite bands. (A new music selection might feel awkward and out of place.)
Pick up a special, pre-packaged treat like specialty cookies, gelato, or your favorite chocolate from Trader Joe's for dessert.
Check out this menu inspo from The Kitchn in the link. You can easily make a luxe meal on a budget—and beat the restaurant crowds!
Valentine's Day on a Budget: Don't Spend Unnecessary Money on Gifts
PC: Unknown | PC: Jose Alvarado Photography
We've said it before and we'll say it again: If you're engaged and saving money for a wedding, it's time to cut back on silly purchases. And while themed holiday gifts may be adorable impulse buys, they're by no means required to make Valentine's Day special for you and your sweetheart.
Here are some cute alternatives to buying store-made gifts for your Valentine:
Go DIY. (Ideas below!)
Buy your sweetheart their go-to snack. A box of donuts, some loose-leaf tea, or a giant bottle of their favorite hot sauce makes a thoughtful gift that doesn't break the bank.
Find a quirky secondhand item.
Gift something functional they already need, like a pair of cozy socks, some nice shampoo, or a cute new swimsuit for spring. (We promise it's right around the corner.)
Find something for your furry friend! Some couples love "gifts" meant for the cat, dog, or chinchilla you care for together.
A few DIY gifts for fun cheap Valentine's Day ideas:
A homemade card or journal.
Mini felt animals.
For plant parents: a new plant stand, cactus paddle, or bulb you propagated from a friend's houseplant.
For the S.O. who loves to bake: specialty ingredients for a unique recipe.
Valentine's cookies.
Glittery heart earrings.
Homemade soap or candle kits are cute and easy to customize. Bonus: the craft supplies are easy to repurpose for future birthday and holiday gifts.
A vase of flowers with homemade decorations. (There are lots of other Pinterest crafts to make fun cheap Valentine's Day ideas.)
A homemade spa kit.
Cheap Valentine's Day Ideas: Have a Game Night In
A super cheap and (often underrated) date idea for an evening at home? Game night! This is a go-to plan for couples who like to play, create, and relax with each other. If you love the idea of getting cute and cozy with a fireplace and your favorite snacks, here are some of our favorite games for couples:
2-person card games like Rummy and Rack-O
Creative prompt games for drawing, writing, and coloring
Origami challenges
2-person Twister
Tarot readings
Old-school video games
Tabletop games like Jenga, a puzzle, or Mancala
We Are Not Really Strangers to connect with your partner in a fun way! Who knows, you might even learn something new
To make the evening feel extra special, give yourself time to prep. Clean the house, set up a lounge area, and pick up a small bouquet. You could order takeout, set up a charcuterie board, and ice some bubbly to be extra bougie. It's a perfect evening in our books.
Cost Effective Valentine's Day Ideas: Plan a Free and Romantic Activity
PC: Kassidy Marie Photography
If you're looking to celebrate but don't have a lot of cash (and want to avoid traditional Valentine's crowds), plan an easy, free (or cheap) activity around town or at home. A little prep and organization can make the day feel unique and special on a budget.
A scavenger hunt around town
Learn and film a TikTok dance together
An off-the-beaten path museum, art gallery, or quirky attraction
Roller-skating in the park
Build a blanket fort
If you're in warmer climates, head to the basketball or pickleball court
Camping in your backyard (with s'mores!)
Volunteer at an animal shelter
At-home karaoke
Read to each other
Have an at-home wine tasting
DIY spa night
Scrapbooking
Whatever you plan, it's important to plan Valentine's Day on a budget with you and your partner's organization and bonding styles. Some couples do well with clear rules and timelines; others prefer to keep it loose and relaxed. If your styles are a little mismatched, try not to get hung up on expectations. Too much pressure only leads to disappointment and tension—no fun if you're trying to have a romantic evening at home.
Have a Movie Night In
PC: Jessica Robinson Photography
Dinner-and-a-movie is a classic Valentine's date, and SO easy to make into a cheap home activity. As a special occasion, make it a marathon! Make a lounge area, set up a blanket fort with a projection screen, and stock up on snacks. (For extra nostalgia, make it a sleepover in the living room.)
There are plenty of "pre-fab" movie series for movie marathons, but also unique and personalized combinations to try something out of the box. To get you started, here are some foolproof franchises, guilty pleasures, cult classics, and timeless flicks:
Your favorite MCU phase
Movies you bonded over early in your relationship
Comedies you loved in high school
The Cornetto Trilogy from Edgar Wright
Your favorite James Bond era
A Spike Lee marathon
John Hughes classics
The Mad Max series
Hitchcock thrillers
Modern Shakespeare adaptations
The Pride and Prejudice miniseries
Golden Hollywood musicals
You can also get creative with titles, actors, themes, and genres. For example, choose non-franchise movies with an obscure theme in common. (Think magicians, heists, sinking ships, vampires, enchanted forests, or sleepy beach towns.) You might have luck focusing on a cult-favorite actor or Oscar nomination category. (Think "Best Cinematography" or "movies that almost got Best Picture.")
Cute and Cheap Ideas for Valentine's Day: Spend a Night in Planning Your Wedding
PC: AileenChoi Photography
We saved the best for last! If you're engaged, Valentine's Day is the perfect excuse to stay in and plan your wedding. Get started with our rundown of stress-free wedding planning in the link, including tips for self-care, budgeting, and communication. (Whatever your planning and celebration style, be sure to schedule "no planning" zones to keep you balanced!)
Wherever you are in your planning timeline, you can also look over our 12-month beauty and health plan. This includes tips for skincare, health, shopping, booking, and organizing, many of which you can do as a couple.
Dress-wise, you might even go the nontraditional route and look at wedding gown trends together. Start with our Find Your Style Quiz for gorgeous new designs… including elegant and romantic styles from our Maggie Sottero line, chic and luxe silhouettes from Sottero and Midgley, and budget-friendly classics from Rebecca Ingram.
And of course, if you're anticipating a Valentine's Day proposal, check out our advice for getting ready for a "marry me" moment in the link! Valentine's Day is still a super popular date for engagements. If you suspect you'll get a ring, now's the time to get ready.
Ready to make the best Valentine's Day on a budget for you and your sweetheart? With a little planning and flexibility, you can make it a perfect night to remember. From our team to yours, have a lovely evening and happy planning!