Dresses
|
December 2, 2020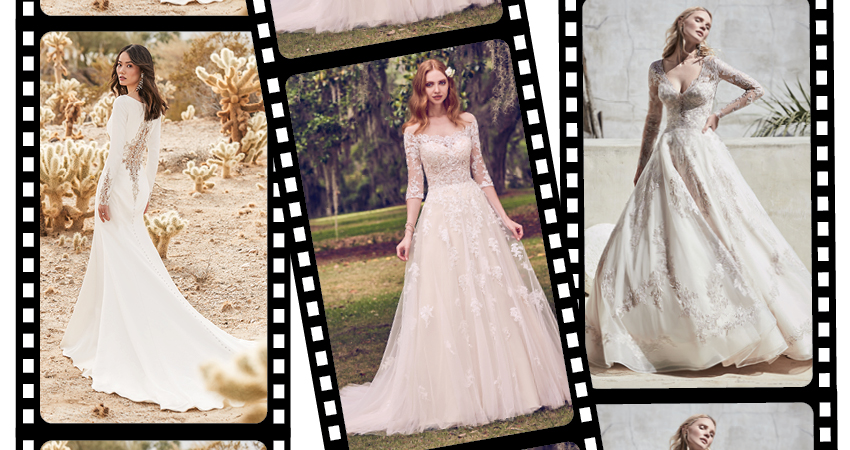 If you grew up watching rom-coms and sweeping historical dramas, you know the power that a unique, perfectly tailored, and exceptionally feminine "movie wedding dress" holds over your psyche as a bride-to-be. Maybe Princess Buttercup is forever your style icon.
Maybe you can't picture yourself in anything but a couture ball gown after watching Funny Face a zillion times. Whatever your Tinsel-Town inspiration, you've got a big task to complete before your big day: find a bridal style that complements your cinematic vision, yet feels completely and undeniably yours to own and personalize. Get started with these iconic movie wedding dresses that match our Maggie Sottero gowns below!
A Modern Spin on a Classic Lace Ball Gown Wedding Dress: Inspired by Father of the Bride (1991)
Ahh, the early 90s. '91 was the year of Boys II Men, Mariah Carey, R.E.M., and Nirvana. The Simpsons was on its second season, the Hubble Telescope was launched, and the Chicago Bulls won their first NBA championship by defeating the L.A. Lakers.
Hot at the box office: Terminator II, Dances with Wolves, and soon-to-be family classic Father of the Bride—featuring (you know it!) a fabulous satin and lace ball gown to inspire your girliest sensibilities.
If you grew up loving this wedding dress worn by young Kimberly Williams, check out shimmery Xavier by Sottero and Midgley. It's a lace ball gown that feels a little vintage, a little trendy, and 100% elegant. You can opt for a sleeveless bodice for a fresh update on the silhouette.
Or, keep it chic and regal with long and lacy illusion sleeves. (It's so classy, even your overprotective father-of-the-bride will approve!)
Two Gorgeous Iconic Movie Wedding Dresses from the 2000s: Inspired by Bride Wars (2009)
If you went to high school or college in the late 2000s, it was virtually impossible to sidestep a Hudson or Hathaway rom-com. Bride Wars was a double-whammy, with two dreamy wedding gown silhouettes to boot.
Kate Hudson looked like sweet-confectionary perfection in her character's lace ball gown wedding dress—one of the most iconic and popular silhouettes from the mid- to late-2000s.
(We especially love the ballerina-inspired tulle skirt and the exquisite lace detailing along the sweetheart neckline.) For a similarly princess-inspired style, opt for Tennyson by Maggie Sottero, featuring a lovely plunging neckline trimmed in delicate lace. It's a match!
As for Anne Hathaway's character, her wedding dress design complemented a vintage and romantic aesthetic. And that's exactly what we love about Mitchell Marie by Maggie Sottero. This slinky mermaid wedding dress is smart, classy, and totally luxurious.
But it's also perfectly on cue for a glam and nostalgic wedding vibe. It shows off your figure, boosts your bust and booty, and pairs exceptionally well with statement jewelry. What's not to adore? For more simple satin wedding dresses, click here!
Royal Movie Wedding Dresses Are All About Lace and Sleeves: Inspired by The Princess Diaries 2 (2004)
Call it the "Grace Kelly" effect. It's been nearly 70 years since she became the Princess of Monaco, and her sleeved lace wedding gown is showing zero signs of losing its icon status.
One of our favorite iterations as of late? Princess Mia in Princess Diaries 2 (a character also played by Anne Hathaway). The dress she wore was laced to perfection in a sleeved lace ball gown, complete with an off-the-shoulder meets bateau neckline and delicate illusion detailing. We love, love, love this look—always and forever.
If you too are sweet on the royal lace gown trend, get inspired with Bree by Maggie Sottero. It's soft, classic, and romantic, but still feels like a fresh spin on our decades-long devotion to demure and feminine bridal styles. Consider it timeless!
Chic and Simple Takes the (Wedding) Cake: Inspired by 27 Dresses (2008)
27 Dresses came out in 2008, which alerts us to a highly important lesson in bridalwear. Whatever the decade of your celebration, a minimalist design will look smashing for years to come.
Case in point? Katherine Heigl's movie wedding dress and our Josephine wedding dress are veritable showstoppers for any season. Plus, our Josephine gown features a versatile silhouette made uniquely yours with vision, personality, and choice accessorizing. So chic!
The Sleeve's the Thing for Bridal Gown Magic: Inspired by The Twilight Saga: Breaking Dawn Part I (2011)
Love it or hate it, The Twilight Saga was pretty much inescapable in the '00s and '10s. One thing we all adored unequivocally? Bella Swan's soft, sexy, and uniquely glamorous sleeved wedding dress for her fang-tastic (forgive us) celebration in the Pacific Northwest redwoods.
The inspiration for this movie wedding was A Midsummer Night's Dream, so no wonder the gown looks like it's fresh out of a Renaissance painting!
Our dead ringer for Bella's sleek sleeved wedding gown? Aston by Sottero and Midgley, featuring bejeweled illusion cuffs and a seriously lavish back treatment. Your friends and family (vampire, werewolf, or otherwise) will swoon over this slinky design!
We Can't Get Enough Fairytale Movie Wedding Dresses: Inspired by Cinderella (2015)
Magical things are happening with the live-action Cinderella wedding dress from 2015—a "simple" (if you can classify a perfectly fitted bodice, hand-painted lace florals, and a decadent train as "understated") wedding dress for the Disney princess's happily-ever-after.
If you're smitten with this look, you'll be head-over-glass-heels for Vincent by Maggie Sottero, an equally dreamy and detailed ball gown in lace, tulle, and sparkle. Who needs a fairytale wedding when you can have this level of perfection IRL?
Off-the-Shoulder is Glamorous and Enchanting: Inspired by Runaway Bride (1999)
Personally, we'd be honored if Maggie Carpenter wore a Maggie Sottero bridal gown to any of her (several) weddings. She'd definitely rock Kimora by Sottero and Midgley—a satin ball gown wedding dress decked out in Swarovski crystals and a sexy scoop meets off-the-shoulder neckline.
It's basically a deluxe and shimmery version of the off-the-shoulder bridal gown she wears for her third (almost) wedding—the one where she takes off on horseback in all her lacy, rosette-y, and unveiled glory. (Check it out in this link, also featuring more fabulous movie wedding dresses to inspire.)
Vintage Bridal Gowns Will Always Have Our Hearts: Inspired by The Great Gatsby (2013)
The actual 1920s decade was only just beginning to dip its toe into iconic movie wedding dresses. But these days we have plenty to work with in the way of sartorial cinematic throwbacks.
Baz Luhrmann's 2013 movie adaptation of Fitzgerald's The Great Gatsby stands apart in vintage glitz and glamour, offering a brief glimpse of the ever-stylish Daisy Buchanan in her soft, youthful, and fabulously accessorized sheath wedding gown.
(Spoiler alert—she's not marrying Gatsby.) If you're looking to channel a similarly radiant vibe, find Ettia by Maggie Sottero at an Authorized Retailer near you. You'll step into this shimmery beaded slip style and be positively transported.
Love Movie Wedding Dresses? Check Out Love, Weddings, and Other Disasters (2020)
OK, out of all these iconic movie wedding dresses, we've saved our favorite style for last! Say hello to Rhiannon by Maggie Sottero, our actual, purchase-able, real-life wedding gown design that was chosen for the upcoming romantic comedy Love, Weddings, and Other Disasters, starring Maggie Grace, Jeremy Irons, and Diane Keaton.
This movie is all about the people who make weddings happen, so let's just say we're honored to have been part of the magic!
Rhiannon is a simple yet high-impact bridal dress, featuring a unique plunging illusion neckline and a glamorous overskirt treatment. It's everything a movie wedding gown aspires to be and more!
We'll say it over and over: every bride should have a "red carpet moment" on her best day ever, which means she deserves a star-quality wedding gown to make it her own.
We've always been suckers for exceptional iconic movie wedding dresses, and we infuse the same care and attention to detail into every one of our bridalwear collections. That's the magic of movies, the magic of nostalgia, and the magic of a truly covetable design. Head to an Authorized Retailer to find yours!