Dresses
Tips and Trends
|
July 16, 2021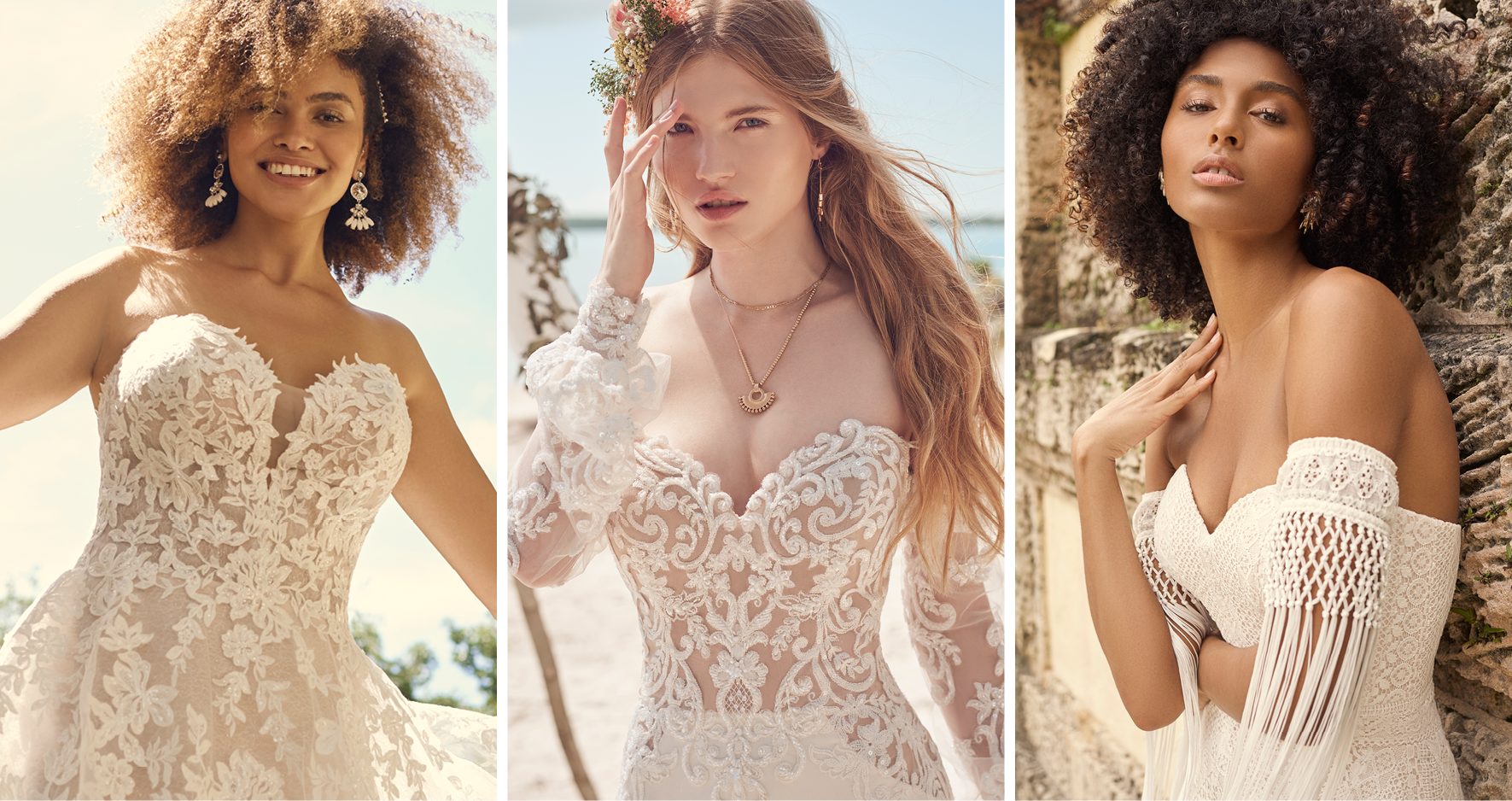 Wondering how to accessorize a strapless wedding dress from head to toe? You've come to exactly the right place. From statement jewelry to matching wedding veils and lace capes, here are our favorite strapless wedding dress accessories and elegant styling tips inspired by our latest collections. Keep scrolling!
How to Accessorize a Strapless Wedding Dress
A strapless wedding gown is super simple to accessorize; the unadorned neckline and streamlined silhouette give you tons of options for oversized jewelry, sleeve attachments, and added layers á la veil or cape. Strapless wedding dresses are easily paired with earrings, jewelry, or bridal veils. And in many cases they can be purchased with matching accessories designed specifically for their silhouette. We've included tons of this mix-and-match inspiration below.
Make a Statement
Since you don't have extra embellishments adding bulk or coverage to your neckline, it's easy to style your strapless wedding dress with big earrings, a glam necklace or choker, a bridal crown, a statement cape, or any combination thereof.
Balance Out a Full Silhouette
Statement bridal accessories look especially gorgeous on strapless wedding dresses with lush A-line or ball gown skirts. A bridal tiara or veil on top will help to harmonize the fullness on bottom.
Treat Your Décolletage Like a Canvas
A strapless wedding gown is ideal for showing off a smooth and glowing visage, bustline, and shoulders. Be sure to give extra care to your décolletage (i.e. exfoliate and moisturize!) as you prep for your big day.
Choose the Right Neckline
Strapless wedding gowns may feature a straight, sweetheart, scoop, or plunging neckline; find the perfect cut and embellishment based on your bust measurement, personal style, and choice of veil, cape, or sleeve accessory.
Consider Sleeve Options
Strapless doesn't have to be just strapless! Play up your sexy neckline with off-the-shoulder sleeves in a variety of lengths, fabrics, and embellishments.
Add Layers with a Bridal Veil, Jacket, or Cape
If you love a strapless wedding dress but want a bit more coverage, look to removable accessories in illusion, lace, and layers.
Ideas for Strapless Wedding Dress Accessories
Statement earrings
Pendant necklace
Choker necklace
Oversized floral crown
Long white gloves or gauntlets
Illusion jacket or bolero
Arm bands
Tulle cape
Detachable overskirt
Our Favorite Strapless Wedding Dress Accessories
Whether you're browsing strapless wedding dresses and matching accessories or need to style something you already have, here are 11 styles to inspire your head-to-toe ensemble! You can shop a full range of accessory and personalization options at an Authorized Retailer near you.
If your strapless wedding dress has a plunging sweetheart neckline, look to accessories to match or complement those unique lines on your bust and bodice.
For example, an illusion jacket with well-placed embellishments can add layer and dimension to your strapless neckline—all without adding clutter or confusion to your silhouette. Check out Sedona by Maggie Sottero for inspo!
Ball gowns make up a timeless subset of strapless wedding dresses, but they're also stunning when paired with off-the-shoulder or cap-sleeved bodice accessories. Cue Zartasha by Sottero and Midgley for some "almost strapless" inspo.
This sparkly ball gown features a romantic scoop-meets-sweetheart neckline—gorgeous by itself, but especially magical when accessorized with off-the-shoulder cap sleeves. These soft and shimmery embellishments add the perfect dose of "undone" to this chic and regal silhouette.
Funny how a sexy strapless neckline can be made all the sexier with a pair of stunning cold-shoulder sleeves; it's something about that added coverage that makes everything just a bit more beguiling—you know?
Go for coy and captivating layers with a sleeve style like Beverly by Rebecca Ingram—a romantic and vintage accessory to pair flawlessly with your strapless sweetheart neckline.
Another chic and shimmery option for coverage, Katell by Maggie Sottero is designed to complement your strapless wedding dress while accenting your bodice and shoulders.
It's a gorgeous accessory choice for fall and winter weddings—easily removable for different phases of your photos, ceremony, and reception.
If you love a boho aesthetic with a touch of whimsy, get inspired with the fringe and eyelet accessories on Dover by Maggie Sottero.
These statement designs are perfect for a glam yet laidback wedding vibe (think 60s It Girl meets fairytale couture) and look so chic and fabulous in photos—what's not to love?
Add a shimmery flourish to your strapless wedding dress with this unique shoulder wrap—a statement bridal accessory decked out in sequins, lace, and illusion.
It's a gorgeous piece designed to accentuate the glitzy motifs on Conrad by Sottero and Midgley; get inspired at an Authorized Retailer near you.
Pictured here with its minimalist strapless wedding dress counterpart, our Bayler bridal veil is designed to add vintage whimsy to virtually any style with simple lines and a sleek silhouette. (Of course, that's not to say it wouldn't look divine with an embellished bridal gown either.)
We especially love how the tulle floral embellishments are more abstract than literal—reminiscent of butterflies, watercolors, or scattered rose petals in a summer breeze.
If you love the idea of adding a "second look" to your wedding day but don't quite have the budget for a second wedding gown, don't get discouraged just yet.
This tulle bolero jacket is perfectly tailored for a strapless wedding dress and makes a versatile upgrade to your head-to-toe ensemble. It's a distinctive bridal accessory to switch up your outfit between ceremony and reception—no big-ticket wardrobe purchases required.
Ruched Cap Sleeve Strapless Wedding Dress Accessories: Georgia by Rebecca Ingram
Add a small but elegant upgrade to your strapless sweetheart neckline with these tulle cap sleeves, perfectly embellished to complement the lace and ruching on Georgia by Rebecca Ingram. (You can also order without lace if you like more versatile styling options.)
This tulle fabric is especially gorgeous for an outdoor wedding at a beach or forest; the illusion looks SO divine and ethereal in natural sunlight.
If you're wondering how to accessorize a strapless wedding dress in a slim fit-and-flare silhouette, you may like the idea of using accessories to add layers and fullness. Cue the dramatic overskirt on Kaysen by Maggie Sottero.
It creates a stunning Grace Kelly-inspired silhouette without losing the form of your fit-and-flare skirt. And it's easily detachable between photos, ceremony, reception, and dance floor. You're basically using one accessory to get two wedding dresses.
Bridal Crown Accessory: Deandra by Maggie Sottero X A'El Estë
Last but not least: a stunning wedding tiara in pearl, jewel, and metallic embellishments! This timeless yet decadent piece is the perfect topper for strapless wedding dresses and dramatic bridal veils.
We especially love it paired with a beaded lace style like Dallas by Rebecca Ingram. (Affordably priced from our budget-friendly collections.)
Looking for more silhouettes and inspo for strapless wedding dress accessories? Check out more fit-and-flare styles and glamorous strapless silhouettes in the links! This versatile bridal silhouette proves to be a classic season after season; shop these stunning designs and get personalized tips for how to an accessorize a strapless wedding dress at an Authorized Retailer near you.