Tips and Trends
|
November 22, 2017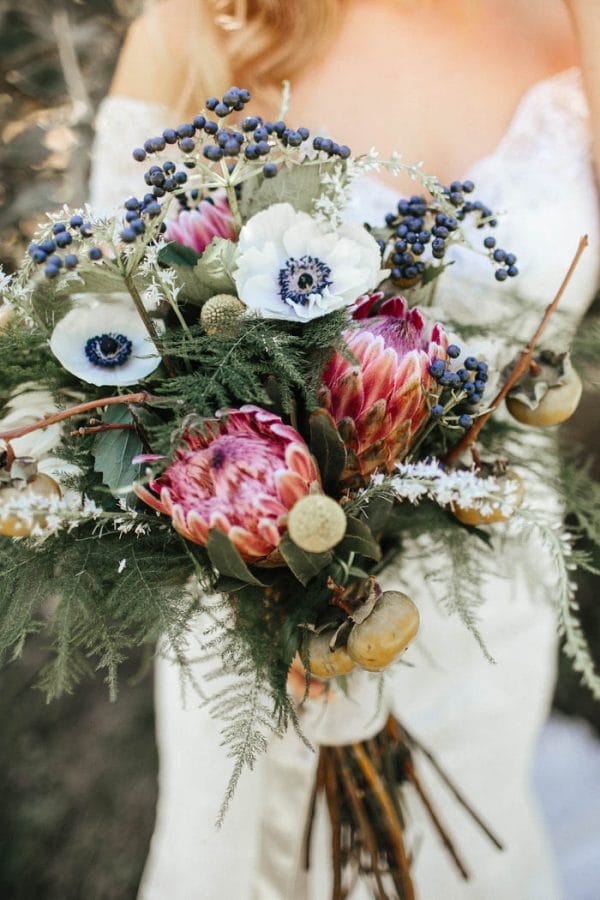 We totally get it—you're engaged, and suddenly everything with the word "wedding" attached to it has three times the price tag. So when it comes to budgeting for your dream nuptials, a little DIY love can go a long way. Check out our bouquet basics (inspired by our real brides' pro masterpieces) below!
DIY Your Bouquet—the Essentials
• Order flowers from a grocer, such as Trader Joe's or Whole Foods
• Store flowers in a fridge in water mixed with clear soda or professional flower food
• Achieve visual variation by cutting stems to different lengths, and by mixing tighter buds with opened flowers
• As a general rule, remove pistils and stamens from flowers before eating.
• Keep flowers fresh up to ten days before your reception by refrigerating them in an airtight container. Store separate from one another on moist paper towels and revive them with ice water if necessary.
Tools for the Job:
1. Floral scissors
2. Floral tape and string
3. Decorative ribbon
4. Water and flower food
Ranunculus + Rose Posy
Inspired by Alexandra and Christian's Venice Elopement
📷: Nastaja Kovacec Photography
Gather 15-20 stems
Choose a few focal flowers—the biggest and most healthy blooms for the center of the bouquet
Hold the bunch at the "binding point" with your non-dominant hand
Insert a new ring of flowers around the binding point
Continue adding flowers around the binding point, at lower levels, until you achieve your desired fullness
Add a ring of foliage at a lower point, if desired
View the bouquet from the top to check positioning and balance
Wrap raffia or string a few times around the top of the binding point, then wrap down the remainder of stem
Tie firmly to secure and trim excess string
Trim the ends of the stems to be straight and even
Add a decorative ribbon
Store standing up in a vase of water
Other floral combos: Dahlias and Roses, Peonies and Tea Roses, Orchids and Lilies
Hand-Tied Peony, Stock, and Thistle
Inspired by Andrea and Conor's Nuptials
📷: Aaron and Jilian Photography
Gather 5-7 stems each of three different flower varieties and 10-15 stems of foliage
Sort flowers into piles to view colors and sizes
Pick 2-3 focal flowers—the biggest and most healthy blooms for the center of the bouquet
Hold the bunch at the binding point with your non-dominant hand
Frame the focal flowers with foliage
Insert a ring of different flowers around the ring of foliage. Place each bloom so the flower points away from you and the stem is toward you. Turn the bunch slightly in the same direction after placing each bloom. This ring of flowers should sit slightly lower than the focal flowers, with the taller stock blooms adding variation
Continue adding flowers around the binding point, at slower lower levels, until you achieve your desired fullness
Add a ring of foliage at a lower point, if desired
View the bouquet from the top to check positioning and balance
Wrap raffia or string a few times around the top of the binding point (above your hand)
Tie firmly to secure and trim excess string
Trim the ends of the stems straight across
Add a decorative ribbon
Store standing up in a vase of water
Other floral combos: Dahlia + Baby's Breath + Ranunculus, Chrysanthemum + Orchid + Snow Drops, Black-Eyed Susan + Delphinium + Loose Roses
Cascading Lilies, Orchids, and Roses
Inspired by Danielle and Justin's Cruise Wedding
Gather 7-9 stems of each floral, plus 10-15 stems of "weeping" foliage
Remove greenery from rose stems and trim to desired length
Gather the roses into a loose bunch secured with floral tape
Gather the orchids into a bunch, face up and cascading at the same angle
Place rose bunch on top and secure with floral tape
Place lilies at various points in the cascade and secure with floral tape
Place entire bunch on top of greenery
Secure everything with wire
Trim excess stems, string, and wire
Add a decorative ribbon
Store in a flat pan with water
Other combos: Roses + Ivy + Sweet Pea
More DIY inspiration:
DIY Lace Chokers Inspired by Sottero and Midgley
DIY Wedding Inspiration from Our Real Brides
9 Bouquets for Your Boho Wedding Gown