Real Weddings
|
April 20, 2015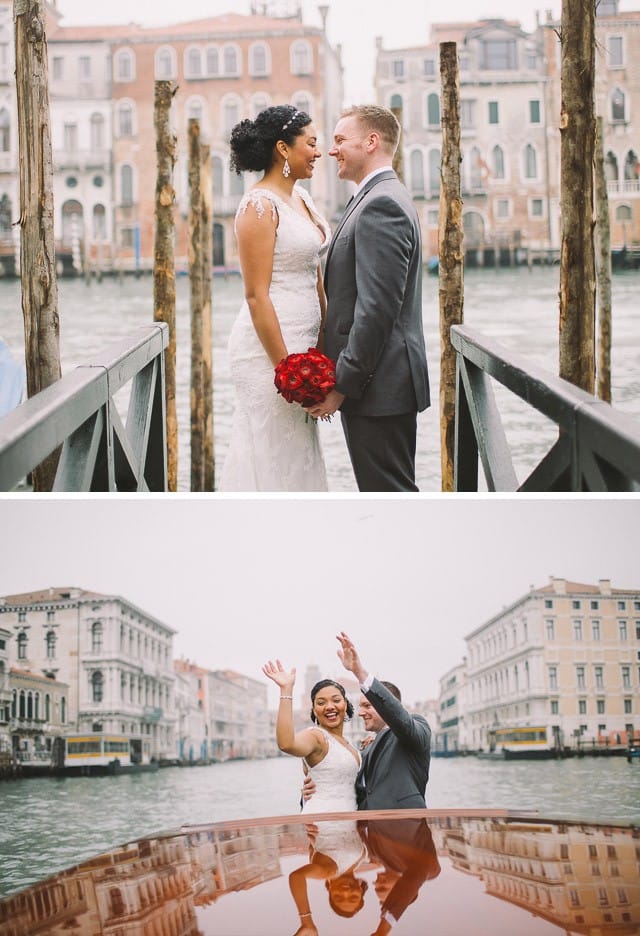 Sometimes all you need for your dream wedding is a killer gown and bouquet of crimson ranunculus, but a breathtaking backdrop like Venice doesn't hurt either. To round off our destination-wedding craze for international month, we have another romantic Italian elopement, this time featuring our gorgeous #MaggieBride in Cynthia*, a classic lace sheath with bejeweled neckline and shoulder treatment.
*Cynthia has since been discontinued. Please see Alanis and Brandy for similar styles!
The couple, who had already planned a trip to Spain and Italy, decided nothing could compare to an intimate ceremony in one of the most romantic places in the world. Upon realizing they would be in Venice for Valentine's Day and Carnival, the couple planned the most romantic Italian elopement with the help of My Italian Wedding Planner. "My favorite moment was my bridal entrance, walking in to the song 'Marry You' by Bruno Mars," the bride said. "It was played by a solo flute and a violinist. I loved seeing the expression on my future husband's face as I walked into one of the most beautiful churches in Venice. We were the only two people in the room, aside from the officiant, musicians, photographers, and wedding planner. It was an incredibly feeling to marry the love of my life in an intimate, romantic setting."
These micro elopements with major style are a hot wedding trend for 2016, as modern brides are opting for the intimacy and adventure of travel over the stress of a big ceremony. Love the idea of a sweet escape with your true love? Check out our list of fashionable elopement destinations and the dresses to match!
Nastja Kovacec Photography captured all of the goodness of this romantic Italian elopement… See more below!