Tips and Trends
Wedding Inspo
|
December 21, 2021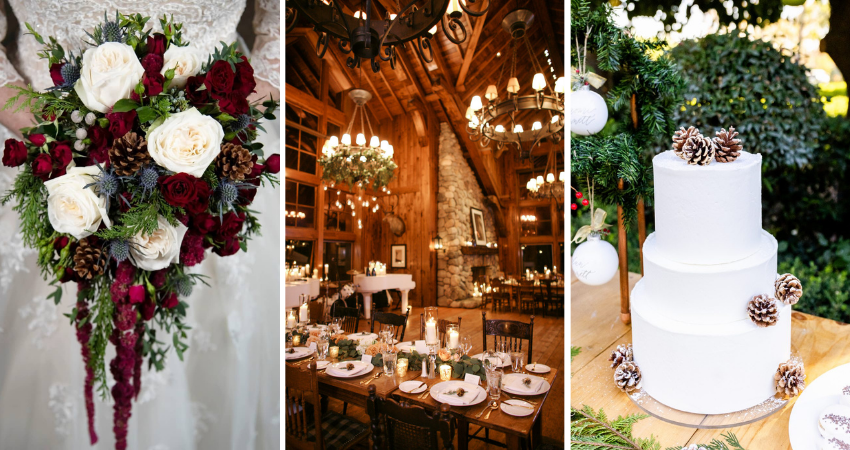 Happy Holidays to all of our brides! In the spirit of the season, here's a little holiday wedding inspo from some of our Maggie brides so you can "deck the halls" of your dream wedding venue and say "I do" to a festive celebration!
Thinking about doing your nuptials in a snow-filled landscape? Dreaming of a reception with a jovial atmosphere? When it comes to planning a holiday wedding, your goal should be to incorporate the holiday-inspired theme without going overboard. One way to do this is to let your wedding be about style, color and you and your partner – not the holiday itself.
To help you maintain a personalized feel on your big day, we've provided some festive wedding inspo! From wintery wedding details to enchanting décor that will evoke a holiday wedding vibe without compromising your individual style, scroll on to pick up some tips and tricks!
Holiday Wedding Venues for a Cozy Winter Theme
PC: Megan W Photography
Let's start with that lovely holiday venue. Want something timeless and romantic? Choose a cozy cabin with the perfect view of a winter wonderland. This real bride said she went with neutral colors and hints of gold for her cold-weather celebration.
The décor for their holiday wedding featured plenty of candles, antlers, eucalyptus, and fresh-cut wood. The bride said there was even snowfall to watch from the large windows in the reception area.
Her winter wedding set in the mountains of Colorado perfectly incorporated the elements of the season as well as her own style. Gorgeous!
PC: Innocent Thunder Photography
In the market for something a little bit more rustic? Take advantage of the beautiful snowy weather by having your ceremony outdoors for your holiday wedding. You might be thinking that seems cold, but those warm lovey feelings will keep you and your guests cozy throughout the ceremony! By having an outdoor snowy ceremony, not only will you be unique amongst holiday brides, but your photos will off the charts!
Take inspiration from this real bride who provided cozy wooden benches where family and friends could snuggle up while watching your nuptials. To add even more to your winter wonderland holiday theme, consider adding cozy blankets to the seating for your guests to snuggle up under. Having mugs as favors with hot cocoa or hot cider, patio heaters, and personalized gloves will go far in making your holiday wedding perfect!
Traditional and Unique Seasonal Holiday Wedding Palettes
PC: Vanessa Hicks Photography
If you want to go for a holiday wedding classic, try a beautiful ruby, forest green, and ivory color scheme. What could be more timeless? This holiday wedding palette incorporates traditional colors while adding an air of elegance with white and gold accents.
PC: Lucy Cuneo Photography
Neutrals and navy are one of the best holiday wedding color combinations as well. The blues and neutrals incorporate the winter landscape into your wedding, while adding a hint of intrigue to your winter palette. And the best part? It works for a variety of wedding aesthetics!
Holiday Wedding Cakes for a Seasonal Celebration
PC: Innocent Thunder Photography | PC: Kellianne Korthof Photography
Since it's easy to go overboard with other festive decorations, think elegant for your holiday wedding cake. But that doesn't mean it has to be boring! Incorporate seasonal touches like berries, greenery, and ruby accents. Or, go fully neutral with hints of greens or dried florals for a winter aesthetic!
PC: Vanessa Hicks Photography | PC: Hello Blue Photography
Another simple and sophisticated addition to your festive wedding is a winter-white wedding cake featuring snow-covered pinecones and just enough classic embellishments. Plus, it's the perfect excuse to use that delicious buttercream frosting!
Holiday Wedding-Inspired Bridal Bouquets
Filled with roses and greenery, these winter wedding bouquets prove that even the chilliest time of year can still be chic and colorful. In general, jewel tones or ivory are popular in the winter months. However, who said you couldn't make them pop with a toffee or burgundy color and bit of pink? We are particularly loving the subtle pink and burgundy accents in this real bride's bouquet against her gown, Mallory Dawn Maggie Sottero.
PC: Anna Marie Photography | PC: Love To The Core Photography
It's called a winter wonderland for a reason. Embrace the chilly winter temperatures with an all-white wedding vibe, reminiscent of a snowy landscape. If you want something more timeless that incorporates the holiday season, consider a classic red rose and cheery winter greenery like pine or holly!
PC: Lotus Wedding Photography | PC: Jen Larson Photography
Adding in accents like cheery pine cones and sea holly will cause you to have the most envied holiday wedding bouquet of the season! We love how these red and white roses with the greenery contrast with the lace on this bride's stunning Bree gown.
Winter Wedding Dresses to Add Magic to Your Festive Wedding
PC: Evoke Photography
You can't have a holiday wedding without some winter-inspired wedding gowns! Check out these four winter wedding dresses that are sure to add the "wow" factor to your holiday wedding theme. Let's start with something sleek and classic. We love the old Hollywood vibes of Aston by Maggie Sottero (can you say It's a Wonderful Life anyone??). This sleek dress will keep you feeling sexy throughout your big day — especially with that intricate statement back and sleeves with real Swarovski crystals!
PC: Love To The Core Photography | PC: Megan Simpson Photography
The best part of having a holiday wedding in our opinion? LACE SLEEVES. Our gowns Mallory Dawn and Bree by Maggie Sottero give delicate romanticism with their sweet lace sleeves. Both A-line gowns add that classic, beautiful vibe that our holiday-inspired brides are looking for. The illusion, buttoned back on Mallory Dawn is sexy and striking. The off-the-shoulder statement sleeve on Bree is classic and romantic. Either of these gowns will be perfect for your winter wedding.
A winter wedding calls for a wedding dress called Winter by Maggie Sottero. This ultra-whimsical A-line gown is dramatic while sweet. Striking while timeless. Overall? Unique. It's the perfect winter accessory for your holiday wedding and comes in Pearl, Mauve, and Blush. Find this unique gown at an Authorized Retailer near you!
Cheery Makeup To Invoke The Holidays
PC: Lucy Cuneo Photography
We know that a bold red lip can be worn any day of the year, but what better time to bring out your favorite lipstick than during the holiday season? This beautiful lip brings a romantic look to your holiday wedding look while also invoking holiday cheer in the most subtle and classy way possible. We love how this real bride wearing Kimora by Sottero and Midgley incorporated this timeless look into her big day.
We hope you've found this holiday wedding inspiration for your big day merry and bright! However you choose to celebrate, we wish you the happiest season, filled with family, friends and joy. For more wedding inspiration, take point from this real bride's Rustic Winter Wedding with Chic Details and a Romantic Lace Wedding Dress, and 10 Winter Wedding Ideas and Details for a Super Chic Celebration. With the holidays just around the corner, plan some wedding DIY fun with these tips. Happy Holidays!