Real Weddings
Tips and Trends
|
December 23, 2019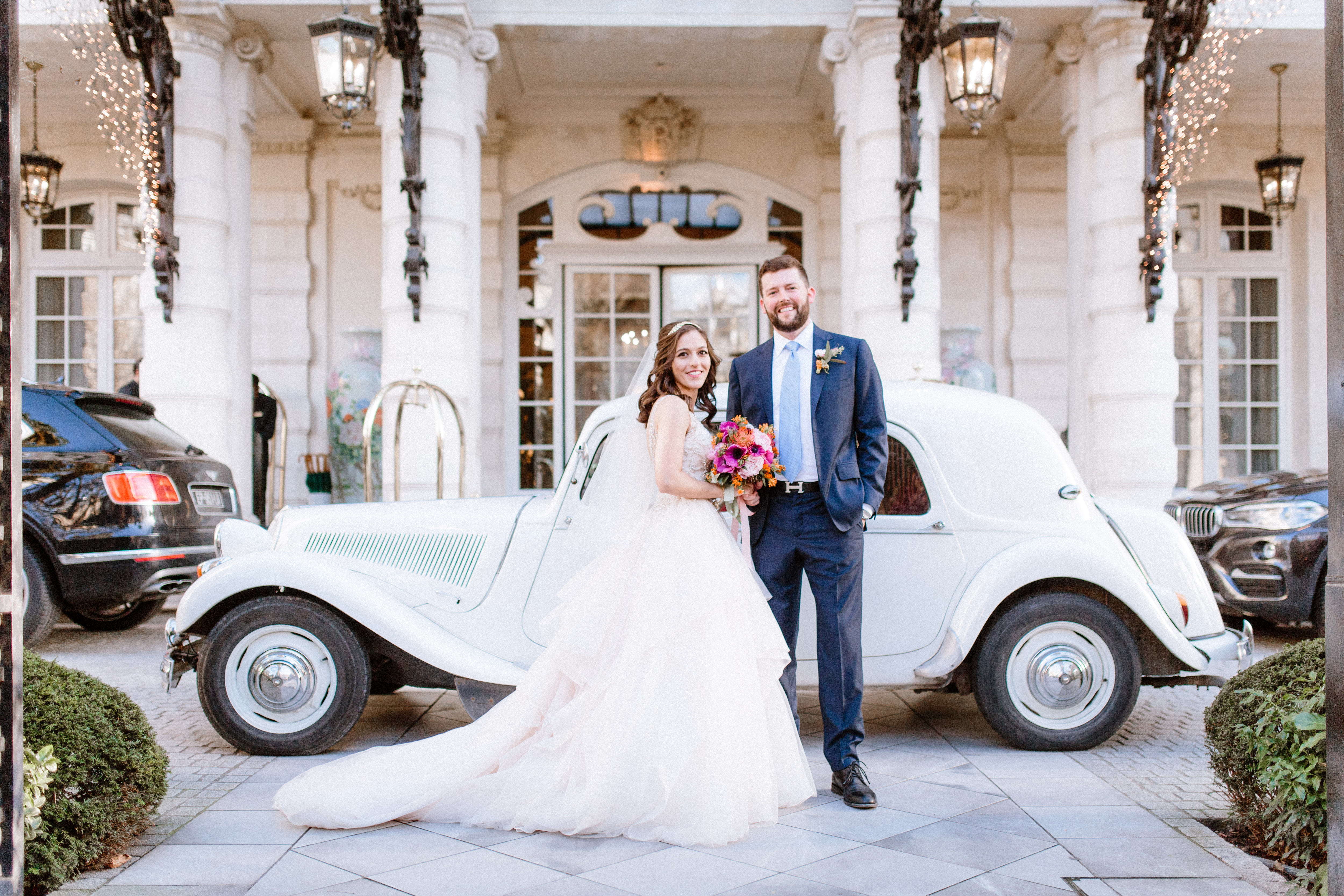 Happy Holidays, brides! In the spirit of the season, we wanted to give you a little holiday wedding inspo from some of our real brides so you can "deck the halls" of your dream wedding venue and say "I do" to a holiday celebration.
Thinking about doing your nuptials in a snow-filled landscape? Dreaming of a reception with a jovial atmosphere? When it comes to planning a holiday wedding, your goal should be to incorporate the holiday-inspired theme without going overboard. One way to do this is to let your wedding be about style, color and you…not the holiday itself. To help you keep a personalized feel on your big day, we've provided some inspiration from our #MaggieBrides of wedding details and décor that will help you drive the holiday wedding concept without comprising your individual style. Keep scrolling!
Holiday Wedding Venues for a Winter Theme
Let's start with that lovely venue we caught you dreaming about earlier. Want timeless and romantic? Choose a cozy cabin with the perfect view of a winter wonderland. Our real bride, Anna, said she went with neutral colors and hints of gold for her seasonal wedding.
The dramatic decor in their cabin venue featured plenty of candles, antlers, eucalyptus, and fresh-cut wood. Anna said there was even snowfall to watch from the large windows in the reception area. Her winter wedding set in the mountains of Colorado perfectly incorporated the elements of the season as well as her own style, and we're loving it. She described her wedding day as rustic romance. Could it get any better than this?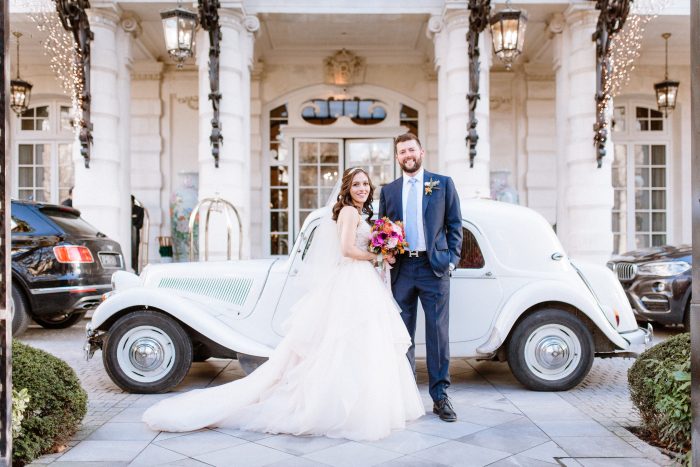 A holiday AND destination wedding you say? We might have just died and gone to heaven. Check out this real bride's chic mansion venue in none other than Paris, France. Our real bride, Lilas, of French nationality said she wanted an elegant, yet intimate wedding and that doing it in Paris was exactly what her and her groom, Chris, had envisioned for their big day.
Lilas described her day as fun and magical with a hint of whimsical, and she just couldn't help twirling around the mansion's gardens in her Amelie ball gown by Sottero and Midgley.
Two Versatile Seasonal Wedding Palettes
If you want to go for a holiday wedding classic, try Cranberry+Emerald+White+Gold. What could be more timeless? This holiday palette incorporates traditional Christmas color while adding an air of elegance with white and gold accents.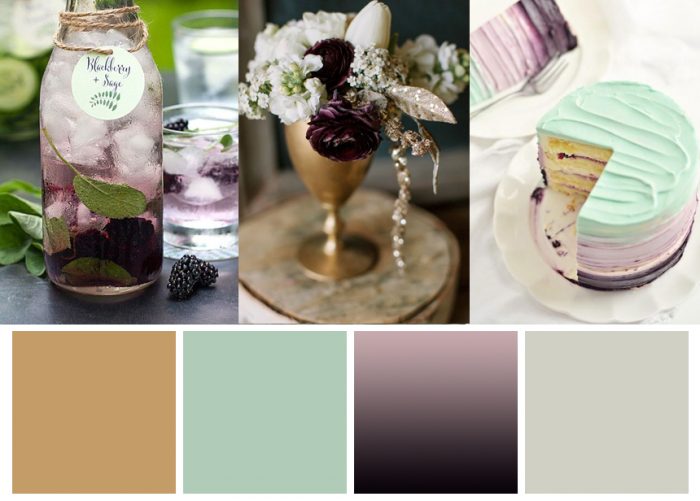 Blackberry+Gold+Mint+Off-White is one of the best holiday wedding color combinations because the near black and deep chocolate hues, like blackberry, add a hint of intriguing to your winter palette while staying fun and romantic at the same time. And the best part? It works for a variety of wedding venues!
Seasonal Cakes for a Festive Holiday Wedding
Since it's easy to go overboard with other festive decorations, think simple for your holiday wedding cake. But that doesn't mean it has to be boring! Incorporate seasonal touches like berries, greenery, and a burgundy colorway.
Another simple and sophisticated addition to your wedding is a winter white wedding cake with florals, greenery, and just enough classic embellishments. Plus, it's the perfect excuse to use that delicious buttercream frosting!
Two Holiday Wedding-Inspired Bouquets
Filled with roses and baby's breath, this real bride's bouquet proves that even the chilliest time of year can still be colorful and bright. In general, jewel tones are popular in the winter months, but who ever said you couldn't make them pop with a deep red and bit of pink?
It's called a winter wonderland for a reason. Embrace the chilly winter temperatures with an all-white wedding vibe, reminiscent of a snowy landscape. If you want something a little more modern and uncomplicated, a white wedding bouquet is the way to go. And don't fret, it doesn't have to be boring. Add some green and subtle textures, and you'll have the most-envied holiday wedding bouquet of the season.
Two Wedding Dresses that Will Add Magic to Your Winter Wedding
Last but certainly not least, check out these two wedding gowns that are sure to add the "wow" factor to your holiday wedding theme. Add a little spontaneity to your winter wedding with this lace fit-and-flare wedding dress called Hope by Rebecca Ingram.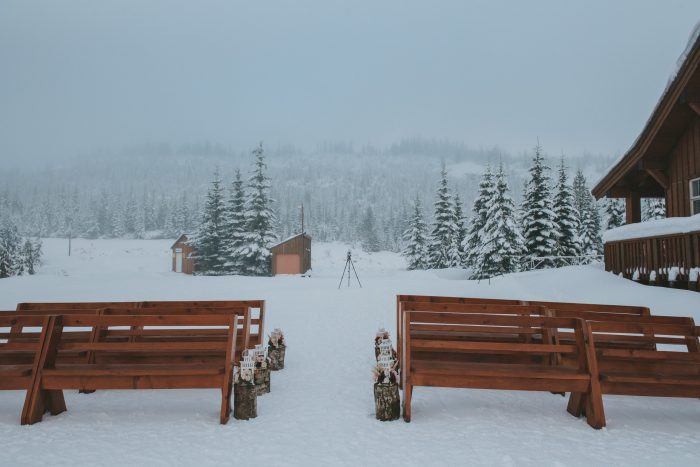 Featuring scallop illusion straps and a double-keyhole back, this vintage-inspired gown is classic yet doesn't break the bank. Our real bride who wore this dress said it was the perfect touch to their outdoor winter wedding in the snow with blankets and hot chocolate.
Meet your vintage ball gown wedding dress ideal with Allen by Sottero and Midgley. You'll be sure to feel like pure gold in this glittery-glam princess wedding dress. And the best part? It works perfectly for classic, whimsical, Hollywood glamour, and that modern-fairytale vibe.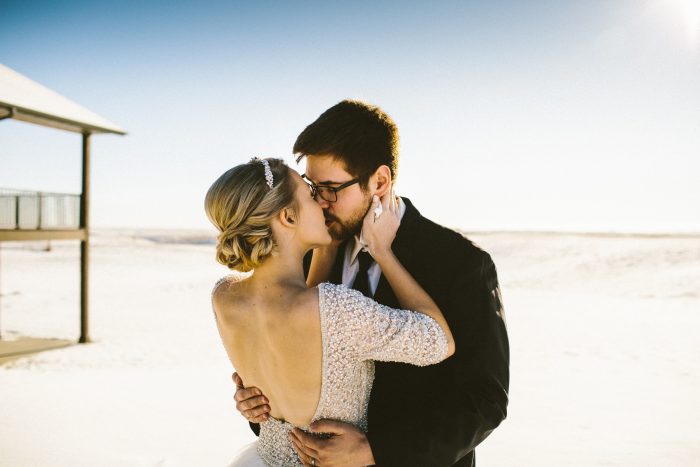 Since winter weddings mean cooler temperatures, this gown will give you the coverage you need without cramping your style. Our real bride who wore this gown said it was the perfect addition to her hygge-chic décor of candles and pine needles with hints of New Years' Eve gold.
We hope you have found some holiday wedding inspiration for your big day. However you choose to celebrate, we wish you the happiest season, filled with family and friends. For more wedding inspiration, follow our Real Wedding Board on Pinterest.