Dresses
Tips and Trends
|
September 23, 2022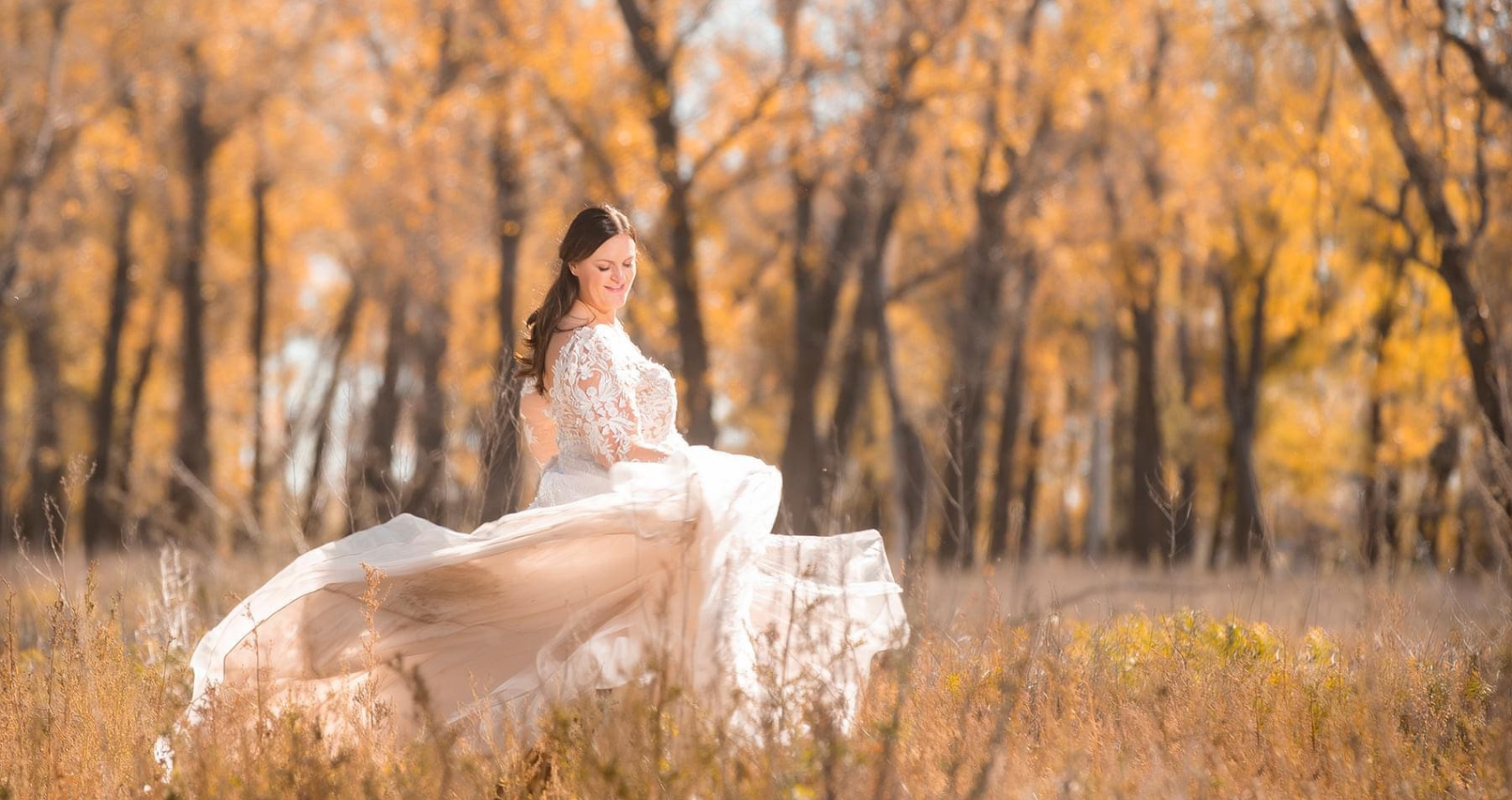 As summer comes to a close, we couldn't be more excited for our beautiful Real Brides tying the knot this autumn—and those who are just beginning the bridal journey of a lifetime! In honor of one of THE best seasons of the year, we've put together a list of 12 incredible fall wedding dresses that are simply destined to be worn in autumn.
After all, what's better than a mid-afternoon stroll beneath warmly colored leaves swaying calmly in the cool, autumn breeze? The only thing that would make this picture-perfect image even more amazing is a pumpkin spice latte in hand!
Before we jump into all things autumn, be sure to check out our Style Quiz! You'll be able to narrow down your choices based on the carefully curated questions we've put together. You'll even get a few suggestions for your perfect fit!
What are Fall Wedding Dresses?
Contrary to popular belief, there's not just one right way to go about enjoying the fall season, and the same goes for fall wedding dresses! A fall wedding dress can mean whatever you want it to mean. Getting married in the mountains? Maybe a long-sleeved wedding dress is best for you. Consider your venue and wedding aesthetic when determining what elements you think best fit autumn wedding dresses.
Fall is SUCH an exciting time for brides to get married because the weather is dreamy and the changing of the seasons offers a beautiful backdrop. As we near October and spooky season launches in full force, maybe consider something a bit moodier! You have complete creative freedom to choose what's important to have in your fall wedding dress.
Fall Wedding Dresses for the Long Sleeve Lovers
PC: Natasha Shapiro Photography
We think autumn is filled with utter romance, and there are so many beautiful fall outdoor wedding dresses to choose from! What better gown to fit the season than Mallory Dawn by Maggie Sottero? This long-sleeved ballgown is stylist, sexy, and glamorous—perfect for an ethereal fall outdoor wedding. Mallory Dawn features stunning lace motifs that adorn its nude bodice, complete with an attached beaded belt. The plunging, illusion V-neckline and V-back complement the absolute regality exuded by the full tulle skirt. How gorgeous is this Real Bride in Mallory Dawn?
PC: Janette Downie Photography
If you're more of an A-line bride, look to Lorraine Dawn by Rebecca Ingram to satisfy your love of long-sleeved, fall wedding dresses. This chiffon wedding dress features illusion lace long sleeves and a sheer, organza-lined bodice decorated with beaded lace and sequin motifs. Lorraine Dawn is perfectly light and airy for brides getting married in an outdoor area that features warmer fall weather. Of all the fall outdoor wedding dresses, Lorraine Dawn just might be the one for you.
PC: Cabel Noteboom
Lastly, the comforting feeling of fall is just one reason to consider saying "I do" this time of year. Autumn is the perfect season to celebrate your love story in the great outdoors. Zander by Sottero and Midgley is just one example of the many gorgeous fall outdoor wedding dresses, but it sure is spectacular. There is SO much to love about Zander—from its sexy, plunging V-neckline to the breathtaking layers of tulle, lace motifs and Chantilly lace. This blush ballgown features stunningly intricate illusion long sleeves, 3-D floral lace motifs, and a marvelous horsehair hemline. Not only is this gown perfect for outdoor weddings, but it also comes in two incredible black colorways—keep reading to see Zander (and its Sister Style) in black!
Autumn Wedding Dresses for Chic and Simple Brides
Does it get any better than fall fashion? From fashion-forward boots to chic turtleneck sweaters paired with classic coats that never go out of style, we simply adore all things autumn—and we think our chic, simple brides will LOVE these next few gowns!
PC: Gerry Sulp Photography
When we think of fall wedding dresses for our classy brides, Aston by Sottero and Midgley is first to mind. This daring, crepe fit-and-flare gown features crystal-embellished cuffs that are to die for. Constructed with Merona stretch crepe and lined with Virtue jersey, Aston is sure to wow your wedding guests and your one true love alike, with its bateau neckline, statement back, and beautifully ornamented long sleeves. Looking for more simple and elegant wedding dresses? Read our blog post to see which gowns will help you channel your inner starlet!
If statement beading isn't your vibe, consider Ekaterina by Maggie Sottero. This sweet, elegant, off-the-shoulder A-line gown is one of our favorite autumn wedding dresses—it's ultra-luxe and exceptionally designed for your fall wedding. Made with luxurious stretch satin and lined with Donella crepe, Ekaterina features a gorgeous portrait neckline on an asymmetrically pleated bodice, off-the-shoulder ruched satin cap-sleeves, and a thigh-high overlapping pleated slit. Personalize this gown for your love story by shortening or removing the train, forgoing the slit, or adding buttons down the back for vintage vibe.
PC: Morgan Manney Photography
Vintage meets boho in Joanne by Rebecca Ingram. This dreamy A-line wedding gown features three gorgeous, beaded trims under the bust to accentuate the waist as well as textured tulle, a sexy V-neckline, and stunningly airy bishop sleeves. Joanne is perfect fall wedding dress for brides looking for a wistful boho style for their wedding day. Personalize this gown for your unique love story by adding buttons down the back or removing the detachable sleeves for your reception. Who doesn't love a good two-in-one look? Check out this Real Bride in Joanne!
Black Wedding Dresses for Spooky Season Loving Brides
Spooky season is right around the corner, so we just have to share our favorite October dresses for brides! First, we have the striking Zander Lane by Sottero and Midgley. This black fit-and-flare style is simply to die for (see what we did there?), with its sexy plunging V-neckline, illusion V-back, and dramatic lace. Zander Lane is available in the following colorways:
All Black (gown with Black Illusion)
Black over Nude (gown with Natural Illusion)
Ivory/Champagne Accent (gown with Natural Illusion)
Ivory/Champagne Accent over Nude (gown with Natural Illusion)
Personalize this gown by changing Chantilly lace to texture tulle, shortening or removing the train, adding buttons down the back, or adding its matching tulle veil accented with lace. Not only do we LOVE Zander Lane, its Sister Style Zander by Sottero and Midgley is a gorgeous style destined to be one of our favorite October dresses.
PC: White Light Photography and Video
Elaine by Maggie Sottero is another stunning style that will wonderfully complement your autumn wedding. This art deco inspired wedding dress is simply stunning, especially in the Black over Blush colorway. Elaine features an illusion beaded bodice with unique beaded embroidery, a plunging illusion V-neckline, an illusion V-back, and illusion lace tank straps. Doesn't this bride look stunning in Elaine?
Last on our list of October dresses is Norvinia by Sottero and Midgley. This beautiful, royal inspired ballgown is decorated in black lace with a soft scoop neckline, a sheer illusion lace bodice lined with organza, sequin lace motifs over sparkle tulle, a scoop back, and detachable beaded spaghetti straps. Personalize this style for your wedding by adding buttons down the back or opting for its Sister Style Norvinia Lynette, which features an illusion lace bateau neckline and long sleeves.
Lace Fall Wedding Dresses for Romantic Brides
PC: Morgan and Joel Photography
When it comes to November dresses, Harlem by Maggie Sottero is a stunning choice destined for our romantic brides! This fairytale wedding gown is shimmery, shiny, and made for dancing. Harlem features a sweetheart neckline a sheer lace bodice lined with organza, a soft V-back, and off-the-shoulder illusion lace cap sleeves. Personalize this gown by:
Changing the 2nd tulle layer to sparkle tulle
Adding buttons down the back
Opting for a fully lined bodice
Opting for beading along the front and back necklines
Love the look of Harlem but want a fit-and-flare? Its Sister Style Harlem Lane by Maggie Sottero just might be the one for you!
PC: Love Clic Photography
We can't imagine creating a list of November dresses without including Cruz by Sottero and Midgley. This vintage lace mermaid wedding dress is lavishly decorated with 3-D florals loved by brides everywhere. Lined with Scuba crepe for support, Cruz features a bodice embellished with sequins and 3-D flowers, a plunging illusion V-neckline, a deep V-back, and a marvelous extended scalloped lace train. Personalize this gown for your love story by:
Adding sparkle tulle under the 1st layer of tulle
Adding buttons down the back for a vintage vibe
Opting for its detachable 3-D lace puff long sleeves
This Real Bride looks breathtaking in Cruz!
PC: Max Russell
Last, but certainly not least, on our list of November dresses is Raphael by Maggie Sottero. This illusion sleeve A-line wedding dress gives the best vintage royalty vibes we could ever ask for! Striking the perfect balance of boho and classic, Raphael features a sheer beaded bodice, and a deep illusion V-neckline. Lacey long sleeves and boho-inspired lace are the perfect finishing touches. Choose to personalize this gown by changing the sparkle tulle to plain tulle or opting for its sleeveless Sister Style Raphael Dawn by Maggie Sottero. We absolutely adore this Real Bride shining with true radiance in Raphael on their wedding day!
We hope you LOVED our list of fall wedding dresses! Best of luck throughout your wedding journey, and enjoy the cool weather, pumpkin spice, and cardigans! We can't wait to see which fall wedding dress you choose. Be sure to follow our socials and check out more of our blog posts for more wedding inspo! Happy dress shopping, brides!
Oh, before we go, have you heard about our 25 Days of Giveaways? Follow us on TikTok and jump in for the chance to win amazing wedding-related prizes. We start on October 4th! See you over there!
And make sure to explore our blogs before to help narrow down your bridal aesthetic even more!
Harry Potter Wedding Dresses For Your Hogwarts House
Magical Disney Princess Wedding Dresses For Your Fairytale Day
What Wedding Dress You Should Wear Based on Your Zodiac Sign