Dresses
Wedding Inspo
|
May 2, 2023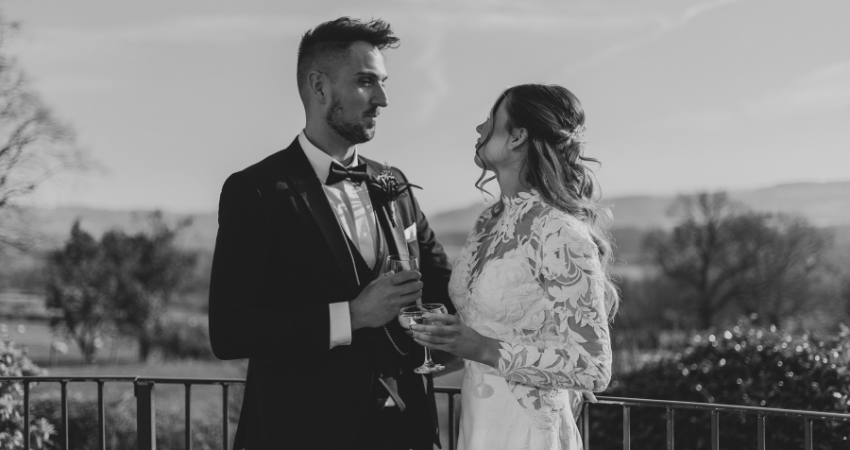 Unless you've been totally dead set on boycotting wedding season in recent years (we hope not), you may have noticed the rise in ultra-stylish courthouse and minimony wedding celebrations. Like many "new normals," the uptick started with the COVID-19 pandemic: Many couples had to adapt their wedding plans due to social distancing guidelines and restrictions on large gatherings — thus leading to smaller, more intimate wedding celebrations.
Now, post-pandemic, the style, sophistication, and subtle glamor of a smaller wedding is still very much "of the moment." Keep scrolling to learn why and make sure to take our Style Quiz below to find even more gown inspo!
Why Have a Minimony or Courthouse Wedding?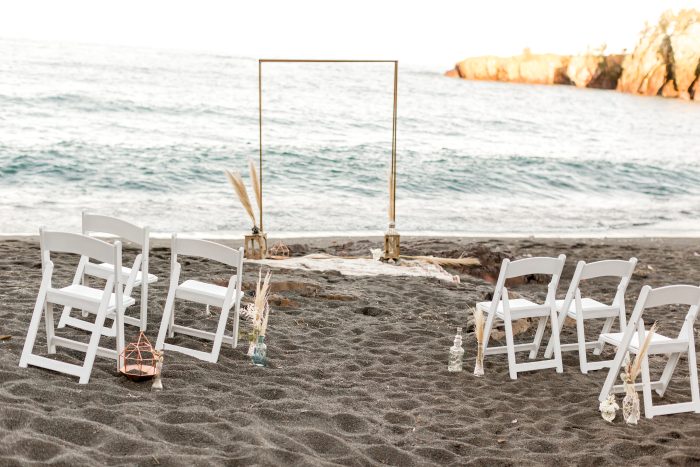 PC: Alexandra Robyn Destination Photo
Courthouse weddings have always been a top choice for couples who want a simple, low-key wedding ceremony that is both easy to plan and effortless to execute. These celebrations typically involve a brief ceremony that takes place at a local courthouse or city hall, and with just the couple and a few close family members or friends in attendance. These types of weddings are often more affordable and less stressful than traditional weddings — an extra appealing option for modern couples.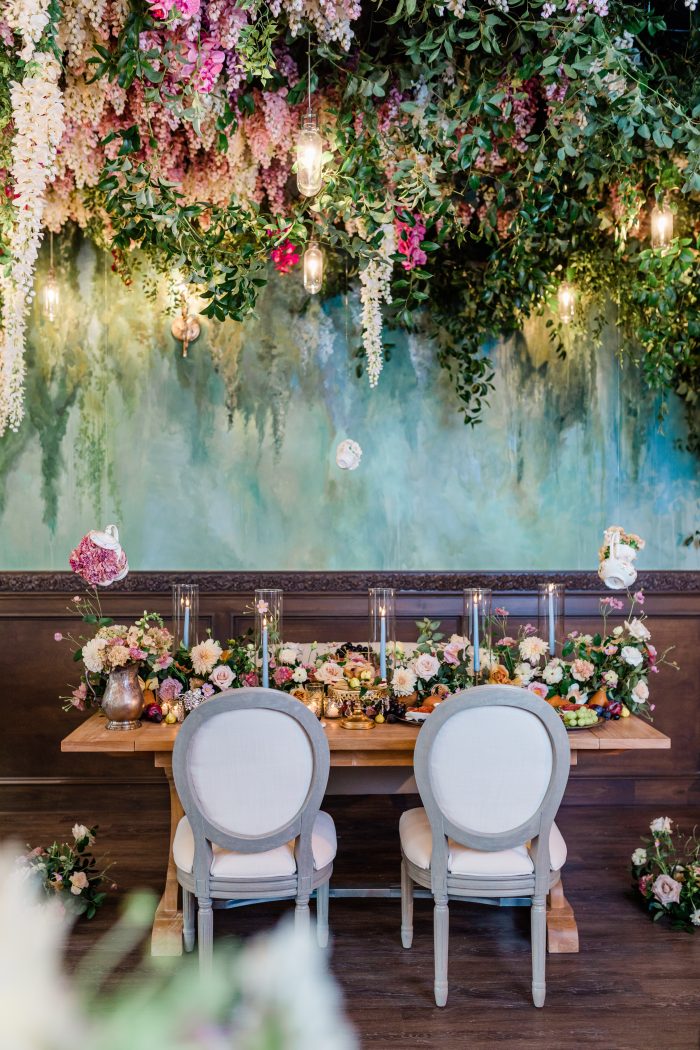 Minimony weddings, on the other hand, are a hybrid of a mini ceremony and a full wedding celebration. They involve a small group of guests and typically take place at a more intimate location, such as a backyard, a park, or a small venue. Minimonies allow couples to still have a meaningful wedding celebration with their closest loved ones, whether they are social distancing or simply enjoy the quiet romance of the occasion.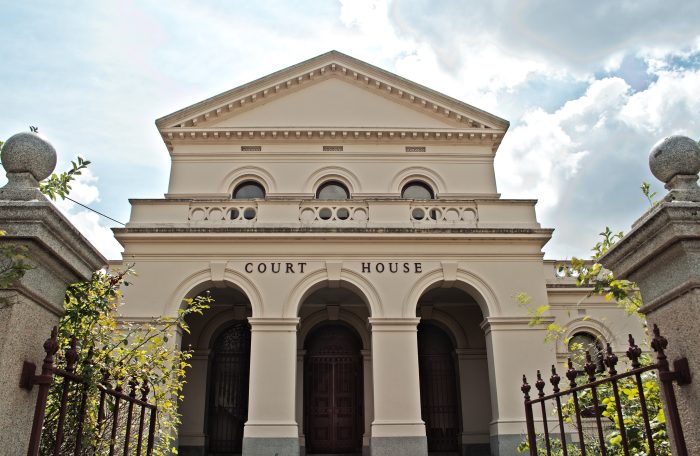 PC: Melody Ayres Griffiths
Another reason for the rise in courthouse and minimony weddings? Both offer more flexibility and allow couples to be more creative with their wedding plans. Without the pressure of planning a large, traditional wedding, couples can focus on what is most important to them: Savoring a more personalized and meaningful wedding celebration.
Of course, with the increasing popularity of simple, affordable, and flexible wedding plans comes a range of chic and effortless wedding gowns to match.
What do you wear to a Minimony or Courthouse Wedding?
You have tons of options for wedding dresses for a small ceremony. An intimate wedding typically offers more flexibility in terms of dress code — you get to choose a dress that perfectly matches your personal style and fits the overall vibe of your celebration or courthouse marriage. Here are a few of our favorite trends:
Simple and elegant silhouettes
Stylish minimalism
Tea-length skirts
Whimsical accessories
Boho and vintage details
Unique colorways
We offer a range of gorgeous wedding gowns for smaller celebrations, as well as pricing and delivery options to make the whole process easy-breezy:
Budget-friendly styles from our Rebecca Ingram collections. These feature stylish, romantic, and whimsical courthouse wedding dresses — a perfectly affordable option for a casual celebration.
Quick Ship wedding dresses — select gowns that have faster than normal delivery times. These are a gorgeous choice for brides with fast-approaching wedding dates, elopements, and short engagements.
Of course, your final look is anything that speaks to your vision and personality. To get you started, we've curated a few of our favorite simple and stylish wedding dresses for small celebrations below!
Minimony and Courthouse Wedding Gowns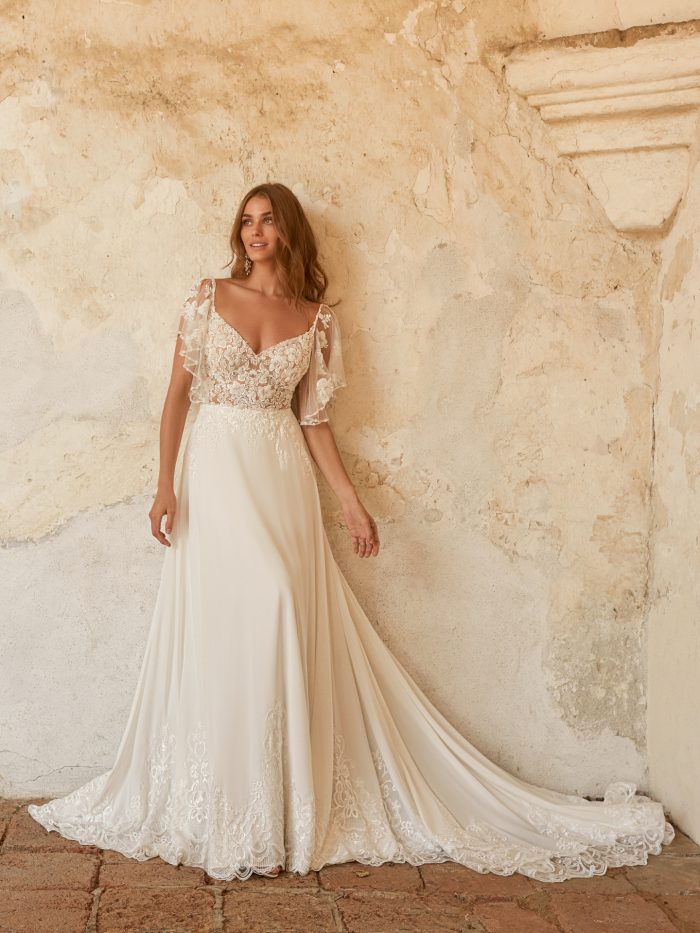 Our first pick for an intimate wedding is Primrose, a soft and feminine lace A-line with a gorgeous swishy skirt. This style features two ways to personalize:
Also available with a lined front bodice
Detachable flutter sleeves with beaded trim sold separately
Also offered as a modest sister style, Primrose Leigh
This style is easy, flowy, and romantic without being over the top. It's a perfect choice for a garden, backyard, or courthouse venue.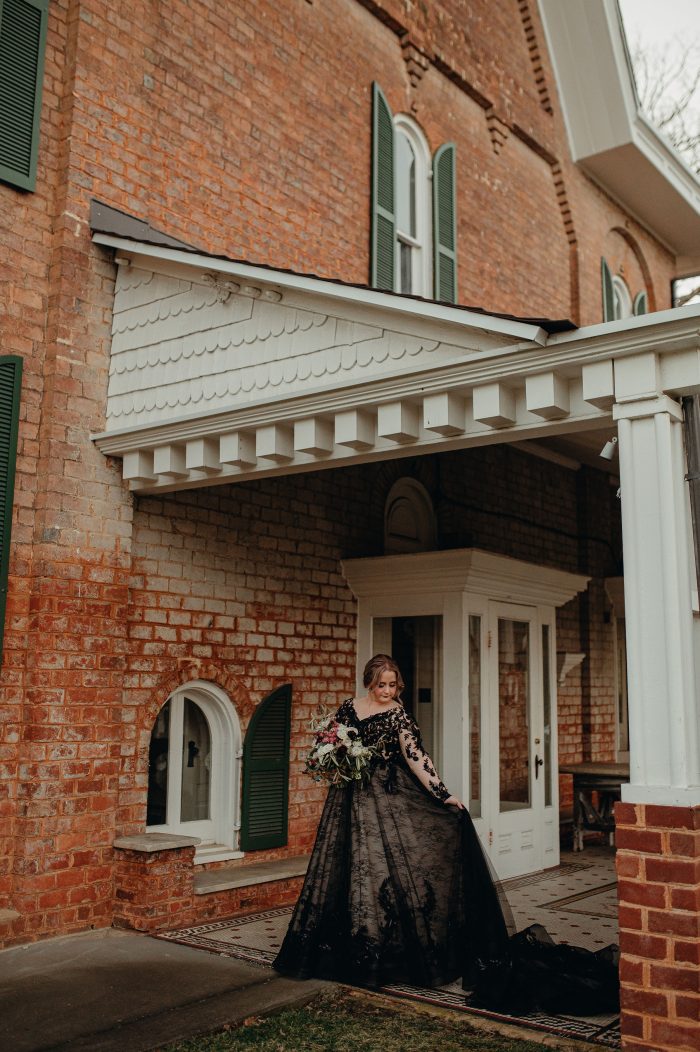 PC: Karena Schroeder
Ok, so just because you're planning a low-key celebration or courthouse marriage doesn't mean you have to skimp on style. Make a one-of-a-kind statement with Zander — a sleeved ball gown with a gorgeous illusion bodice and lush skirt.
Here are a few ways to make this Quick Ship style your own:
Change the Chantilly lace to texture tulle
Add covered buttons down the back for a vintage vibe
Also available without sleeves with illusion lace tank straps
Tulle veil accented with lace sold separately
Detachable long fitted lace sleeves sold separately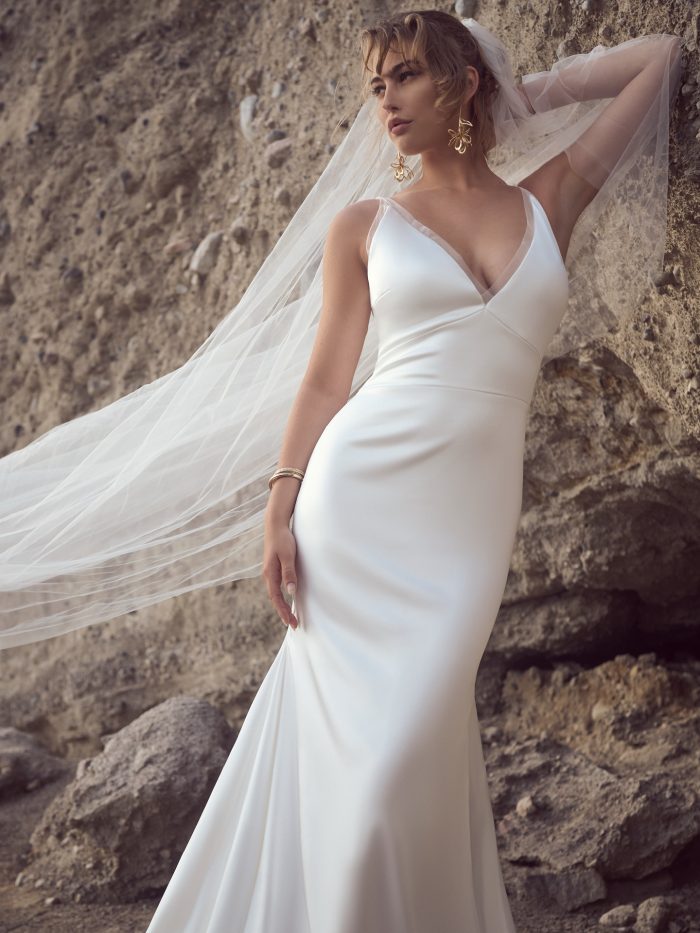 Simple Mikado makes a luxe yet effortless statement in Senovia. This relaxed fit-and-flare is super comfortable to wear, yet perfectly tailored to show off your curves. We especially love the classic bodice lines and subtle illusion in the neckline.
This style is versatile, effortless, and easy to adapt to a variety of intimate wedding venues!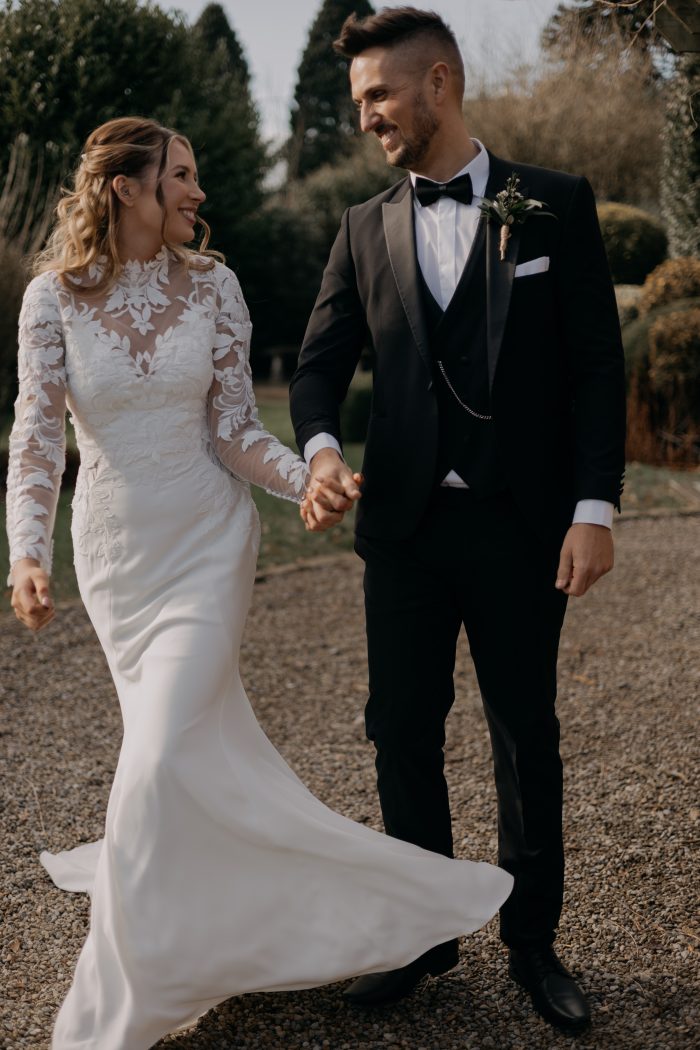 PC: Bowness Film | Beauty: The Illusion
A simple wedding gown with gorgeous accessories, Dionne is an irresistible choice for a chic and casual celebration. (And it's also a Quick Ship option!) Here are a few ways to style this timeless silhouette:
Explore more crepe fabric wedding dresses like this one in our gallery!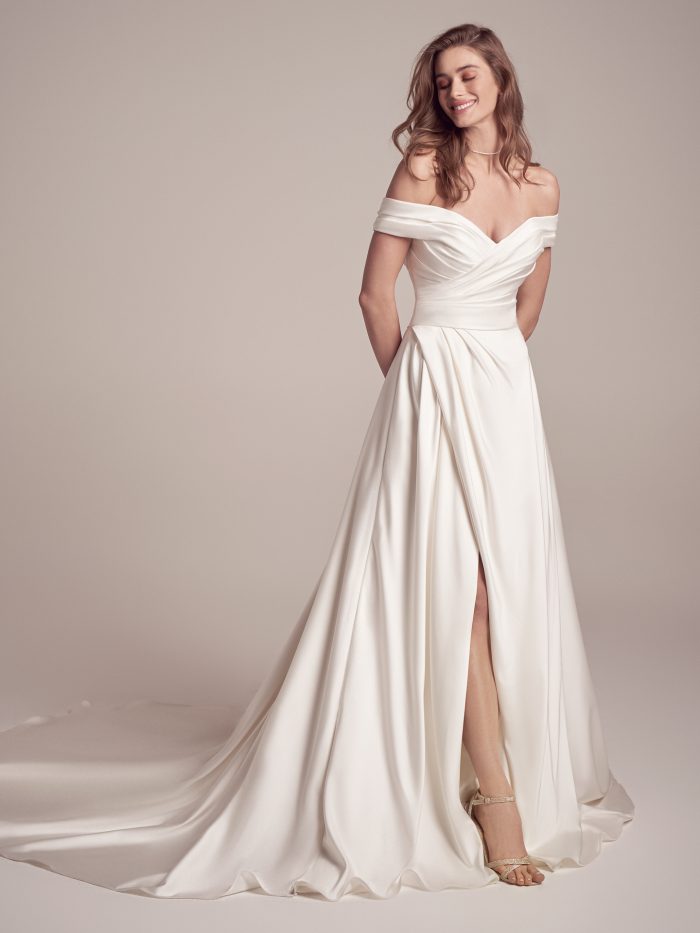 All the ways we love Ekaterina for a minimony or courthouse occasion? This gown is simple, casual, and perfect for any level of "effortlessly gorgeous" you'd like to curate. And here's how to customize:
Add covered buttons down the back for a vintage vibe
Also available with no slit
Add a bridal veil, cape, or overskirt
Love this fabric? We've compiled more romantic satin wedding dresses from our latest collections.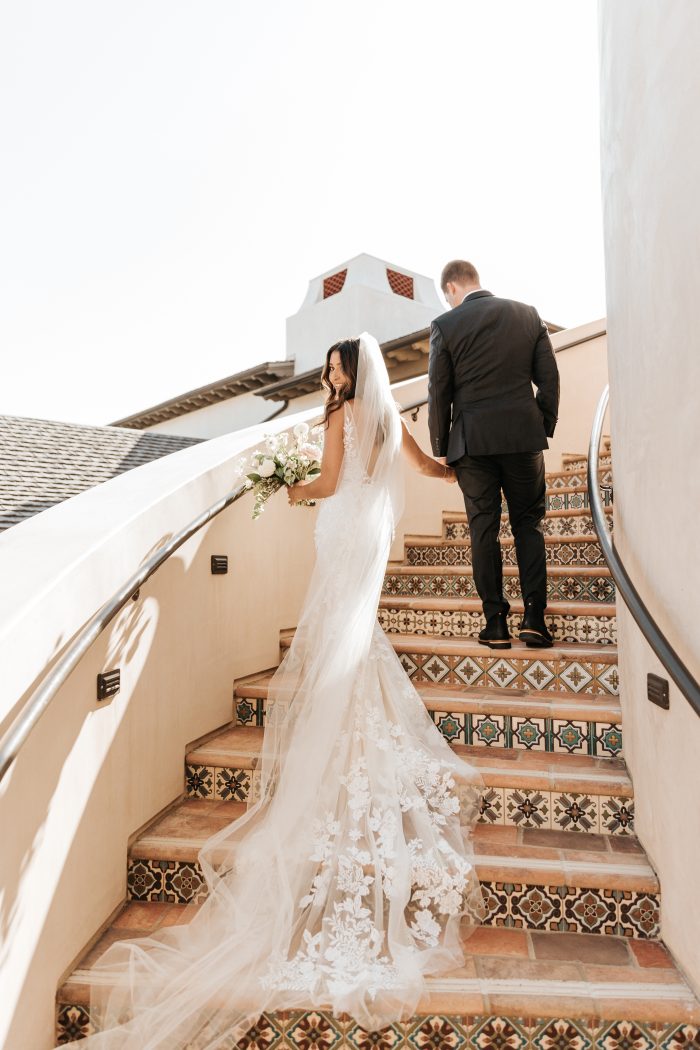 PC: Sydney Bliss Photography
One of our most popular boho-inspired gowns is Greenley, a soft, lush, and effortlessly romantic silhouette with illusion details and gorgeous lace. This style is also available with a lined bodice, or as a simple A-line gown in sister style Greenley Lane. Add the matching veil for extra drama and flourish. 
This Quick Ship style is everything you'd need for a romantic elopement. It's simple, easy to pack if you're planning on transporting the dress a long way, and best of all — affordable!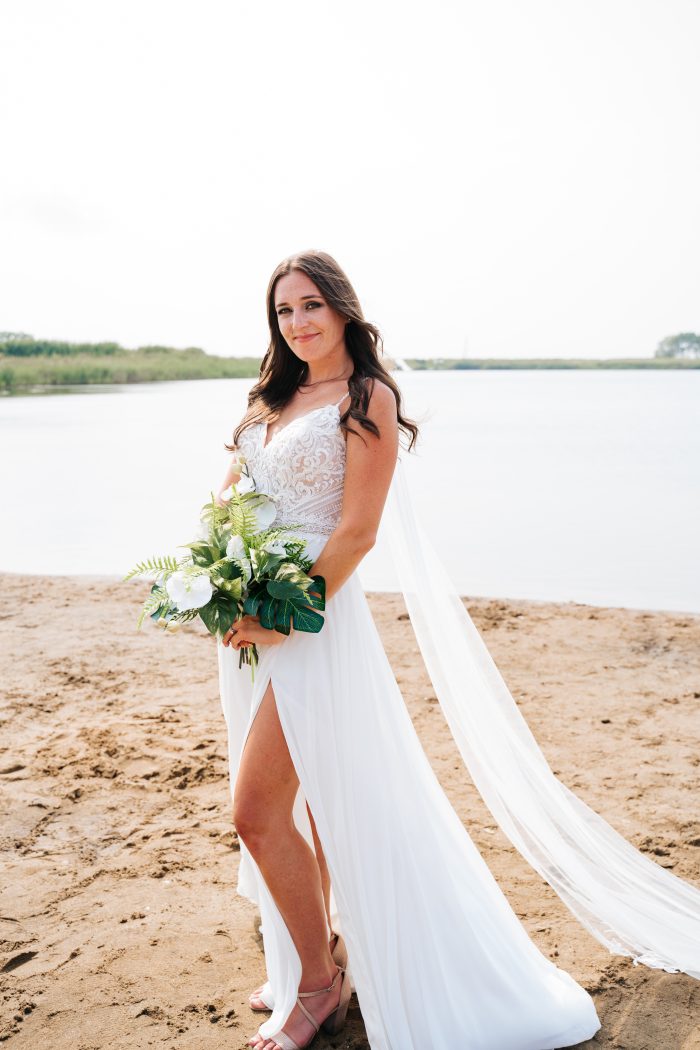 Picturing an outdoor wedding with breezy backdrops and an intimate ceremony? The beach is calling! Lorraine is an exceptional wedding gown made for sunsets, seashells, and all that general fabulousness of a beach wedding. It's also an affordable Quick Ship style, so your ordering and delivery will be just as breezy as your celebration.
Lorraine has several sister styles for a variety of sleeves, bodices, silhouettes, and illusion details. Explore all the options to find your perfect style!
For the Bride Who Wants a Traditional Dress — Not a Traditional Wedding: Mallory Dawn by Maggie Sottero
PC: Krystal Jones Photography
Hey, if you love the classics, look to the classics. Mallory Dawn is that "modern with a twist" kind of ball gown — a princess silhouette with a few chic and sexy updates. The sleeves are divine, the plunging neckline is captivating, and the shimmer is exceptional.
A few reviews from our real brides who wore Mallory Dawn:
"I never imagined this would be the style I would wear on my wedding day, but as soon as I tried it on, I knew it was the one." — Natalie
"I truly felt like a princess. I felt incredibly beautiful and confident, exactly how I wanted to feel on my wedding day. I felt like a bride!" — Emily
"This dress made me feel like an absolute princess. I knew this would be my dress the moment I tried it on. It was very comfortable, and I didn't have any issues wearing it for several hours not only on the wedding day but for my bridal pictures as well." — Breeana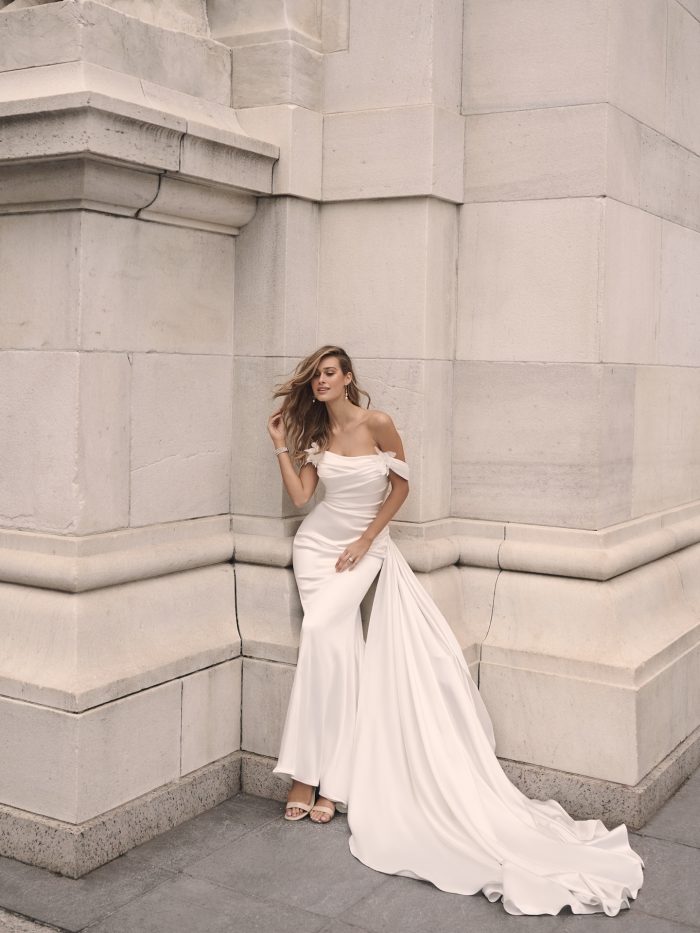 It's funny how "chic and modern" is often the most effortlessly timeless — like this Grecian-inspired silhouette that feels both fresh and classic all at once. We're smitten with the ruching, soft silhouette, neckline details, and sexy off-the-shoulder sleeves. Here's how to personalize this perfect gown:
Cameron proves simple and sexy makes the ultimate statement for a minimony, courthouse wedding, elopement, or intimate celebration!
Ready to shop these minimony and courthouse wedding dresses IRL? Head to an Authorized Retailer to get started:
More blogs to inspire your shopping, whatever your vision for a courthouse marriage, minimony, or micro celebration:
The Ultimate Guide to Planning a Micro Wedding for Your Intimate Celebration
How to Find Wedding Dress Boutiques Near You
Wedding Dress Customizations and Personalizations with Maggie Sottero
As always, happy shopping! Wishing you all the magic for your intimate wedding celebration and happily ever after.