Tips and Trends
Wedding Inspo
|
September 6, 2021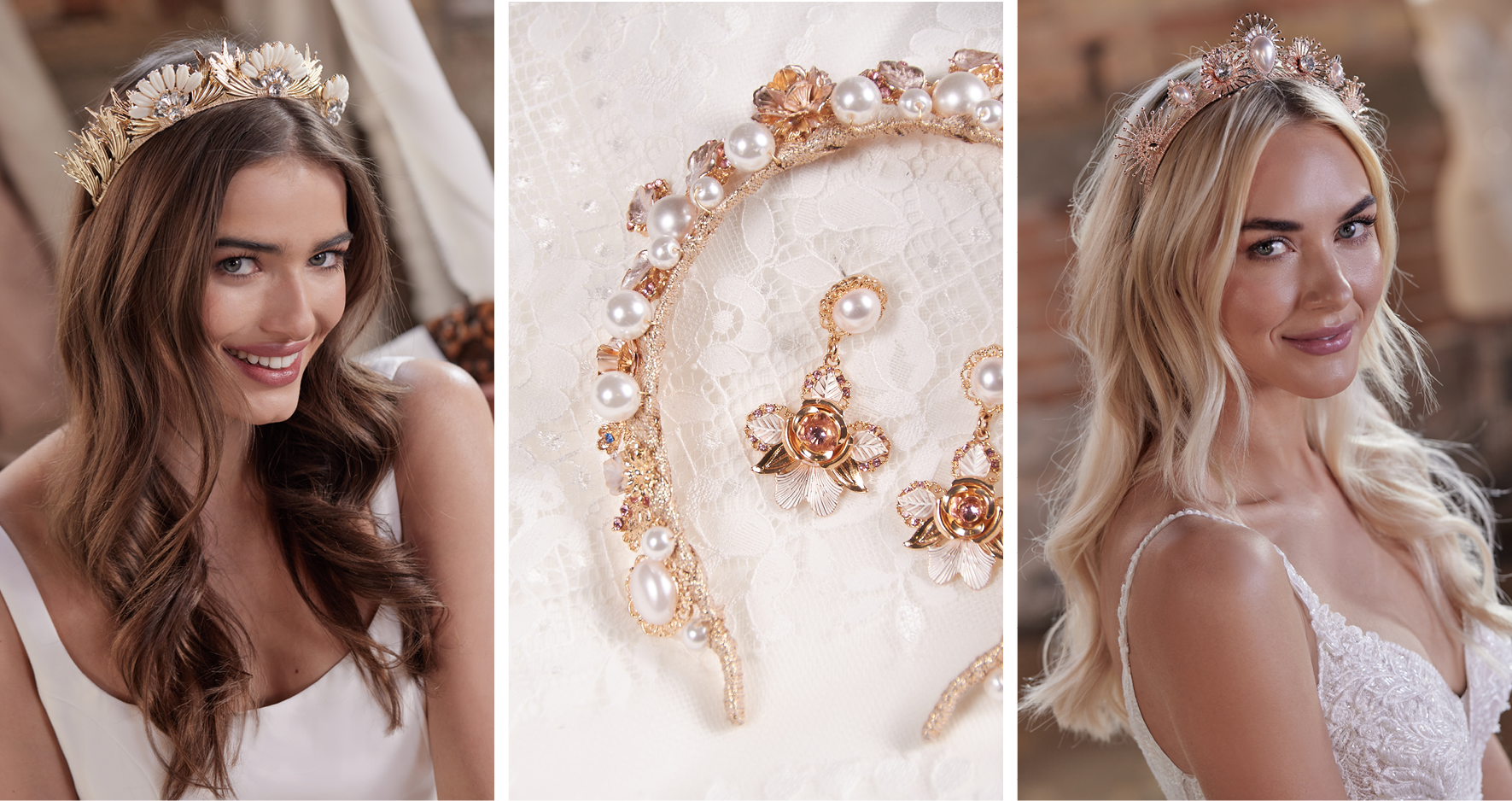 Let us take a guess—you have a true old-school heart and a soft spot for all things vintage, you adore the eclectic and timeless elegance of pieces from another era, and you're looking to incorporate this love of antique wonders into your bridal look. Sound about right? Well vintage fashionista, we have a list of vintage bridal accessories that will help this vision come true. Prepare to fall in love with these whimsical styles!
Look like you've stepped out of a Renaissance painting with Deandra, a bridal tiara with gorgeous celestial details. All the dreaminess of moon, stars, and far-off planets are encapsulated in this crown. The pearls and jewels are adorned with sunburst details, which is graceful yet decadent. Choose between several setting colorways: rose gold, silver, or gold. Vintage wedding hair accessories like this tie together your whole timeless bridal look with ease.
We've recently partnered with Australian Designer Ashlee Lauren to create Maggie Sottero x A'El Este. Whether you're a boho dreamer looking for an ethereal crown, an antique connoisseur who loves vintage wedding headpieces, or a Kate Middleton-esque fashionista craving a dramatic, royal moment, Maggie Sottero x A'El Este is made for every kind of bride, no matter your style! The bridal jewelry is the perfect encapsulation of on-trend fashion statements with intricate beading, modern stonework, and romantic details.
Love the geometric glamour of the Art Deco Era? The Deandra earrings go perfectly with a swanky 20s-inspired bridal look. The pearl tear drop details will bring elevated elegance to any look. Just imagine how beautiful these wedding earrings would look with a slicked backed bun or high ponytail. Fabulous!
These bridal earrings come in three different setting colorways: rose gold, silver, and gold. Which would you choose?! To view more gorgeous bridal jewelry, click here. We're all well aware of having two looks for your wedding day, but can we introduce you to the concept of ceremony jewelry and then changing into another set of earrings and crown for the reception? We have so many vintage wedding accessories to choose from!
These long sleeves are worthy of a 1930s Old Hollywood Red Carpet. The Dublin bell sleeves are the perfect vintage bridal accessory to complete your bridal look. The sleeves have luxe lace motif accents, and the illusion cascades down from the elbow, creating a dramatic effect.
Dublin by Sottero and Midgley is the matching gown to these gorgeous sleeves and is a chic mermaid wedding dress with beaded lace. Add glamourous loose curls, a colorful heel, and pearl jewelry to make 1930s style icon Vivien Leigh proud. Click here to go to our Store Locator and visit an Authorized Retailer who carries this accessory to try it on in person!
There is just something so sweet and romantic about cap sleeves, wouldn't you agree? This vintage bridal accessory on our Dublin Lynette gown are cap sleeves accented in lace and sequins, which means the best of both by-gone eras: the elegant lace of the 30s and 40s with the flirty sequins of the 60s and 70s.
The corresponding bridal gown, Dublin Lynette by Sottero and Midgley, is also available with a little extra coverage for our gorgeous curvy babes. The lace back and trailing covered buttons would make anyone with a soft spot for vintage swoon.
This vintage-inspired wedding hair piece looks like it could have been pulled out of a perfectly preserved antique jewelry box. Brianne features accents in stunning pearls, which bring vintage-inspired sophistication to the table.
There are so many ways you can style vintage bridal accessories, and this headband is no exception. Pair it with a fit-and-flare wedding dress with Allover antique lace, a sleek and simple style with statement sleeves that is reminiscent of 70s glamour. Or, pair it with a dramatic ball gown wedding dress fit for royals from a different era. The possibilities are endless! And each one is completely dreamy.
There are few vintage wedding accessories as fun as this one. Dover is a fingertip wedding veil edged in fringe. Just imagine all the gorgeous photos you could take with this accessory. Your Instagram will thank you later. To see more vintage wedding hairpieces and veils, click here.
Matching wedding dress Dover by Maggie Sottero has major vintage festival vibes with the Allover geometric lace, sweetheart neckline, and covered button closure. If we could transport to a music festival in the 60s, we would be wearing this wedding dress.
So, you're looking for statement vintage bridal accessories? Florentina is the perfect choice. Decadent and bold, these earrings come with floral details and draping crystals. The organic lines and shapes are eye catching. Pair these earrings with tousled hair or a loose braid for an elevated boho feel.
You have options with these earrings. Choose between gold or silver encasing based on your vibe. Any wedding dress will work well with this beautiful accessory. Click here for our Store Locator and visit an Authorized Retailer who carries this, and other vintage wedding accessories, to try it on in person!
Take a cue from one of the iconic fashion icons of the 80s and 90s, Princess Diana, with this extended bridal train. With Edison, you can make a dramatic entrance with this long train just like Lady Di. The scalloped illusion lace train will float down the aisle and will surely turn heads. For more detachable train and skirt accessories, click here.
Matching bridal gown Edison by Maggie Sottero is a classic, timeless lace dress with vintage flair. Just look at the lace motifs, v-neckline, and off-the-shoulder sleeves.
Pearls and floral details in one vintage bridal accessory?! Yes, this is real life, and the Calaveras is making all of our dreams of vintage wedding headpieces come true. The perfect topper to any bridal look, this crown comes with pops of blue and pink. AKA – the perfect "something blue!"
Choose between silver, gold, and rose gold encasing. With these blooming floral details, you may be mistaken for an ethereal goddess.
If one accessory has the ever-so sought after WOW factor, it's Sabina, a dramatic scalloped cathedral length wedding veil. Lace floral motifs cascade the length of the train, which will create the most beautiful bridal portraits and make for a dazzling entrance into the ceremony.
Pair this veil with Astley by Maggie Sottero. This sophisticated crepe Mermaid wedding dress brings the Old Hollywood vibes while delivering unexpected, thoughtful details. Just take a look at the seams and detachable belt with Herringbone beading.
Take your place on the throne in your Royal Renaissance bridal fantasy in these beaded illusion cold-shoulder bishop sleeves. Beverly comes with divine and delicate shimmery motifs. Just add a crown and a regal-minded attitude! Click here to view more detachable sleeves.
Matching dress Beverly by Rebecca Ingram is an affordable crepe sheath that comes with a sexy illusion bodice and side panels. Click here for our Store Locator and visit an Authorized Retailer who carries this, and other vintage wedding accessories, to try it on in person!
Out of all the vintage wedding hair accessories, no Gatsby-Inspired celebration would be complete without this floral art deco crown. The Alanis crown has coral details and gold flourishes, which makes for a bold and exceptional statement.
Whether you want to pair Alanis with a simple, sophisticated style or a maximalist wedding dress with tons of glitz or glam, your bridal look with vintage wedding accessories will be remembered for generations to come.
Don't be surprised if an art collector wants to display these earrings in their gallery after your big day. With multiple tiers and feminine details, the Alanis bridal earrings are a true work of art.
These earrings are designed to compliment your fierce style. May we suggest a gorgeous loose braid or pinned back up-do for your big day so these beautiful pieces of jewelry can be on full display?
Whether you're looking for vintage wedding hairpieces, a gorgeous crown, art-like earrings, a daring veil, or transformative detachable sleeves, we hope your dreams are filled with visions of vintage bridal accessories. Choose one (or a few!) of these vintage wedding accessories to complete your wedding day look. For more bridal accessory inspiration, check out our list of the 13 best boho bridal accessories and our blog on the best picture perfect veils to pair with your vintage wedding dress.
Happy accessorizing, beautiful!