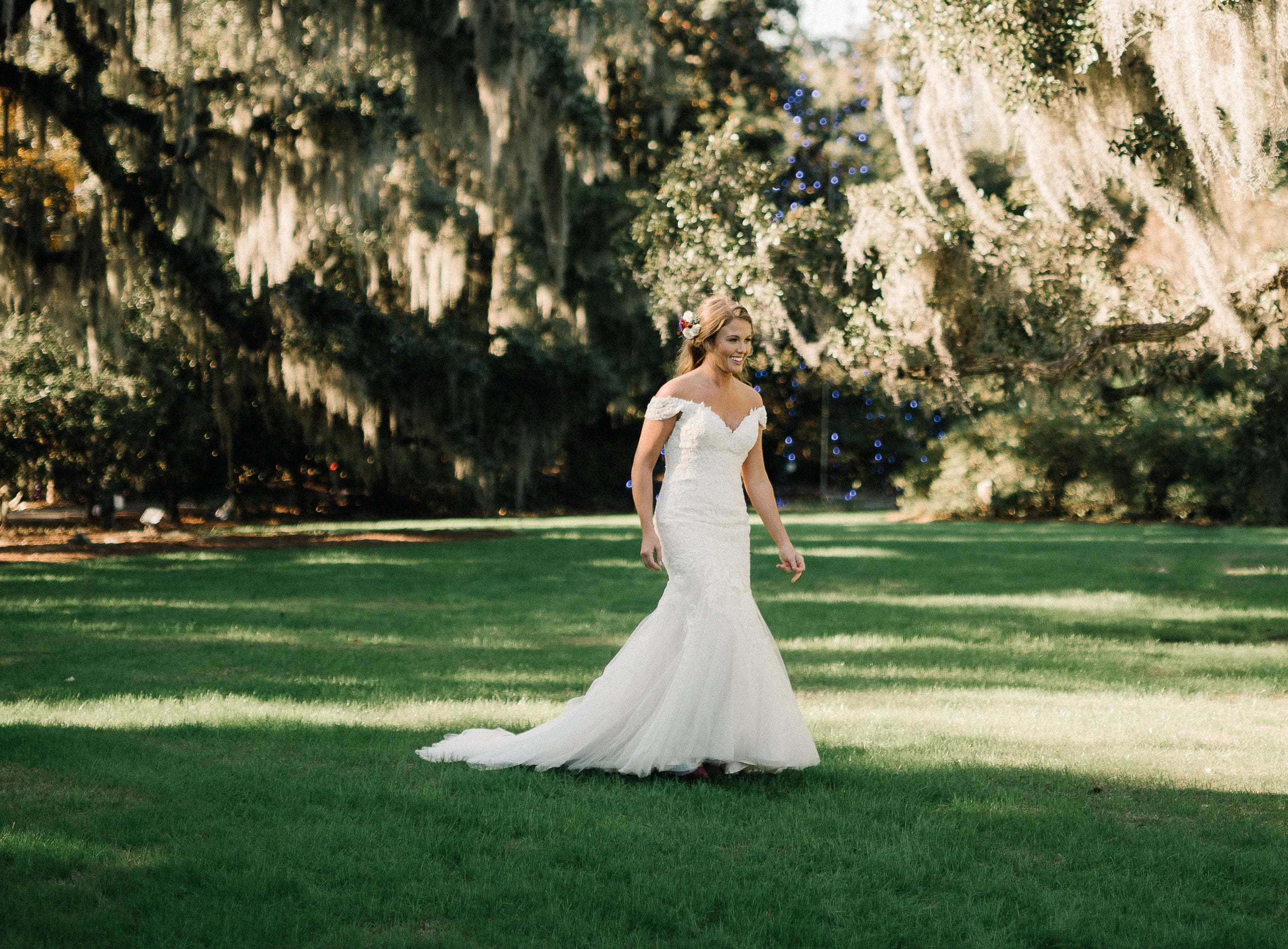 We are so excited to feature our bride Destiny's wedding gallery! Destiny is a world-class adventurer and travel blogger who recently collaborated on a post for tackling your wedding and honeymoon budget for our blog. 
Thank you to Meagan Forbes Photography for the beautiful images. Head to an Authorized Retailer to try on more off-the-shoulder Maggie Sottero gowns today.
Tell us a little about you and your sweetheart. How did you two meet?
Adam and I met at church. He was new on staff and to the area, and I was new to the area and in school. I decided to try out a local church with a friend one Sunday. Adam and I made awkward eye contact across the room. This continued for a couple weeks before we officially met and started talking to one another. At the time I was 20 and finishing school, and Adam was 27 with his career already in place. For this reason we tried numerous times to stop hanging out because we were in different places in life. We failed miserably at these efforts for months before we caved and started dating. Fast forward a few years, I am now 23 and Adam is 31, we are married, with no intention to ever stop pursuing and dating one another. This is the best decision we have ever made.
| | |
| --- | --- |
| | |
What was the moment you knew you had fallen in love?
We are both travel bugs. The first summer we knew each other he went on a surf trip to Costa Rica and I took myself to Australia to do some exploring. This was still during the time we were trying to figure out if we should be together. Seeing each other's photos and sharing our experiences from our trips afterwards made us realize we loved how adventurous one another's soul was. We wanted to start sharing our world travels together. We were definitely in love before we actually admitted it to one another, but that's another story in itself.
| | |
| --- | --- |
| | |
How did he propose?
Adam is a professional photographer and videographer. A side hobby we really got into together was astrophotography of shooting the stars when the Milky Way is just right. We wake up at the craziest hours of the night to drive out to the beach and get photos of the stars. He told me one night that the moon and stars were going to be perfect for some epic photos so not thinking anything out of our craziness 2 am beach trips, I was in for the adventure. We were on the beach, the stars bright, watching the moonrise over the ocean, when Adam told me to be still for 30 seconds while his tripod got a photo of me with the stars. I turned around to him on one knee asking me to be his wife. We got the most amazing moonrise photo at the beach and it was the perfect start to our adventure.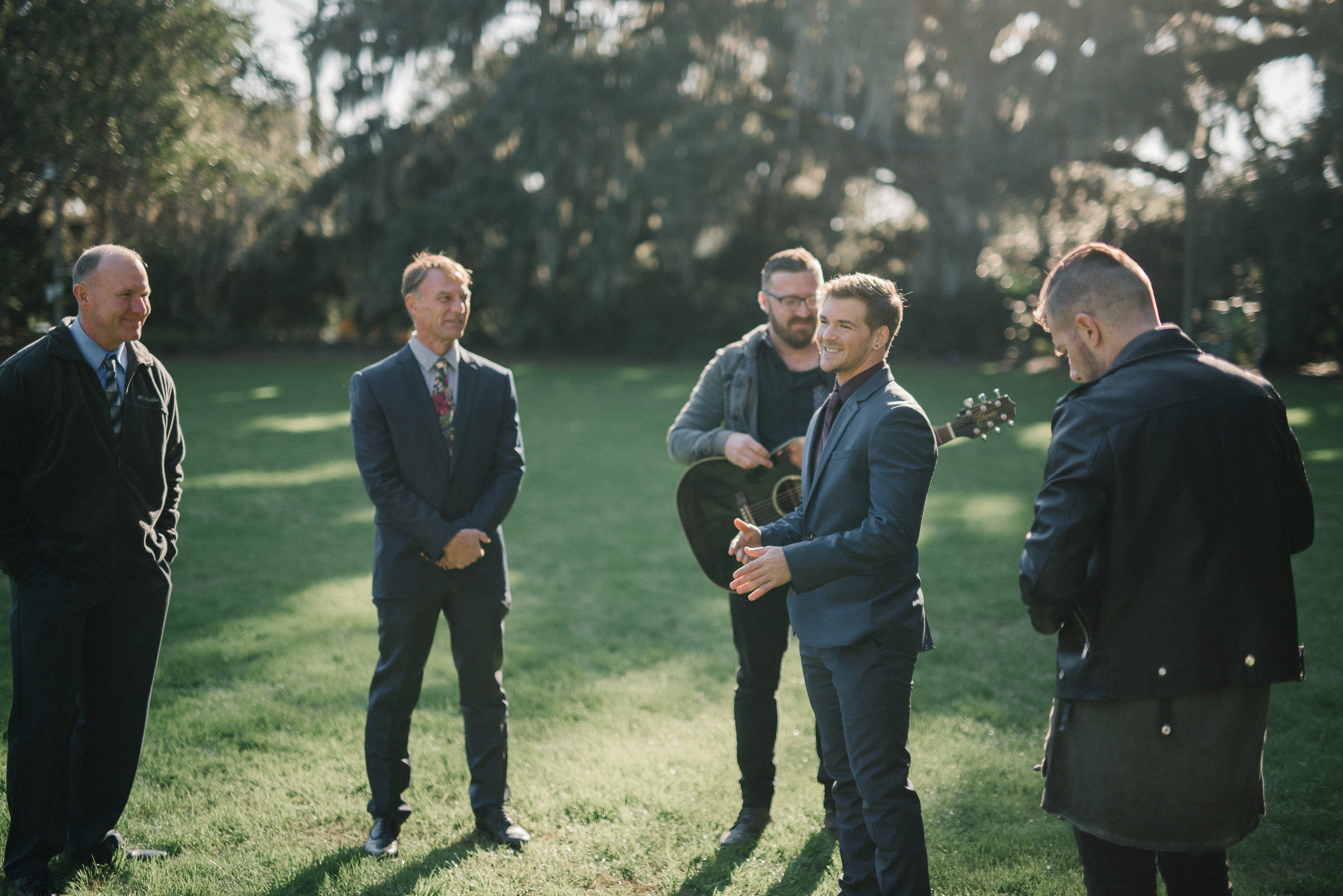 | | |
| --- | --- |
| | |
What was the first thing you checked off your wedding-planning list?
We waited until marriage to live together and since we knew we were committed for life and wanted this, we wanted a short engagement so we could start the best part of our lives together. We did a 6-month engagement so the first thing we did was pick a date. It was June when we got engaged and I am currently in graduate school now, so we decided on December 2017, during my winter break.
When you started shopping for wedding dresses, what did you have in mind?
I had no idea what I wanted except nothing too poofy. I am shorter, and Adam is slim and lean, so that tends to work best for our builds together.
Who is your style icon?
I am a scuba diver and I have my own mermaid tail so I am always referred to as a mermaid. This is my style icon, not so much a "who."
Who did you invite to help you shop for gowns?
It was a quick planned wedding and honeymoon so I had to start dress shopping right away. I took my best friend with me (my family is out of town) to start looking and maybe see what I might be interested in but it didn't take me long to find THE DRESS.
Which Maggie Sottero Designs gown did you choose?
I just have dreamy ideas of a dress from my Pinterest. I always love the lean lace style dresses with a gorgeous train. I got all of this plus more with my dress.
How did you create the "look and feel" of your wedding?
We both love tropical vibes and sunshine so it was ironic that we were getting married in December and everyone else we know would agree. We did a winter feel wedding though. I had a white fur shawl for my dress, we got married outside in a garden, we used navy blue and a deep masala color palette…. Plus, our reception was in a rustic brewery with exposed brick walls, so it was warm and cozy.
What was the funniest part of your wedding day?
Myself, as the bride having to use the rest room. The way my dress fit, it would not lift up high enough and there were so many buttons down the back to try and take it off. I also had the top part taped to me for extra support. I had to use at least 3 girls to help me every time I had to go to the bathroom. I am known as the friend no one wants to road trip with because I drink so much water and always have to go too so you can imagine how this went on my wedding day.
What was the most surprising part of your wedding day?
We did a very intimate wedding ceremony with immediate family only in the garden, and then threw a huge reception after for all other friends and family to meet us at. We were surprised when we got announced and walked into the brewery full of about 300 people that came out to support us. It was an amazing feeling to have that many people care about the start of our new life together.
What was the most magical part of your wedding day? We did our first look under a giant oak tree that has been around for ages. We had a friend come back from living in Nicaragua and play his guitar for us in the wedding so there we were seeing each other for the first time under this magical tree in a garden, just us, with live music being played… it was like having background music to your life movie.
What advice do you have for brides tackling their wedding budget? It is not for your guests… it is for you and your groom. A wedding need to represent the couple so whether that be a big or small wedding, there is no right or wrong choice, as long as it is what you two want, not your moms. You get married once and I have too many friends say they had to sacrifice something and meet in the middle for their families wants but this day is not about them. It is for you two. Do you.
Need more winter wedding inspiration?
Winter Wedding Featuring Jewel-tones and Vintage-Inspired Wedding Gown