Dresses
|
December 18, 2020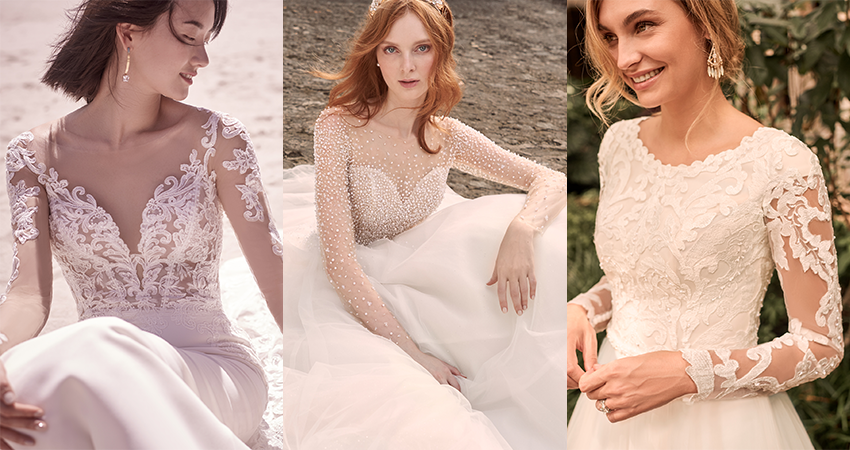 As bridalwear experts, we pay extra attention to how you like your sleeves. We adore barely-there flutter styles (very flirty). And we love strapless (ideal for summer). We covet the halter-neck trend (so modern). And when it comes to an exceptionally chic and vintage-inspired bridal look, we're living for wedding dresses with sleeves—timeless silhouettes that delivers the perfect balance of coverage and intrigue.
They're feminine, they're sophisticated, they're an inimitable choice for winter weddings. From boho bells to captivating illusion, here are nine long sleeve wedding gowns for a romantic celebration—including the best ways to accessorize and personalize. Scroll on!
Shimmery, sweet, and sophisticated, this ball gown wedding dress is all you need for stylish fairytale perfection. (Ok, and maybe an exceptional pair of heels.)
Artful motifs dance over the illusion bodice to create a dazzling constellation of crystal and beading—transitioning gracefully into a full ballerina-inspired skirt and long train. It's the closest you'll get to wearing the midnight sky on your sleeves.
Love sleeves but dare to bare? Say hello to a dreamy fit-and-flare wedding dress featuring coverage, illusion, and embellishment in all the right places. This soft yet pliable tulle is designed to virtually melt into your skin tone, creating a stylish "tattoo" effect in lace motifs and geometric bodice work.
No need for humdrum accoutrements with this figure-flaunting bridal gown: the snazzier, the better! For more long sleeve crepe wedding dresses, visit: Our Favorite Crepe Long Sleeve Wedding Dresses for a Sophisticated Celebration.
A comfy, chic, and full-coverage bridal gown is all about the fabrication. Add too much of it, you look like a windblown cupcake. Add too little, it defeats the purpose of a modest aesthetic.
We think we've hit just the right balance with Carrie Leigh—a sweet princess wedding dress featuring a lightweight tulle skirt and subtle embellishments in the sleeves and bodice. Full coverage never looked so effortless!
While we're on the subject of sleeves, let's discuss the option of taking them off. We're so obsessed with our latest personalized wedding gowns and style options—from dramatic accessories to unique bodice and fabric options.
Check out Tuscany Royale for one of our favorite customizations: detachable sleeves that create a sexy portrait-style neckline and glide into lacy illusion motifs and delicate lace cuffs. It's a sleeved wedding gown that's versatile, stylish, and completely yours.
Another wedding gown featuring personalization options, Bellamy is all about the lace, bell sleeves, and overskirt. Start off with this stunning fit-and-flare silhouette: it showcases your curves with striking lace motifs, a plunging back and neckline, and a booty-hugging skirt.
Next, add bell sleeves for a dose of hippy glam (think Jane Birken circa 1968) and dreamy coverage. Finally, accessorize with a dramatic overskirt in lush tulle layers and matching lace. All set? Congratulations—you're the master of form, fit, and flourish!
Considering our obsessive attention to detail, there's absolutely no reason you can't have everything you could possibly want in a modest sleeve bridal gown from Maggie Sottero.
Full coverage? Duh. Illusion bell cuffs? Of course. Flattering silhouette? Check. Head-to-toe shimmer? Checkity check. Bottom line, this dreamy wedding dress is romantic-yet-modest perfection.
Vintage Wedding Dresses with Sleeves Are All About the Beading: Andrew by Sottero and Midgley
Phew. Ok, so the best thing about this decadent vintage-inspired masterpiece is that the sleeves just add MORE shimmer and beading.
There's fringe on fringe, glitz on glitz, illusion on illusion, Art Deco on Art Deco—you get the general idea. Add a modish updo and statement heels, and you're basically a Fitzgerald superstar. (And we do mean Ella, of course.)
Hello, it's me. I was wondering if after all these years you'd like to meet… to go over everything… you have planned for your chic, stylish, and undeniably modern bridal style, of course.
This modest flutter-sleeved wedding gown looks incredible in photos—designed to flatter your natural figure while elevating your trend-savvy wedding vision. (Adele herself would love to write a song about it.)
These bell sleeves alone are worth the price of admission: you'll go from boho bride to runway royalty without sacrificing your comfort factor—and manage to pick up a crisscross back, dreamy lace pattern, and effortless silhouette in the meantime. Pair this unique wedding gown with a flower crown for all-out festival vibes, or keep it chic and striking with a posh updo and statement earrings. Hot dang!
When it comes to vintage charm and seasonal versatility, sleeved bridal gowns are second to none. Browse more of these dreamy styles on our blog, and shop any of our gorgeous wedding dresses with sleeves at an Authorized Retailer near you. Cheers to your best day ever!