Dresses
Tips and Trends
|
December 9, 2020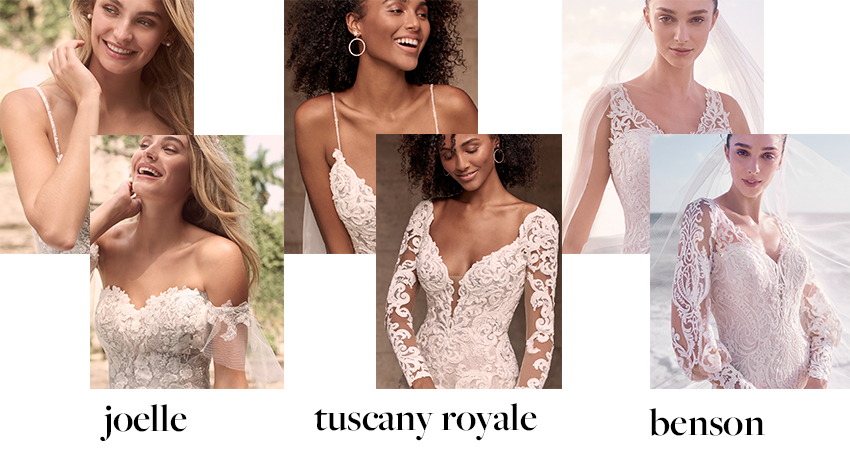 Let's get up close and personalized! Sleeves are a major part of the form and function of your dream wedding dress, so best to find the true-to-you variation that feels like magic. When shopping for your perfect gown, there are plenty of ways to personalize your wedding dress sleeves with our unique sleeve variations.
For example, there's seasonality to consider, so how will you adapt your gown's coverage to the elements? Then, there are vintage details to mix and match: a long sleeve or bell cuff might just be the 60s-era throwback you're looking for.
And of course, romantic embellishments help to make your wedding dress feel absolutely and undeniably yours. A delicate cap sleeve treatment, dreamy layer of illusion, or sparkly lace motif are just some of the possibilities!
Personalize It! For Your Love Story Program
At Maggie Sottero Designs, we're all about complementing your wedding dress to your vision and personality. Now, we're taking that treasured "personalized" element to new fabulousness with our Personalize It! For Your Love Story program, featuring options to change up sleeves, skirts, necklines, fabrications, and more on a variety of Maggie Sottero and Sottero and Midgley wedding dresses.
It's everything you love about the style, quality, and romance of your dream wedding gown from Maggie Sottero—perfectly personalized for your unique vision!
These Personalize It! For Your Love Story wedding dress variations are available only at an Authorized Retailer. Your local boutique will be your Maggie Sottero headquarters for placing orders, choosing accessories, fitting your dress, and checking off alterations.
Please note that added style variations and accessories are sold separately from your gown purchase. Talk to your boutique specialists to discuss these budget items, delivery, and your timeline for fittings before your big day!
And now, as promised for sleeve intel, check out these select five styles for gorgeous ways to personalize your wedding dress sleeves. You can keep these bridal gowns as they are (for example, sleeveless or strapless with no sleeve purchase); with a separate pair of clip-in sleeves to be attached and detached for different stages of your wedding (for example, sleeves attached for ceremony, removed for reception); or, with the sleeves sewn in to create seamless coverage.
And of course, once you've chosen your fav sleeve style, explore endless variations of veils, capes, and detachable overskirts to complete your personalized one-of-a-kind bridal look. Keep scrolling!   
Personalize the Sleeves on Your Wedding Dress, Dreamy Ball Gown Style
A fairytale ball gown wedding dress is an all-around smash hit for your big day. It's timelessly romantic, fierce and feminine, and ultra-flattering for virtually any body type. And the best way to put a personalized spin on this true-blue classic? Opt for Orlanda by Maggie Sottero, then choose the dreamiest sleeve variation for your fancy.
A strapless ball gown wedding dress is popular for good reason. The bodice is designed to complement your décolletage and waistline, and (of course) let that straight-out-of-a-fairytale skirt take center stage.
If "effortlessly chic" is more your style, opt for delicate off-the-shoulder sleeves in illusion and lace—a soft and feminine way to add a touch of "undone" to your bridal aesthetic.
And finally, for a romantic look with a little edge, consider exposed shoulders with long, lacy illusion sleeves. We love a unique wedding dress aesthetic subtly inspired by the Jean Paul Gaultier designer era—bold, feminine, and perfectly on point for your glam bridal style.
Choose Sleeve Options Styled to Boho Perfection
Behold: two irresistible ways to personalize your wedding dress: boho-chic in bell sleeves or summer-ready in sleeveless. For Benson by Sottero and Midgley, may we suggest donning these sleeves for photos and ceremony, then removing them for cocktails and reception?
Or hey, keep those sleeves on all night! They'll look incredible on the dance floor. We are SO psyched to see it all go down in your dreamy, girly, wanderlust-y photo gallery.
Talk to an Authorized Retailer about ways to personalize your wedding dress sleeves. They'll totally go with this chic, sexy, and effortless lace fit-and-flare wedding dress for your one-of-a-kind aesthetic.
Say it with Strapless, Spaghetti Straps, or Flutter Sleeves
Need a mood lift for wedding dress shopping? These delicate arm bands will make you feel like a real-life butterfly on your big day. This variation of Joelle by Maggie Sottero is perfectly suited for a flirty spring or summer aesthetic—breezy and divine!
Strapless is another romantic variation on Joelle. This classic fit-and-flare wedding dress draws attention to your shoulders and collarbones while elongating your frame, creating a sleek, graceful, and elegant silhouette.
Looking for ways to personalize your wedding dress sleeves for a casual celebration? For a touch of sparkle, opt for this spaghetti-strap variation with shimmery beading. This look is flirty, modern, and relaxed—ideal for a beach wedding or laidback elopement.
Florals on Florals on Florals, Sleeveless or Sleeved
Take the whimsy + magic to the third dimension with Reeve by Sottero and Midgley. This couture bridal gown features two ways to personalize your wedding dress sleeves—strappy and sleeveless or long-sleeved options for a uniquely feminine design.
This sleeveless silhouette variation makes for a chic and romantic vibe. It's soft and breezy for a garden wedding theme, and exceptionally easy to style with hair, makeup, and jewelry. Who knew versatility could look so stunning?
If you're loving these nature-inspired motifs but want even more, add the detachable long sleeves decked out in 3D florals and illusion. This look is striking, enchanting, and undeniably sophisticated!
A Sexy Wedding Dress with Personalized Sleeve Options
Tuscany Royale by Maggie Sottero is a stunner from any angle, so personalized sleeve variations are just the icing on the cake. Change up your sleeves for photos, ceremony, and reception. No sewing required if you opt for clip-ins on your detachable sleeve accessory.
The sleeveless version of this wedding gown features delicate spaghetti straps on a sexy formfitting bodice—a classy yet sensual way to personalize the sleeves on your wedding dress while flattering your shoulders and back. We promise you'll feel flirty, fierce, and fabulous in all your bridal portraits!
For a more formal take on this lacy look, personalize your wedding dress sleeves with long illusion that complements the gown's cutout floral motifs trimming the neckline, back, and statement train.
These sleeves make for a gorgeous portrait-style neckline to frame your face and décolletage. It also creates a unique covered/uncovered vibe when contrasted against the sexy plunging back. We dig this fresh silhouette that still feels undeniably timeless.
Ready to roll up those sleeves and choose your dreamiest bridal ensemble? The road to #gorgeous is paved with personalized wedding gown details! Check out our full rundown of ways to personalize your wedding dress in the link. Then, head to an Authorized Retailer near you to bring your one-of-a-kind vision to life. Happy customizing!