Dresses
|
September 16, 2021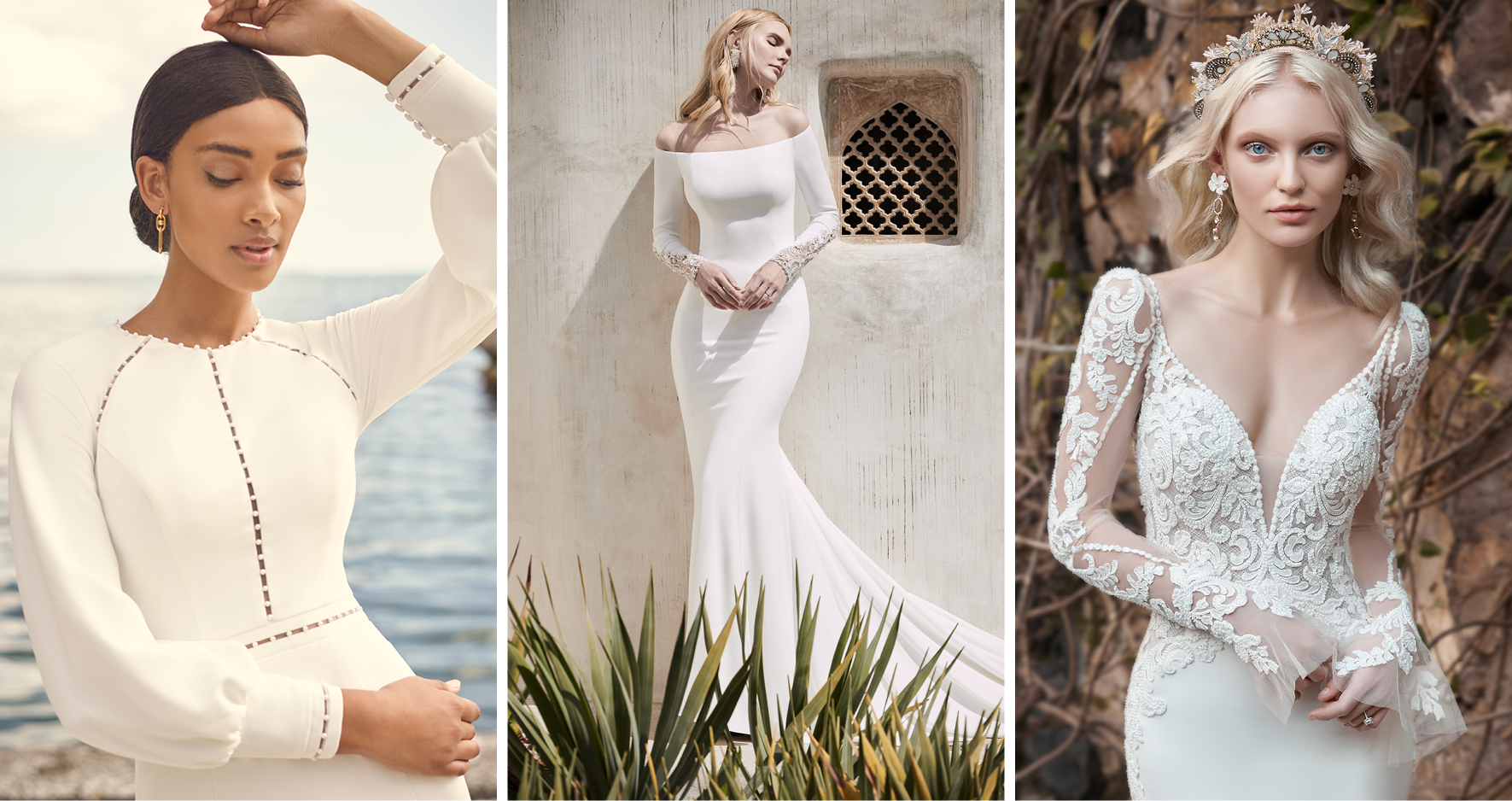 If you've had your eye on the long sleeve crepe wedding dress trend in recent seasons, we have your ultimate rundown of styles, silhouettes, and embellishments! Crepe is a stunning fabrication that makes a graceful, high-contrast silhouette for bridal gowns. It's also comfortable, easy to style, and ideal for your chic and stylish portraits. Keep scrolling for our favorite new styles for your sophisticated and ultra-flattering bridal look below.
To start, here are some sleeved crepe wedding dress trends we're loving overall:
Minimalist silhouettes
Stretch fabrications and built-in shapewear
Sleeves with bell or bishop cuffs
Fitted illusion sleeves
Beaded bodices with illusion trim
Low backs
Beaded statement backs
Relaxed fit-and-flare skirts
Illusion bridal trains
Detachable accessories–e.g., sleeves, trains, and overskirts
Whatever the trends, the best thing about a long sleeve crepe wedding dress is its comfortable fabric and clean, striking silhouettes. Explore these latest features in our gallery of crepe wedding dress trends below. Then, shop these gorgeous designs at an Authorized Retailer near you.
There's a little mystery and a little intrigue to Azarliah by Maggie Sottero—one of our most popular minimalist bridal gowns with chic yet vintage-inspired details. The bell sleeves remind us of 60s-era, Renaissance-revival charm, while the flattering sheath silhouette gives this gown a modern aesthetic.
Then, the modest neckline gives it a little demure coverage; and the crepe fabric makes it luxe and comfy to wear. What's not to adore about this simple yet striking design?
Lavish, feminine, and uniquely tailored, Austin Leigh by Sottero and Midgley proves "dazzling" need not be limited to crystal bodices and tiered ball gowns. This sleek and modern long sleeve crepe wedding dress is all about a slinky silhouette, decadent bell sleeves, and subtle pearl details along the illusion cutouts. It's demure yet daring, soft yet sophisticated, and effortless to style for your classic wedding vibe—all without going over-the-top with bells-and-whistle embellishments. Divine!
Love this classic yet contemporary design? Shop couture crepe wedding dresses like Austin Leigh at an Authorized Retailer near you.
Combine long sleeves with illusion details in Dalton by Maggie Sottero—a flirty, ultra-feminine, and vintage-chic wedding dress featuring a lace bodice and flattering crepe skirt. This style marries a classic silhouette with whimsical flourishes, a timelessly yet surprisingly romantic combo that's picture-perfect for spring, summer, and fal weddingsl. This look is a little coy, a little decadent, and everything you love about a soft and boho-chic bridal look.
Accessory options for this bell-sleeved wedding gown include a flower crown (lovely and nature-inspired), simple gold or silver jewelry (very of-the-moment), or a classic tiered bridal veil to match the flutter illusion details (undeniably romantic). Shop our bridal accessory options in the link!
Shopping for something stylish yet ultra-romantic? Arta by Sottero and Midgley features a simple yet striking design with oodles of accessory potential. On its own, this crepe wedding dress is all about the sexy silhouette: an effortless fit-and-flare with a 3D-embellished bodice. If you love this tailoring but want a little more volume, just add the illusion overskirt—easy to remove for a "Second Look" changeup or dramatic portrait session.
Next, consider your sleeves. Arta can be ordered as a lightweight sleeveless design in lace and illusion, or as a demure variation with long illusion bell sleeves and 3-D florals. Whatever style and accessories you choose, your guests are sure to swoon.
If you're all about a decadent bodice, get inspired with Nikki by Maggie Sottero—a crepe and illusion wedding dress featuring lovely bell sleeves and a stunning lace treatment. This chic and romantic style is exquisitely embellished for a luxe and regal vibe, from the shimmery beaded flourishes to the long lace-trimmed train.
Love this bodice and silhouette but want to skip the sleeves? Nikki can be ordered on its own without the detachable bell sleeves. It's a chic and zero-fuss option for warm-weather celebrations and effortless bridal aesthetics. Head to an Authorized Retailer to discuss your style, accessory, and personalization options today.
For the sexy, chic, and sophisticated bride, Cambridge Dawn by Sottero and Midgley is all about a curve-enhancing silhouette and a (nearly) naked illusion treatment. First, the linear lace details are designed to play up your natural silhouette, from the waist-cinching bodice flourishes to the graceful "fanning" of the illusion train.
Next, an almost-invisible layer of tulle creates the illusion of floating lace along your décolletage, shoulders, and arms. It's a stunning sleeve treatment that looks incredible in photos. In a word, perfection.
Simple in concept yet exquisitely executed, Bethany by Rebecca Ingram is all about a gorgeous contrast between its chic crepe silhouette and lush illusion sleeves. First: the stretch fabrication. It's comfortable, flattering, and classic—a refreshing upgrade to stiff bodices and stuffy layers. From there, add long sleeves in a daring cutout design; the effect is nothing short of divine.
Love this long sleeve crepe wedding dress? Check out more classic and affordable wedding dresses from our budget-friendly Rebecca Ingram line in the link!
Crepe Long Sleeve Wedding Dress with Beaded Illusion Back: Aston by Sottero and Midgley
Crepe fit-and-flare wedding dress Aston by Sottero and Midgley is all about the jewel embellishments, from the sparkly illusion cuffs to the stunning back treatment. We love this contrast of simple meets luxe. It's eye-catching yet timeless, sexy yet subtle, and unspeakably romantic—the perfect fusion of vintage and contemporary trends.
Still need convincing to try on this crepe long sleeve wedding dress? Get inspired with our real bride Savannah's review from her 2021 wedding: "I have never felt more beautiful in my life. From the second I put this dress on I knew it was going to be mine. When I tried it on at the bridal shop everyone in the store starting crying, including other brides around shopping. As for comfort, well, I literally hiked a 6,000 foot mountain in this dress!!! It is beyond comfortable and flattering. Also I 10/10 recommend hiking a mountain in your wedding dress!"
Long Sleeve Crepe Sheath Bridal Gown with Detachable Overskirt: Olyssia by Maggie Sottero
Another minimalist crepe long sleeve wedding dress with major style, Olyssia by Maggie Sottero features a one-of-a-kind fusion of comfort, elegance, and embellishment. This soft yet formfitting crepe gives you just enough stretch to feel comfortable, but just enough structure to flatter and enhance your curves. This clean, striking fabric looks incredible in a variety of wedding venues, seasons, and lighting conditions. And the lace-embellished sleeves add the perfect dose of whimsy and detail.
If you love the simplicity of this silhouette, opt to wear Olyssia on its own (a perfect choice for summer and fall temps). For a bit more princess-inspired magic, add a bridal or the detachable overskirt. This lace accessory is easy to attach or remove between ceremony and reception as a "Second Look" upgrade—sans the cost of a second wedding dress.
If you love the chic, graceful trend of a long sleeve crepe wedding dress but want something a bit more daring, look to the neckline. Admina by Sottero and Midgley offers that classic, statuesque feel of minimalism with the fresh upgrade of an off-the-shoulder neckline. It's an Old Hollywood vibe with new-school flourishes—a one-of-a-kind wedding dress that still feels totally timeless.
This stunning style doesn't need a lot of accessorizing to look party-ready. However, a dramatic bridal veil with pearl embellishments would give it an extra dose of dazzle.
Finally, for a long sleeve crepe wedding dress with a chic Renaissance feel, opt for puff sleeves and regal lace flourishes. Abbott by Sottero and Midgley features a striking silhouette decked out in beaded illusion motifs. It's sweet yet sophisticated, stylish yet whimsical, and (obviously) destined to star in your woodsy-fairytale extravaganza.
This is another style that doesn't need a lot of bells and whistles to look fabulous. It's easy to style with a long, unembellished bridal veil or vintage-inspired bridal crown—two gorgeous trends for upcoming seasons.
Inspired to find your perfect long sleeve crepe wedding dress, head to toe? If you love these trends, check out more long sleeve bridal gowns from our Maggie Sottero, Sottero and Midgley, and Rebecca Ingram lines. Then browse our lineup of wedding dress fabrications to complement your favorite silhouette. Happy shopping and best wishes!