Tips and Trends
|
December 16, 2020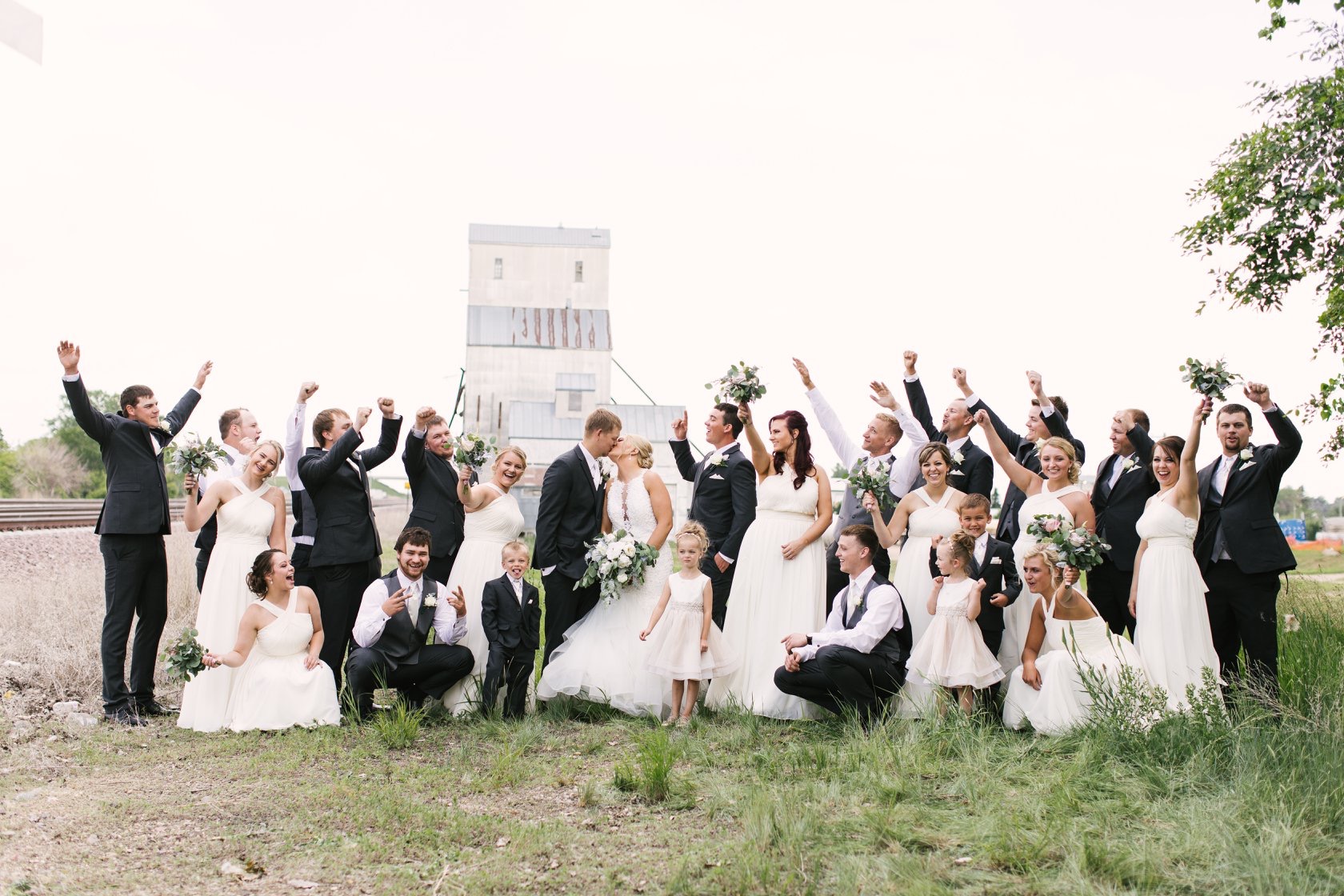 So, you've spent months meticulously planning every detail of your big day. Your Pinterest board has come to life, your wedding planner is on speed dial, and your bridesmaids are on-the-ready with champagne. But, wedding mishaps are sure to inevitably happen. While they may seem like major wedding disasters in the moment, these mishaps often turn into fond, unforgettable memories. Because in the end, with any wedding "disaster," all that matters is your love for each other.
This message stands out in the brand-new movie, Love, Weddings & Other Disasters. The multi-storyline romantic comedy stars Diane Keaton, Jeremy Irons, Maggie Grace, Diego Boneta, and Andrew Bachelor. And we at Maggie Sottero are thrilled to also play a part in this heartwarming film!
Rhiannon by Maggie Sottero is the wedding dress featured in this brand-new film! This simple, sophisticated satin bridal gown is sure to shine. Here are the credits to this divine feature… A sleek bodice with a plunging illusion neckline, low square back, and trailing covered buttons for a vintage vibe. You won't want to miss seeing this style in action!
To celebrate the movie, we asked our brides to share what went wrong on their big days and why these moments only made their celebration even more memorable. Scroll on!
Big Storm and No Power: Wedding Disaster in Upstate New York
"My husband and I both grew up in NYC only a few minutes away from each other even though we actually met over 100 miles away at the University at Albany. Because Upstate New York was where we fell in love, we wanted that to be the location where we would bring everything full circle.
PC: Limitless Imprint Ent. Photography; Wedding Dress: Winifred by Sottero and Midgley
When we started planning our wedding two years ago, I wanted to keep it small with a cap at 60 people. As we got closer to the date, this number always felt like it was growing. And with the growing guest list, we decided to increase our budget.
This was a blessing in disguise when state restrictions only allowed us to have 50 guests. With our surplus budget, we got to add elements we never thought we could afford. We also got the additional help of coordinators to take the stress away from our family and friends.
A couple of days before our wedding, a huge storm passed through the area. When we arrived to the venue for our wedding walk-through, there was no power! To make matters worse, we had also rented a nearby farmhouse to house the bridal party, which also lost power.
Given the night was likely to dip below freezing, we needed a plan B. Forced into panic mode, we called every hotel, motel, and inn we could find to house our friends and family.
Luckily, we were only displaced for one night, as the power was back on the next morning. We considered this last disaster of 2020 the final test to prove that we could handle anything together.
My favorite moment of the day was our first look. It was a moment purely made for us. I met Greg at the end of a boat pier at a reservoir a few minutes away from the venue.
As we stood there teary eyed, we took in everything that got us to that day. All of the hard work and stress was finally at an end. In just another hour, we would be standing in front of everyone as husband and wife. I'm so happy we decided to include the first look before the ceremony because it really allowed us take in the moment with each other.
For future brides who fear their wedding won't be the same with COVID restrictions, remember the real reason behind your wedding. When your big day comes, be happy standing in front of someone you love in a dress you look amazing in while saying "I do!"
– Deneisha Hall; Instagram: @treeseed
Pre-Wedding Day Disaster: COVID-19 Restrictions
"The day before our wedding, the governor of New Hampshire made it a requirement for all gatherings of over 100 people to wear a mask at all times when not sitting down to eat. Coincidentally, our wedding had about 100 guests.
PC: K&A Photography; Wedding Dress: Mallory Dawn by Maggie Sottero
They also told us our cocktail hour would no longer be able to happen. This was a shock because up until the day before our wedding, we were in the clear for mask requirements and guest limitations. In the moment, it felt like a HUGE deal. At the end of the day, however, it didn't change a thing about our wedding.
The biggest thing we learned from this experience was that stressing over what is out of your control will not change anything. It will only cause more stress and complications.
When COVID-19 hit the U.S., we almost had to completely stop wedding planning. We had no answers and were left in the dark for months. It wasn't until late June (two months before our wedding) that we got the "good to go" from our venue and continued with planning.
Of course that made June and July VERY stressful. But, everything worked out in the end just as we planned, despite the major changes due to the pandemic.
My favorite part of our wedding day was immediately following our ceremony. Our photographers took us to a secluded area to capture photos of just us two.
After several crazy and stressful months, we had a moment of calm and peace. We needed that moment. Our photographers captured some of our favorite photos together.
My advice for future brides and grooms struggling with wedding planning is to do what YOU want to do. At the end of the day, it is your special day.
And I promise, regardless of what may be happening in the world, it will not change the feeling of marrying your best friend on your special day. So, keep an open, positive mind. And remember, this is one of the most exciting moments of your life!"
– Alexandra Houle; Instagram: @al_houle
Wedding Postponement Due to the Pandemic
"The biggest mishap during wedding planning was of course the pandemic. We originally had our date set for June 14, 2020 but had to postpone it to November 29, 2020. This was unfortunate because we had to reschedule our vendors, as well as send out new invites and postponement announcements, which was expensive.
PC: Brett Loie Photography; Wedding Dress: Milena by Maggie Sottero
It also took a toll on our overall life plans, as we were in the process of moving to California from the east coast. Our stress and anxiety levels definitely went up during this time with so much going on.
I learned that the most important things about a wedding and marriage are ultimately love and patience. A big guest count, pricey honeymoon, expensive décor—those things aren't important.
Our plans definitely changed a lot, but our wedding turned out better in the end. It's important to make your wedding solely about you and your soon-to-be-spouse. Also, make sure to take it all in because the day will go by so fast!
My favorite moment from our wedding day was when we did our first look. My husband and I have been together for eleven years, and we have gone through so much to get to the point of marriage. When he saw me in my wedding dress and I saw him in his tuxedo, I had flashbacks of the past eleven years together and how much we've grown more in love with each other.
Even though there was a lot of money spent, stress, tears, anxiety, and fear of the unknown, I would do it all over again just to re-live that magical day full of love and happiness!"
– Amaris Villanueva; Instagram: @amarisvillanueva
We'd like to thank these gorgeous brides for sharing their stories and sweet wedding day memories with us! Whether you're reminiscing on your big day or in the midst of wedding planning, remember—try not to sweat the small stuff. In the end, wedding disasters can amount to memories you'll cherish for a lifetime!
For more wedding advice during COVID-19, check out the following blogs:
5 COVID Honeymoon Ideas for Couples During the Pandemic
Micro Wedding vs. Minimony: Which is Right for You?
How to Plan a Backyard Wedding During Coronavirus
How to Celebrate Your Original Date if Your Wedding Has Been Postponed
And lastly, don't forget to watch Love, Weddings & Other Disasters in theaters and streaming now, to see Maggie Sottero shine on the big screen! Cheers!