Real Weddings
|
June 15, 2021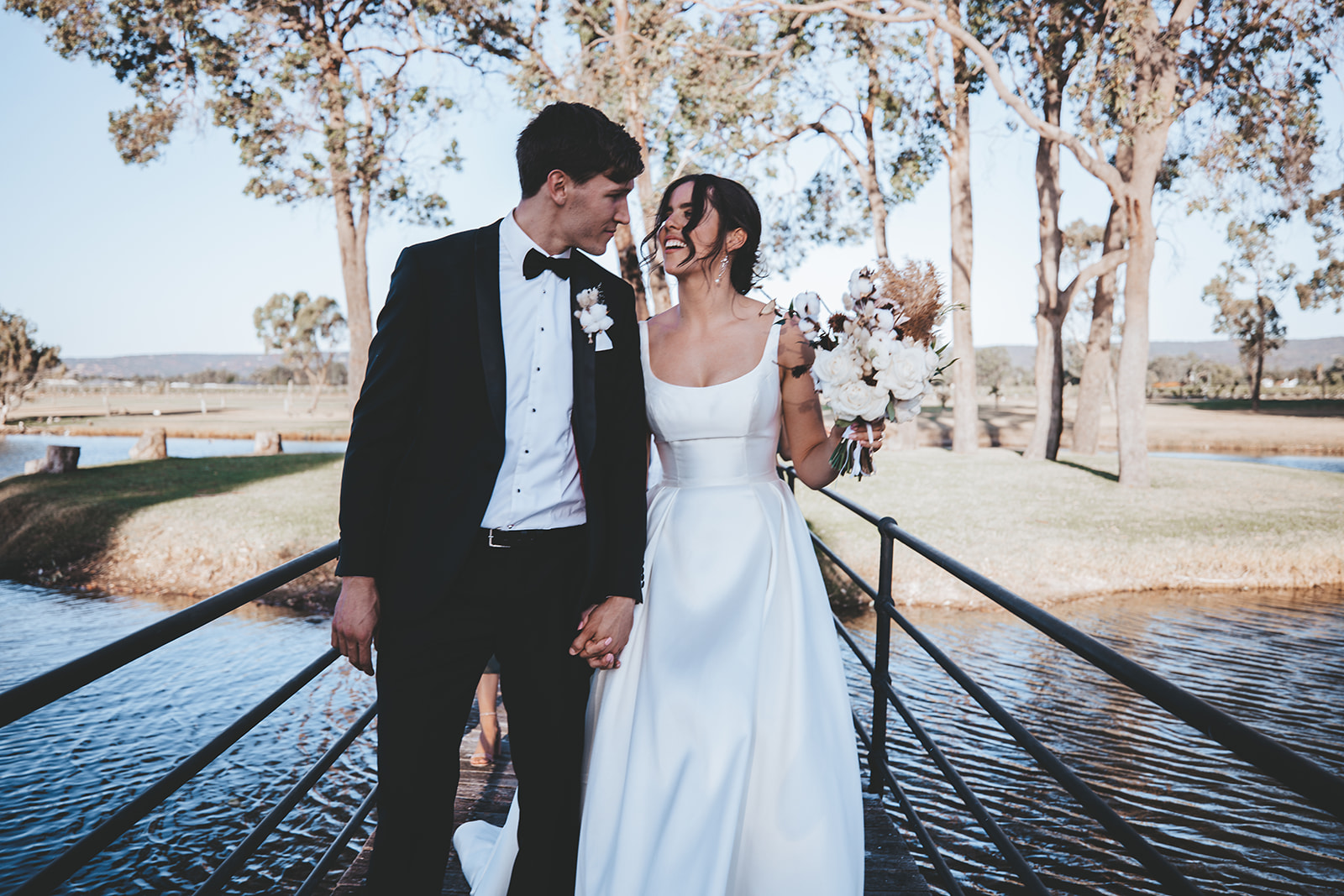 If there's one thing we love most about being in the wedding industry, it's seeing our brides looking happy and radiant on their wedding day. This is exactly the case with Hannah and Matt's chic vineyard wedding in the Swan Valley Wine Region of Western Australia. Hannah looked stunning in her Maggie Sottero wedding dress, and we couldn't help but swoon over their gorgeous wedding gallery captured by Partografia Photography, featuring lakeside views, green orchards, and modern details. To see inspiration from this winery wedding and hear about Hannah and Matt's love story, scroll on!
From High School Sweethearts to Marriage
My husband and I met during high school at a school social. Our friends made us talk to each other because we were both tall and youngest in our year (14 years old at the time). We bonded over how we couldn't watch MA15+ movies!
We started dating the week after and since then have been inseparable. Skip forward six years later, and Matt proposed to me in a secluded spot on the beach at sunset. Our favourite part was calling and surprising all our friends right after!
Wedding Dress Shopping and Finding "The One"
I feel really blessed that my wedding dress shopping was a seamless experience. We went to the first bridal shop where I tried on some gorgeous wedding dresses, but they were more on the casual side. I was looking for a dress that made me feel truly like a bride, so I continued looking. The second shop I visited was Brides Selection in North Perth.
Once I was there, the Selena bridal gown by Maggie Sottero was the first dress I tried on! I tried on a few after that, but I kept gravitating towards the Selena gown! When I looked back over my phone, I saw that before my appointment, I had written a list of wedding dresses I was hoping to try on that day. And the Selena gown was number one! I had completely forgotten about the list, so I felt like it was meant to be.
A Modern Satin Ball Gown Wedding Dress
I loved my modern satin wedding dress because it made me feel young! Because I'm a younger bride (my husband and I are both 21), I wanted a wedding gown that made me feel beautiful, elegant, and youthful. And Selena by Maggie Sottero did all those things!
The tight bodice looked so sexy, and the square neck looked so modern. Plus, the ball gown silhouette meant it was so easy to move around in (especially for dancing!).
A Classic Summer Vineyard Wedding in Australia's Wine Region
While we didn't have a specific theme, we went for a classic summer vineyard wedding vibe. We had our celebration in the Swan Valley, which is Western Australia's prime wine region, so our wedding aesthetic featured beautiful olive greens, native florals and oak.
Classy and Modern Wedding Party Attire
For our vineyard wedding, our wedding party had a classy, modern look. My bridesmaids wore the most stunning fern green one-shoulder bridesmaid dresses with nude makeup and shoes.
And the groomsmen wore black suits and bowties with corsages. Again, the theme was Australian summer, so we incorporated a lot of native flowers and oak signs.
A Modern Yet Classic HAMU Look
I wanted to look elegant for my wedding day. I have a really simple, classic sense of fashion (although I have to admit I really don't have a sense of fashion in general!), and wanted to stay true to a simple aesthetic for my wedding.
For my bridal hair and makeup, I went for a simple, loose bun done by the most wonderful hair stylist, Angie from InStyle. And then my gorgeous friend who is a makeup artist did my and my bridesmaids' makeup with nude-blush, natural accents.
A Simple Nude Bridal Bouquet
My bridal bouquet was made of simple nude roses and natives. But the most special touch was a locket tied to my bridal bouquet by ribbon, with two photos in the locket. The photos were of my grandpa, who passed away 10 years ago, and my aunt, who passed away 5 years ago.
This intimate detail was the most beautiful touch for my special day. While I held my wedding bouquet, it was like having them right by my side.
An Elegant Lakeside Wedding Ceremony Overlooking a Winery
Our vineyard wedding ceremony was outdoors looking onto the lake at the winery. The ceremony was a traditional Anglican ceremony conducted by a minister very special to Matt and me. Father Pengelley led my school service trip to Cambodia in 2015 and mentored both of us in the years following on how to live lives that serve others with generosity.
Two of my best friends in the bridal party led the congregation in a hymn. We also had our family from over east and in New Zealand Zoom call in for the ceremony, which was truly special. My God mother was unable to attend, which was heartbreaking, but having her there virtually was a blessing!
A Casual, Fun Vineyard Wedding Reception
Our wedding reception was next level FUN. Matt and I really wanted to spotlight our bridal party for the extreme amount of support they had given us not only just in the lead up to our marriage, but for so many years before that. So we had our bridal party enter in pairs doing a dance to a song they had picked out themselves.
We really wanted to give them some time to shine! Throughout the night, our fathers made a speech, and so did my two sisters, as well as our maid of honour, best man, and Matt and I.
My extended family also wrote a song for us and sung it to us! We then moved to the dancefloor for our first dance which was the highlight of the day! We aren't really dancers but worked really hard at our first dance (which was choreographed by our friend, Alex Kay).
Performing it in front of everyone was so special. We then partied the night away until midnight, and Matt's two younger cousins absolutely tore up the dance floor. We spent the whole evening either in hysterics, either hugging or crying. Words can't describe how special it felt.
Vineyard Wedding Details and Florals that Matched the Swan Valley Wine Region
To be honest, I am so far from being artistic and designer-y. When my florist asked what the theme of the wedding was, I couldn't tell her! Fortunately, she helped me out and made sure that all the florals and table designs matched the stunning Swan Valley wine region and a vineyard wedding vibe.
A Simple Tiered Chocolate Wedding Cake
My dear friend who I have known since I was young made our wedding cake. The simple tiered chocolate cake featured florals on top that matched my bouquet. For the rest of the food, we served classic Australian food, including barramundi, beef, salads, and some finger food for entrees, and dessert platters to snack on while dancing. One of my friends also made amazing wedding cookies for everyone!
My Favourite Part of My Wedding Day
Our first dance was the most special part of my wedding day for me. There is something exhilarating about dancing in front of all the people you love; I genuinely could not wipe the grin off my face. I loved our lifts, our spins, our turns. And I think the dance signified our relationship, which is youthful, grounded on hard work, and full of such deep love.
Advice to Brides-to-Be While Planning Their Weddings
My advice for future brides planning their weddings is: don't be afraid to delegate! I was so grateful to have an amazing support crew around me who were willing to help out in a million ways. I could not have done it without them by my side! Whether it was writing out envelopes, going wedding dress shopping, being there when I was having a tough day, my friends and family were truly there for me. I could not advise leaning on those around you more!
I would also say to not be rigid in your expectations for your wedding day, no matter how detailed you plan, things will go off schedule. And that is totally okay! The important thing is that you stay absorbed in the day, with your love of your life, and with those you cherish surrounding you.
We are so honored to have been a part of Hannah and Matt's vineyard wedding! And we hope you've loved reading about their special day as much as we have. For more real wedding inspo, check out this Intimate Lakeside Wedding with Chic and Modern DIY Details, as well as this Summer Wedding Featuring a 3-D Floral Lace Sheath Wedding Dress. Cheers!
Vendor Credits:
Photographer: Partografia Photography and Film Services
Hair: InStyle
Makeup: Makeup by Scout Regan, Abbey Paige Makeup
Venue: Oakover Grounds, Swan Valley, Western Australia
Wedding Dress: Maggie Sottero Designs
Florals: Bohemian Flower Collective
Furniture: Maisey Collections
Cake: Priya Fisher
DJ: Pralay Bajaria
Sound: Crate Productions