Dresses
|
November 9, 2021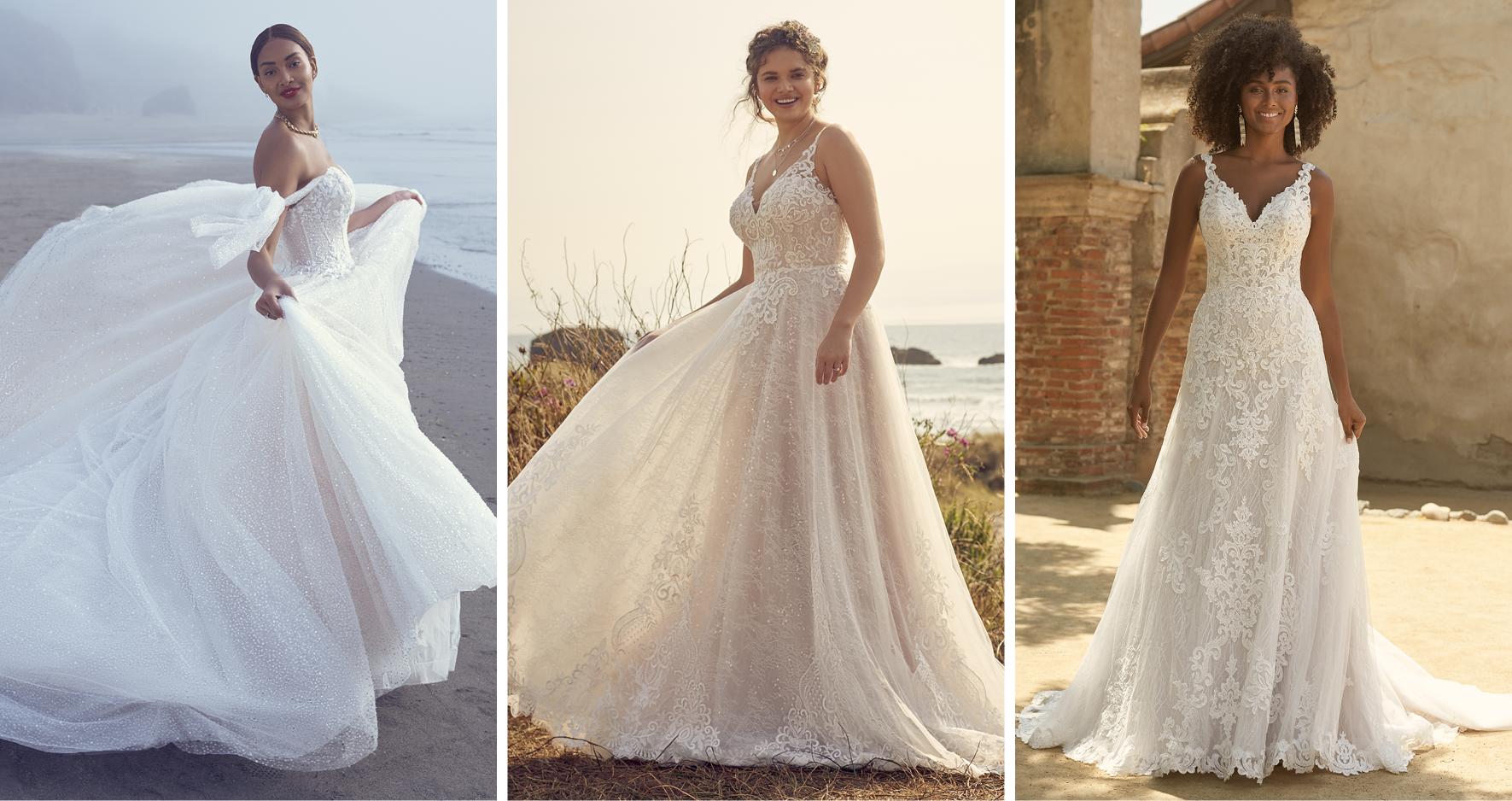 You know that feeling when you are SO excited about something that you just want to share it with everyone you know? That's how we feel about our new Spring 2022 collection! These top-rated wedding dresses just dropped, and our intuition tells us that the dream dress you've been looking for is in the lineup! At Maggie we stand for love and love for ALL, so no matter your body shape, size, identity, or budget, there's a wedding dress perfectly made for you. It may just be one of these top 10 wedding dresses.
To introduce these popular wedding dresses of our Spring 2022 collection, we'd thought you should hear from the faces behind Maggie. Our staff dishes on why they love these top rated wedding dresses! We're beyond grateful to have such amazing people working behind the scenes to ensure we make our brides' dreams a reality. Without further ado, keep scrolling to view popular wedding dresses and learn from our staff why they're crushing on these new styles!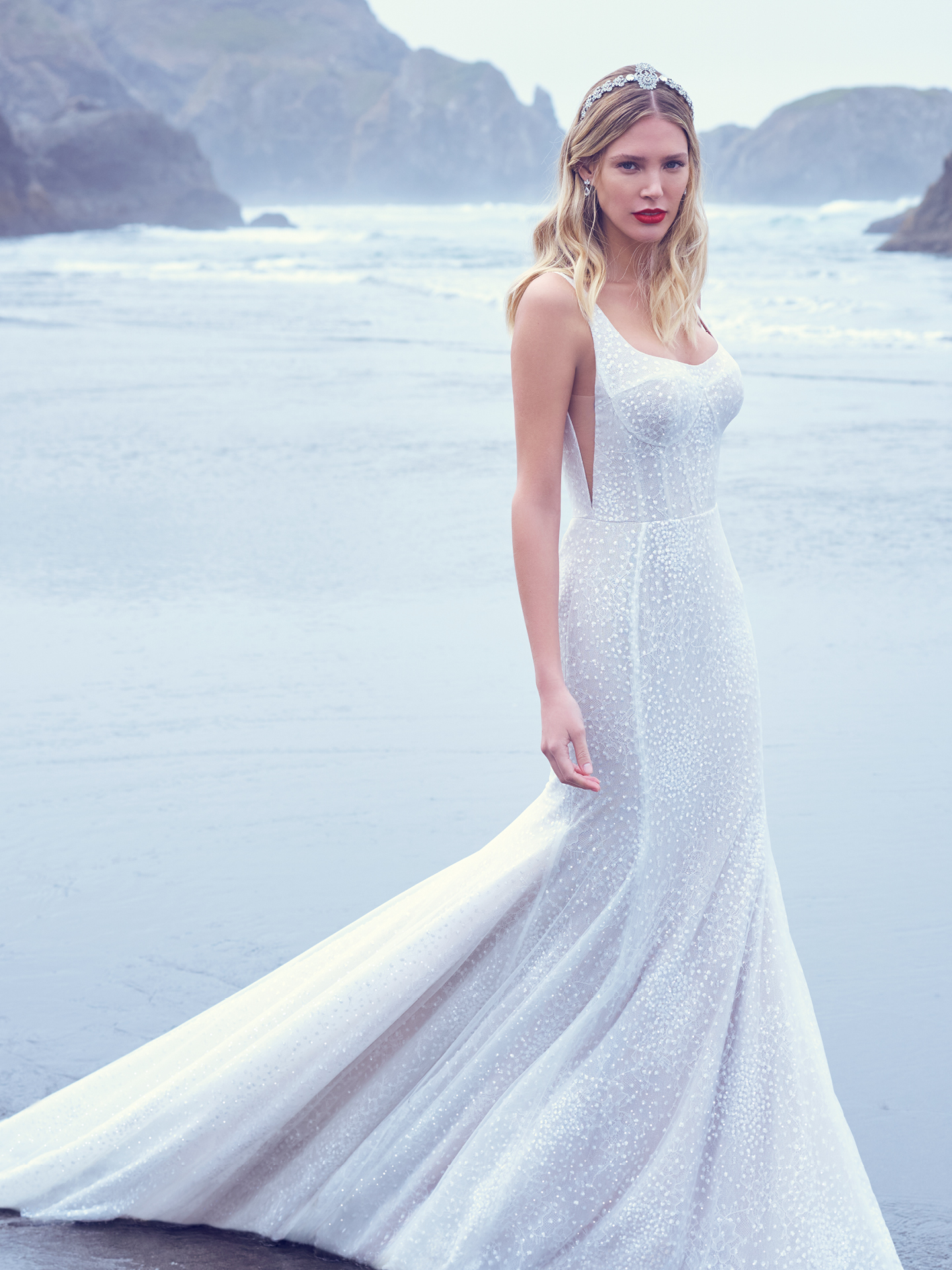 Savannah Young – Digital Marketing Manager
"It's the sequins and sparkle for me. I am obsessed with this sexy fit-and-flare gown! The square neckline and square back really complement this style. Aerona is the perfect example of a gown that will accentuate a bride's natural curves, which makes brides feel the most beautiful on their wedding day. The exposed boning is not only on-trend right now but also supports the shape of the dress and is flattering on many body types. This wedding dress is stunning as is, but we also offer customization options for the bride who might want to add more drama to their gown with a detachable train."
Starting off our list of top 10 wedding dresses is Aerona by Sottero and Midgley. The dress injects the perfect amount of sexiness with exposed boning, corset-like details, and an illusion bodice. The alluring cluster sequins create a constellation of sparkle. So divine!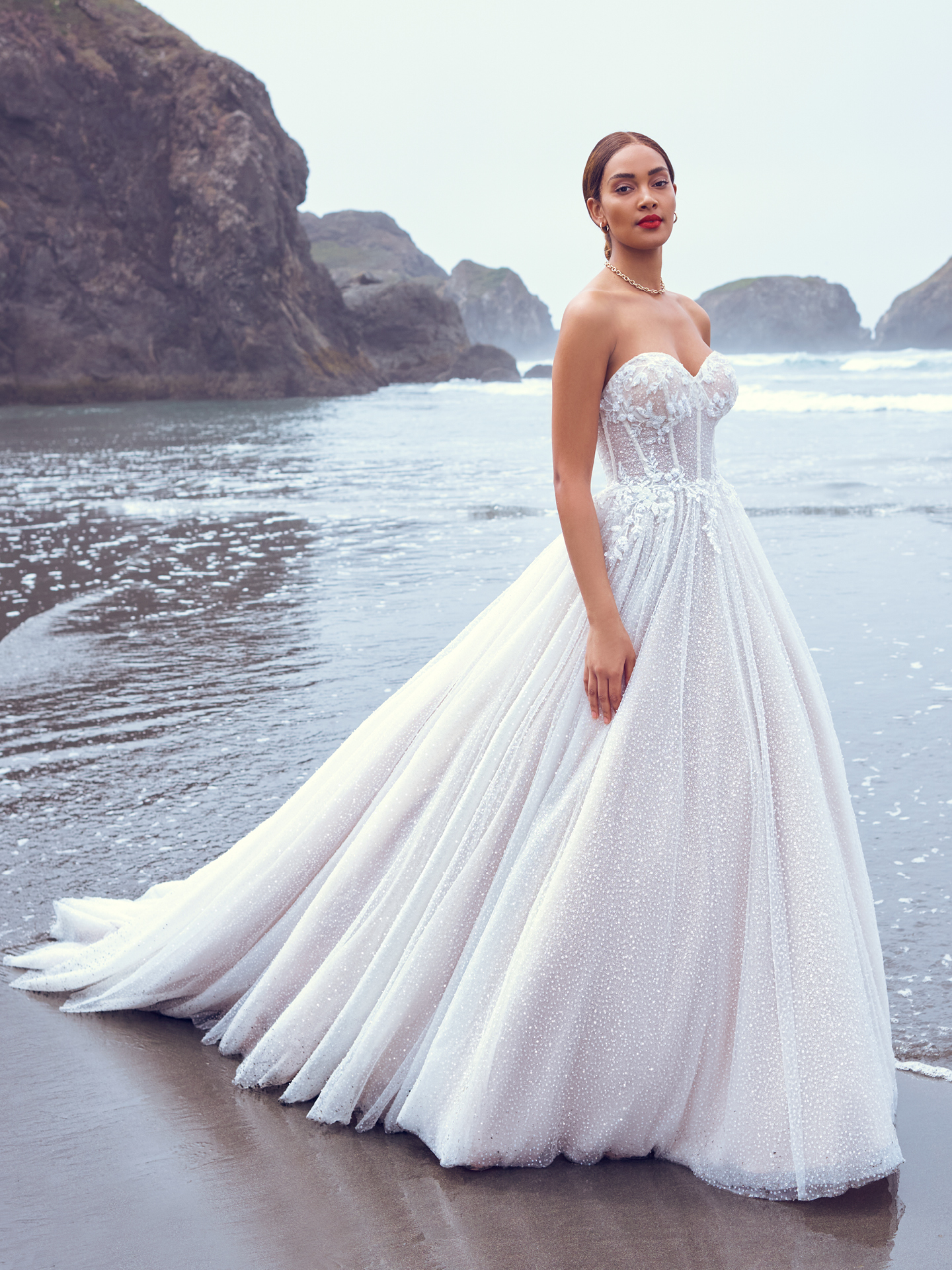 Taylor Hawk – Communication Manager
"Shasta by Sottero and Midgley is my favorite style because it emulates maximalism in such an elegant, whimsical way. This is the perfect ballgown style for any bride looking for a modern fairytale. I especially love the LUXE details. Brides are sure to swoon at the exposed boning (corset-style bodices are HOT right now), beaded tulle over glitter tulle, floral motifs, and lush tulle skirt. I am obsessed with this statement bridal gown! There are also so many options to customize this wedding dress to your personal fancy. Can it get any better?"
Shasta is such a fave, many employees had a few words about this dress.
Dana Massie – Digital Marketing Specialist
"I'm not normally one to wear sparkle, but the beading, glitter, and sequin detailing on this gown make this style feel extremely luxe… and why not go all out on your wedding day? Plus, the corset-inspired bodice with the exposed boning feels trendy and classic at the same time. And the sleeves… I love versatility so the fact that you can remove the off-the-shoulder sleeves to change up your look for the reception is an actual dream! Overall, it feels elevated and luxurious, but still romantic and dreamy. There's seriously nothing about it that I don't absolutely love."
Bring. On. The. Sparkle! Shasta by Sottero and Midgley is the epitome of maximalism at its finest.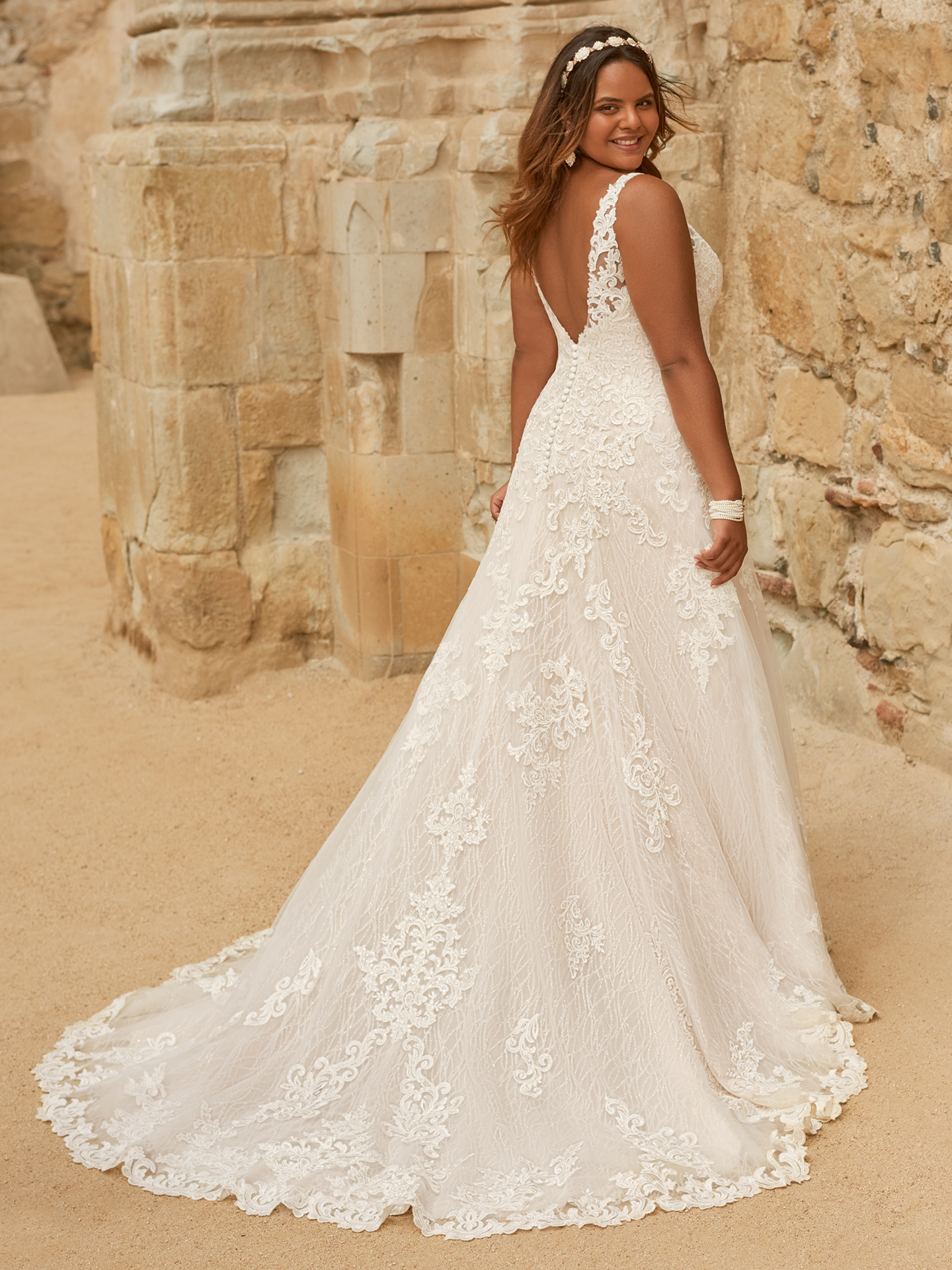 Elizabeth Green – Product Development Manager
"Tamirys is my favorite Maggie Sottero Spring 2022 style because of the different options we've created to personalize her! She's so glitzy that she has two layers of sparkle tulle! Tamirys is a great combination of a perfect V-neckline and a winning silhouette.
I've had the joy of going to some of our Maggie Retailers and visiting with real brides as they search for their perfect dress, and this A-line is absolutely stunning on everyone! It shows off everyone's figure while keeping an elegant look. The long sleeves are also a beautiful accessory to have two looks in one. I've seen our brides get so excited to be able to take off their sleeves for their reception and get a second look while still being budget conscious. I love that we've been introducing more accessories to mix and match with all of our gowns to be able to create so many unique looks for each bride."
Calling all brides looking for a classic lace wedding dress with a modern edge! Highlights of Tamirys by Maggie Sottero include lace motifs over sparkle tulle AND glitter tulle, a deep v-neckline, and a flattering A-line silhouette.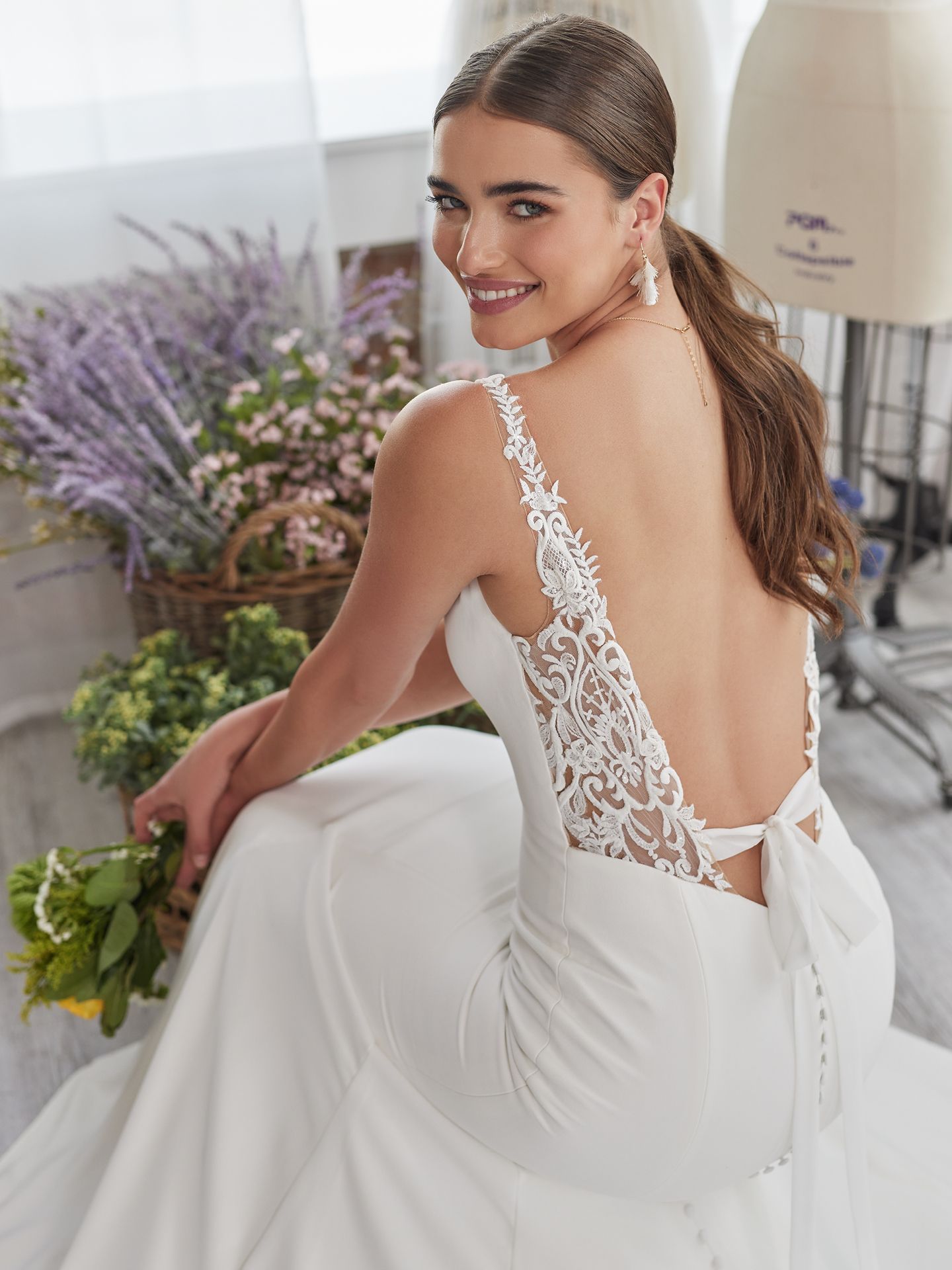 Elizabeth Green – Product Development Manager
"Emerald is my favorite Rebecca Ingram Spring 2022 style because of the minimalist details. The soft scoop neckline is so flattering, and our Talin stretch crepe lined with jersey is insanely comfortable. There's also a little surprise at the back with how sexy the neckline is while still featuring some lace just to give it a hint of glamor. The soft chiffon bow adds just enough support but is also very easy to remove. It's the simplicity of this gown that I adore, plus it has buttons down the entire train which is always a detail I love!"
A minimalist style with a sexy low back?! Say no more. We're already in love with Emerald by Rebecca Ingram. Just look at the thoughtful seams that will flatter and wow. The lace and bow detailing in the back is the perfect dose of unexpected glamour.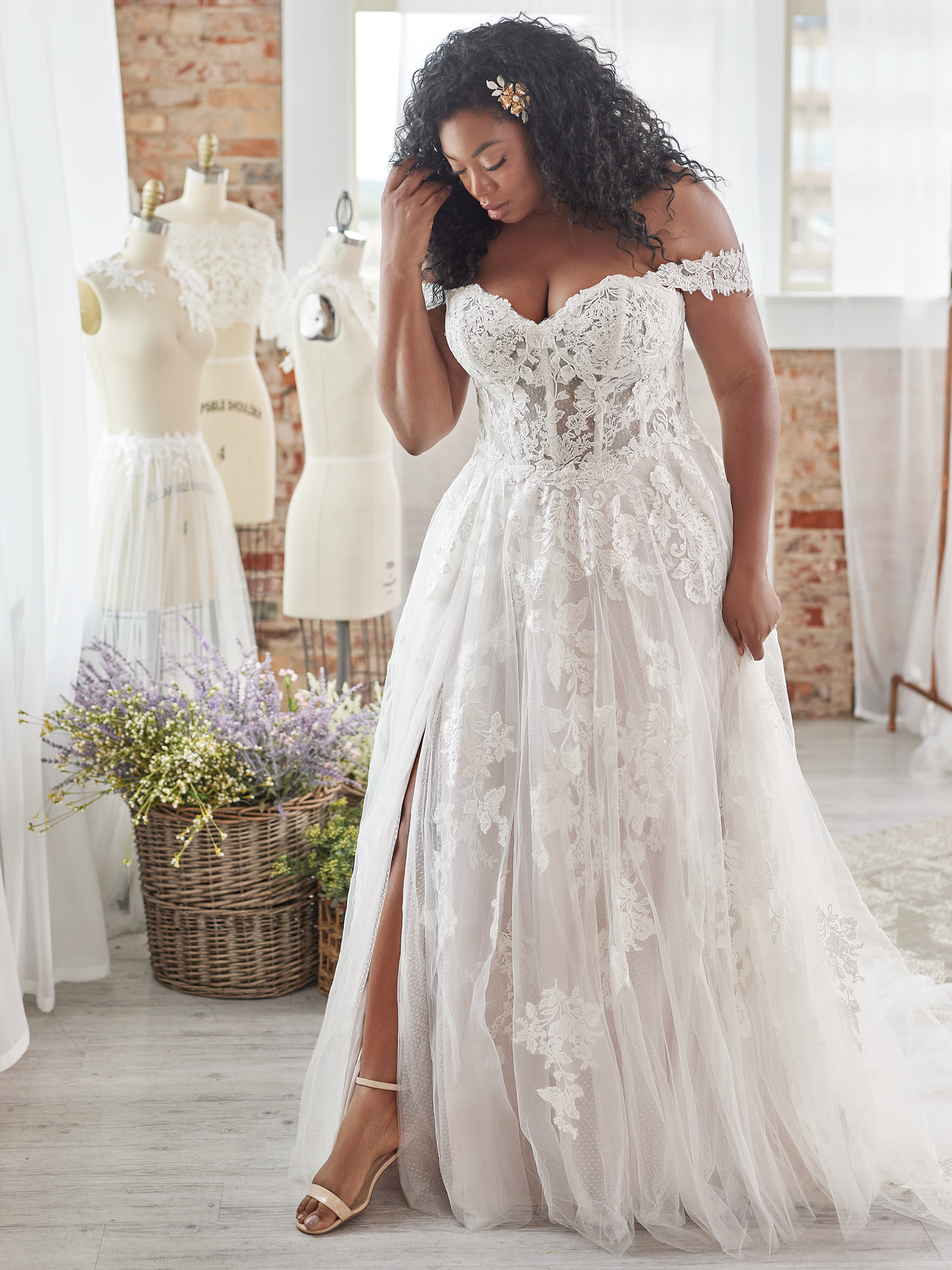 Elizabeth Green – Product Development Manager
"Carson is my favorite Sottero and Midgley Spring 2022 style because of the detail in the layering we created. There are the larger, bolder lace motifs on the outside of the gown, but on the second layer, there are some softer pieces that give a very romantic feeling. The dreamy dot tulle, subtle slit, exposed boning detail, and soft jersey lining combine to feel so effortless, especially when we pair them with our Brava off-the-shoulder sleeves. It feels like a romance novel come to life. There's also a beautiful cathedral veil designed to match! When we photographed this dress on location, our model loved how comfortable she was, and we were able to capture some stunning images because she truly felt beautiful!"
The cottagecore vibes are off the charts with Carson by Sottero and Midgley. The dress features vintage lace motifs over tulle and dotted tulle, corset detailing in the bodice, a strapless sweetheart neckline, and a scoop back. Add a little boho glamour with the dotted tulle bishop sleeves.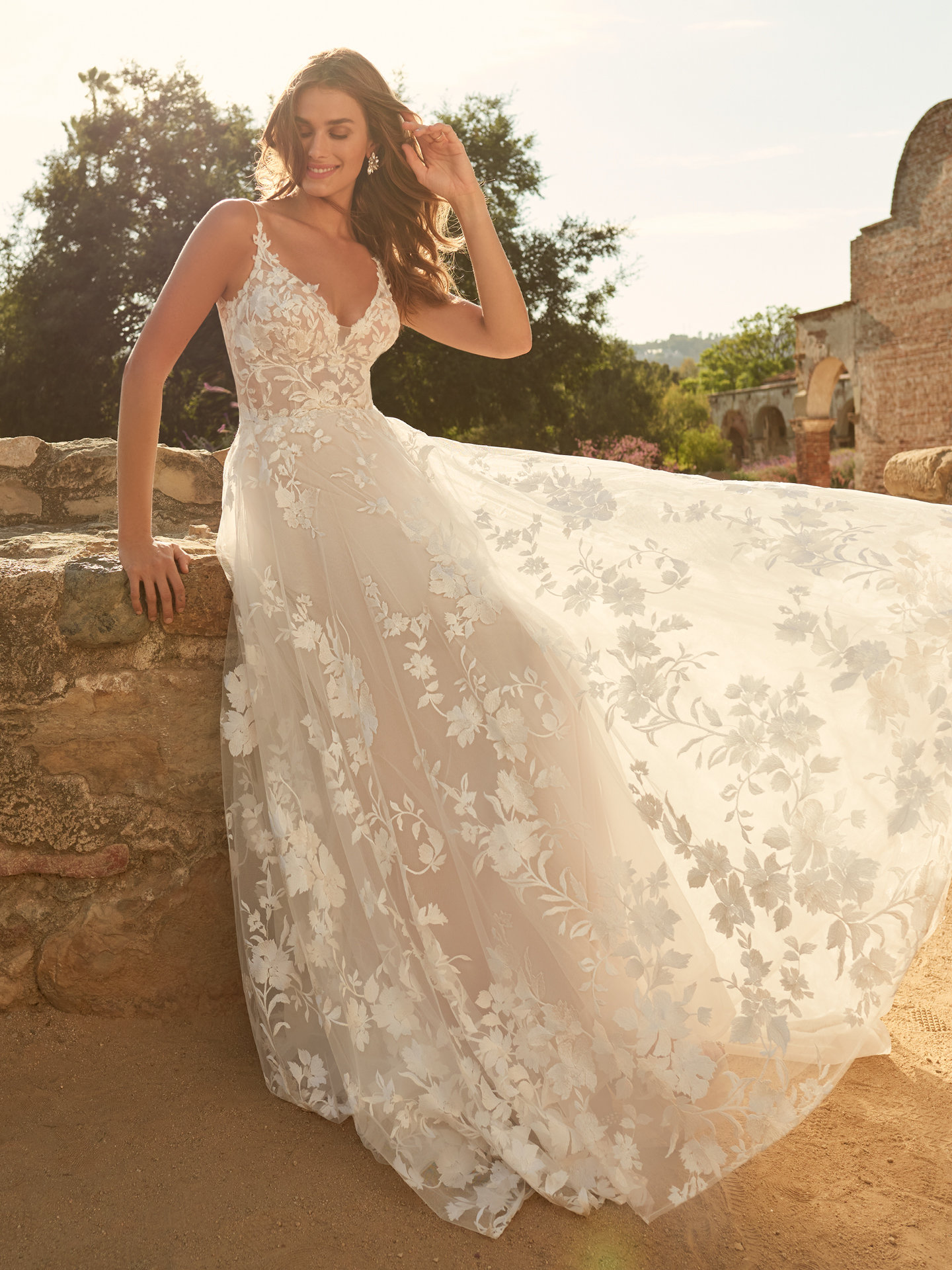 Anita Dowden – Lead Seamstress
"Winter is a dress for the dreamers and romantics. With a combination of soft floral lace, wispy tulle, luxury organza, and a stellar A-line fit, Winter will feel straight out of a fairytale. The bodice has been crafted to subtly enhance a feminine bust, while also encouraging the waist into a V shape.
While the front is soft and sweet, there is still a hint of sexiness with the lower cut back neckline and delicate straps that elongate the back. The dress all flows together into a gorgeous silhouette with dainty details up close."
As gorgeous and whimsical as the season by which it's named, Winter by Maggie Sottero is sure to dazzle your wedding guests. We love the allover floral lace, sheer lace bodice, deep illusion v-neckline, and deep back. Like all these top 10 wedding dresses, this wedding dress comes with strong accessorizing potential. Add the detachable long lace sleeves for an added element of romance.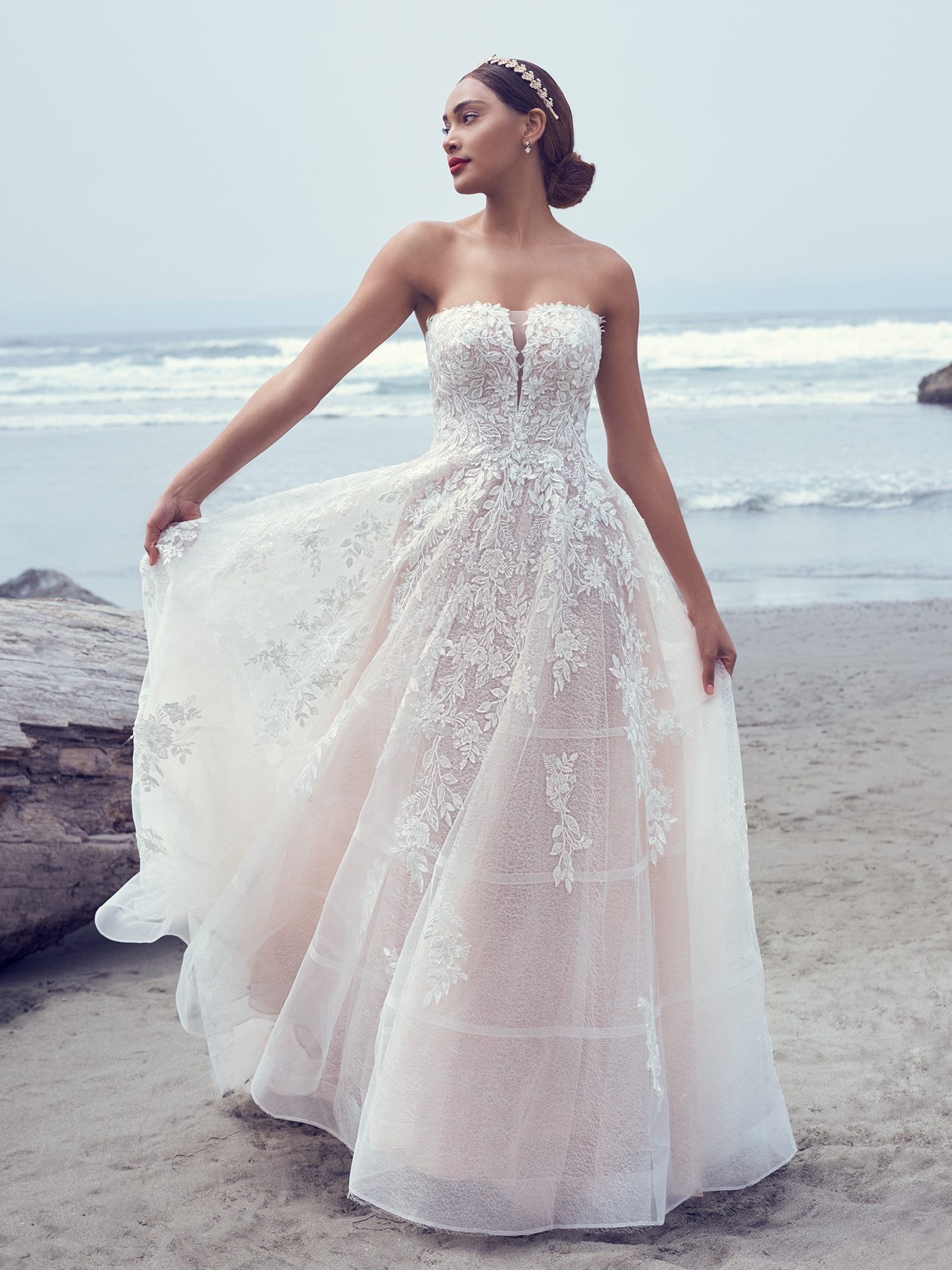 Anita Dowden – Lead Seamstress
"Mischa is the perfect blend of traditional and fresh. The deep V squared neckline is captivating and unique. It feels like magic how Mischa can stay so comfortable without sacrificing the alluring shape. In addition, Mischa's skirt movement is a dazzling sight to behold. Delicate horsehair creates a lightweight full flowy skirt that will make you look like you are floating on air. Mischa is a masterfully designed work of art."
Trend-setting brides, we've found the dress for you. Mischa by Sottero and Midgley features geometric lines and details, soft layers, pretty illusion, and a gorgeous silhouette.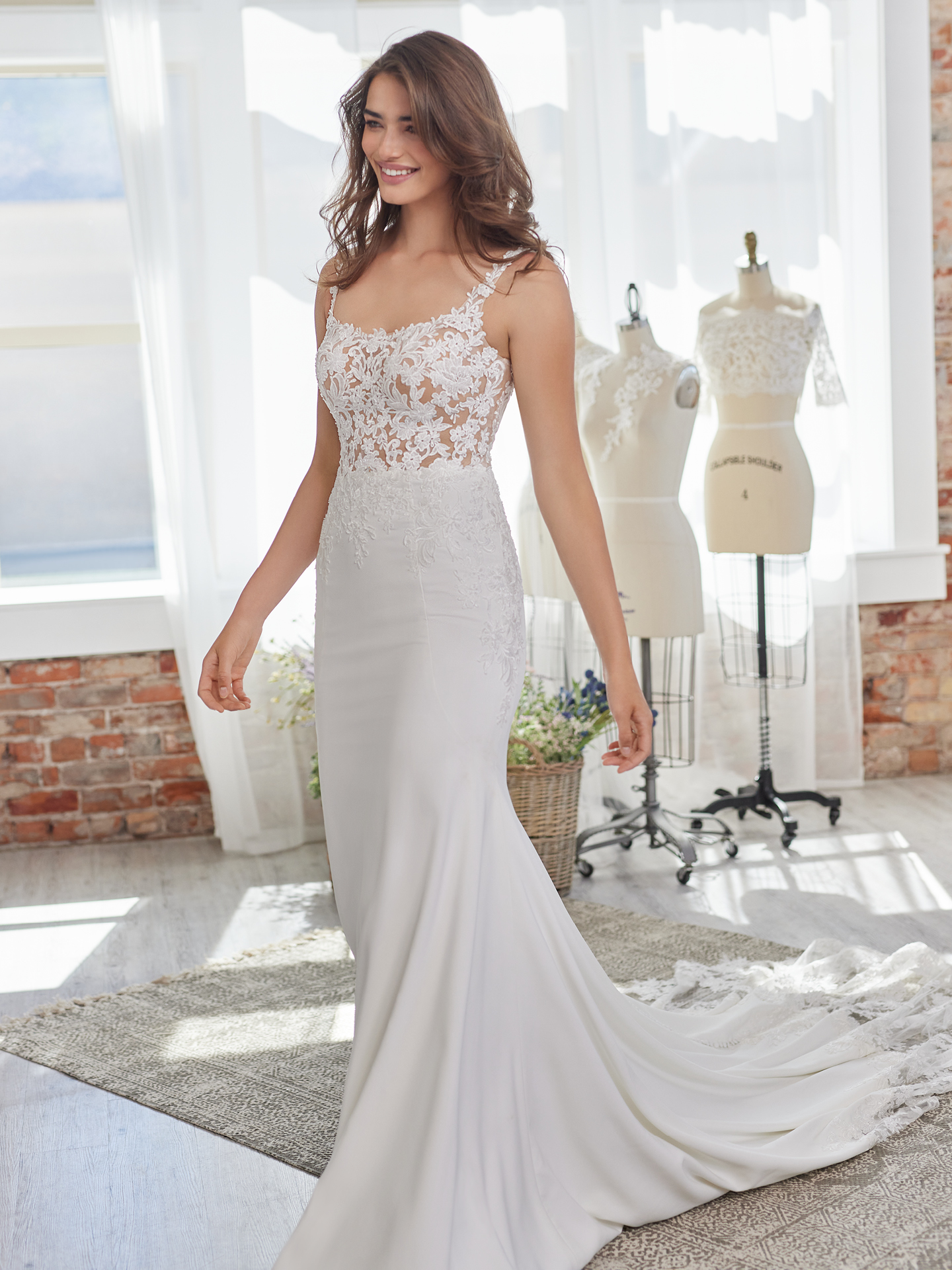 Anita Dowden – Lead Seamstress
"Sadie is on trend for the fashion forward bride with a square neckline and a simply elegant skirt. While the style is simple, the design of the dress is artfully crafted to enhance the natural curves for brides of all shapes and sizes. For example, the lace along the neckline is subtly made to frame the face and elongate the neck. Sadie is a dress for the bride who wants a straightforward, elegant moment that perfectly encapsulates the trend setter personality.
Bonus features include beautiful detachable sleeves that tie in seamlessly with the strap, as well as the surprise lace detail on the edge of the train that adds a little sweetness.
If you are nervous about alterations, Maggie has a video tutorial on taking up the square neckline for a perfect fit!"
Crepe, illusion, and lace might be the most divine combo of all time! Sadie by Rebecca Ingram is sweet and sultry with a statement train.
Nikki Johnson – Website Manager
"I love the lace on this one, especially over the exposed boning on the bodice. It's boho but could fit in the classiest of circumstances too."
Yes, you can do sexy AND boho. Lynwood by Maggie Sottero features allover lace, exposed boning in the bodice, a scoop neckline, and is lined in stretch jersey for comfort.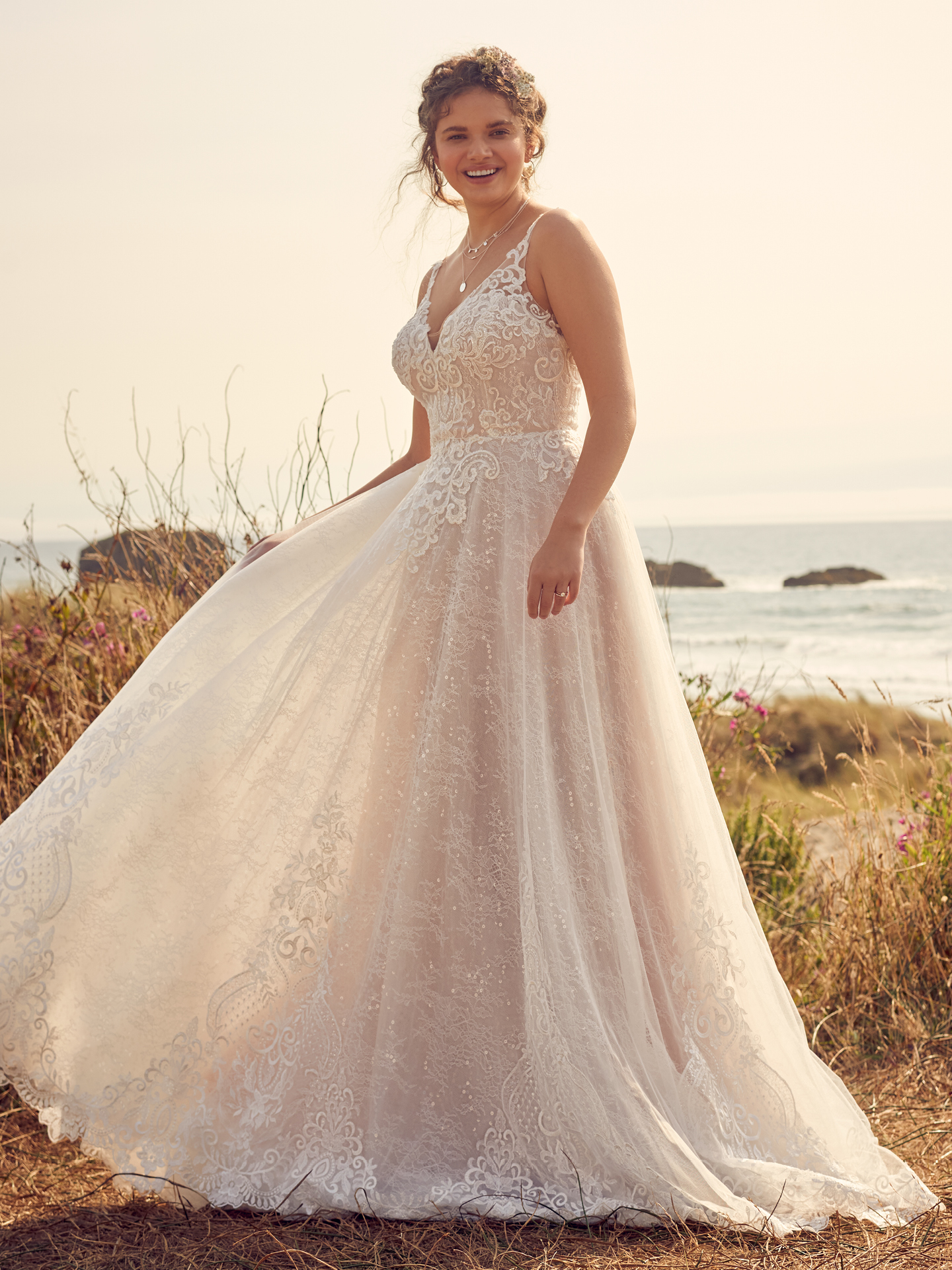 Nikki Johnson – Website Manager
"If you couldn't tell, I love lace dresses. This one is a little more subtle with a layer of tulle over the top and it has sparkles!! I think the bodice is so pretty and elegant in this one."
This popular wedding dress with ethereal lace takes our breath away. Shauna by Rebecca Ingram has it all, sequined lace motifs over texture tulle, illusion tulle bodice, illusion lace tank straps, deep v-neckline, and an affordable price tag making it definitely one of the top 10 wedding dresses.
A big thank you to the fabulous members of the Maggie Team for sharing their favorite top rated wedding dresses! Has one (or two) of these top 10 wedding dresses caught your eye? Find a local Authorized Retailer near you. For more Spring 2022 fabulousness, view the full list of new arrivals. Also check out our blog on the popular wedding dresses right off the runway and our sneak peek at Spring 2022! Lastly, make sure you're follow us on Instagram for a more up-close and personal look at the details of our new arrivals.
Cheers to this gorgeous new season and saying yes (again!).