Dresses
|
February 15, 2018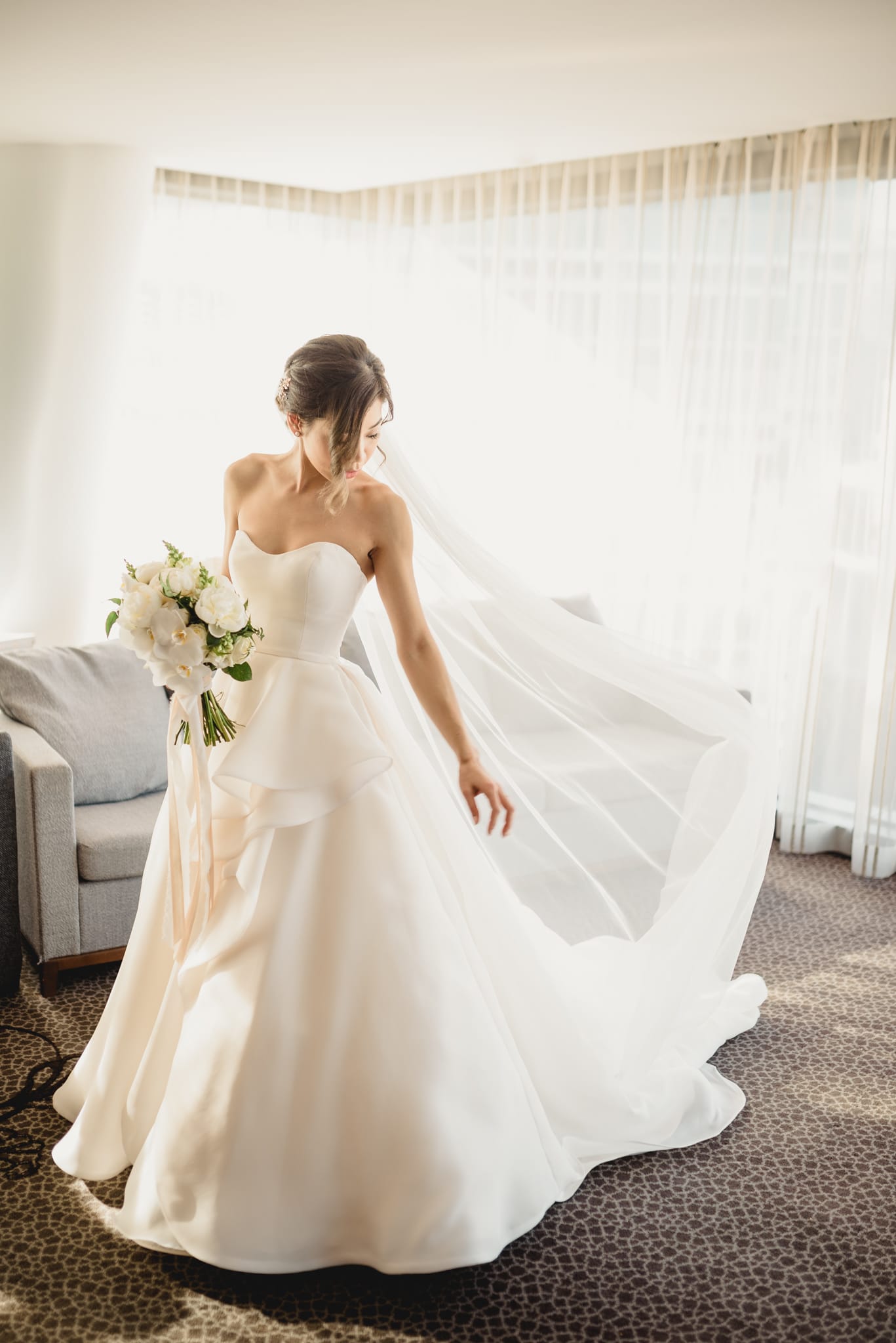 We're a little biased, but we're thrilled to hear how today's real bride, Nancy, designed the look and feel of her wedding based on her Maggie Sottero simple romantic ballgown. Bianca Marie has a lush, timeless, and elegant vibe, so Nancy designed outward with fresh florals and sophisticated pops of color. We're especially grooving on the indoor-outdoor feel between the beachy ceremony and luxe ballroom reception. Keep scrolling!
This gorgeous occasion was captured by Jack Gilchris Photography of Sydney. See the couple's wedding video by Lightheart Films and Photography here.
Head to an Authorized Retailer to try on this chic style today!
Which Maggie Sottero gown did you wear?
Bianca Marie by Maggie Sottero, purchased at Abbey Bridal in Sydney Australia.
How did you know when you found "the dress"?
I was browsing wedding dresses online and came across the Bianca Marie on the Maggie Sottero Designs website. I was loving the timeless, chic and romantic look of it so I looked up the nearest store in Sydney, Australia, to go in and try it on. As it was a last minute find, I went to the store alone without any of my bridesmaids or friends. The store only stocked the Bianca (same dress with the 3D Rose detail). I tried on that dress to get an idea of the Bianca Marie. I knew instantly I wanted the Bianca Marie as the rose detail was the only thing I wanted removed from the Bianca.
What was your favorite part of the dress?
The ivory appliqués over the antique blush. Breathtaking!
How did you and your partner meet?
My husband and I met over nine and a half years ago through mutual friends. We were both young and did not expect from that moment we met that it would lead us to where we are today. We couldn't be happier how things turned out. We are so grateful for each other.
How did he propose?
My partner proposed to me while we were on a mini hike in Tasmania, Australia.
Where did you get married?
Sergeant's Mess, Mosman, NSW Australia.
How did you decide what you wanted your wedding to look like?
It partly came together after I decided on my dress. Knowing my dress style and color helped me decide on the rest of the details, such as flower colors, accessories, and styling.
What was your favorite wedding day moment?
There were too many amazing moments throughout the entire day. I have to say really the entire wedding day was my favorite! Every minute of it.
Describe your wedding in one word.
AMARRZING (Surname is now MARR, hence AMARRZING!)
What advice do you have for future brides?
"Try" not to sweat the small stuff. Most things fall into place with some planning. Give yourself time—if you do not have time, just do your best and go with the flow. Your wedding day will be ultimately about you and your partner. So enjoy it, cherish it and love every moment of it.