Dresses
Tips and Trends
Wedding Inspo
|
March 29, 2018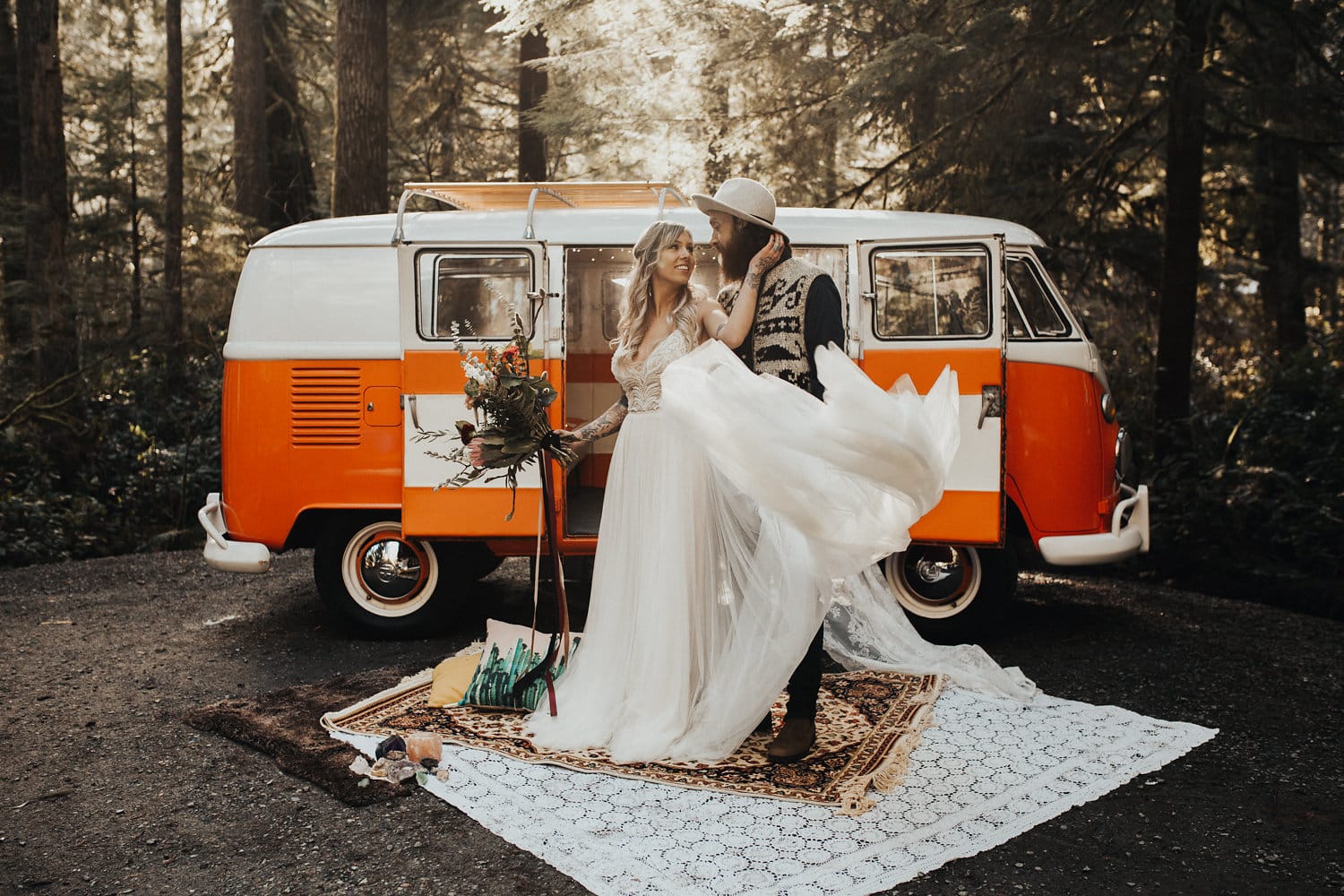 A traditional wedding is all well and good, but there's something to be said about a summery forest elopement with your best friend. Which is why we're loving this ultra-romantic, camp-under-the-stars, whisk-me-away-in-tulle-and-beading (shot in the Northwest/Vancouver area, no less) rock 'n' roll styled shoot featuring beaded lace gown and camper van from the Wild Hearts Collective, starring our runway-fresh style Charlene from the Fall 2018 Lucienne Collection. The whole thing changes up our wedding-planning checklist for 2018—like, now we're wondering how much a Volkswagen getaway car will cost, or if we can track down those fabulous macramé tapestries from our megababe aunt in the Central Coast… you know, the whimsies all too easily forgotten during the stress of planning a 200+ guest celebration.
If you're with us on the charm and elegance of an intimate wedding, check out our selection of boho wedding dresses for a sexy, laidback look.
There's more to explore on our blog as well, including 9 Bouquets for a Boho Wedding Gown, 10 Boho Wedding Dresses by Rebecca Ingram, and 10 Best Accessories for Your Boho Wedding Dress. If you're loving this Charlene style, stay tuned for the debut of Fall 2018 on our website, or head to an Authorized Retailer, because this exclusive "sneak peek" gown is already available to order!
Fabulous vendors for this styled shoot: Wild Hearts Collective / Green Leaf Floral Designs / Aloha Friday Photo Bus / Bliss Gowns Nanaimo Boutique / Hair By Lacey Iris / Models Lacy Iris and Jordan Unrau Tattooer