Real Weddings
Tips and Trends
Wedding Inspo
|
May 19, 2020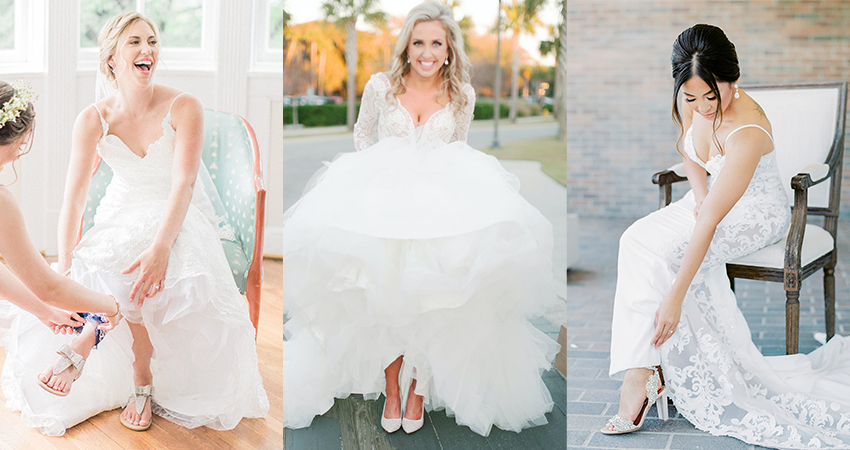 You've found your perfect wedding dress. You've booked your wedding venue. Now, let's talk footwear! We've compiled a few of our favorite real bride photos for some major wedding shoe inspiration. From beach-ready flats to shimmery wedges to razzle-dazzle heels, keep scrolling for fabulous wedding shoe ideas inspired by our real brides!
Winter Wedding Idea: Black Ankle Boots with Vintage Ball Gown Wedding Dress
If you've chosen a sparkly ball gown wedding dress and a cold-season wedding date, odds are you need some chic yet practical footwear. Cue your search for the perfect pair of bridal booties: stylish, versatile, and weather-ready shoes for brides getting married in wintery locales, rustic-themed venues, or outdoor vistas with uneven terrain.
We love this bride's choice of black ankle boots to complement her dark hair and (of course!) her enchanting Allen bridal gown from Sottero and Midgley.
Rustic Wedding Shoes: Tan Open-Toe Wedges with Lace A-line Bridal Gown
If you've got a boho heart and a fuss-free attitude, opt for comfy wedges in a natural tone and easy heel. This casual style pairs well with pretty lace patterns and soft layers, and is more easily re-appropriated for future outfits than, say, a glass slipper or Swarovski-crystal stiletto.
This bride looks sweet and effortless in her sleeved Deirdre wedding gown, paired perfectly with tan leather wedges and a white pedicure.
Summer Wedding Idea: Sparkly Open-Toe Heels with Embroidered Crepe Wedding Dress
Planning a summer wedding? Don't let higher temperatures cramp your glamorous disposition! Complete your elegant bridal gown (this bride chose Darshana by Maggie Sottero) with shimmery accessories, a polished updo, and of course, glitzy footwear.
This block heel is a comfy alternative to stilettos or pumps; the open toe shows off the bride's pedicure; and the bejeweled double-strap provides support while adding detail and embellishment. Perfection!
Spring Wedding Shoe Idea: Pastel Open Toe Shoes
For her spring wedding, this bride chose to pair her scallop lace ball gown wedding dress with a pair of lightweight, open toe shoes. The white applique accents on the toes of the shoes match the lace on Mallory Dawn perfectly!
As one of our fav wedding shoe ideas, these blue pastel shoes provide just enough height without sacrificing comfort. Plus, isn't that block heel so undeniably trendy?
Glamorous Wedding Shoe Idea: Champagne Heels with Princess Wedding Dress
Break out the bubbly with champagne-hued heels and a sparkly ball gown! This bride paired her Amélie wedding dress by Sottero and Midgley with glittery bridal shoes for a festive and glamorous aesthetic.
Add a manor venue and statement florals, and you're ready to dance the night away!
Chic Wedding Shoes for a Boho Wedding: Beaded Closed-Toe Heels
For a fresh and fairytale-inspired take on boho wedding trends, consider a closed-toe wedding shoe featuring vintage-inspired beading and ribbon details.
This bride paired her chic lace Antonia wedding dress by Maggie Sottero with easy slip-on tie heels for a just-stepped-out-of-a-Renaissance-painting kind of vibe.
Classic Footwear for a Fairytale Wedding: White Pumps with Sleeved Lace Ball Gown
For a true-blue, undeniably feminine, and super gorgeous bridal statement, consider all-white wedding shoes in a classic pump design.
This bride's simple yet elegant closed-toe heels are the perfect complement to her ball gown's (Mallory by Maggie Sottero) intricate and romantic lace bodice and illusion sleeves.
Wedding Shoe Idea for a Chic Celebration: Pink Strappy Heels with Sleeved Bridal Dress
Looking to add a dash of whimsy to your stylish celebration? Use your accessories to make a flirty retro statement! This couple looks extra fabulous with heart-shaped sunglasses and a pink smoke bomb for photo ops.
It's only fitting that our real bride, wearing Dakota by Sottero and Midgley, should don a pair of pink strappy heels to complete the magic.
Casual Wedding Shoe Idea: Summer Sandals with Sheath Lace Wedding Gown
All hail the power of slip-ons! We're totally inspired by this bride's choice of silver sandals for her casual summer wedding. These bridal sandals are a perfect fit for her bridesmaid gowns, soft florals, and pastel palettes (not to mention lovely lace bridal gown Drew by Rebecca Ingram).
This wedding shoe idea would also look smashing for a beach wedding, garden party, or international elopement.
Bridal Shoes for Something Blue: Shimmery Pumps with Chic Strapless Wedding Dress
As one of our fav wedding shoe ideas, these bridal shoes are a little silvery and a little blue. A lovely accessory for your sweet and romantic wedding vision! This particular shade reminds us a bit of Cinderella's gown from the Disney animated classic.
These gorgeous shoes also make for a gorgeous complement to our Hadley wedding dress from Sottero and Midgley.
Country-Rustic Wedding Idea: Cowgirl Boots with Relaxed Sheath Bridal Dress
If you're planning a country-rustic celebration, there's no denying the fabulous charm of a perfectly worn-in pair of leather boots. This bride showcased her brown and black design with her bridesmaids' cowgirl boots for a chic, flirty, and totally distinctive effect.
And as for your wedding gown, opt for a lace number like Bristol by Sottero and Midgley for a soft, feminine, and heirloom-inspired aesthetic.
Bridal Shoe Idea for a Fairytale Wedding: Flower Embellishments with Classic Ball Gown Wedding Dress
And finally, for an over-the-top bridal aesthetic, we present 3-D embellishments in iridescent hues! This bride paired her chic minimalist ball gown wedding dress, Aralyn by Maggie Sottero, with a girly-glam pair of open-toed heels in a fabulous floral motif.
Ready to take the next * step * to creating your perfect head-to-toe bridal look? Pin your favorite wedding shoe ideas from this blog or browse our bridal shoe Pinterest board. Then head to our rundown of wedding shoe advice in our post on Wedding Shoes for Your 2020 Celebration. And as always, you can find more wedding ideas by starting with our Find Your Style quiz on our website. Cheers!