Real Weddings
|
July 10, 2017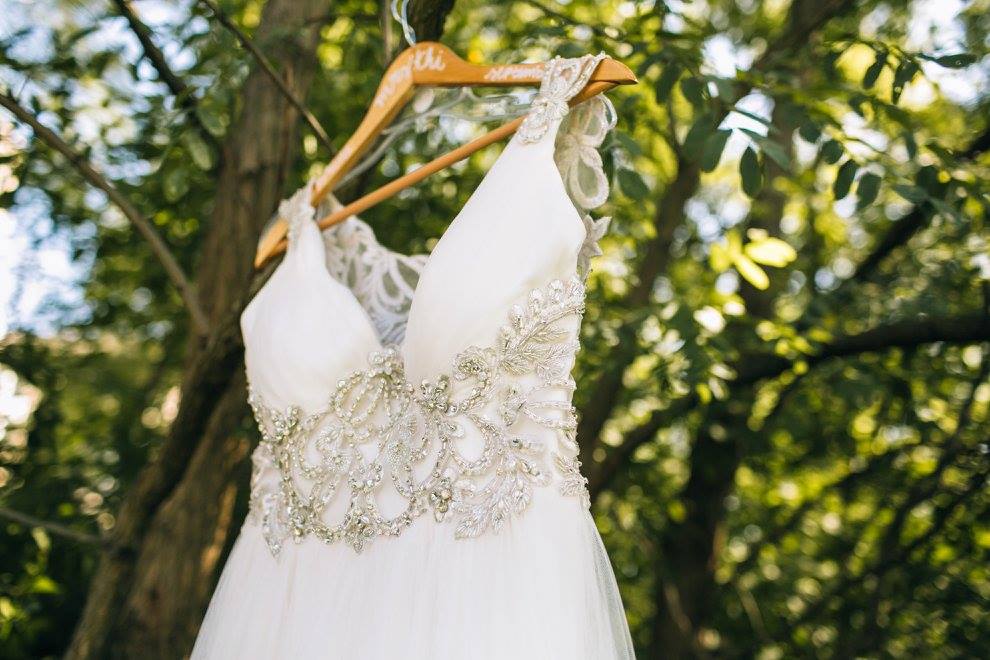 Just because you've booked an outdoor venue doesn't mean you have to forgo the sparkle. Cue Phyllis by Maggie Sottero: the ideal fusion of softness and glamour, featuring lightweight layers of tulle and a dazzling Swarovski-crystal back. Keep scrolling for more of this unapologetically feminine gown in Jordan's forest wedding, captured beautifully by Sarah Hissong Photography.
See more of this princess wedding dress in Cami's high desert wedding, and browse more fairytale wedspo on Pinterest!
Which Maggie Sottero Designs gown did you wear?
Phyllis, purchased at Doreen Leaf Designs.
How did you know when you found "the dress"?
I knew going into shopping that I wanted something flowy and blush pink, and when I put this on it just felt so.. me! My maid of honor cried, and I just had this overwhelming feeling that this made me feel like I was getting married, rather than just having a pretty dress on to wear to some event. It made me feel like I was a bride!
What was your favorite part of the dress?
Probably the tulle & blush color. It was so light and SO comfortable! Oh and the back is just obviously amazing, as well as the shoulders!
How did you and your partner meet?
We both were attending Kent State University, and I would often blog about the school for incoming freshman to answer questions & talk about how much I loved it, and somehow he found that blog and messaged me! We went on a date later that week (after I made up a lame excuse to get out of the first date because I was too nervous, like, catfishing is a real thing, right?) and we have been together ever since!
| | |
| --- | --- |
| | |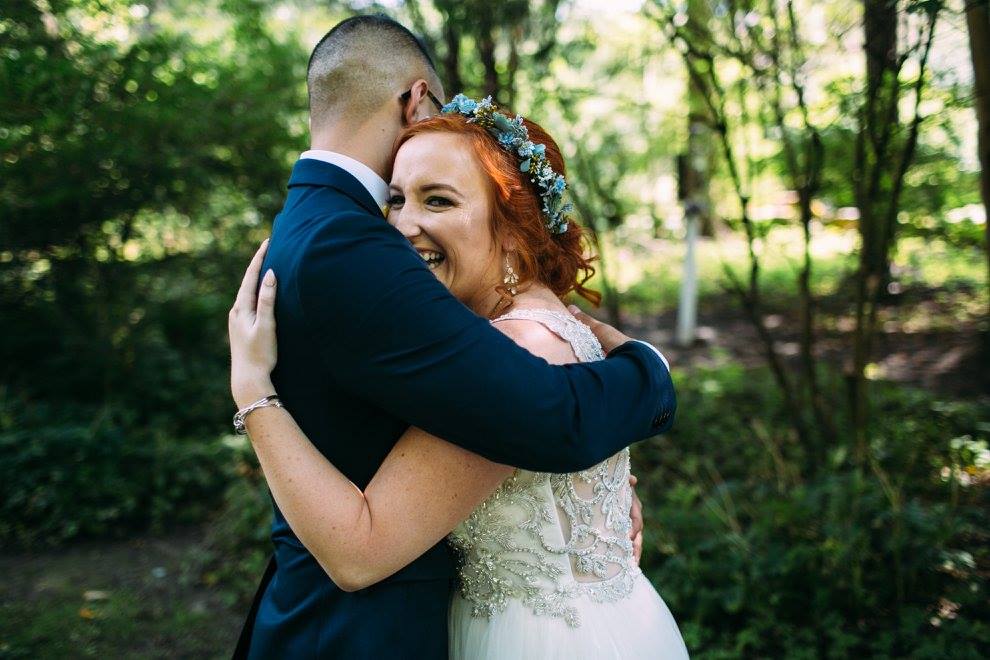 | | |
| --- | --- |
| | |
How did he propose?
First of all, I am not one who is easily surprised. However, by some miracle Ben completely surprised me this day! We planned a double date with my best friend and her boyfriend to go through a corn maze together, and once we made it through we stepped out and our closest friends and family were all holding lit pumpkins that spelled out "Will you marry me?" I kid you not, my first reaction was to think to myself "Jordan don't freak out, this isn't for you and that will be really embarrassing if you make a scene." But then I saw some familiar faces in the crowd and said "Wait, what?" and fell on the ground. It was awesome, it was so unexpected, and I wouldn't have had it any other way!
Where did you get married?
Hoover Park at Walsh University in North Canton, Ohio.
Did your wedding have a theme?
Watercolor & Geometric.
How did you decide what you wanted your wedding to look like?
Ben and I have pretty opposite personalities, me being an artist and him being a chemist, so I wanted our overall look to reflect how opposites can attract & look pretty great together. We had lots of organic, overflowing florals combined with confined geometric shapes. As for our color scheme, we started with navy and yellow for Kent colors but then just added others that looked good together.
What was your favorite wedding day moment?
As silly as it sounds, getting back to the hotel after the wedding day was over and just sitting on the bed and realizing holy moly, we just got married! It was a whirlwind of a day with really hot weather and tons of dancing, so we were exhausted and just so glad it all went so well and we were now together and married and could soak it all in.
Describe your wedding in one word.
Wonderful!
What advice do you have for future brides?
My biggest advice is to try and focus on what you & your fiancé want most for your wedding. It is really easy to get caught up in the pressure of pleasing other people's wants for your day, but ultimately it really is about you two and how you want your wedding day to happen!
Find an Authorized Retailer.