Real Weddings
|
November 19, 2016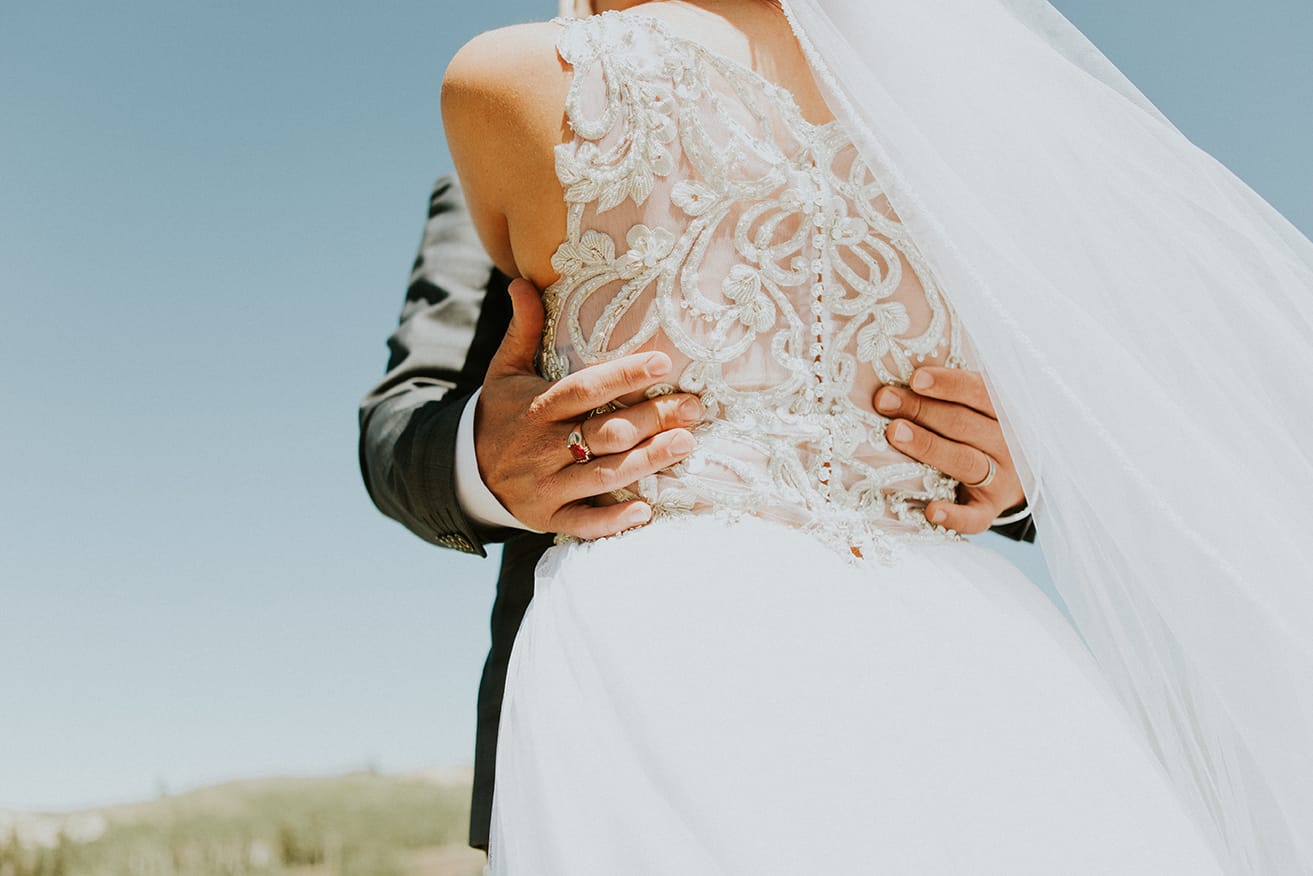 Sometimes the road to love is full of mud and strange coincidences, but where you end up is sweeter and more magical than you could hope for. As Edward Abbey puts it, "May your trails be crooked, winding, lonesome, dangerous, leading to the most amazing view." Keep scrolling for Cami and Charlie's journey, captured beautifully by The High Pines photography.
Which Maggie Sottero gown did you wear?
Phyllis by Maggie Sottero
How did you know when you found "the dress"?
"The dress" was the fourth dress I ever tried on and it was almost instant that I knew it was "the one". I grew up watching the 1965 Roger and Hammerstein's version of Cinderella, and I remember distinctly walking out of my dressing room and looking in the mirror and feeling like her, Cinderella, that moment we all know when she first walks into the ballroom and everyone awes at her beauty. I wanted to mimic that feeling on my wedding day. Not to mention the special tie I felt it had to my childhood and specifically with my mother.
What was your favorite part of the dress?
The layers upon layers of soft, delicate, featherweight English tulle made me feel weightless. I could dance and twirl all night long. On top of that my back was sheer with incredible hand-beading and design that included crystals, pearls, and even opal beads. My wedding ring is an Opal stone rather than a diamond, so the dress truly was perfection in my eyes.
How did you and your partner meet?
We met through mutual friends almost four years before we actually began dating. Charlie lived in another state at the time but when he moved back to Salt Lake City, Utah, I kept running into him everywhere. It was crazy coincidences over and over until we finally went out on a real date. His chivalry and charm had me from our first date and I never looked back.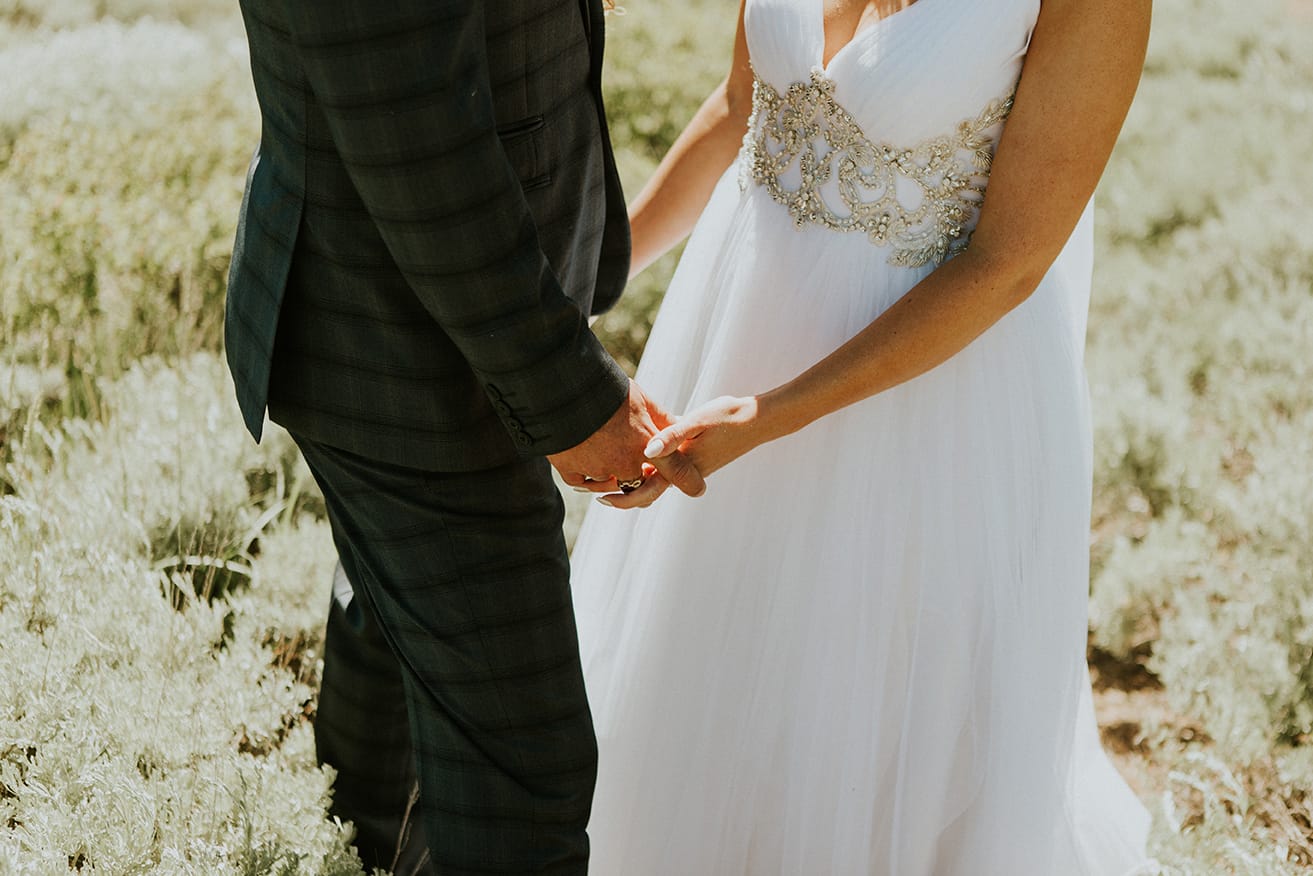 How did he propose?
Charlie had spontaneously asked me to go to Maui twenty-four hours before the flight departed. He had a business trip that had been canceled, so naturally he had to take advantage of a free flight and rental in his name. I felt something coming but we hadn't talked about actual marriage before, and definitely not rings, so I didn't know what to expect. On our second day in Maui, we hiked down to what was called the "Fairy Dream Ponds", a locals' secret with pools and waterfalls, while being surrounded by acres of jungle. As we reached the bottom of the hike towards the waterfalls we were both getting eaten alive by mosquitos. In fight or flight mode I thought, "MUD, we must cover ourselves with mud." So there we were covered in mud literally head to toe, and Charlie offered to get the backs of my legs and as he did so he said something to startle me. I turned around, and there he was on one knee, face covered in mud, as was mine, and he asked me to marry him. I was stunned, he proceeded with beautiful words of promises and why he fell in love. Then he opened a box and inside was a diamond heart-shaped necklace that belonged to his grandma, I remember him distinctly saying, "This is me giving you my heart." It was such a magical experience with just us two in the Maui jungle. I screamed YES and the land echoed back at me; I couldn't have asked for a more spontaneous, whimsical, hilarious experience. Now looking back, it goes to show how much we truly loved each other for who we were on the inside—being proposed to while my face was covered in mud was not what I had imagined but on a "real" level it was PERFECT.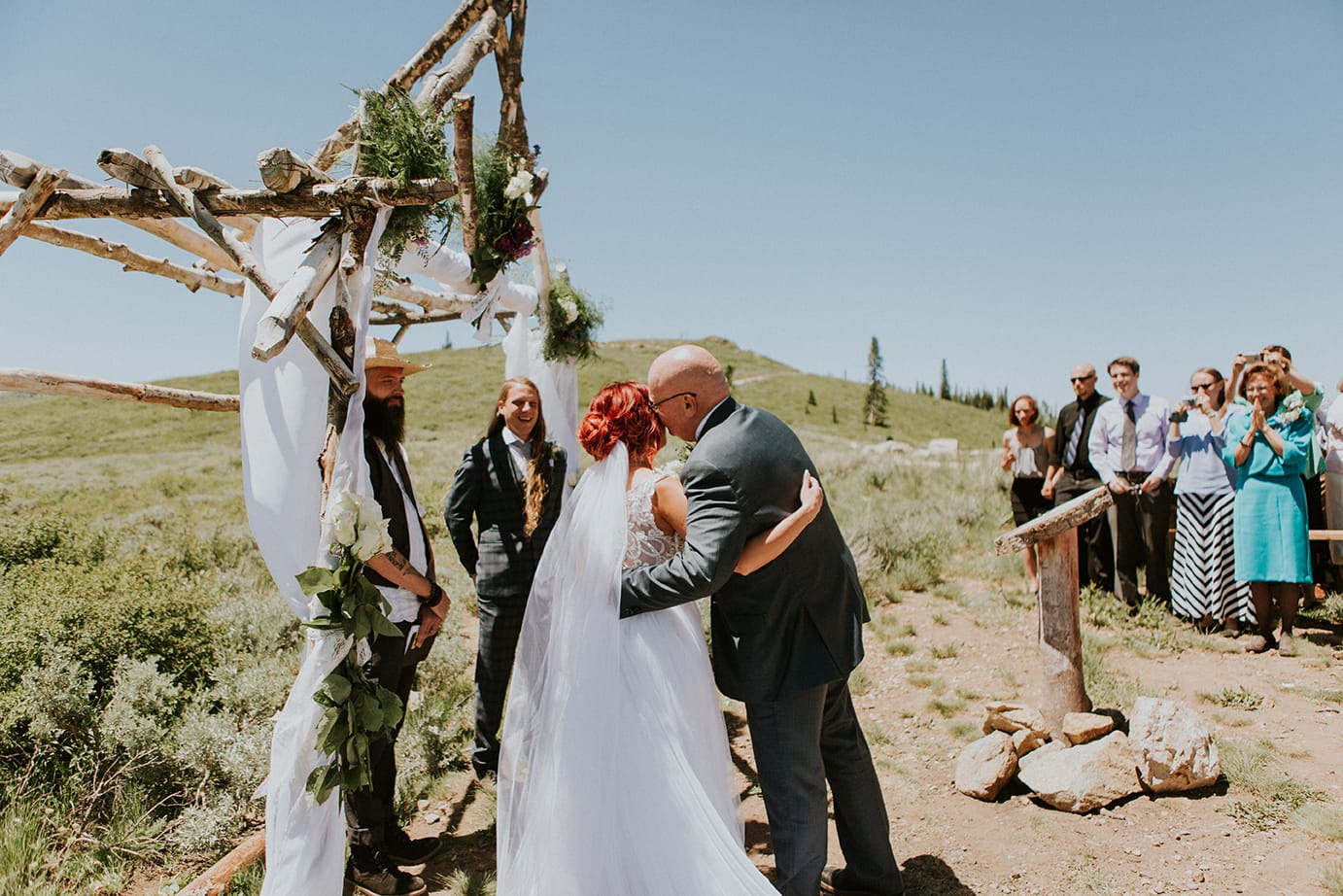 Where did you get married?
We chose a mountain destination wedding in Guardsman Pass, near Park City, Utah. It was like a dream: simple, small, quaint, organic, and strikingly beautiful.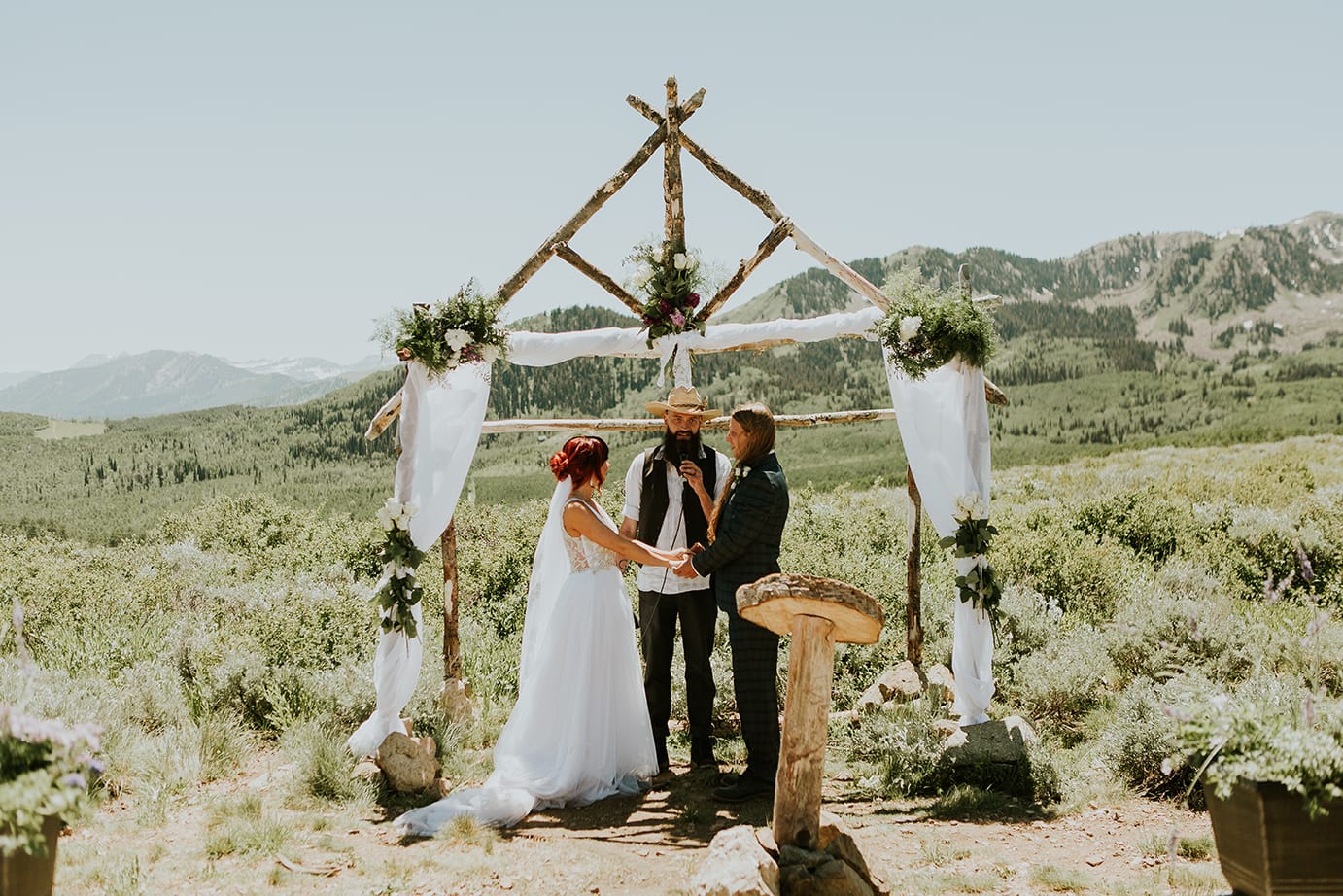 Did your wedding have a theme?
Whimsical, light and simple. Our "colors" were an opalescent white, silver, and lavender.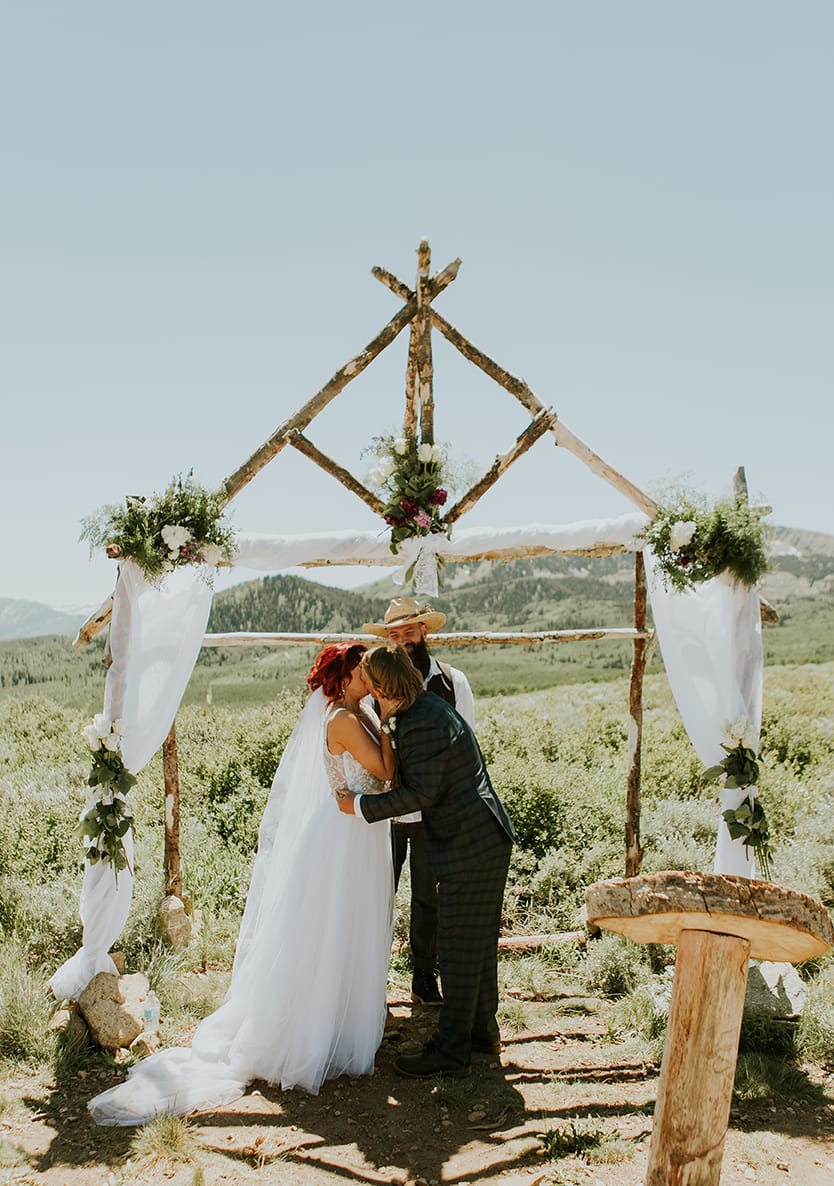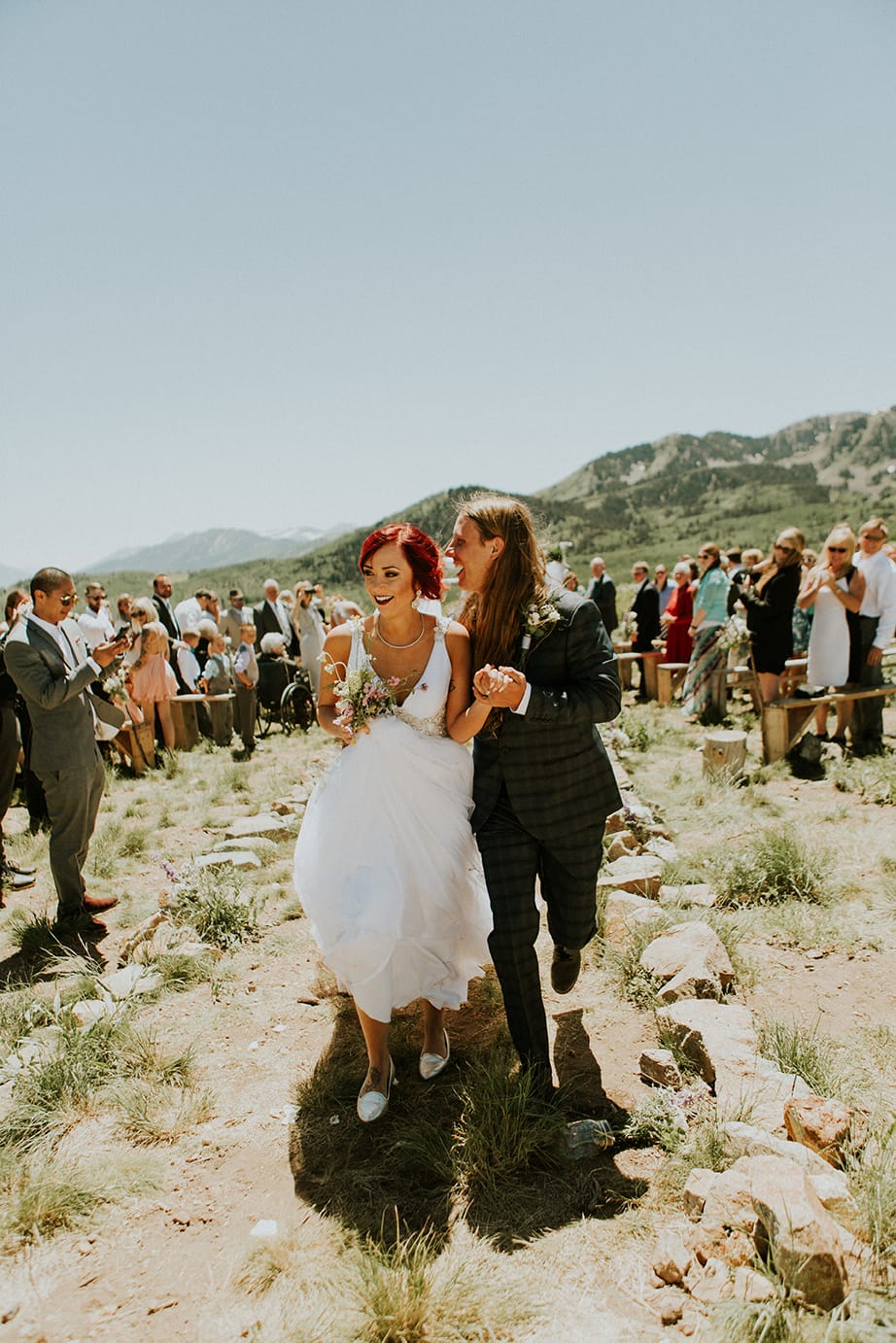 How did you decide what you wanted your wedding to look like?
I am an artist myself and so creating comes effortlessly to me, it was not difficult me to imagine what matched Charlie and me as people and who we are. I was careful to not fall into trends and truly recreate "us" as if our wedding was describing us as individuals coming together as one. He owns an outdoor clothing/accessories company and loves the free open-air, whereas I am more of a city girl and a professional makeup artist with my own business. I combined both worlds to create the perfect day. With a ceremony in the Rocky Mountains and then a reception held in a Utah Historic building in Downtown Salt Lake City.
Describe your wedding in one word.
MAGICAL.