Real Weddings
|
January 16, 2017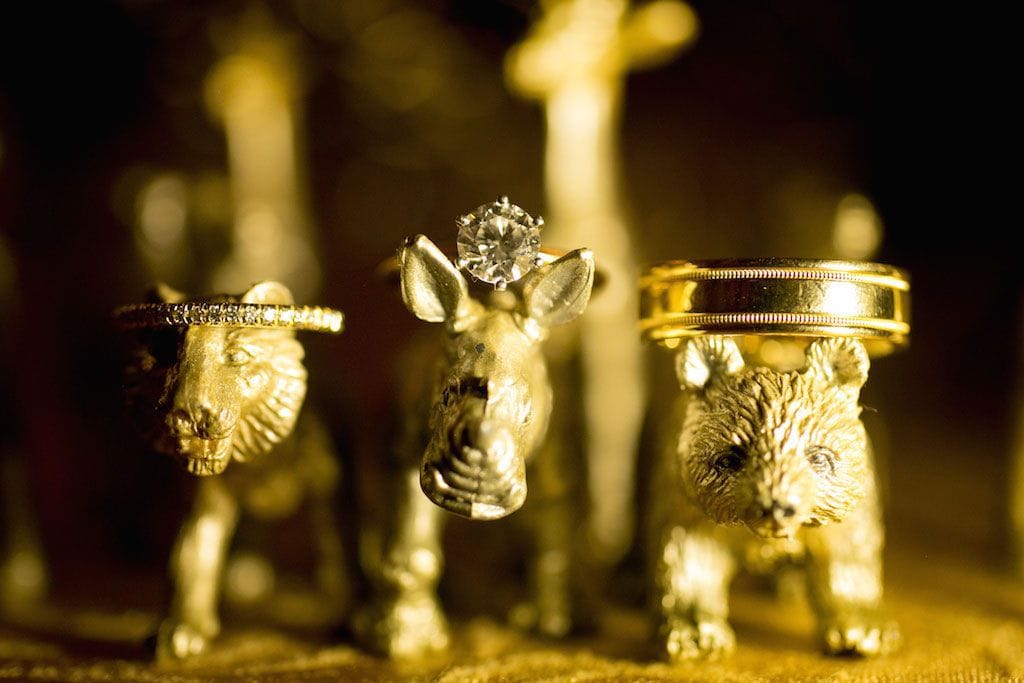 When you get the chance to invite baby animals to your happily-ever-after, we say invite them! Jess and Gene met on eHarmony, got engaged at a falconry class, and married each other at the Maryland Zoo—so, really, the only to make their story cuter is a mini penguin. Keep scrolling for the details (terrarium centerpieces!) and head to our lace wedding dress feature to browse more classic and romantic styles.
This unique and fabulous occasion was captured by destination-photographer Ethan Yang.
This wedding story was also published on Washingtonian Magazine and The Knot. Click here for a highlight video of the big day! (Oh, and tips for hiring an outstanding videographer.)
Which gown did you wear?
Bellissima by Maggie Sottero
How did you know when you found "the dress"?
We actually went dress shopping together as an engaged couple(!) as Gene's support meant the most to Jess. We had visited multiple retailers and she had tried on many gowns. However, when Jess tried on the Bellissima, she saw Gene's awed expression. Jess was impressed how all the intricate details came together on the gown and agreed this was the dress!
What was your favorite part of the dress?
Gene says his favorite part was how beautiful Jessica looked in the dress. Jessica loved all the intricate details from the crystal and bead designs, to the shoulder sleeves, to the dramatic hemline.
How did you and your partner meet?
We were matched on January 1, 2014, through eHarmony and were intrigued enough by each other's profiles and online responses to meet in real life. We met in person for the first time on February 8, 2014 and Jess suggested meeting at CremCafe in Rockville, MD, for a shakshuka breakfast. Gene thought that shakshuka was one of Jess's favorite foods but little did he know that this was Jess's first time trying shakshuka as well. Meanwhile, Jess thought it would be neat to both try something new on the first date. It turned out that the shakshuka and chocolate espresso were both so good that after the date, Jess turned around and went back to get a second cup to go.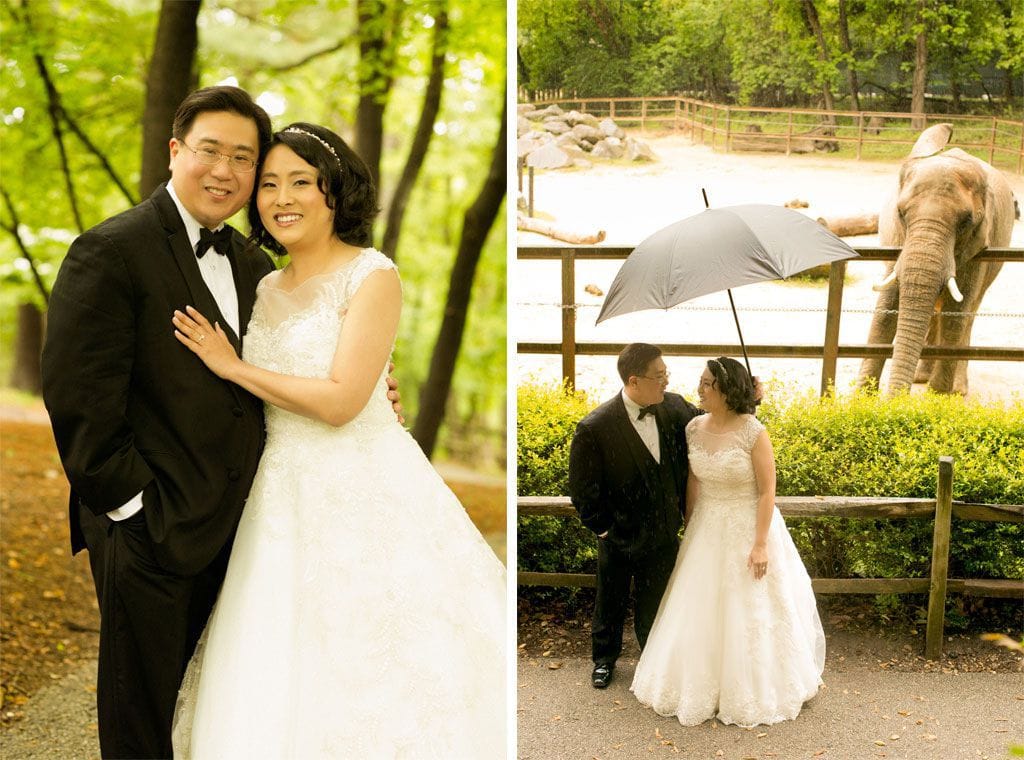 How did they propose?
We both love animals and Jess's favorite animals are birds. Jess has volunteered with rehabilitation organizations to help injured birds of prey and she always keeps a sharp eye to identify local birds whenever driving or hiking. Jess found out that the Omni Homestead Resort in Hot Springs, VA, offered a falconry experience which thrilled her with the opportunity to learn and participate in the ancient sport. Unknown to Jess, Gene had contacted the falconer and arranged for the bird to deliver a special message to Jess. The falconer mailed two leather foot straps on which Gene wrote a proposal message and mailed the leather straps back to the falconer.

We arrived for the two-part class and learned about the different birds of prey and how to care for them. We then got to put on the falconer's thick leather glove and experience a hawk landing on our covered hand to eat a piece of raw chicken that we were holding. The second part of the class was closed off for just us. The falconer attached the special leather foot straps onto a large Harris hawk and asked Jess to be ready for the hawk to fly to her. Jess held up her glove and the hawk swooshed onto her hand. The falconer said that the hawk had a special message on its leather straps. Jess was surprised and read Gene's handwritten message. Jess then saw Gene kneeling on one knee and she said Yes!

Our special engagement experience continued with taking the hawk on a hunt in the woods and then throughout the rest of our stay at the Omni Homestead enjoying the hot springs, restaurants, and hiking the beautiful grounds.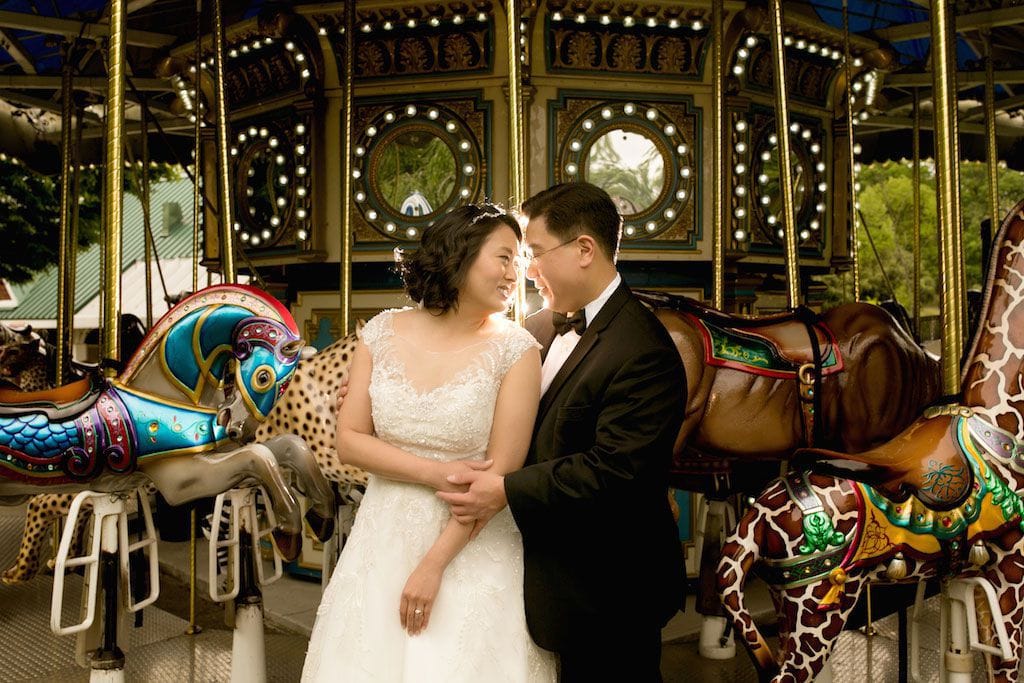 Where did you get married?
We got married at the Mansion House at the Maryland Zoo in Baltimore, MD.
Did your wedding have a theme?
An elegant wedding at the zoo! We had three animal ambassadors (an adorable African penguin, an African raven, and a giant Flemish bunny) at our cocktail hour. We worked with all our vendors to have the same animals incorporated throughout our wedding in the invitations, wedding programs, cake design, signage, statue, and take-home favors.

We also tried to create a personalized wedding to share our story with our guests. Instead of floral centerpieces, each table had a terrarium depicting a significant date we went on leading up to the wedding day. Throughout the ceremony, cocktail hour, and reception, we wanted to create a fun and relaxed evening that shared our story and values with our guests.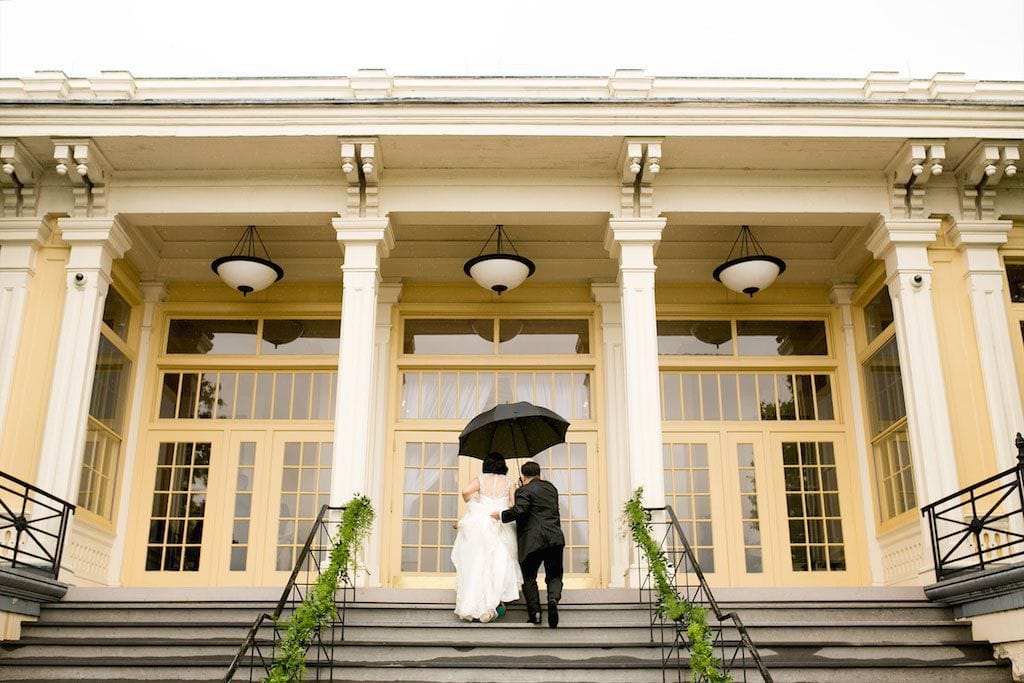 How did you decide what you wanted your wedding to look like?
Jess started by using the venue's interior colors to create a cohesive overall look with the bridesmaids' dresses, groomsmen's tuxes, furniture, and flowers. We used the animal ambassador design from the invitation throughout all the wedding décor.
What was your favorite wedding day moment?
Jess said her favorite moment was hearing Gene's personalized vows to her. Gene's favorite moment was when Jess put the ring (wedding band) on his finger and knew we were really married.
Describe your wedding in one word.
Personalized.
What advice do you have for future brides?
Don't simply follow current wedding fads or even traditions. Take the time to talk with your partner to decide what is really important to you to create a personalized wedding that you can share with your guests.