Real Weddings
|
August 8, 2016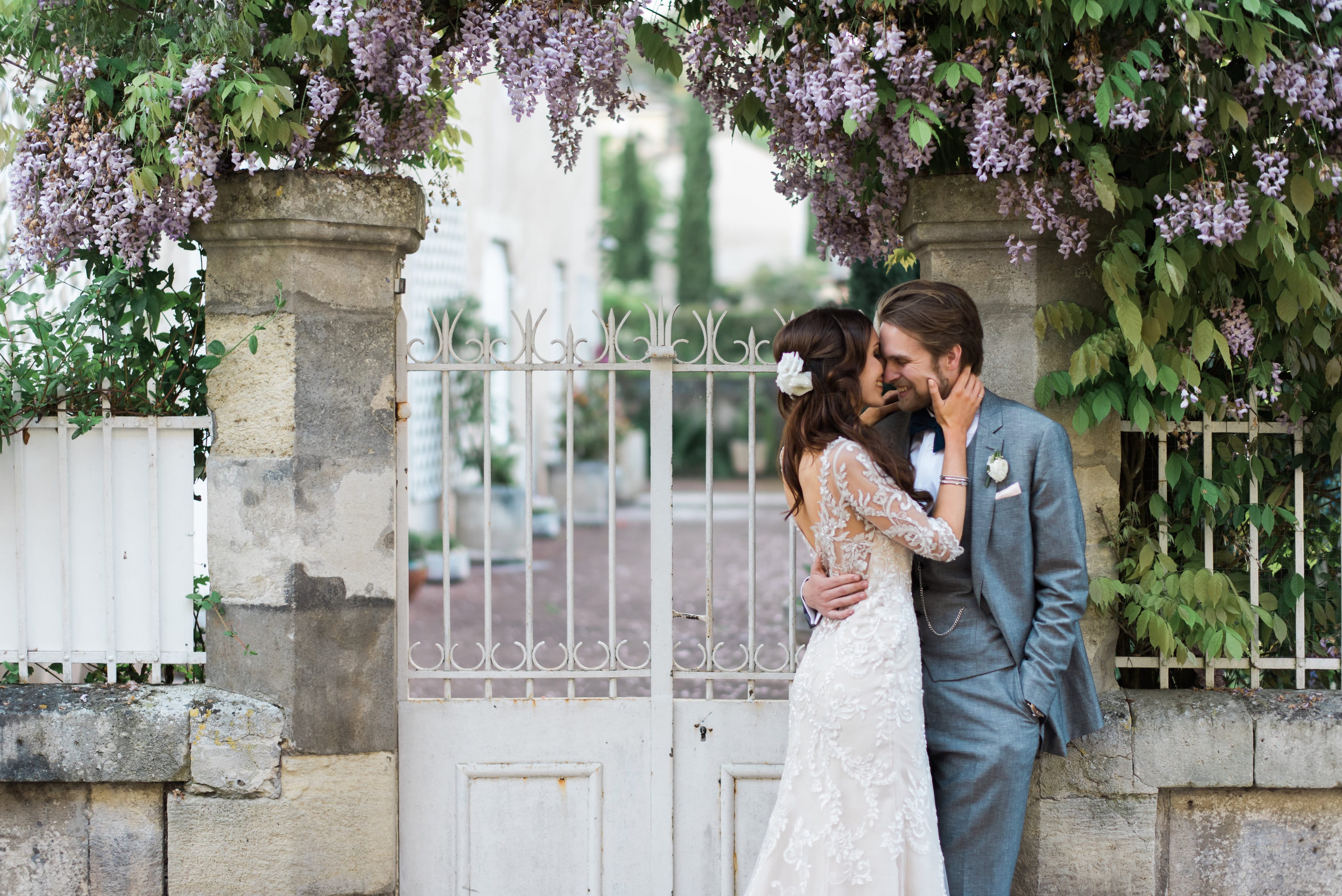 Flirting with the idea of a destination elopement? This sexy, romantic, and totally authentic getaway is all the convincing you need. Check out the inspo from our intimate elopement in Southern France below!
Which Maggie Sottero gown did you wear?
I wore the Verina gown. I had several bridal appointments at wedding boutiques with no luck until one night my sister and I got on our computers and looked at over 600 gowns from various designers. I was feeling discouraged until my sister exclaimed "I found it, this one is yours!" from behind her screen. It was love at first sight. I knew the dress was the one before even trying it on. It took a couple of phone calls to find someone who had the dress in stock for me to try on but when it finally arrived in my size, it fit like a glove.
Find this gown at an Authorized Retailer near you!
What was your favorite part of the dress?
The dramatic lace back is what dreams are made of.
How did you and your partner meet?
We met at work; I was David's trainer his first day on the job.
How did he propose?
In the parking lot of one of my favorite Seattle chocolatiers. It was completely unexpected, and so simple – just like our relationship.
Where did you get married?
We got married at Cussonia Crest which is situated at the foot of the Magaliesberg Mountains. It was the perfect venue for our wedding as we both love the outdoors and wanted a romantic feel and nice surroundings for our wedding photos. The venue creates a fairy-like atmosphere, which we fell in love with from the first moment we went there. Since we got engaged on the Magaliesberg Mountains, we felt like it was the perfect place to say our "I do's."
Did your wedding have a theme?
When it came to selecting a theme, we worked with the surrounding area as much as possible. The château was beautiful, classic french, and required little decor. It was perfect in achieving a warm, familial, and the relaxed-yet-classy atmosphere we were after.
How did you decide what you wanted your wedding to look like?
When it came to planning our big day, we both agreed a big fancy wedding (as beautiful as they can be) wasn't our cup of tea. I grew up dreaming of a small intimate wedding and David's got the wanderlust gene so a wedding across the Atlantic was very 'us'. We wanted our wedding to be an experience shared and not rushed. It was important for us to remember the conversations, laughs, and experiences outside of just the ceremony and reception, so we chose a week-long extravaganza in the charming countryside of Southern France. It was a warm, relaxed, and intimate time shared with the special ones who loved us into being. We can't wait to visit the region again on our 5 year anniversary and relive the memories!
What was your favorite wedding day moment?
It is very difficult to pinpoint one moment; having your family travel 5,000 miles to witness your vows is an overwhelming and a mind-bending experience in itself. Our wedding and days leading up to it were magical and a perfect celebration of who we are separately and who we are together. If I had to narrow it down, the most special moment was turning the corner with my dad as we walked down the way to the altar. It was one of those sweet, significant moments that bursts through your body like an enormous firework. When I saw David's face and the excitement in his eyes, it was very hard to hold it together. He was stunned, literally speechless. It was the first time we saw each other that day and it was one of those moments where things shift into focus and everything makes sense. We looked at each other and we both knew without a shadow of a doubt that this marriage was the best decision of our lives.
Describe your wedding in one word.
Authentic or Intimate
What advice do you have for future brides?
Don't stress too much. Treat wedding planning like a fun project you get to work on with your best friend.