Real Weddings
|
November 28, 2022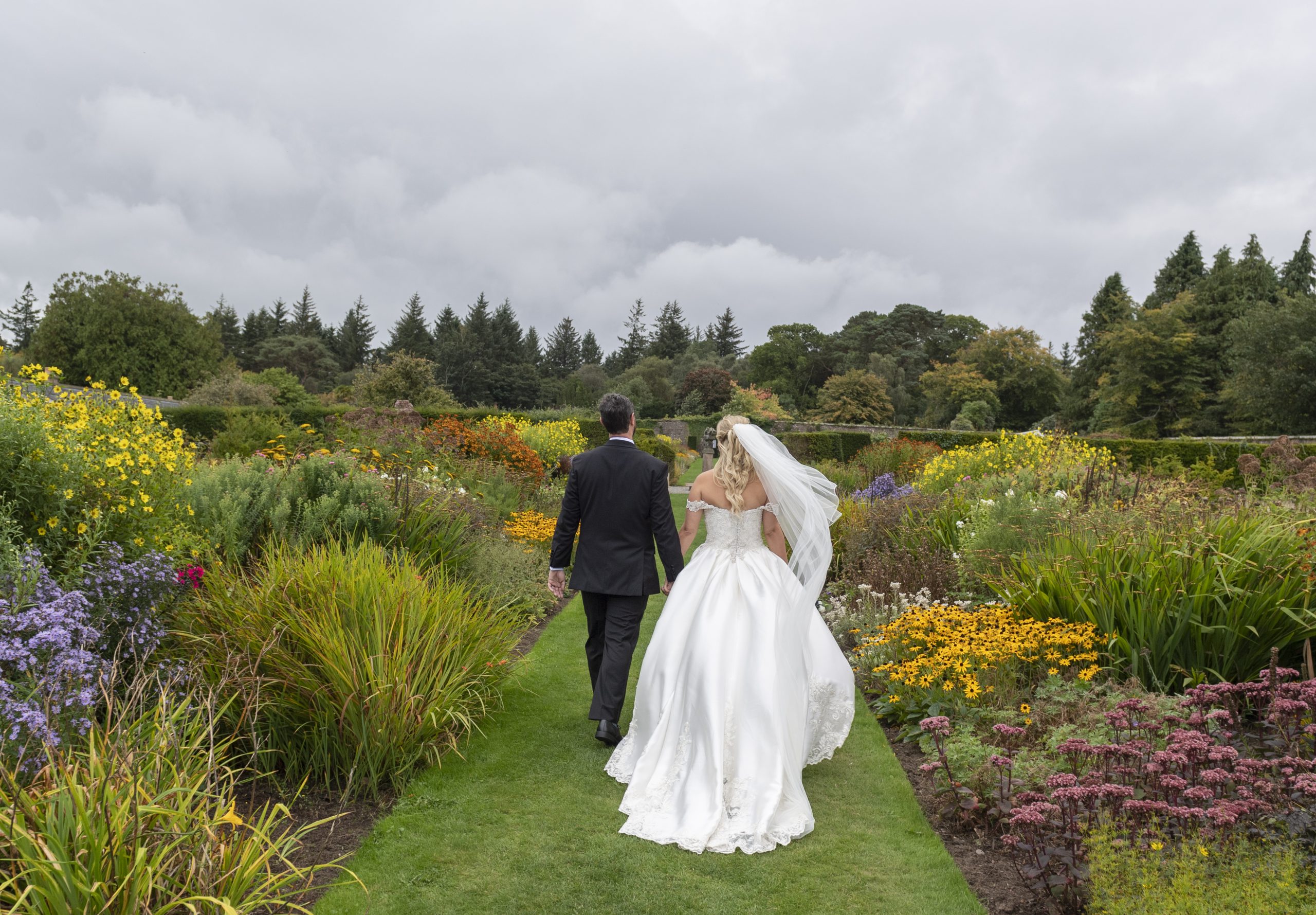 Are you a bride with the travel bug? With beautiful wedding venues all over the world, how could you not?! Planning a destination wedding can be fun, but daunting. However, with advice from some of our Real Brides who have planned their own destination weddings, it doesn't need to be! Keep reading for some expert tips on how to plan the wedding of your dreams and sign up for our exclusive Maggie text messages for more expert tips!
What is a Destination Wedding?
First of all, what is a destination wedding? While you might be thinking it's the same thing as an elopement, it's a little bit more complicated than that! Unlike an elopement where your wedding is much more spur-of-the-moment and intimate, destination weddings usually have more planning involved.
To start with, destination weddings are always held in a different location than your home – usually in a different country (though, some couples define destination weddings as different states!). Picking out your location is an important step in planning this type of wedding and there are a few questions to consider:
Do you want this place to be meaningful to you and your partner?
How many people are you inviting, and will this location be able to accommodate all of them?
How easy is it to travel to?
Are there vendors in this location that you can hire for the day?
What is your budget?
When planning this type of wedding, consider what kind of gown is your dream gown as well! Does your location choice affect the type of gown you want? Is your wedding date in a year or more, or are you on a shorter deadline? How do you plan on getting this gown to your location? If you're asking yourself these questions, shop our Travel and Quick Ship wedding dresses for some inspo, and keep reading for advice from Real Brides!
Nova Scotia Destination Wedding
PC: Janette Downie Photography
First up is our beautiful Real Bride, Stephanie in long-sleeve beauty, Lorraine Dawn by Rebecca Ingram! Keep reading to learn all about how she planned her romantic beach destination wedding in Nova Scotia.
Did your destination wedding affect your dress choice at all, and if so, how?
My destination wedding did not affect my dress decision, it didn't matter where I was getting married, I had one dress in mind! But after I purchased the dress my friend sent me the link to it on the Maggie Sottero website and the model was wearing it on a beach with no shoes exactly the way I had planned plus the groom was wearing what my husband had planned to wear! At the risk of sounding cheesy…it felt like fate!!
Why did you choose to get married in Luneberg, Nova Scotia at Crescent beach?
We got engaged at a waterfall last year and knew we wanted to get married outside somewhere, we had just had a baby with no real plan to even start planning any time soon when we saw this elopement package that East Coast Pop Up Weddings (@eastcoastpopupweddings) advertised. It included the venue (Crescent Beach), a photographer Janette Downie (@janettedowniephoto) the owner Sarah Anderson was to marry us herself and we had an extra photo session with a vintage 1985 Westfalia Vanagon owned by Honey the Vanagon (@sweetnsaltyns). And we didn't think twice, we jumped on the opportunity and never looked back!
PC: Janette Downie Photography
What were some of the pros of having a destination wedding? What were some cons to having a destination wedding? And what were you the most surprised about?
The pros to having a destination wedding were we were able to look at the surrounding area and plan what we could do for a honeymoon in that area. We were able to reserve a gorgeous Airbnb called the A-Frame through Shack Up Cabins (@shackup_cabins) to get ready for our wedding and then stayed (child-free for the first time in a year) for two nights! We also did a bioluminescence tour with Cape Lahave Adventures where we kayaked out for the sunset and experienced bioluminescence (if you haven't heard of it look it up, amazing!) it just happened to be one of the four dates of the year that you can see it!
I would say our only con was not knowing what to expect weather-wise and crossing our fingers that things worked out as well not knowing what to expect on a public beach. We were most surprised about it was how amazing everyone was at the beach to make sure your wedding was as private as possible! We were one of seven couples eloping that day! It also rained the entire day until I was driving down in my dress and the skies opened and the sun came out, it couldn't have been more perfect!! Truly!!
PC: Janette Downie Photography
What was your favorite memory of your destination wedding?
My favorite memory from our wedding was walking down the beach after the sun broke out from the clouds and seeing Tyler holding our youngest in his arms while our other two girls held his hands with the biggest smiles and the brightest eyes I have ever seen. It's etched in my memory, all of their faces, how handsome he was and how beautiful they were, I saw nothing and no one else. I would live that moment over and over again.
Is this beach wedding dreamy or what?! While we love Lorraine Dawn, we have a few other wedding dress suggestions to choose from for this moody, boho destination. Take a look at Alexandria by Rebecca Ingram, Baxley by Maggie Sottero, and Brooklyn by Sottero and Midgley! The perfect dresses for the perfect beach bride.
Psst… To find the perfect wedding dress style for you, take our Style Quiz!
Scotland Destination Wedding
Next is Kim and Mike who got married at Culzean Castle in Scotland! After meeting online and having their first date overlooking the White House, they knew they were meant to be!
PC: Paul Walker Images
What wedding dress did you wear and why did you choose it?
My wedding dress was the Kimora by Sottero and Midgley. They always said you would just know your wedding dress when you tried it on, and that was 100% the case with the Kimora. I thought I wanted a simple, a-line dress, but tried on this ballgown just for fun in the store. And that was that! It was the perfect dress for a wedding in a castle, with exquisite detailing with the beading on the bodice and lace inlets on the skirt.
More importantly, it made me feel happy and beautiful. Sometimes trying something outside of your plans can pay off in big ways. It's important to go in with an open mind to find the perfect dress for your big day. Also, ladies, this dress has POCKETS. Every woman's true love in life.
PC: Paul Walker Images
Did your destination wedding affect your dress choice at all, and if so, how?
My destination wedding location did affect my dress choice. At first, I wanted a simpler dress that would be easy to fly with. Once I tried on the Kimora, I knew it would be perfect for the venue instead. The skirt would flow in the breeze on the ramparts of the castle overlooking the ocean, and I could waltz around like the days of old, when the castle was originally built, with ballgowns and all the old traditions.
I love watching shows like Downtown Abbey. This dress was my Downtown Abbey coming to life. Getting it from the US to Scotland wasn't a problem either. The flight attendants were super kind with my carry-on wedding dress and helped to ensure it arrived safely with me. You need to carry on the wedding dress though and not leave it to chance by checking the bag!
Why did you choose to get married in Scotland?
PC: Paul Walker Images
I always dreamed of getting married at a castle on a cliff so when I saw Culzean Castle, that was pretty much it. It fit everything that I wanted and had the perfect wedding package. They were also very responsive and awesome to work with, which helped me to lock down the venue without visiting in person. There was a lot of cyberstalking at first. We wanted to get married in Scotland especially as that's where my family is originally from. We even had our family's tartan as part of the wedding colors!
Scotland is a country that frequently has flight sales to and from the US. You can get roundtrip tickets for as low as $400. Affordability for guests was a major consideration. We also wanted someplace that was a shorter flight so people could do it in a weekend if they wanted to. Most people made it into a longer trip to some of their favorite European destinations. Our guests were already scattered all over the US – from CA to CO, WI, IL, NY, FL, NC, DC, etc. Since everyone was going to have to fly regardless, we wanted to make it a fun, unique place to fly to.
It's also worth noting that our crew is full of people who love to travel and do so frequently!
PC: Paul Walker Images
What was some of the work that went into having a destination wedding? Did you hire a wedding planner? Did you need to buy the bridal party tickets, etc.? The more detail the better!
So much research and cyberstalking. Figure out the location you want first, then research venues. Get quotes, then have calls to talk through the details. If you're able to go in advance, do it. I couldn't do an advance trip until a month before our second date for the wedding, and was able to do almost all the planning over email, Zoom, What's App, etc. Once you have your venue set, use their preferred vendors whenever possible. These are going to be the people whom they have a trusted relationship with, who know the space and the specs for lighting, music, etc!
Make sure to also read the reviews and ask to meet virtually to get a sense of whom you are working with, and if their style fits yours.
This is especially important for the photographer and videographer as they are with you for the entire day and their expertise and attitude influence how the day will go! We were in the hands of pros, who made it fun and easy. Evaluate what's important to your needs, and what fits you and your husband-to-be. And have fun with the planning! It can be fun if you don't let yourself get stressed. I actually miss it now and had wedding planning withdrawal!
I also tried to make as much information available to my guests as possible, both on the wedding website and fielding all the individual questions. If your guests are willing to make the effort to go to a destination wedding, help them and be there for their questions.
I ended up talking with my vendors for over two years before the wedding took place due to COVID-19 delays. They are truly amazing people, and so talented. I am lucky and grateful to have had them, especially Helen (wedding coordinator), Paul (photographer), and Michael (our videographer). Those three made our day and helped us take it to the next level. We are so grateful to them and lucky to have found/worked with them.
PC: Paul Walker Images
How many people did you invite to your destination wedding?
We invited around 100 people and had 40 people make the trip across the pond to celebrate with us during COVID-19, with their three COVID-19 tests each, and proof of vaccinations in hand.
What are some tips you would give to brides that are planning on having a destination wedding?
I have a ton of tips and tricks from days of event planning, but here are some of my go-to's:
I created in-depth guides for my guests – how to get there, what to do in the area around it, and visa/vaccination requirements. You're already doing the work for yourself, so make that information available to your guests to make it as easy as possible for people who are already going out of their way to support you.
Create events besides the wedding. It's one of the few times your family and friends will be gathered in one place. Ask them all to stay at the hotel block. And then create memories by spending extra time with them, soaking in the moment. We had our bachelor and bachelorette parties abroad, a welcome dinner for everyone, and a whisky tasting for anyone who wanted to come.
Helping everyone with the logistics can get overwhelming on top of wedding planning. Remember to be thankful for your friend's and family's support
You will want a wedding coordinator or day-of coordinator to help. You're navigating a new space, and want the day to go well. Spend the extra money to take the stress off you so you can enjoy your day and leave it up to the professionals who have done this a thousand times.
But mostly, I recommend doing a destination wedding! It's a good way to cut down on your guest list and ensure that the people who are there actually want to be there. You're only getting married (hopefully) once, so if this is what you're dreaming of, take that plunge and go for it.
For more satin wedding dress inspo, make sure to shop our gowns! And for more wedding dresses to choose from for your future Scottish wedding, take a look at our gowns Valona by Sottero and Midgley, Winter by Maggie Sottero, and Dionne by Rebecca Ingram.
Puerto Rico Destination Wedding
PC: Alex Dali Weddings
Second is the beautiful Tanzania who got married in Rio Grande, Puerto Rico! With a meant-to-be husband and a meant-to-be wedding dress, her destination wedding was nothing but picture-perfect!
Did your destination wedding affect your dress choice at all, and if so, how?
Puerto Rico is a rich tropical island. My venue was in the middle of the rainforest so I knew it would be humid, and that could potentially rain. I needed a gown that was light and comfortable enough for me to dance salsa all night with my hubby. The gown emulated my venue so well and it was just as breathtaking as the views of the El Yunque rainforest!
Why did you choose to get married in Puerto Rico?
Aside from my husband being Puerto Rican and vacationing there several times we chose to have a destination wedding because we wanted to celebrate our vows in paradise with our loved ones who lived there, and it was the perfect excuse to get away.
PC: Alex Dali Weddings
What were some of the pros of having a destination wedding? What were some cons to having a destination wedding? And what were you the most surprised about?
The party never ends! Truly, I think I got four hours of sleep the day before my wedding due to partying all night. Nothing beats plunging into the river in the rainforest the day after you say I do with your closest friends or doing yoga while hearing the waves crash the day before your wedding day. I recommend destination weddings because the change of scenery is a perfect escape from all that planning. Being in paradise relieves a lot of the wedding day stresses while you get to focus on what truly matters!
The cons of planning a destination wedding are not physically being there and having to solicit the help of a stranger (wedding planner). Also, as a black woman, not many artists specialize in doing my hair and makeup. There is an even smaller number of traveling stylists. Luckily, social media helped a lot! I was able to look at my vendor's work; read reviews, and even found an award-winning stylist and makeup artist whom I was able to fly out! I was surprised that along with planning the wedding I had to plan a "wedding work trip." On this trip I was able to do things like cake tasting, venue inspection, and food tasting. That was awesome though! Not a lot of people can say they tasted their wedding cake on a beach while washing it down with coconut juice. AMAZING!!
What was some of the work that went into having a destination wedding?
It is essential to find a wedding planner who bonds with your personality and can execute what you wish. My wedding planner was familiar with the venue of my choosing and a lot of vendors on the island. Destination weddings can be costly, so no one was expected to come, and we respected their decision not to. I think timing is key! We let people know about our wedding over a year in a half in advance so that they had time to plan and save for travel. I had to pay for my stylist's and makeup artists' travel aside from our own. Luckily Traveling to Puerto Rico from NY is very inexpensive. And bonus, you don't need a passport since it's a US territory!
PC: Alex Dali Weddings
What are some tips you would give to brides that are planning on having a destination wedding?
My biggest tips would be to plan early and to get a wedding planner. Find time to truly sit down and think about what you want. While social media is a great tool it can make you think you need to do all these grandiose things. Having a destination wedding is a lot of work already! Obviously, we want our guests to have a great time but remember this is your special day. Most importantly have fun … you're going on vacation!
In love with this lush and lovely warm-weather wedding? Fall in love with our other summer-inspired wedding dresses! For expert opinions on similar gowns, shop Harlem by Maggie Sottero, Hattie by Rebecca Ingram, and Bailey by Sottero and Midgley for more choices!
Are you still feeling the itch to have a travel-focused wedding to celebrate your love story? With all the expert tips and tricks above, how could you not? Happy planning bride!
To become one of our Real Brides, make sure to share your wedding below! Then read our blogs below for more wedding planning inspiration.
More Blogs Like This:
The Ultimate Guide to Planning a Micro Wedding for Your Intimate Celebration
The Ultimate Guide to Setting Your Wedding Budget