Tips and Trends
|
March 31, 2020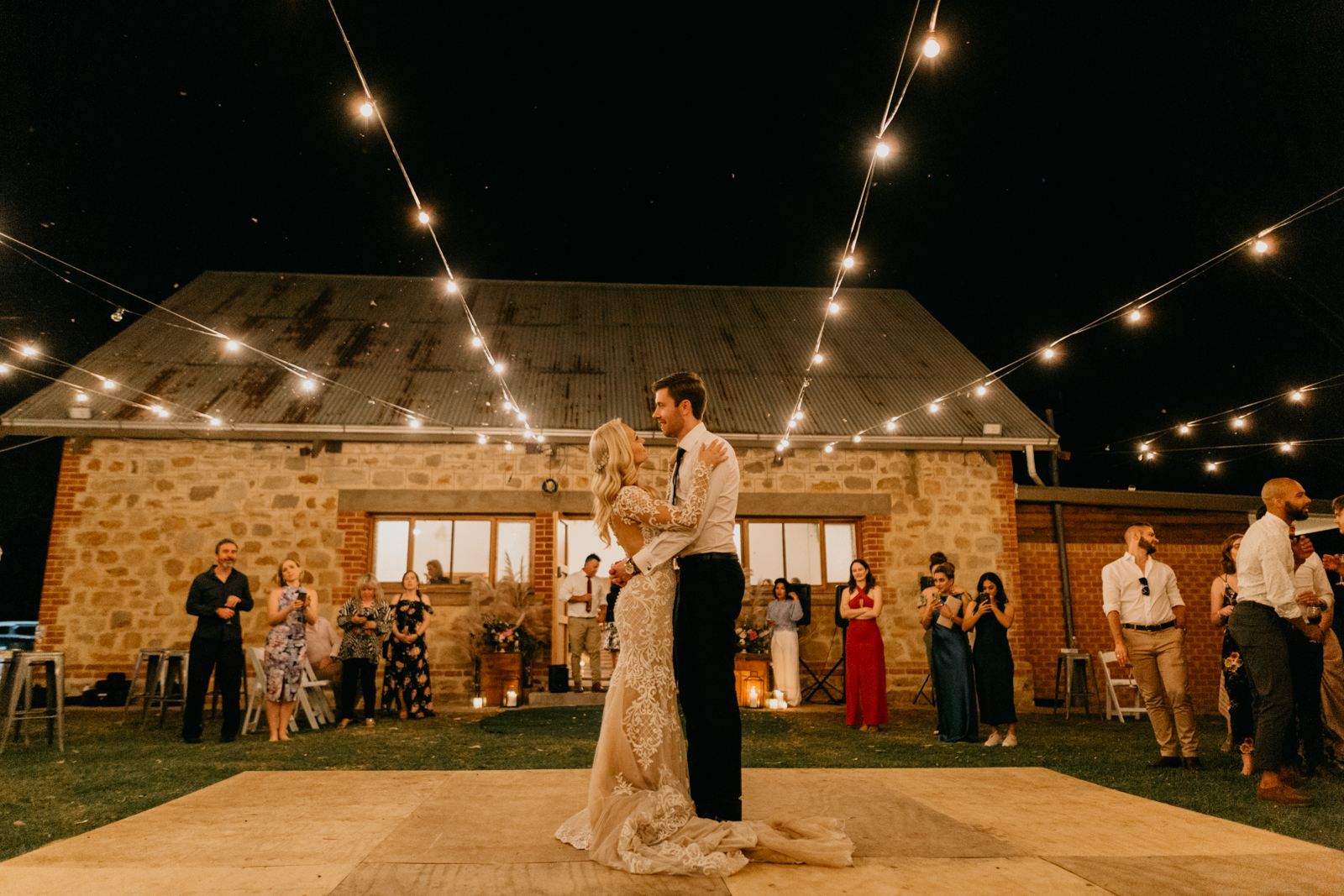 Planning your wedding can be the most exciting time of your life . . . and also the busiest. In other words, there are more moving parts than you know what to do with. And that's perfectly normal — expected, even. Choosing the perfect wedding playlist is just one more box to check off. When you're choosing what to focus on next, chances are you'll think about the cake and travel plans and replacing a sick bridesmaid before you think about which songs you'll need to get.
PC: Chantel Marie Photography
But what happens if a song plays at the wrong moment? What if your processional and reception songs get mixed up? And what happens if people always remember your wedding ceremony because that woman in the sound booth starts playing "The Hallelujah Chorus" instead of "The Bridal March"?
PC: Chantel Marie Photography
Music does matter during your wedding because it's something that creates emotional connection as well as strong memories. By the end of this post, you'll feel confident about crossing "Create the perfect wedding playlist" off your to-do list and focus on all the other things to get done.
Big Moments in Every Wedding
First and foremost, you might be wondering who I am and why I'm qualified to help you find the right songs for your special day.
I work at Soundstripe. We produce and curate stock music for filmmakers to use in projects like wedding videos. (If you've hired a videographer for your big day, chances are they're going to use some of our best royalty free music in their video.)
PC: Rene Zador Photography
Every couple will have a unique ceremony, but it's possible to find things most weddings share — the big moments that will need music in the wedding video and during the ceremony itself.
Here are those "moments":
Processional
Bride's entrance
Recessional
Reception entrance
First dance
Cake cutting
Of course, you might have other things you want to do. Some couples do a unity ceremony (lighting candles, knotting ropes, or even basket weaving). Others want to focus on the father/daughter and mother/son dances.
PC: Chantel Marie Photography
But think of those six moments as a starting point. I'll use that list to help you create your perfect wedding playlist, including the most popular songs as well as some royalty free ones.
Top Songs for Wedding Playlists
Every couple is different, so I won't act like there are any "right" or "wrong" choices when it comes to the music you go with. (It's your day, after all — pick the songs that mean the most to you!)
PC: Erika Diaz Photography
Seeing which songs are most popular can help you build a wedding playlist that fits your unique love story and helps make your special day even more memorable.
Processional Wedding Songs
This is one of the first moments where you get to hint at the tone of the ceremony. It's a way to let your guests get a feel for the relationship they've come to celebrate. Whether that's a traditional piece or something quirky is entirely up to you.
PC: Erika Diaz Photography
You could go the more traditional route with something like Pachelbel's "Canon in D." Or maybe you're more interested in something modern like The Vitamin String Quartet's cover of "Yellow."
If you'd rather find something unique, keep in mind that the similar things between these wedding songs are a slow tempo and an emotional buildup.
Bride's Entrance Songs
Even people who have never been to a wedding know the "Bridal March" (also known as "Here Comes The Bride"). The song has basically become ingrained into the wedding industry. It's something many brides subconsciously associate with their big moment.
PC: Chantel Marie Photography
But that's not the only option to pick. An alternative song that blends classical and contemporary would be the Piano Guys' cover of "A Thousand Years" or the original version by Christian Perri. Both of those have been hugely popular in recent years.
Recessional Wedding Songs
If the processional song is your chance to show a bit of personality, the recessional song is when you can let loose. You exchanged vows, kissed, and got announced — now it's time to start the celebration with something that makes you want to dance. (That technically comes later, but you get the idea.)
PC: Kristina Wild Photography
Most couples go for modern, upbeat songs that are significant to them, but there are a few popular ones. "Best Day of My Life" by American Authors and OneRepublic's "Good Life" have both been popular recessional songs for the better part of a decade. And of course "Signed, Sealed, Delivered" by Stevie Wonder is a song that makes anyone smile.
Reception Entrance Songs
Keep the energy and excitement going with your reception entrance. You can pick your favorite song, last year's top Billboard hit, or an oldie-but-goodie.
PC: Rene Zador Photography
The past few years have gifted us some incredible reception songs. "Can't Stop This Feeling" and "Shut Up and Dance" are both perfect. And if you want some audience participation, you can look into "Handclap" by Fitz and the Tantrums. All of these are fabulous additions to your wedding playlist.
First Dance Songs
PC: Kristina Wild Photography
Ah, the most sentimental moment of the night! Soft acoustic songs are a perfect match here: "Marry Me" by Train, "Speechless" by Dan + Shay, "I Was Made For Loving You" by Tori Kelly and Ed Sheeran. . . Actually, pretty much anything by Ed Sheeran works well. Literally, anything.
PC: Chantel Marie Photography
If you want something with a more classic feel, think about "Can't Help Falling in Love" by Elvis Presley (or any of the more contemporary covers, like Haley Reinhart's version) and "Fly Me To The Moon" by Frank Sinatra. Those are probably the two most popular first dance songs that have stood the test of time.
Cake Cutting Songs
Most DJs have a checklist of a wedding's big moments, but cutting the cake is a moment that often gets overlooked. It's one of the familiar traditions that people associate with weddings, and that means it deserves at least a little love on your wedding playlist.
PC: Erika Diaz Photography
There are two strange but go-to picks for this moment: Def Leppard's "Pour Some Sugar On Me" (which is funny just to write) and "How Sweet It Is" by James Taylor. If you're looking for something a little less…um, old, Maroon 5's "Sugar" is a picture-perfect option.
Unique Playlist for a Unique Day
Again, these are just some of the most popular moments we see in wedding video projects. You'll have your own needs for your playlist. In fact, you probably have tons of ideas for songs you absolutely need to include. But hopefully this list — and these suggestions — gives you a little extra inspiration.
PC: Sarah Paul Photography
As an extra resource, here's a playlist of Soundstripe's 10 most popular wedding songs from 2019 (based on what wedding videographers downloaded for their projects). Feel free to listen to this royalty free music for some inspiration while you build your perfect wedding playlist.
PC: Erika Diaz Photography
Your wedding playlist might not be as high on your list of priorities as food tasting or choosing place settings but remember: The music will be something your guests associate with your big day forever.
You owe it to yourself and your spouse-to-be to make the best wedding playlist possible! For a breakdown on how to incorporate wedding music into your wedding budget, check out this post. Cheers!
Drew Gula is the copywriter at Soundstripe, a company that helps filmmakers and musicians do what they love. He also took an (apparently) unusual amount of interest in planning his own wedding.