Dresses
Tips and Trends
|
October 28, 2021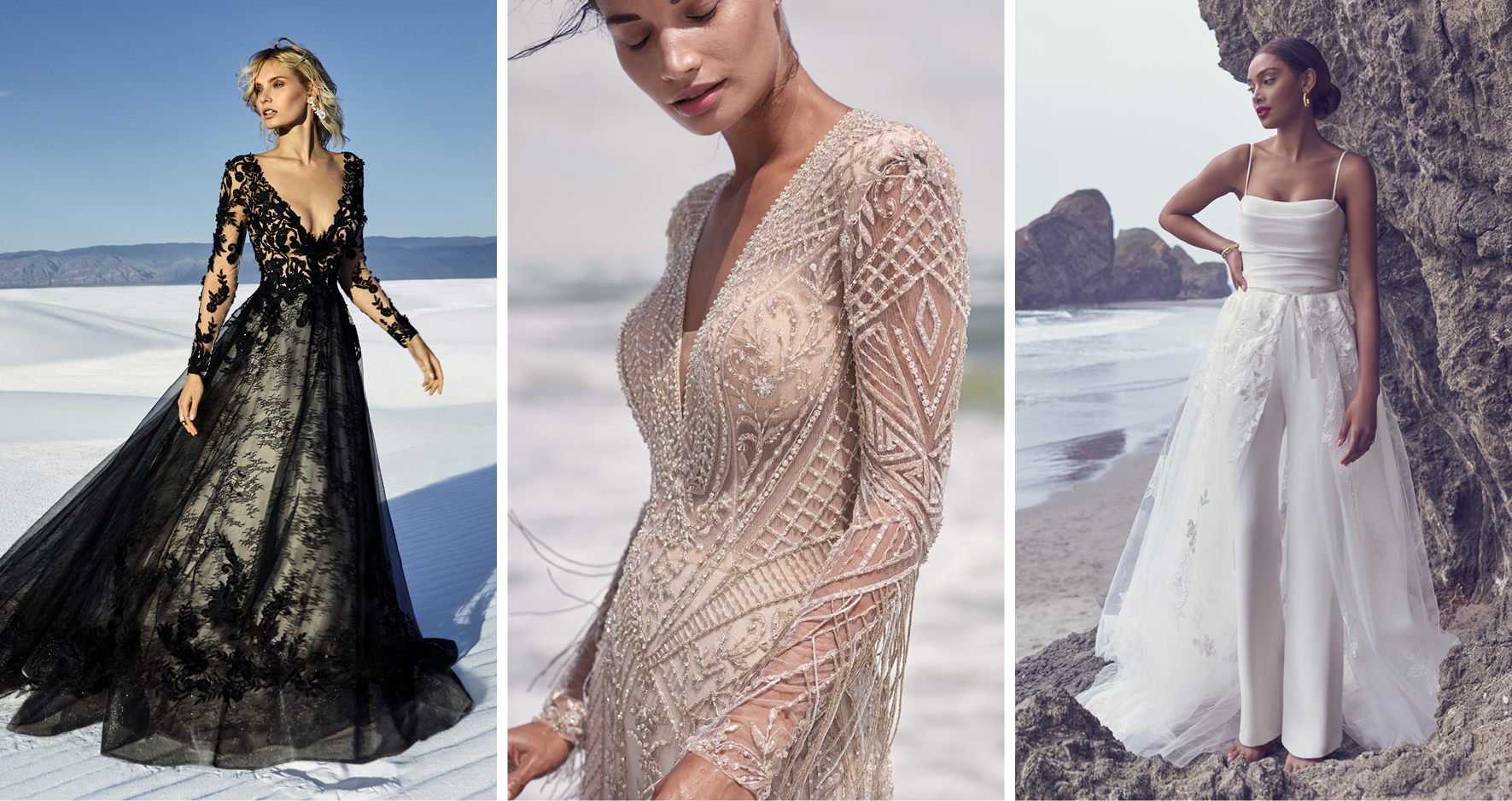 There's no question that we're fans of a timeless, romantic, and perfectly tailored bridal silhouette. But hey, if you get a chance to buck tradition on your big day, we're right behind you (or right on you) with a bold and ultra-stylish silhouette from our latest collections. For alternative wedding dresses with a little edge and attitude, keep scrolling…
"Unconventional" doesn't even begin to describe the irresistible charm of Zander by Sottero and Midgley. This ball gown wedding dress is a symphony of opposites. A plunging neckline and illusion bodice create a bold and sexy vibe, while intricate layers and long sleeves create a graceful and sophisticated silhouette. There's nothing like it for a chic and dramatic wedding aesthetic.
Love this over-the-top silhouette but can't quite commit to black? Check out Zander in Ivory—still a stunning statement, but a little more "white wedding" appropriate. (Alternative style wedding dresses aren't just about the color!)
Alternative Wedding Dress with Black Lace: Norvinia by Sottero and Midgley
Black lace motifs are modern and divine—and this style, Norvinia by Sottero and Midgley is exactly that. Graceful lines create a regal silhouette. Lace makes a stunning accent. A moody palette changes up the whole bridal game. We're really getting somewhere with this "alt-bride" magic.
The thing to love about this wedding dress palette is its unexpected glamour. White wedding dresses are timeless and black evening gowns are divine; pair them together and your style game is runway-ready.
Embrace vintage. Go over the top. Indulge in the most shimmer and sparkle you'll ever wear in your life. Andrew by Sottero and Midgley is a veritable showstopper.
This deceptively simple silhouette is paired with over-the-top beading and fringe. An illusion tulle creates a soft, ethereal underlay for the geometric patterns. Yet given all the detail and flourish, the vibe is exquisitely effortless.
Interested in accessories for these alternative style wedding dresses? Andrew does double-duty on its own, but if you can't resist some extra zhush, look to a vintage bridal tiara or floor-length veil. The look is chic, bold, and anything but conventional.
If the name of the game is color, look no further than Kenleigh by Sottero and Midgley. Skip the alternative wedding dresses in white; a soft blush and illusion is nothing short of magic.
Color aside, this fit-and-flare bridal gown is undeniably flattering. The romantic plunging neckline complements your collarbones and decolletage, while lush tulle layers help to play up your natural curves.
Kenleigh also showcases one of our top trends for both classic and alternative wedding gowns: the illusion statement back. What better way to showcase that shimmery blush lace from every angle?
Unique Bridal Pantsuit Wedding Gown: Gibson by Sottero and Midgley
For the sharp and ultra-daring bride, Gibson by Sottero and Midgley makes an unforgettable statement on your big day. We love the laissez-faire charm in a tailored suit: it's cheeky, sexy, and undeniably cool.
Though modern and sophisticated, this look pays homage to iconic alternative wedding dresses that have stood the test of time. Socialite and activist Bianca Pérez-Mora Macías wore a similar silhouette for her marriage to Mick Jagger in 1971. Her white bridal pantsuit will forever have our hearts!
In recent years, celebrity brides like Emily Ratajkowski, Solange Knowles, and Kaley Cuoco have reimagined the chic jumpsuit trend for their one-of-a-kind celebrations. These alternative wedding dresses are sure to be new classics for the modern era.
Love this bombastic look but want a traditional flair? Make it a two-piece with a long bridal veil, overskirt, or cape. These romantic accessories complete the look with soft tulle, ethereal layers, and a stunning silhouette treatment. (Not to mention a stylish changeup between ceremony and reception.)
If your Pinterest mood-board features alternative style wedding dresses in a "rustic woodsy" theme, look no further than Dover by Maggie Sottero. Vintage lace combines with an effortless silhouette for easy-breezy glamour. It's sweet whimsy in an elegant, modern package.
On its own, this uncomplicated silhouette is perfect to style for a hot summer wedding. If you're looking for a bit more movement and dimension, add the matching fringe armbands and bridal veil. So sexy, so cool, so fabulously photogenic.
For the nature-inspired bride, Mirra by Maggie Sottero is all about form, flourish, and dimension. Exquisite, butterfly-esque lace motifs adorn the bodice and cap sleeves, while sheer tulle creates a "nod to naked" effect in the skirt. It's romantic and a little boudoir-inspired. A truly unique piece—if you're into that kind of chic and daring statement.
Love these eye-catching motifs? 3D florals are one of the top trends for this season's alternative wedding dresses, from delicate bodice accents to cascading skirt flourishes. Pile on extra blooms with the complementary bridal veil. The "enchanted garden" factor is unmatched.
An exquisite statement in beading and shimmer, Elaine by Maggie Sottero is equal parts bold, romantic, and stylish. Start with a flattering silhouette: a V-neckline complements your shoulders and decolletage, while soft illusion cutouts cinch in your waistline. Geometric motifs glide over a body-hugging skirt and train—kaleidoscopic details inspired by stained glass windows and Art Deco architecture.
For a bold and striking upgrade, consider Elaine's black and blush colorway. This red-carpet bridal look is everything we love about Old Hollywood glamour—intricate, dramatic, and a little edgy. Think LBD meets Met Gala excess.
Classic lace gets extra chic in Bellamy by Sottero and Midgley: a unique upgrade to a sweet and feminine silhouette. Alternative style wedding dresses may be bold and unexpected, but that doesn't mean they shouldn't flatter.
The winning feature on Bellamy is its personalization. Start with the soft fit-and-flare silhouette: It's effortless and flattering, featuring delicate illusion accents in the neckline, back, and train. From there, consider adding the illusion bishop sleeves for a Jane-Fonda-Renaissance vibe. Get volume and dimension with the detachable overskirt, a veil for extra drama—the accessory potential is divine.
Sometimes alternative wedding gowns are all about simplicity and ease. Lorraine by Rebecca Ingram is the antithesis of stuffy and conservative, featuring a delicate, sheer lace bodice and long chiffon skirt. The thigh-high makes a super chic and sexy statement. You'll be striking red-carpet poses all evening.
Zoom into the lace bodice for intricate beading and lace flourishes over textured organza. It's a little sheer, designed to complement your effortless summer glow.
If you love this lightweight wedding dress with a bit more coverage, Lorraine also has sister styles. Lorraine Dawn is regal with a little edge, and Lorraine Dawn Lynette offers a bit more support in the bodice and neckline.
Finally, Lorraine is from our Rebecca Ingram line: stylish and romantic bridal dresses at affordable price points. If you love this vibe, check out more budget-friendly options in our full collection, many of which feature nontraditional silhouettes, unique flourishes, and playful details.
There's no questioning your impeccable taste with Roxanne by Sottero and Midgley. This hyper-detailed ball gown features a combination of linear, geometric, and spiraling lace motifs. The silhouette is long and graceful. The bodice is romantic and flattering. The whole look is designed to inspire.
Roxanne has two divine colorway options: Ivory and Ivory over Blush—a subtly "nude" effect in the underlay. And our favorite bonus feature? Both colorways feature sheer pockets at the hips.
Of all our picks for alternative wedding gowns, we think Roxanne has the most regal and sophisticated vibe. Whatever your season or venue, this dress will make a showstopping entrance.
There's no doubt you've got inimitable taste, but have we piqued your interest? For more bold and nontraditional wedding ideas, head to our post on Halloween celebrations and Gothic details, from food and table settings to an abandoned-castle photoshoot. And for more edgy bridal aesthetics and alternative wedding dresses, browse our gallery of upcoming styles from the Chicago runway. (The Spring 2022 collections go live on our website October 28!) Finally, follow us on Instagram for more unique and personalized content from our real brides and styled shoots. We can't wait to feature more one-of-a-kind looks for the coming season. Happy shopping!