Media
Runway
|
September 14, 2021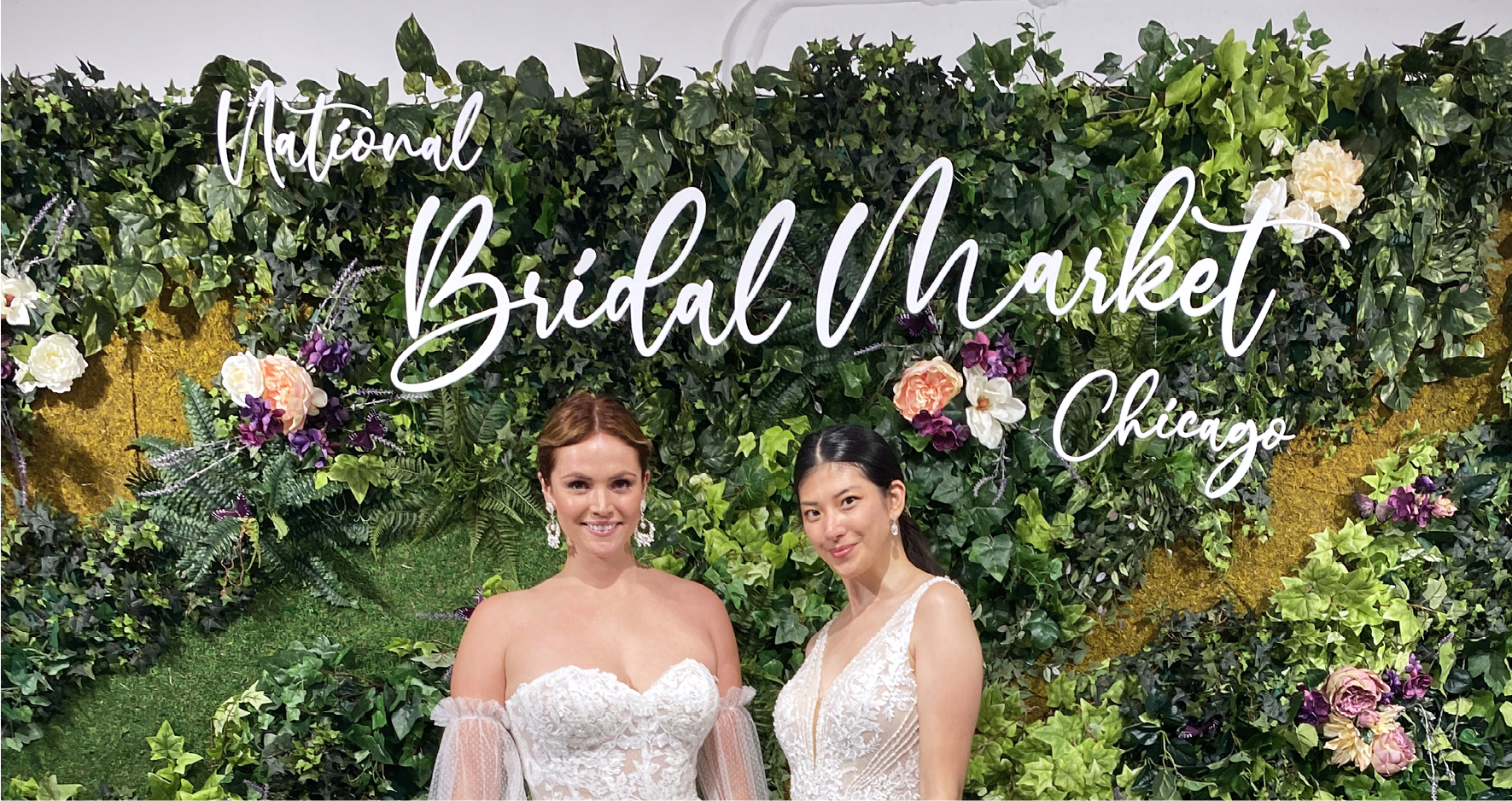 In a sea of stunning bridal trends for Spring 2022, we admit we had a hard time deciding on a capsule of silhouettes to highlight our upcoming collections. Lucky for you, we can't resist showing off a few of our favorite wedding dresses—fresh off the Chicago runway and ready for engagement season. Without further ado, here are a few of our brand-new, top-ordered, retailer-favorite dresses to catch your eye!
Elegant and Feminine Lace Wedding Dress Diana by Maggie Sottero
Romantic, ethereal, and perfectly flattering. If you're in the market for a gorgeous wedding dress with zero fuss, Diana by Maggie Sottero just might be your kind of perfect. This new-yet-classic silhouette features delicate illusion details and effortless lace placement to highlight your collarbones and décolletage. It complements a variety of body types and wedding aesthetics and it's foolproof to wear—what's not to love? Diana is heading to boutiques this season; check with your nearest Authorized Retailer to see when it's available to shop near you!
Modern Princess Wedding Gown Iona by Rebecca Ingram
Satin and lace make for a stunning combination in Iona by Rebecca Ingram—one of our retailers' most ordered wedding dresses to complement Spring 2022's nouveau-royal aesthetic. This trend is equal parts flattering and stylish, fusing a timeless silhouette with delicate embellishments and portrait-ready shimmer. We promise there's nothing like it for a black-tie celebration.
Love this luxe look? We're happy to tell you it's from our Rebecca Ingram line—our favorite wedding dresses at budget-friendly prices. Get inspired with our affordable bridal collections in the link.
Geometric Lace Bridal Gown Essex by Sottero and Midgley
Diverse as they may be, our most popular wedding dresses of the season have two things in common: unique texture (any fabric you like) and exceptional tailoring (from mermaid to sheath to ball gown). Be it minimalist satin or exquisite lace, formfitting or voluminous—these runway-fresh styles are all about one-of-a-kind fabrics in a head-turning silhouette.
One of our favorite wedding dresses showcasing texture and tailoring is Essex by Sottero and Midgley. This romantic A-line is sweet yet sophisticated, classic yet unique, and effortless to style for a variety of wedding aesthetics. It's exactly what you want "bridal sophisticate" to look like for your romantic, personalized, and ultra-stylish celebration.
Favorite Off-the-Shoulder Wedding Gown Rousseau by Maggie Sottero
Classic is classic is, well, classic; when it comes to your biggest style statement, there's no reason to mess with perfection. This season's most covetable trends are all about fresh takes on timeless icons—from modernized silhouettes to runway-ready embellishments.
One of our most popular wedding dresses showcasing this trend for Spring 2022 is Rousseau by Maggie Sottero. It's a deceptively simple silhouette with one-of-a-kind flourishes. (Can you blame us for dreaming up endless style potential for this true-blue classic?)
Favorite Affordable Wedding Gown Hattie Lane Lynette by Rebecca Ingram
Presenting another classic and effortless choice for budget-conscious brides: Hattie Lane Lynette by Rebecca Ingram, a chic and flattering A-line wedding dress with a gorgeous lace treatment. Accessorize this timeless style with a veil, cape, or jacket—the styling possibilities are virtually unstoppable.
If you love this lace on Hattie Lane Lynette, check out sister styles Hattie and Hattie Lynette by Rebecca Ingram. They showcase the same whimsical, vintage-inspired lace motifs but in two formfitting mermaid silhouettes—all equally suitable for beach and garden celebrations with nature-inspired details. Gorgeous!
Modern Yet Classic Wedding Gown Winter by Maggie Sottero
Upgrading a classic lace silhouette comes down to one thing: balance. Freshen up a flattering silhouette with loose, organic flourishes and one-of-a-kind tailoring—from illusion neckline to floor-gracing train. Winter by Maggie Sottero is all about that harmony of (apparent) opposites, from demure silhouette to daring embellishment to sexy bodice details and sophisticated styling. There's no party this classic A-line can't adorn.
Vintage-Inspired Bridal Dress Ryker by Sottero and Midgley
This season's most ordered wedding dresses may be classics on their own, but we're just getting started on accessories. Ryker by Sottero and Midgley is the perfect foundation for chic flourishes and one-of-a-kind accents, á la these sexy, ultra-glam, gauntlet-inspired bell sleeves in lace and illusion. This look is stunning for bridal portraits and reception changeups—a versatile yet high-impact choice for your sweet and stylish celebration.
Check out our latest accessory options, including detachable sleeves, in the link! Our collections are designed to be personalized; speak with your Authorized Retailer to get started on your head-to-toe aesthetic.
Relaxed Fit-and-Flare Wedding Gown Sebastiane by Maggie Sottero
Next up in favorite wedding dresses with chic and feminine details: Sebastiane by Maggie Sottero. This effortless fit-and-flare bridal gown will show off your figure without sacrificing form and comfort—a soft and flattering silhouette you'll be more than happy to wear all evening long. Lace and texture keep this look cool and laidback, yet the silhouette makes it flirty and amorous. You'll fall in love with nothing less for your best party ever.
Simple Wedding Dress Trend Emerald by Rebecca Ingram
Loving the minimalist trend? Season after season, chic and simple silhouettes continue to lead our most popular wedding dresses—from delicate slip styles to stunning statements in crepe, satin, and chiffon. These elegant designs are both timeless and couture, restrained yet decadent, sweet yet striking. Get inspired with Emerald by Rebecca Ingram—a harmony of opposites you'll adore for decades to come.
As you can see from the runway shots, this simple wedding dress is all about the silhouette and fabric. Designed with a premium stretch crepe, it features just the right amount of support and give—a perfect balance of comfort and luxury. Choose this style if you want something to hug your silhouette while shaping your curves, adjusting to your bust, waist, and booty while giving everything a shapewear-like lift. Perfection!
Black Wedding Dress Norvinia by Sottero and Midgley
Between the gothic-chic lace motifs and stunning ball gown silhouette, the quintessential black wedding dress trend is chicer than ever. Norvinia by Sottero and Midgley makes a stunning entrance and exceptional bridal statement. Its bold yet ultra-feminine aesthetic fits perfectly with your nontraditional wedding vibe. Nip in your waistline, show off your décolletage, play up your dark side—what's not to swoon over?
(Psst, if you're flirting with the black wedding gown look for your alternative celebration, you'll also love current classics Santiago and Zander by Sottero and Midgley.)
Chic and Romantic Bridal Gown Mindel by Maggie Sottero
Next up in favorite wedding dresses with svelte and feminine details: Mindel by Maggie Sottero, a divinely nature-inspired style decked out in lace, layers, and illusion. Strolling from ceremony to cocktail hour to dance floor calls for something truly stylish and versatile. This top seller is an iconic silhouette you'll never want to take off.
Speaking of icons, this boho-chic design is primed for accessories. A flower crown is flawless; gold jewelry is divine; and a cascading bouquet is non-negotiable. Dive into endless styling potential at an Authorized Retailer near you.
Sexy Bridal Dress Bellarose by Rebecca Ingram
Our advice for a classy, sensual effect? Show off your figure in a sleek and simple silhouette—not too formfitting and not too showy, yet perfectly tailored for a chic and confident statement. Bellarose by Rebecca Ingram is such a cool and sexy design for the effect. We love the modern halter neck and subtle cutouts at the waist, but there's not a single inch of it that you'll regret wearing in years to come. It's couture styling without the bells and whistles—chic, romantic, and distinctive in equal measure all around.
(Bellarose is another budget-friendly bridal gown from our Rebecca Ingram line. Get more wedding inspo with the affordable wedding gowns in the link.)
Romantic Boho Wedding Gown Copeland by Sottero and Midgley
Call us crazy, but we say the ultimate goal for your big day is to feel sexy, romantic, and confident. It's that big and all-encompassing fabulousness-ness of all our most booked wedding dresses this season: an inimitable, irresistible "it" factor in every silhouette, from delicate slip styles to luxe and sophisticated A-lines and decadent ball gowns.
To round out our selection of runway stars and most booked wedding dresses for Spring '22, get inspired with Copeland by Sottero and Midgley. Start with an effortless fit-and-flare silhouette, add delicate lace and soft satin-y shimmer, and finish with a flattering neckline and low back. The result is nothing short of divine. It's a curve-hugging icon with subtle and sophisticated embellishments, an ideal combo of both timeless and modern bridal trends.
Do you agree with our selection of favorite wedding dresses for Spring 2022? If you can't wait to shop, get in touch with one of our Authorized Retailers to discuss your timeline and get started on your head-to-toe personalization. Your bridal stylist is your go-to expert for trying on wedding gown samples, accessorizing, customizing your order, and making a plan for delivery and alterations. With engagement season just around the corner, you have every excuse to start your search early and get to know your options.
Excited to see more top wedding dresses? Keep the style inspiration rolling with these top runway picks from our three collections! We can't wait to see these brand-new designs on our real brides for the 2022 wedding season, so be sure to keep us in the loop with the hashtags #Maggiebride, #Midgleybride, and #Rebeccabride on social media. Happy shopping!