Real Weddings
|
August 26, 2016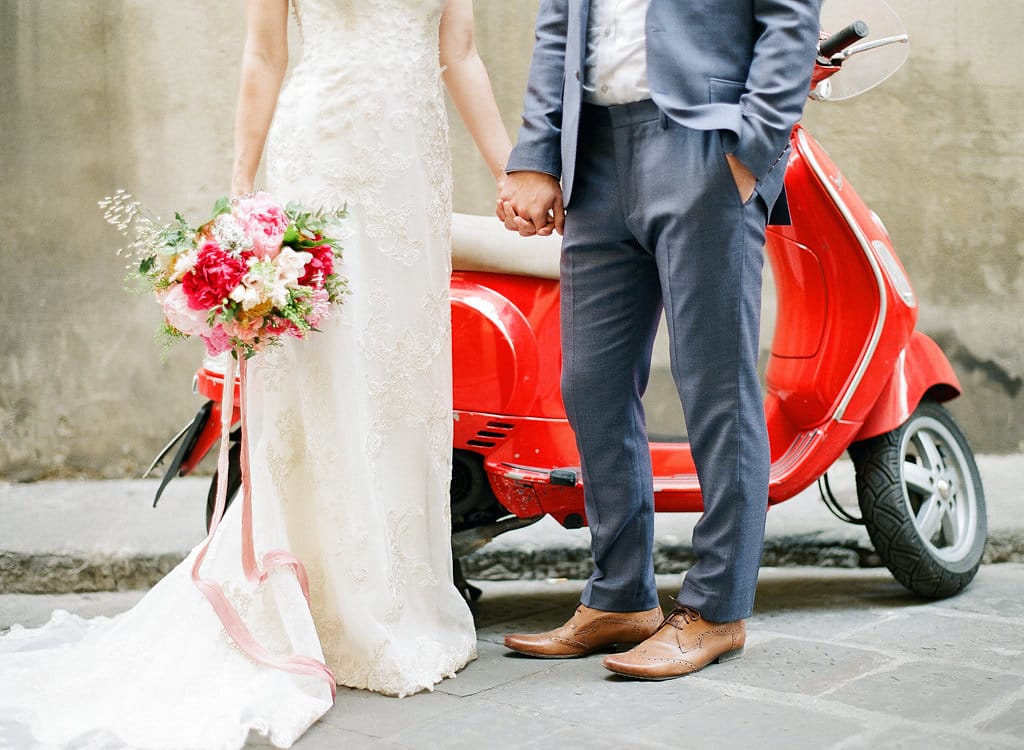 The country of Italy does a lot of things really well. Sports cars, for instance. And incredible gelato flavors. And couture fashion! So when it comes to a romantic wedding destinations, a gorgeous location like Florence is just what a bride needs to feel like a princess. Keep scrolling for this elegant Italian wedding featuring a red Vespa!
For her Italian nuptials, our lovely Maggie Bride Jennifer wore Jade, an elegant and sexy sheath featuring a double keyhole back and cascades of embroidered lace appliqués. Guests enjoyed drinks and dinner in the sultry Florentine sunshine, then danced the night away under moon and candlelight. Keep scrolling for more of Jesse and Jennifer's love story!
How did you know when you found "the dress"? I had been to a couple different dress shops before, but felt like I was seeing variations of the same type of dress. I finally made an appointment at Kleinfeld because I knew they carried Maggie Sottero dresses. The Jade dress had been on the list of dresses I wanted to try on and as soon as I put it on I knew that was it! It had everything I was looking for; cap sleeves, open back, sweetheart neckline, and "gentle bling" as my bridal party said. My dog who passed away a year before was also named Jade, so I sort of took that as the deciding sign.
What was your favorite part of "the dress"? Definitely the back! I love the double key-hole! But also, the overall shape and fit and all of the little details. I received SO many compliments the day-of.
How did you and your partner meet? We met 11 years ago in college and dated on and off, but didn't get serious until we reconnected a couple years after we graduated.
How they propose? Jesse actually had my ring for 6 months, but didn't want to propose unless everything was absolutely perfect. So after traveling through Central America with the ring, and hiding it from me in our tiny NYC apartment, he finally popped the question in our home state of Colorado. We were driving through Rocky Mountain National Park, one of our favorite things to do in the fall, when we found ourselves alongside a gorgeous lake just before sunset. Jesse knew his perfect moment had arrived! He got down onto one knee and tried to remember all of the things he'd been holding onto since the spring. Of course I said 'Yes!'
Where did you get married? Villa la Vedetta in Florence, Italy
Did your wedding have a theme? No, not a specific theme, but we definitely had an overall look we wanted to achieve – and did!
How did you decide what you wanted your wedding to look like? Honestly, looking at pictures on Pinterest! It's such a great resource and really helped us focus our overall ideas into solid concepts. We both loved the string lights and champagne and blush colors.
What was your favorite wedding day moment? Probably when the bells of the Duomo started ringing as we were pronounced husband and wife. It doesn't get any more perfect than that!
Describe your wedding in one word. Magical
What advice do you have for future brides?
Create your wedding for you as a couple. I know it's cliché, but do what feels right for you as a couple and not what other people want for your wedding. You can't please everyone and this day should be for you! Our wedding was a perfect representation of us as a couple; from the travel aspect down to our menu, we made all of our choices based on how to best reflect ourselves and our life together. ALSO, do a next day shoot! This gave us a chance to take some more intimate couple shots without having to feel rushed to get back to our guests. Plus, it gives you an excuse to wear your dress again!
"Love is the crowning grace of humanity." –Petrarch, Italian Scholar and Poet