Dress Spotlights
|
March 5, 2018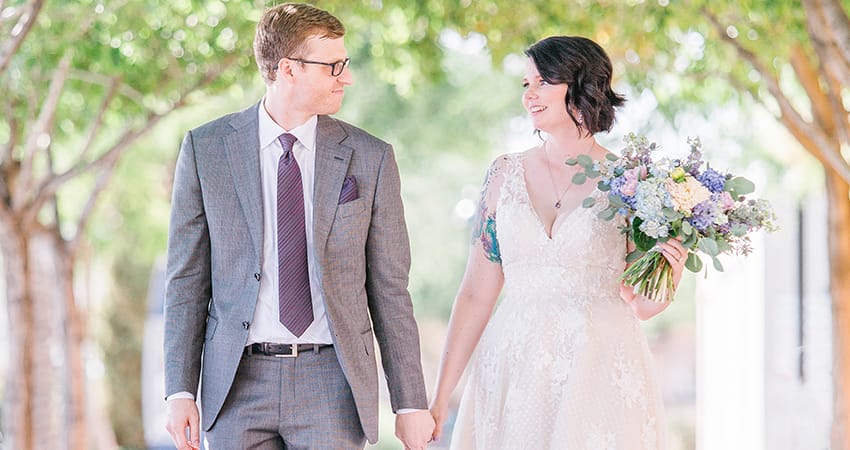 If you and your sweetheart are major wanderlusters, consider this travel-themed wedding with Swiss Dot Lace Gown Meryl your new inspiration hub. Scroll on for fab décor, delectable desserts, and personalized vows inspired by adventure!
This unique occasion was shot by Drew Brashler Photography. Head to a boutique near you to find your globetrot-ready gown today!
Which Maggie Sottero gown did you wear?
Meryl by Maggie Sottero, purchased at Suzanne's Bridal Boutique in Mesa, AZ.
How did you know when you found "the dress"?
It was the first and only gown to make me say, "Holy sh*t, I look amazing." It fit me perfectly without any alterations, it was my style, it was a little different than anything else I'd seen—honestly, it's like it was made just for me!
What was your favorite part of the dress?
I loved everything about it, but I think the swiss lace, which has a polka dot pattern, was what really made it MY dress—I'm all about the polka dots.
How did you and your partner meet?
We met at work—our desks were right next to each other. Eventually we started hanging out after work and fell in love!
How did he propose?
Tim wrapped up the ring as a Christmas present and I opened it a few days after Christmas, which is when we exchange special gifts after visiting family. When I opened it, I didn't know whether it was an engagement ring or not (it's a little different, just like the dress). I had to wait for him to say something—it was the longest moment of my life! Finally he said, "I think we should probably get married." So I said, "Yeah, I agree!"
Where did you get married?
The ceremony was at the Wright House and the reception was at 12 W. Main, both in Mesa, AZ.
Did your wedding have a theme?
Our theme was "adventure"—we love to travel, so we used that as inspiration for the decor, flowers, and food. Our centerpieces were globes, our card box was a suitcase, the flowers were from different parts of the world, and we had Hawaiian barbecue for dinner with Italian gelato for dessert.
How did you decide what you wanted your wedding to look like?
It took a while but ultimately we decided we really wanted it to be authentic to us. I am not particularly feminine or particularly into traditional wedding stuff, so we tried to find things that we thought were fun and represented who we are. Everything had a personal touch because we wanted it to be uniquely ours.
What was your favorite wedding day moment?
It's so hard to pick one moment because it all went by in a rush. I guess it was my partner's vows because they were touching, hilarious, and unexpected.
Describe your wedding in one word.
Joy!
What advice do you have for future brides?
Stress less! Whatever you can do to get take some pressure off, do it. Don't be afraid to ask for help or even forego something you want to do because it's too stressful. The day will be wonderful anyway and you'll enjoy it more.