Real Weddings
|
February 6, 2017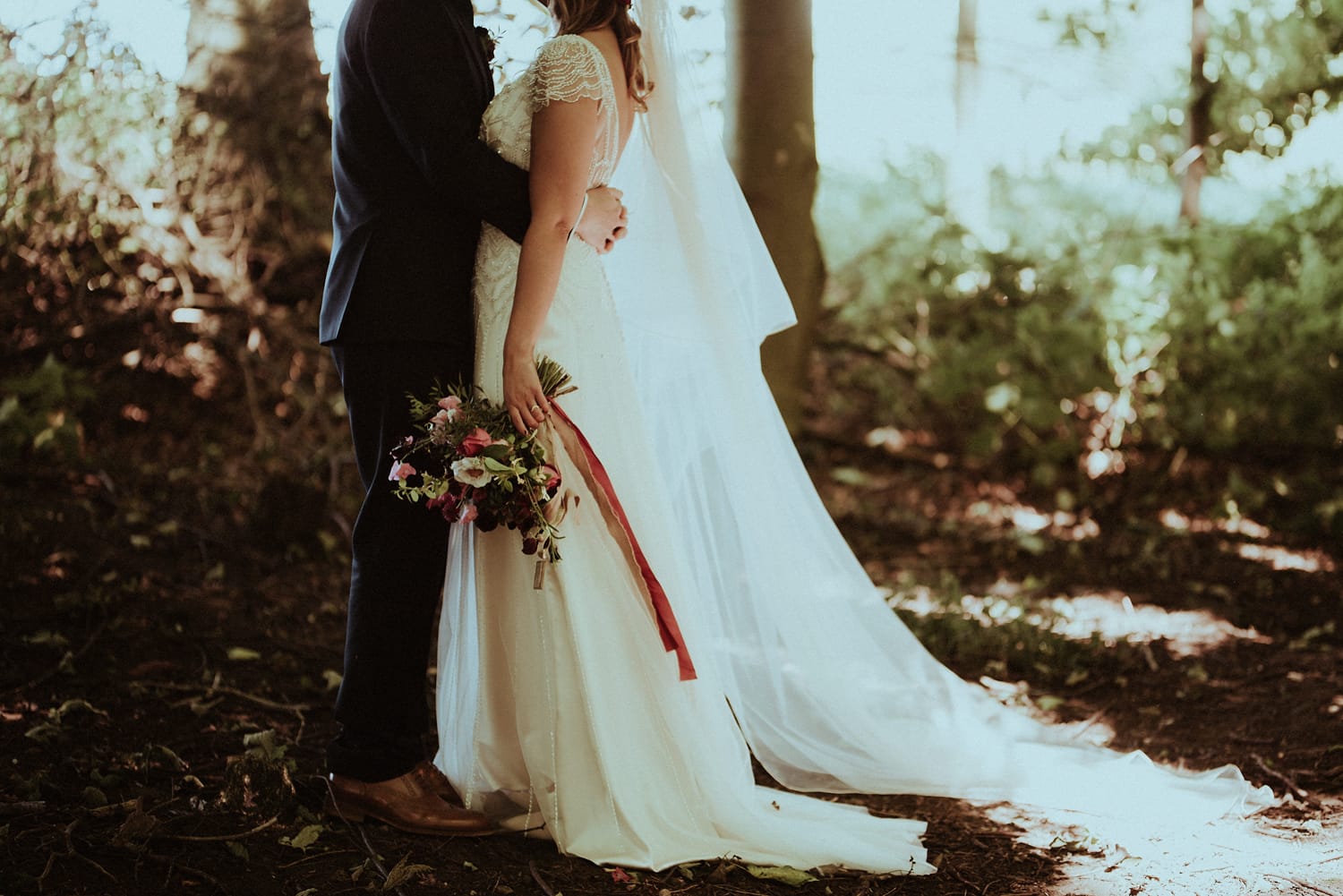 "Nothing is sweeter than love, nothing higher, nothing stronger, nothing larger, nothing more joyful, nothing fuller, and nothing better in heaven or on earth." –Thomas à Kempis, Medieval Bishop and Writer
Normally we preface our "Real Bride" features with a little insider expertise, but, trust us, Verity's feature is like a wedspo blog unto itself! Keep scrolling for a magical love story and fabulous tips for a breezy-yet-classy wedding, and check out our Store Locator to find vintage-inspired wedding dress Ettia at a retailer near you!
This one-of-a-kind occasion was shot beautifully by Shutter Go Click Photography of the UK.
Which gown did you wear?
Ettia gown by Maggie Sottero
How did you know when you found "the dress"?
I bought a very cheap and very pretty dress for our wedding while in Australia but my mum desperately wanted to take me to a wedding dress shop and have the 'whole experience.' So we trundled off to Morgan Davies in Hertfordshire and despite my reservations, I found a Maggie Sottero dress that made me feel all kinds of wonderful and myself at the same time – which was the most important thing for me… I wanted to feel like myself all day, not holding my stomach in or keep my arms at funny angles for flattering photos. I danced ALL night in that dress too, so it was everything I could have dreamed of and more. I tried on several dresses but I just felt so beautiful in the Ettia dress, it really wasn't a difficult decision once I'd tried it on; it just felt so right for me.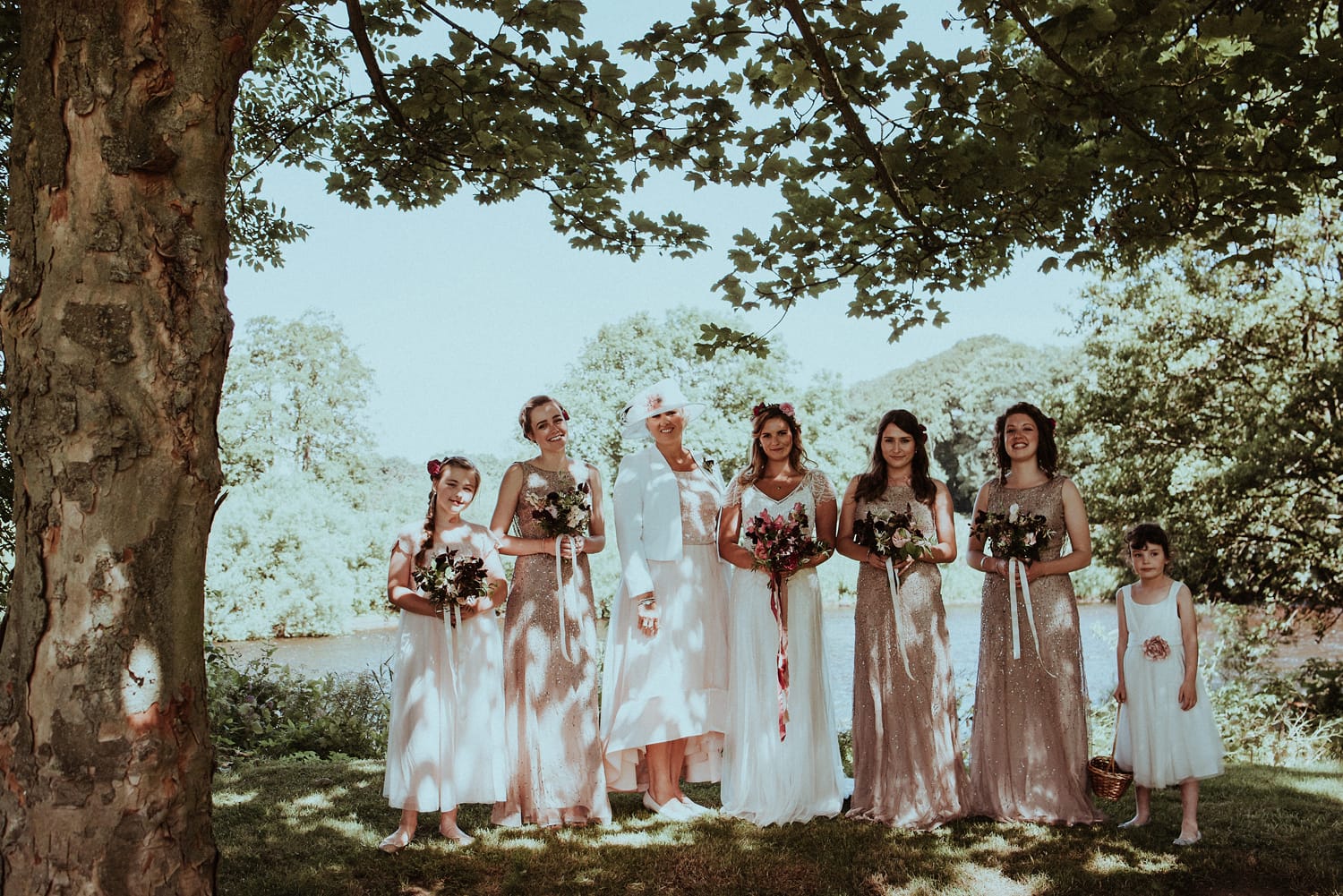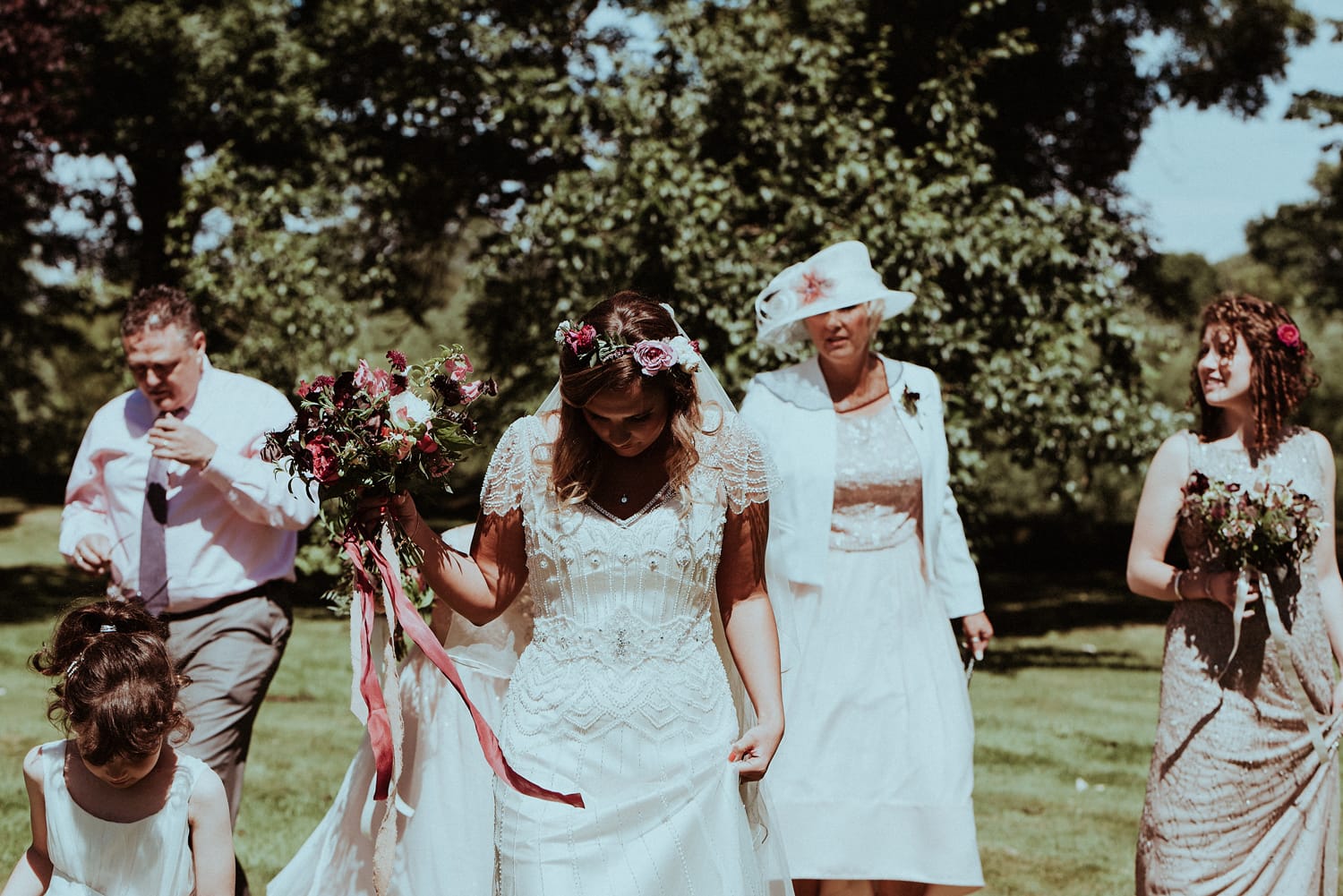 What was your favorite part of the dress?
The luxurious feel of the beading—the dress wasn't heavy at all but had a luxurious weight to it that made me feel like a princess. In all the photos the dress just sparkles in the light. It was so beautiful.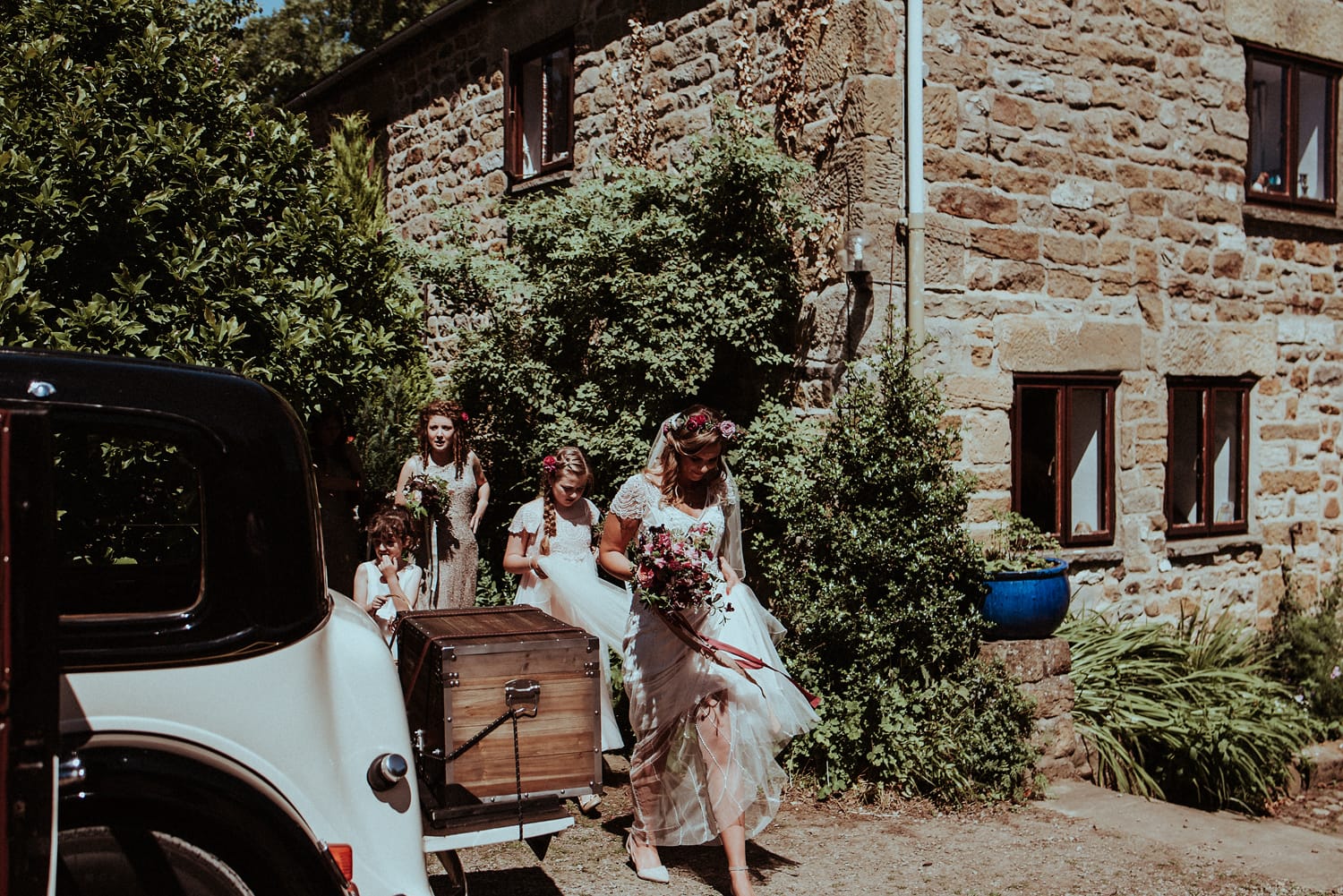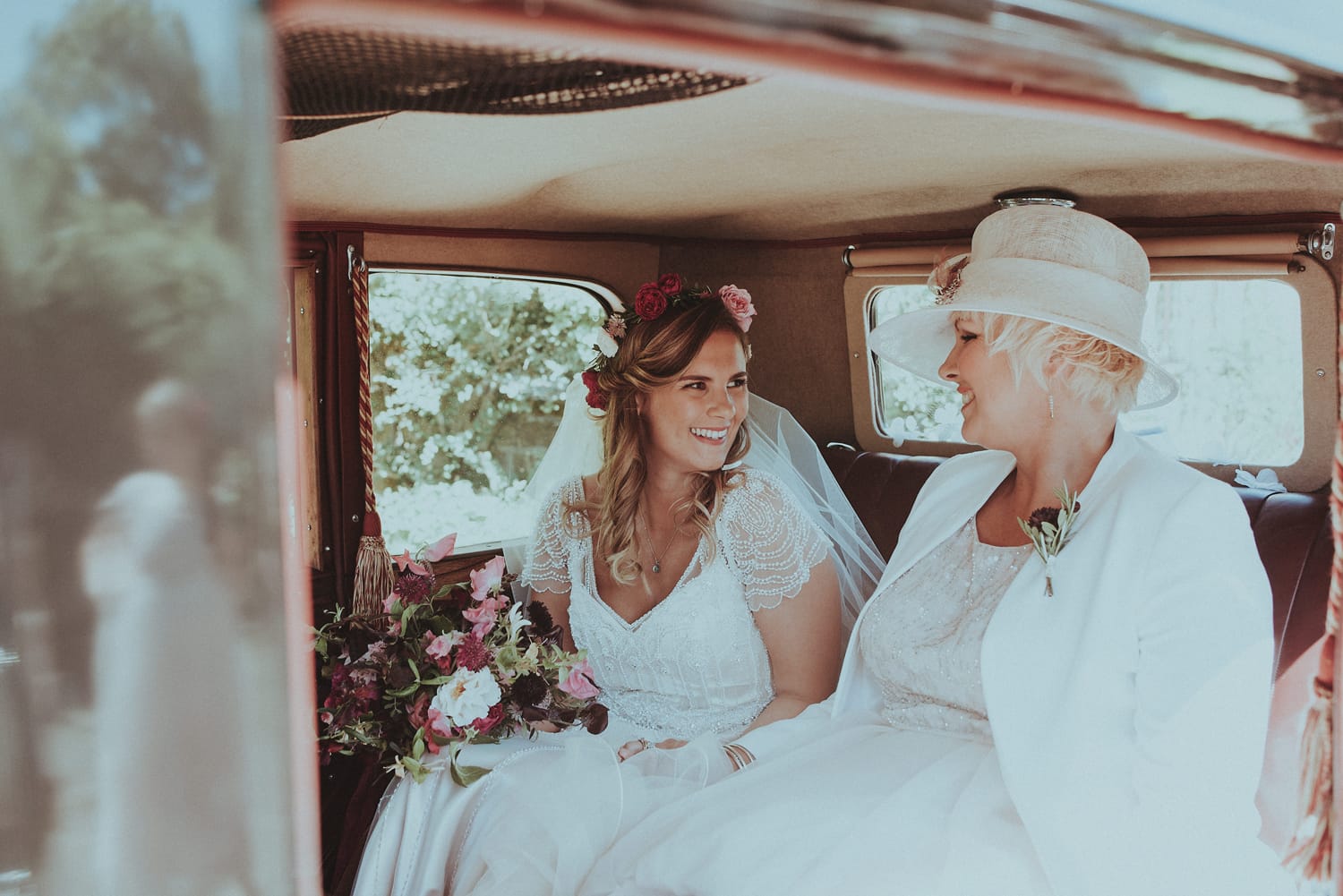 How did you and your partner meet?
Tom and I met at school so are childhood sweethearts! We grew up in Nottingham in a village called Radcliffe-On-Trent and even played together as young children in my next door neighbor's garden. I guess you could call it destiny!
We went off to university; Tom did a degree in Fine Art Sculpture at Brighton University and I completed an English Literature degree first at the University of Portsmouth and completing my degree at the University of Hertfordshire.We then decide to work and save with a view to travel. We spent a wonderful year working at a school in Hertfordshire and then took a leap of faith and packed our bags for two years abroad in the southern hemisphere, where we lived and worked in Australia and New Zealand before travelling to Singapore, Thailand, Vietnam, Cambodia, and Japan.These days we live in Bristol; Tom works as a boat builder at the very idyllic Underfall boatyard in the center of town and I work for the Wildfowl and Wetlands Trust as a Corporate Relations Executive. We live in a converted stables in the Gloucestershire countryside and are planning a winter honeymoon in Mexico.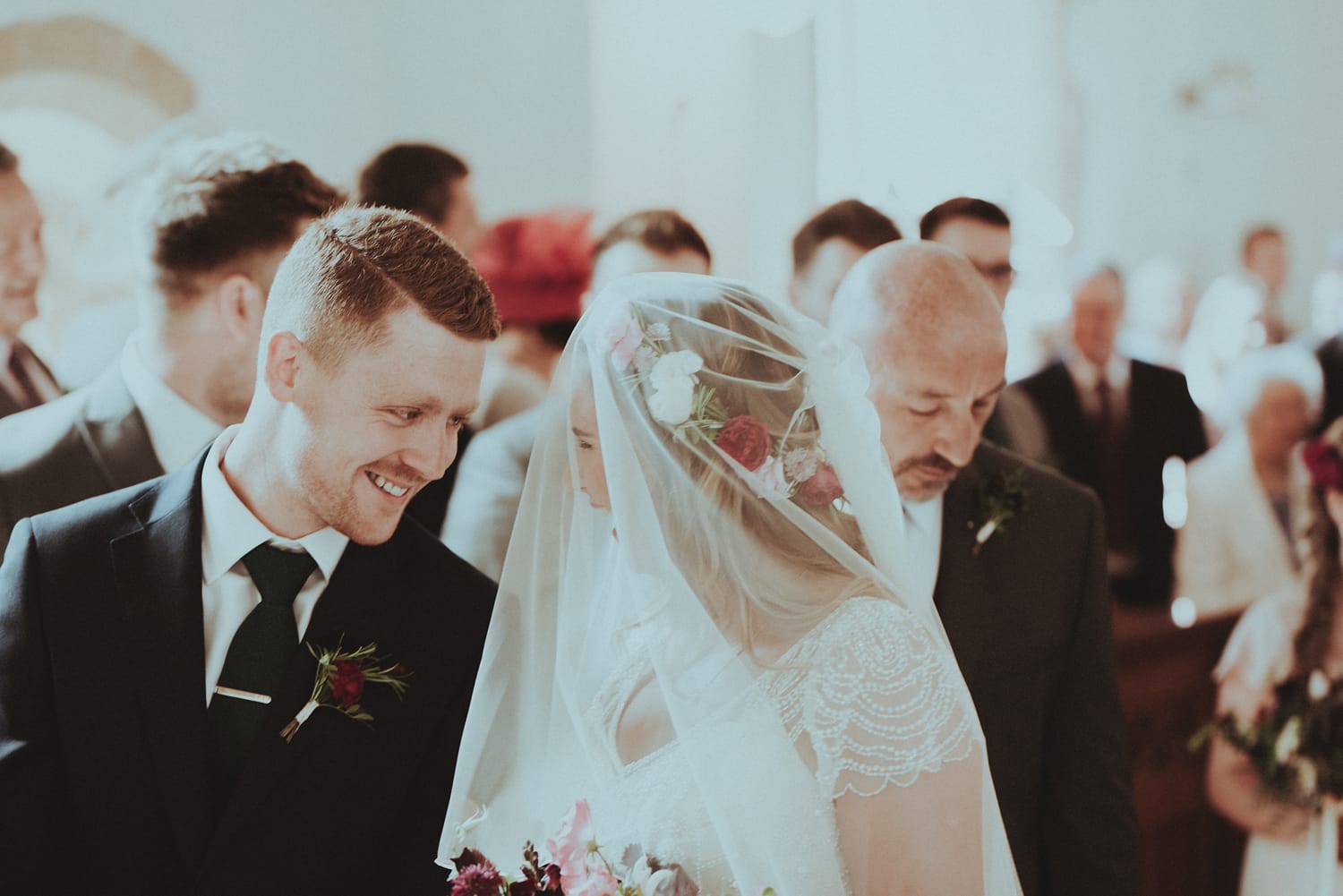 How did they propose?
Tom proposed to me a few days before we left the UK. We stayed in the grounds of a manor house in a bell tent and Tom popped the question on a beach in Salthouse in Norfolk after ten years together. So the wedding was three years in the making!
Where did you get married?
When we arrived back in the UK we had no fixed abode and didn't feel connected to Nottingham anymore as we hadn't lived there for many years. As we looked for somewhere to get married, it felt natural to pick somewhere with meaning and for us that really had to be the Yorkshire Dales where my family heads every year for a holiday, and where both my uncle and great uncle own cottages. My granny's ashes are also spread there, so my connection runs deep. For Tom the Yorkshire Dales has become a special place for him having been in my family such a long time, but also somewhere he traveled with his own family over the years for walking holidays. It also represents so many things that we love—the countryside, family, community, ruins, good ale and plenty of fresh air! We wanted the wedding to feel like us so it was really disheartening visiting venues that we felt didn't fully represent us. I think we're fairly hard to please too, because we have traveled widely and are used to having the opportunity to make choices and decisions on all manner of details and so for us a venue was never going to work. We knew right away that we wanted a festival-type feel—a field, good beer, good food, and a proper party.My dream had also always been to have my wedding at a ruined castle so when we found the ruins of Jervaulx Abbey, we couldn't stop smiling. For fear of a big soggy field though, we tried and tried to find somewhere with a barn or outhouse we could make our own, but once we'd seen Jervaulx nothing compared; we knew in our hearts it was the perfect place for us. The church followed the abbey really. We wanted a church wedding and knew we wanted it to be local to the reception, so we committed to attending a local church once a month for six months in order to be allowed the permission to be married in it. We naturally looked at the four churches within the Jervaulx parish but Thornton Steward was the most idyllic church either of us had ever had the pleasure of visiting; it's the oldest church in Wensleydale and is down a beautiful tree-lined country lane. Before you get there, you can glimpse the church atop a grassy vantage point, which takes in a breath-taking scope of Dales countryside. Again, weddings are an affair of the heart and we knew Thornton Steward was it from the first time we visited for harvest festival in October 2015!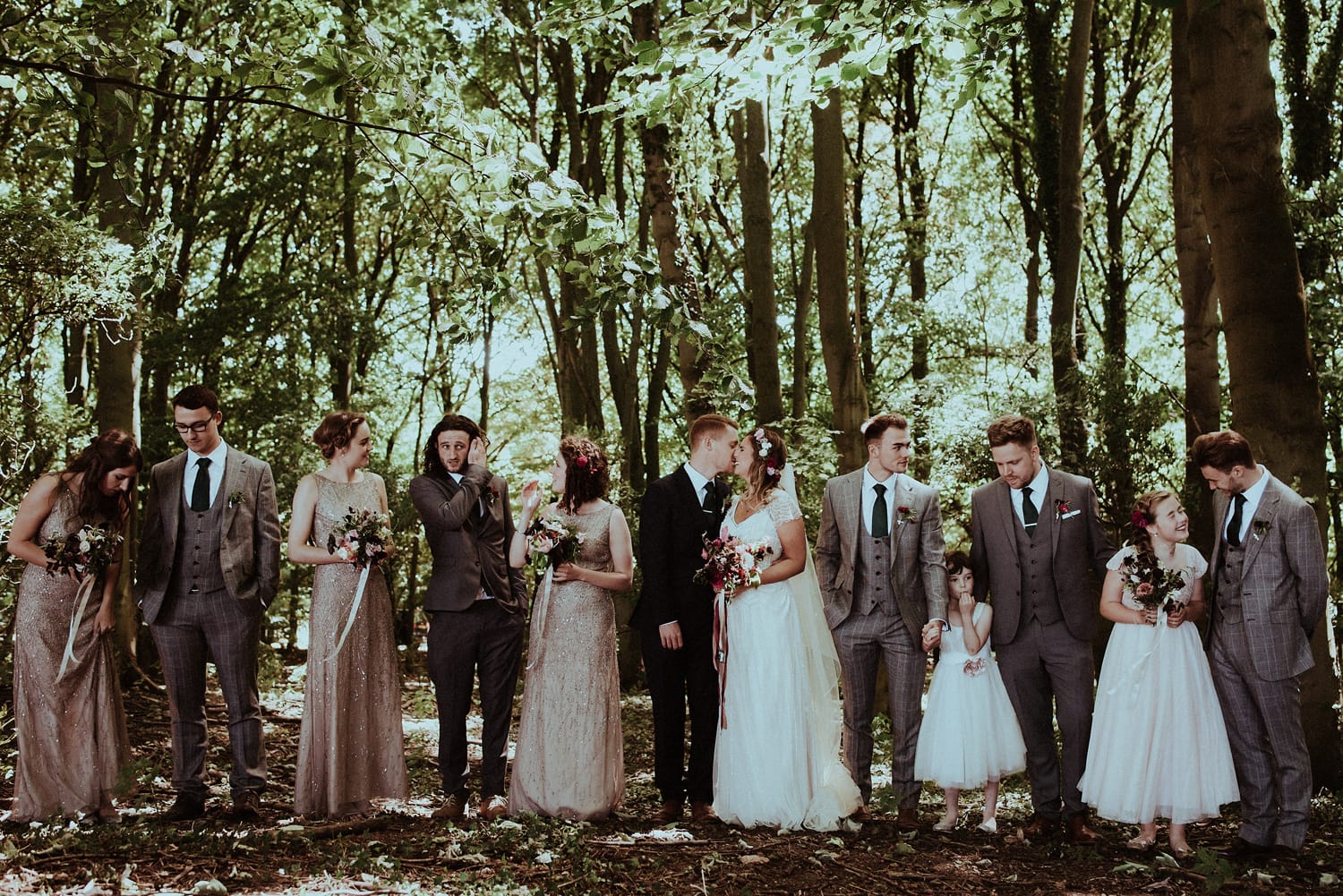 Did your wedding have a theme?
The theme for our wedding really was natural, foresty, boho, and fun. We wanted it to be classy too, so it was about getting the balance just right!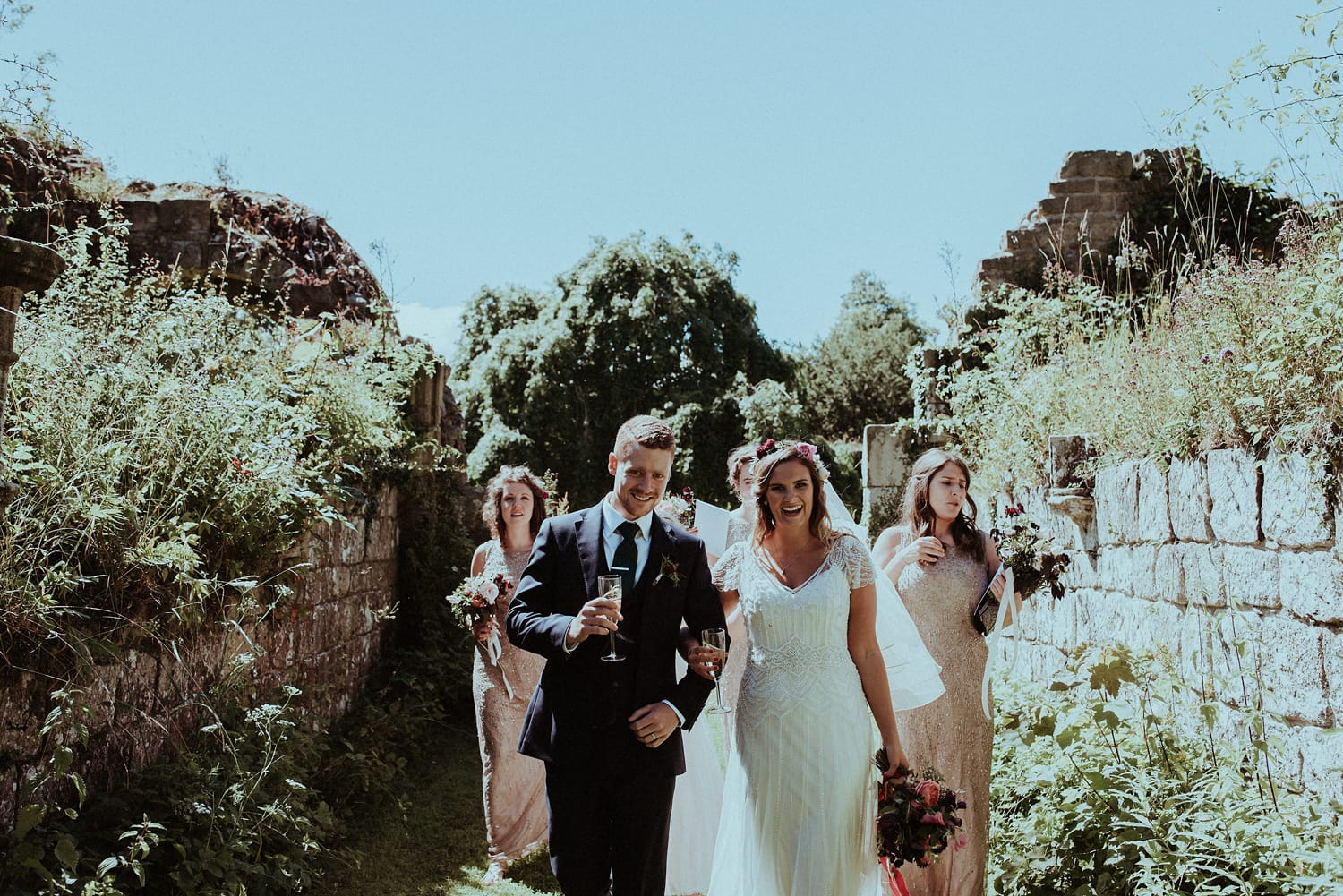 How did you decide what you wanted your wedding to look like?
We were really inspired by Australian wedding culture and I did a heap of reading of Aussie wedding magazines whilst we were away. We then also lived in the mountains in the south island of New Zealand and so I was really keen to introduce lots of deep dark greens and hunks of wood into the wedding. Also scale was really important to us, which the abbey provided. We really wanted the wedding to feel very chilled, boho, foresty and stylish, which are hard things to combine, I also love vintage vibes but didn't want any bunting or 'chintz' and I feel like we got the balance right on the day. We really wanted to put our mark on the marquee and table settings and I suppose also save money wherever possible. Tom did all the carpentry using wood he salvaged from work, the bar, the signs, the outdoor wooden benches, oak guest book table and cake board. Tom's mum constructed all the floristry on the hoops in the marquee. She bought hops and silk flowers and I had so many comments about them – they were completely stunning. We gathered all the yellow glass for the tables from charity shops and also created a little prosecco bar out of an old school desk we bought off gumtree! My bridesmaid Heather Elliot made all our invitations, orders of service, table numbers, chalk boards and place names. She handwrote every single name card and for the invitations she created all the ink work herself – she's an absolute genius! We collected tea spoons from charity shops hand stamped them to give as favors with the word Caru, which means love in Welsh and gave a nod to Tom's paternal family who are from Cardiff.
What was your favorite wedding day moment?
I think the best part of the day for me was arriving at our reception. We'd planned the route our guests would take through the abbey to reach the stunning area we held our prosecco reception, and had made a load of beautiful wooden signs to send people on a sort of treasure hunt. It was singularly wonderful wandering through the abbey with the bridal party and rounding the corner and seeing just everyone enjoying the abbey, the sunshine, and the drinks. We got a huge cheer as we arrived and it was completely wonderful. And I mean that in every sense of the word; it was completely full of wonder.
Describe your wedding in one word.
Wonderful. In every sense of the word it was quite literally, full of wonder.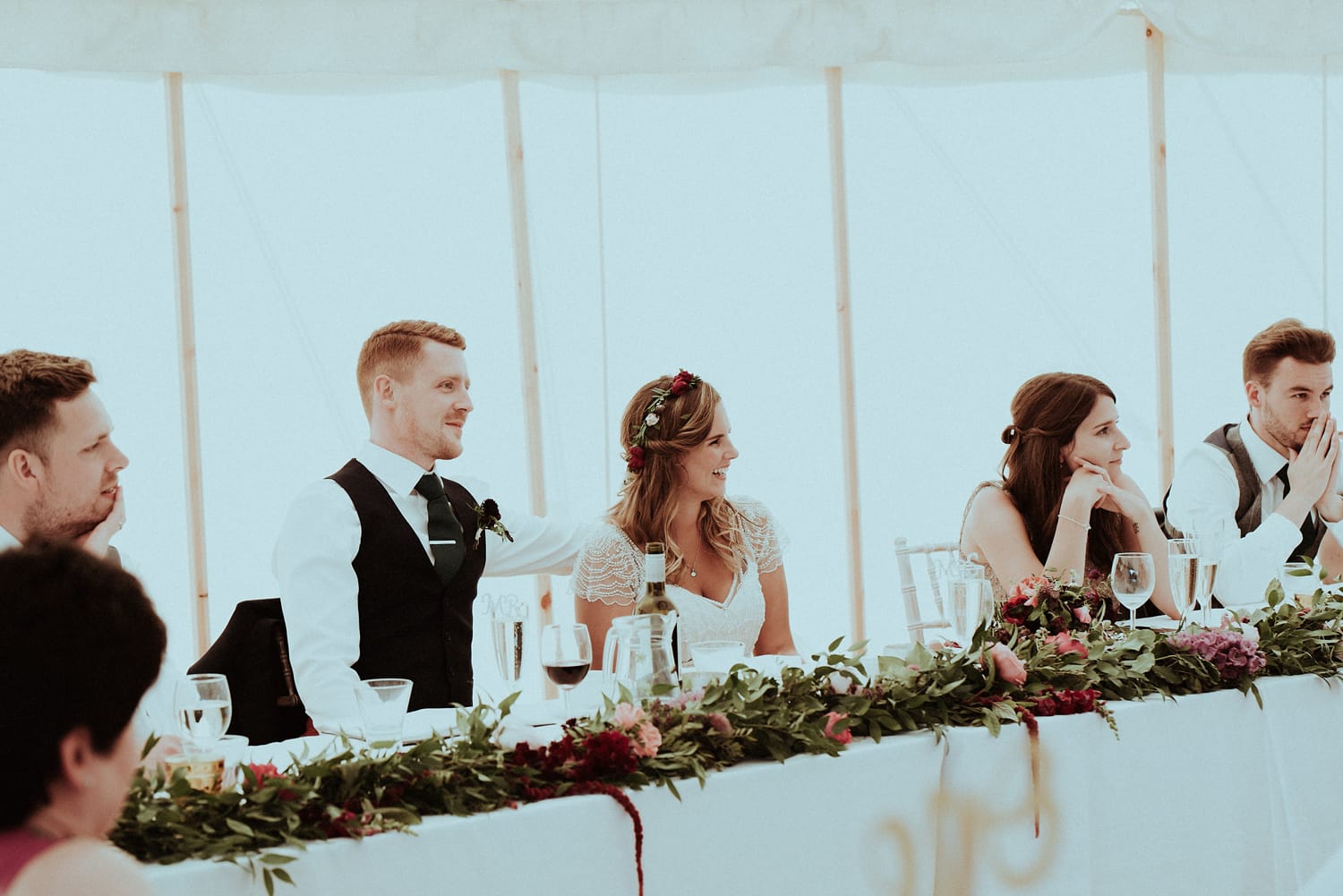 What advice do you have for future brides?
My final note of advice to anyone planning a wedding would be to do your research, compare as much as you can and really wherever possible, go with your heart. We saved money where we could and made sacrifices where necessary but I can honestly say that we had everything we dreamed of and more on the day. Decide what's most important to you and stick to your guns. Go with what you know you want and don't do anything for anyone else; it will be written all over your face on the day if you don't make yourselves happy and really, that's all anyone attending your wedding wants to see anyway! I wouldn't have changed a moment of the wedding day; it was perfect in every way imaginable. I think, if anything, I would have handed more over to other people; we were so lucky to have a bit of a 'destination' wedding in the sense that everyone who came had to travel at least two hours to be there since no one lived locally. So everyone coming to the wedding began arriving on Thursday and by Friday we had almost all our guests spread around the local town of Middleham. We joined our guests for drinks on both nights but on Friday we got huge cheers as we entered both the local pubs and it was very cool to be there on the eve of our wedding with everyone we loved just having a drink and a laugh and catching up. We didn't get there until about 9.30pm because we were setting up the marquee, but if I could wind the clock back I'd have made a plan and asked someone else to sort it and I would have got to the pub at 4.00pm! On your wedding day there is so much to enjoy you feel like you only get a few moments with people, so the night before catching up with our friends and families was pretty special and important in the grand scheme of things. It was very life-affirming to have everyone come from so far and commit a whole weekend to the wedding. I don't think we'll ever experience anything quite like it again.