Real Weddings
Tips and Trends
Wedding Inspo
|
August 6, 2019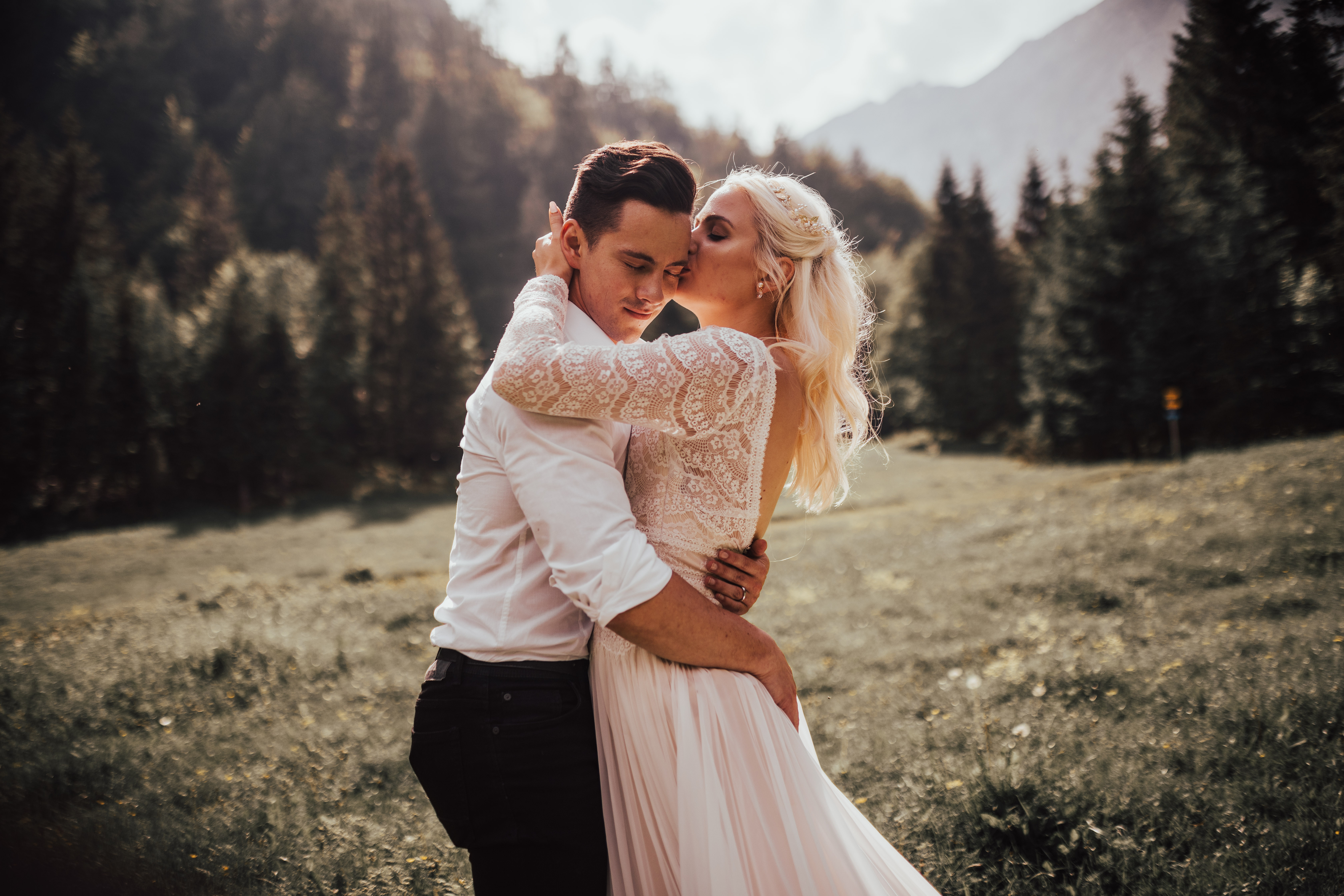 Today's inspiration is all about the rustic woodland destination wedding! While a traditional wedding in or near your hometown is a beautiful thing, many brides are growing more and more inclined to the style, adventure, and intrigue of a destination elopement celebration at, say, a romantic rainforest retreat or centuries-old hamlet in Europe. If you're on this list and love the rustic-chic aesthetic, this rustic wedding destination inspo post and real wedding gallery is for you.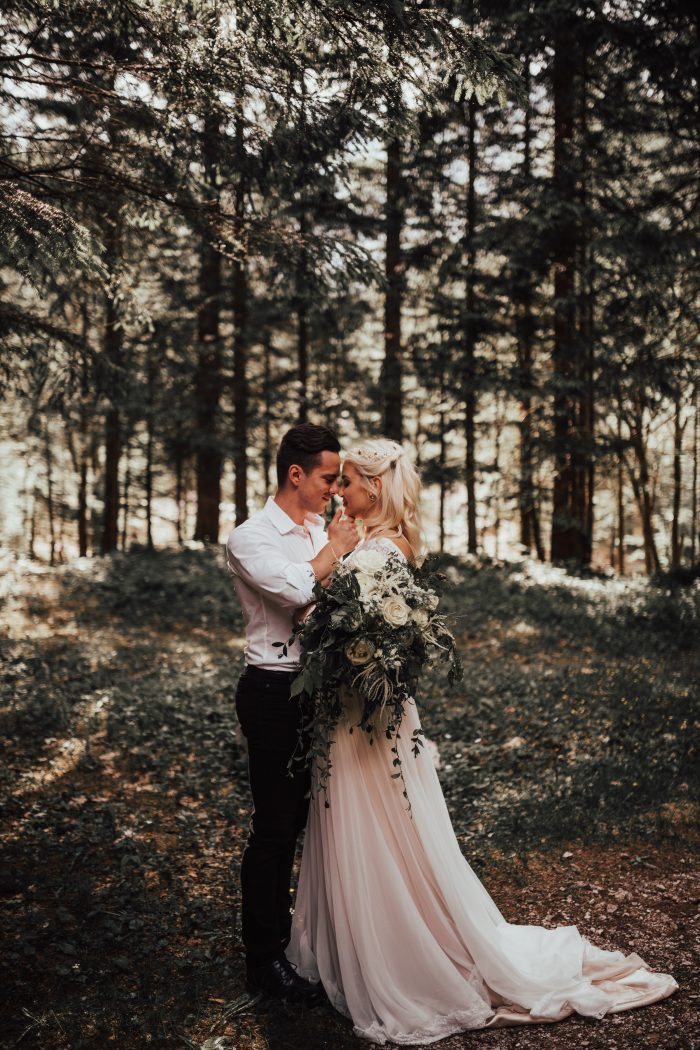 It goes without saying that if you're planning a rustic-style elopement wedding, the first item to consider is an ultra-romantic destination. Perhaps you and your sweetheart fell in love in the old growth forests of the Pacific Northwest? Road-tripped through beautiful seaside towns near the Redwoods? Always wanted to visit a magical wooded province in Germany or Spain? There are plenty of far-off locations to host a gorgeous woodland wedding with natural backdrops and fairytale details. It's up to you and your sweetheart to consider which destination best tells the story of your commitment.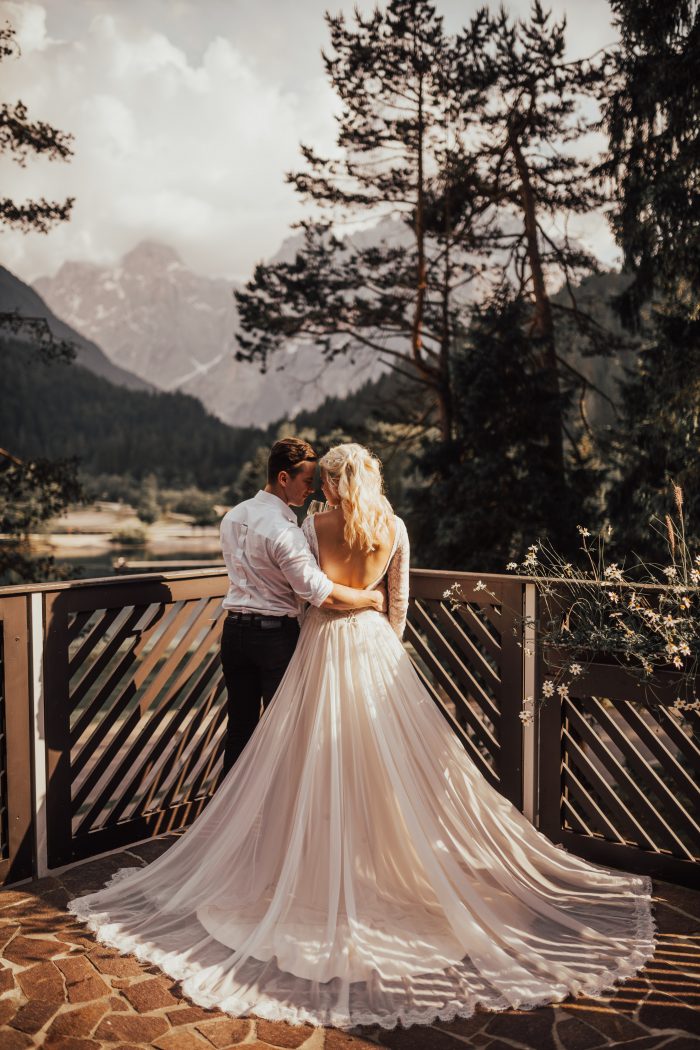 Of course, once you've decided on a destination, the next item to consider is a super chic gown for your elopement wedding. The latest collections from our Maggie Sottero, Sottero and Midgley, and Rebecca Ingram lines feature a variety of destination wedding dresses to complement your vision—from lightweight ballgowns to slinky slip styles and beach-ready A-lines. Many of our gowns are designed especially for the intimacy and romance of a unique celebration in an extraordinary setting. Check out our "My Love Story" video for some elopement wedding gown and style inspiration here:
The Elopement Wedding Dress
An elopement wedding dress can be many things to suit your personal style. There's an array of breathable fabric options available, including chic crepe, layered lace, and ethereal tulle, as well as illusion details and shimmery embellishments to give your gown a modern, sensual feel. A rustic wedding dress or beach wedding dress is perfect for an elopement—it's equal parts romantic and effortless, featuring lightweight fabric, flirty details, and easy-breezy embellishments. For a rustic celebration in the woods, consider vintage-inspired motifs, nature-inspired patterns, and soft layers to match the enchantment of your surroundings.
The Venue
Next, the venue! Set a romantic mood for your elopement wedding with an indoor-outdoor ceremony and reception. A dappled forest makes for stunning "I do" photos, while a nearby barn, lodge, or private estate offers the perfect evening respite for your wedding party and guests to relax and celebrate. Woodland weddings are especially conducive to candlelit backdrops and fairy lights, which add warmth and dimension to shady undergrowth or meadow wildflowers. Keep your ceremony arch simple (the forest is your chapel!), and optimize your seating arrangement for your guests' comfort and view.
The Guest List
Considering the size and structure of your guest list? An elopement wedding celebration can range from a two- or three-person party to a sizable weekend getaway with a few dozen of your favorite people. As a general rule, destination weddings have about a 50% attendance rate, meaning that couples should expect around half of their invited guests to make the trek. You might bypass this calculation entirely by only inviting a handful of ride-or-die family and friends, or plan for a larger and less predictable affair with a guest list of 50-75. Whatever your count, consider your guests' expectations in accordance with your budget and bandwidth. Do attendees need a structured agenda of horseback riding and wine tours? A set list of prep tasks? Affordable alternatives? If you're willing to put in the effort for a destination elopement, you'll need to anticipate logistics for guest accommodations, travel hassles, and weekend entertainment. (But we promise it's worth it! There's nothing quite like the magic and adventure of traveling to an extraordinary location with your nearest and dearest.)
The Ceremony and Reception
Lastly, the ceremony and reception accoutrements. Since you're opting for a gorgeous setting for your wedding backdrop, it's best to simplify the add-ons and amplify the impact of your environment. Keep your guests' focus on the natural surroundings with elegant decor, complement the scenery with a natural color scheme and organic details, and celebrate the picturesque destination with a special series of bridal portraits. Finally, as you get to know your destination, tune in to its unique personality—from local flora and fauna, charming architecture, and cultural and historical markers. You never know what one-of-a-kind details and stories will add to the character of your elopement!
Love this Real Bride rustic destination wedding inspo? Head to our blog to explore more real wedding galleries from our Maggie brides, Midgley brides, and Rebecca brides. We've also compiled more rustic wedding dresses to inspire your bridal look, featuring a gorgeous selection of laces in vintage-inspired motifs, lightweight layers, illusion details, and subtly sexy designs. (Find any of these woodsy rustic gowns at an authorized Maggie Sottero Designs boutique near you!) Searching for more style inspiration for your wedding? Take our Find Your Style quiz for personalized recommendations for classic, vintage, romantic, beachy, glamorous, and rustic wedding dresses and accessories. Whatever your budget and wedding vision, Maggie Sottero Designs has the chic and romantic gown to make you feel like a dream on your most important day. Best wishes and happy browsing!