Tips and Trends
|
June 27, 2019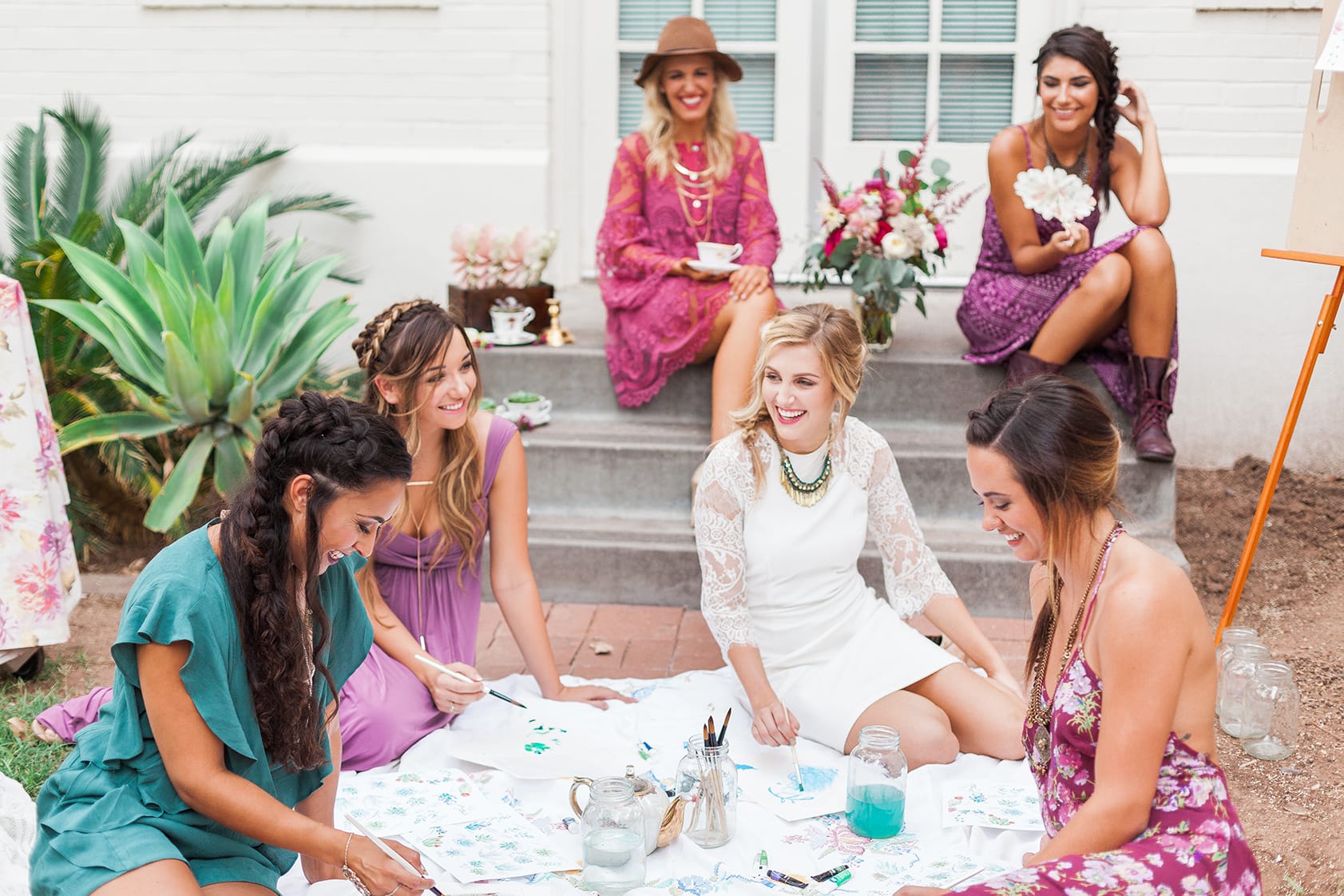 It's all on you, maid of honor! You might be wondering at this point how to plan the perfect bridal shower. And you're probably imagining a fun and uber-classy soiree with drinks that are actually delicious and games that are actually fun, not a drab luncheon where you run out of paper plates.
Remember the scene from Bridesmaids when the guests are given golden retrievers as party favors? You're going to top that! You just need a few pointers to get started, so we've compiled a list of answers to FAQs on bridal showers and maid of honor duties to help you plan and execute an Instagram-worthy celebration!
What are my bridal-shower responsibilities as the maid of honor?
There's no shame in starting with the basics of how to plan a bridal shower, especially if you're the type to neglect a cactus, let alone a nuptials event. Traditionally as the maid of honor, you plan and host the bridal shower. You help with the bride's logistics, such as the guest list and venue. If the party is going to be a surprise, you coordinate the mischief, and then provide the cute hors d'oeuvres and run the activities at the shower.
And while this essentially sounds like you're in charge of everything at all times, you really just need to understand how to delegate. Which bridesmaids can DIY the invitations? Who has some great ideas for bridal shower themes? Who knows how to bake a cheesecake? Can the bride's aunt host in her gorgeous backyard? More than likely, everyone will be happy to help!

Have the bride pick a date and venue.
Create a guest list with the bride, pick out or create stationery, and mail bridal shower invitations.
Plan activities and order of events.
Delegate food assignments and/or place orders if catering.
Shop for decorations, paper goods and favors.
Buy a shower gift for the bride.
Who is supposed to throw the bridal shower?
Tradition points to you, but it's not required. Sometimes it's viewed as a faux pas for the mother of the bride to host the shower (it may give the impression the family is asking for presents), but this has changed in recent years.
The host/hostess can be anyone from the bride's aunts or the bride's mom's friends, to coworkers or someone from the groom's family. But just because you're not hosting in your apartment doesn't mean you're off the hook—coordinate with the host/hostess to see how you can contribute and take on assignments!
What theme should I have for the bridal shower?
Tea and snacks are a great bridal shower theme, but don't feel like you have to play it safe. Think about the bride! What does she geek out about? Where does she work? How did she and her partner meet? Pick a theme that makes her and her event feel unique. Planning a shower for the summer? Have a pool party! Is your bride a foodie?
Have guests bring potluck dishes to swap and share recipes with the bride. You can find so much inspiration for bridal shower themes online; it's fun and easy to come up with something truly special that still fits your budget. The ideas below can help you know how to plan a bridal shower that your bestie will DIE over!


● Relaxed co-couple showers: The new hottest shower trend…and we get why! Have a wine and cheese night or caj backyard bonfire and movie night.
● Honey Do: Is the couple buying a new home? Have fun with decor inspired by tools while having the bride register at a local hardware store.
● Destination Shower: Take it to the hills! Head to a ski lodge, beach house, lake house or urban loft downtown.
● Paint Night: Skip the games and get crafty instead. It's a fun way to keep guests entertained while creating mementos for the bride.
● Tea Parties: They're chic and elegant, and offer plenty of room for personalization.
● Around-the-Clock: Guests are assigned different hours of the day and are asked to bring gifts that would be used at those times. This setup is great because it offers some direction for the guests but space for creativity.
● Bride's Favorite Things: Gardening? Reading? Doctor Who? The possibilities are as unique as the bride.
● Wanderlust: Take the bride back to the summer she spent in Brazil with Bossa Nova jazz and Caipirinhas.
● Backyard BBQ: Great if you're doing a coed occasion!
● Ice Cream Social: Set up a banana-split bar and bring on the chocolate! Each guest could be assigned a topping.
| | |
| --- | --- |
| | |
| | |
| --- | --- |
| | |
How do I entertain the guests at a bridal shower? 
Games are a great way to bring guests together who are not as well acquainted with each other. Bring the introverts and extroverts together over a quiz about the bride and groom. Get the millennials to bond with the baby boomers over a game of bingo. And be sure to include mini prizes for the winners; it's a game after all!
If games don't really fit the bride's personality, consider other hands-on activities such as guests writing down marriage advice or possible date suggestions on Popsicle sticks. This is a great way to get their creative juices flowing and give the bride a unique gift! Now you're well on your way on how to plan a bridal shower!

Celebrity: A simple and surefire classic, this guessing game involves famous names written on an index card and placed on the guest's forehead. The goal is to guess which name you have through hints from other guests. For a bridal shower twist, you can focus on significant people, places, or things related to the couple.
Trivia: Create a multiple-choice quiz about the bride and groom from their childhood to present. Questions can range from their likes/dislikes to their favorite cereal growing up. Have the bride play as well to see how well she knows her groom.
Two truths and a lie: Each guest tells the group three experiences they've had with the bride or groom, two are true and one is a lie. It's up to those listening to figure out the lie. This is a great icebreaker for bridal showers guests—it's like the first day of camp!
Newspaper wedding dress: Similar to the toilet paper wedding dress, this hands-on project invites guests to get a little crafty. Split the bridal shower guests into groups and with newspaper, scissors, tape and glitter, have them make a part of the wedding dress (sleeve, bodice, train, veil, skirt). Once each individual section is done, have guests come together and put the bride in her new gown. Hello, photo-op!
When should the bridal shower take place?
Choose a date early on in the wedding planning process. It's ultimately up to the bride's timeline, but typically bridal showers are hosted a month to two before the wedding. It's important that as the maid of honor you coordinate the shower date with the bride's VIPs, especially if they will be traveling from out of state.
When do I send out bridal shower invitations?
Four to six weeks in advance is the ideal time to mail out or email bridal shower invitations. Good event planners know the key to a successful party is building anticipation!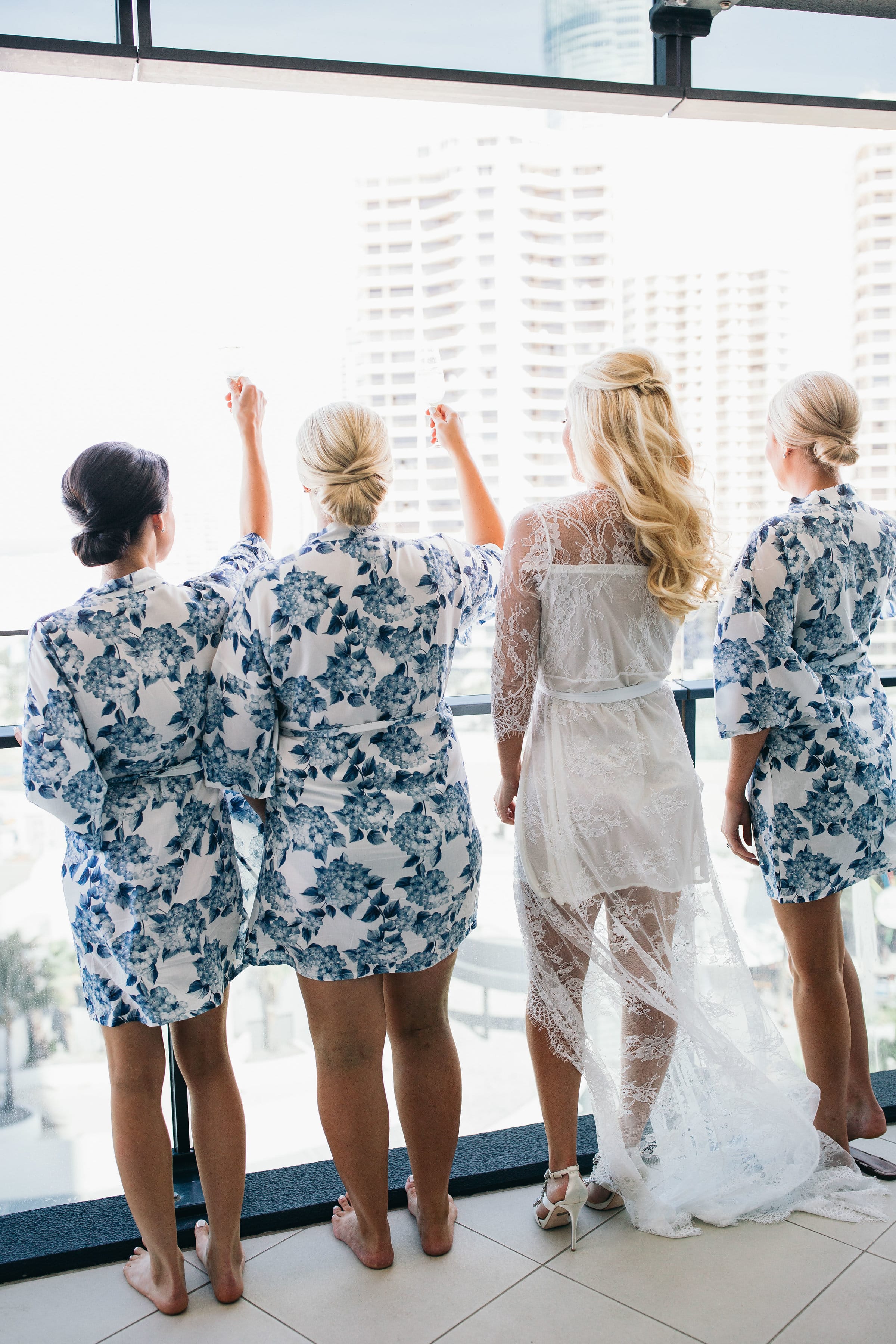 Who should I invite?
The guest list should be the bride's closest friends and family. (And it goes without saying you should invite guests who have been invited to the actual wedding.)
Do I bring a gift to a bridal shower if I'm hosting?
Traditionally the maid of honor provides a gift. But don't feel like you have to break the bank. You can make something sweet and homemade, or check out the bride's registry and pool for a gift with other bridesmaids. But most importantly, save the raunchy gifts for the bachelorette party! (Err, hello, future mother-in-law!)
We hope you've enjoyed these tips on how to plan the perfect bridal shower! Now you're well on your way to throwing an epic get together. Remember to focus on the bride's personality (not just your vision!) and make her feel special.
But remember, at the end of the day, don't sweat the small things if you want the bride to do the same for you. No signature cocktail or perfectly-timed balloon drop can match the joy of spending time with your best friend!
Special thanks to the following Photographers: 📷 Alex Lasota Photography, April Maura Photography and Fig Tree Pictures