Dresses
Tips and Trends
|
June 21, 2020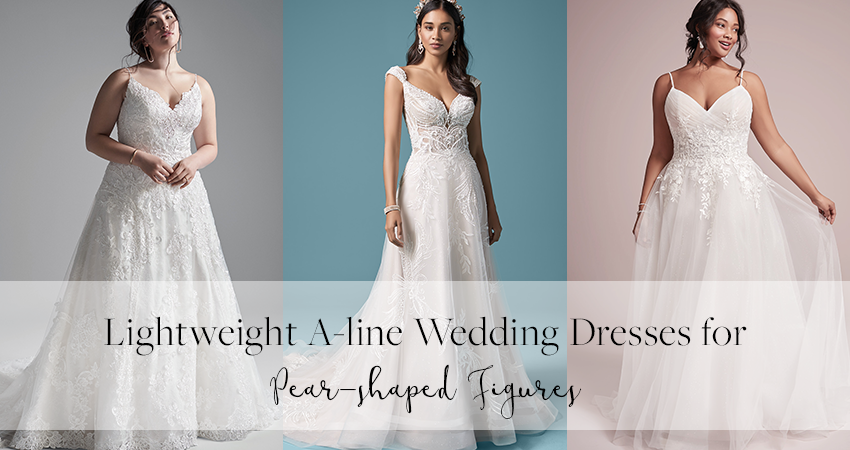 Ladies, if you're small on top and roomy on bottom, we've got some fabulous wedding dresses and style details to balance your proportions and up your bootylicious style game. Check out our top lightweight A-line wedding dresses for pear-shaped beauties below. These gorgeous and comfy styles flatter what is often referred to as a triangle or hip-heavy figure. Cheers!
First things first: if you're looking to flatter a pear-shaped frame, it's all about working your shoulder-waist-hip ratio. Start with an A-line meets sheath silhouette to flatter one of your best assets—your gorgeous waistline!
Lorraine by Rebecca Ingram does triple-duty by drawing attention to the narrowest part of your torso, embellishing and accentuating your top half with lace and illusion, and then flattering your hips and thighs with soft chiffon and a leg-skimming slit. This is the perfect lightweight A-line wedding dress to show off your figure while balancing out your proportions. Gorgeous!
You've likely heard it from celebrity stylists and fashion blogs: a great way to balance out a pear-shaped frame is to play up your top half, e.g. your shoulders and décolletage. When it comes to wedding dresses, opt for a unique neckline and statement sleeves. Houston by Sottero and Midgley is a great place to start with a scoop neck and cold shoulder sleeves.
The nature-inspired lace cascades over your bust and bodice, while fluttery illusion details accent your shoulders and collarbones. It's a gorgeous choice to add visual interest to your top half while flattering your lower half. Fabulous!
Next up in the waist-flattering department: this exquisite lightweight A-line wedding dress in beaded lace and sparkly organza. This wedding gown is especially gorgeous for flat-chested brides, as the embellished bodice cinches in your waistline while boosting your bust and playing up your shoulders.
The layers on Trina by Maggie Sottero add a touch of curvature with a subtly flared hemline—a great way to balance out your booty and elongate your legs. It's a perfect package for the princess-chic bride looking to flatter a triangle body type!
Love the dreamy look of sleeves for your big day? This trend is particularly suited for pear-shaped brides, as the fabric and/or illusion help to add visual interest to your shoulders and bust.
Dreamy Joanne by Rebecca Ingram features billowy bishop sleeves for a vintage vibe. And the plunging neckline and belt motif accentuate your chic and feminine waistline. (Plus, this gown comes at a flawless price point. Head to a Rebecca Ingram collection for more budget-friendly wedding dresses today!)
For a little whimsy and dimension, consider lightweight A-line wedding dresses with unique embellishments to flatter your favorite features. For example, this fairytale-inspired wedding dress enhances your décolletage with illusion lace, while a tulle bow accentuates your back and top half.
Wouldn't you agree that Xavier by Sottero and Midgley is a statement worthy of your fabulous style?
If you're looking to cover up while still flattering your shape, say hello to luxurious layered lace in a chic A-line silhouette. This modest A-line wedding dress is lined with super comfy jersey to fit and boost your waistline and booty, while the top half features a delicate scalloped neckline and chic sleeves to complement your demure aesthetic.
Go full coverage with Prescott by Maggie Sottero without sacrificing style or romance!
If you're looking for big style on a small budget, check out this super flattering A-line wedding dress in soft texture and layered lace. The ruched organza bodice adds visual interest to your bust and shoulders—a great way to balance a pear-shaped figure!
On Mila by Rebecca Ingram, delicate lace cinches your waist and subtly cascades into a soft A-line skirt, thus elongating your frame while flattering your hips and booty. All this at the perfect price? Magic!
When it comes to lightweight A-line wedding dresses, is it possible to find a luxurious and over-the-top design without sacrificing ease or breathability? When it comes to our Sottero and Midgley line, the answer is a resounding and ecstatic YES!
Cue Lancaster, a stunning, runway-ready gown featuring soft and mega-romantic lace motifs. This wedding dress is designed to balance your couture style with a comfortable fit. Trés chic!
Flirting with florals for your bridal look? Soft and feminine lace motifs are fabulously flattering for pear-shaped brides, as the motif adapts easily to organic lines and graceful silhouettes.
Opt for an illusion lace bodice to draw attention to your neckline and waist, then let loose with big patterns and layered embroidery in a soft and dreamy A-line skirt. Cue Sasha by Maggie Sottero; you won't be able to resist twirling in this chic and summery design!
Last but certainly not least, consider the magical, bust-enhancing, waist-cinching, and overall fab-ulizing effects of an embellished bodice design for pear-shaped brides.
Ballerina-inspired Marisol by Rebecca Ingram shows off your top half with sheer lace and a glam sweetheart neckline, while the lightweight tulle skirt ensures all-day comfort for your gorgeous ceremony and reception. What's not to love?
Loving this theme of lightweight A-line wedding dresses to complement a pear-shaped frame? Head to our posts on Lightweight Ballgowns and Effortless Gatsby Gowns, as well as our Pinterest gallery of Lightweight Boho Styles designed to flatter your booty, cinch your waistline, and play up your bust. Gather your favorites online, then head to your local boutique to find your perfect design IRL. Best wishes for your best day ever!
For more body type tips, check out the related blogs below:
15 Flattering Wedding Dresses for a Plus Size Bride
Flattering Mermaid Wedding Dresses for an Hourglass Figure
Flattering Fit-and-Flare Wedding Dresses for Athletic Body Types