Dresses
Tips and Trends
|
May 3, 2021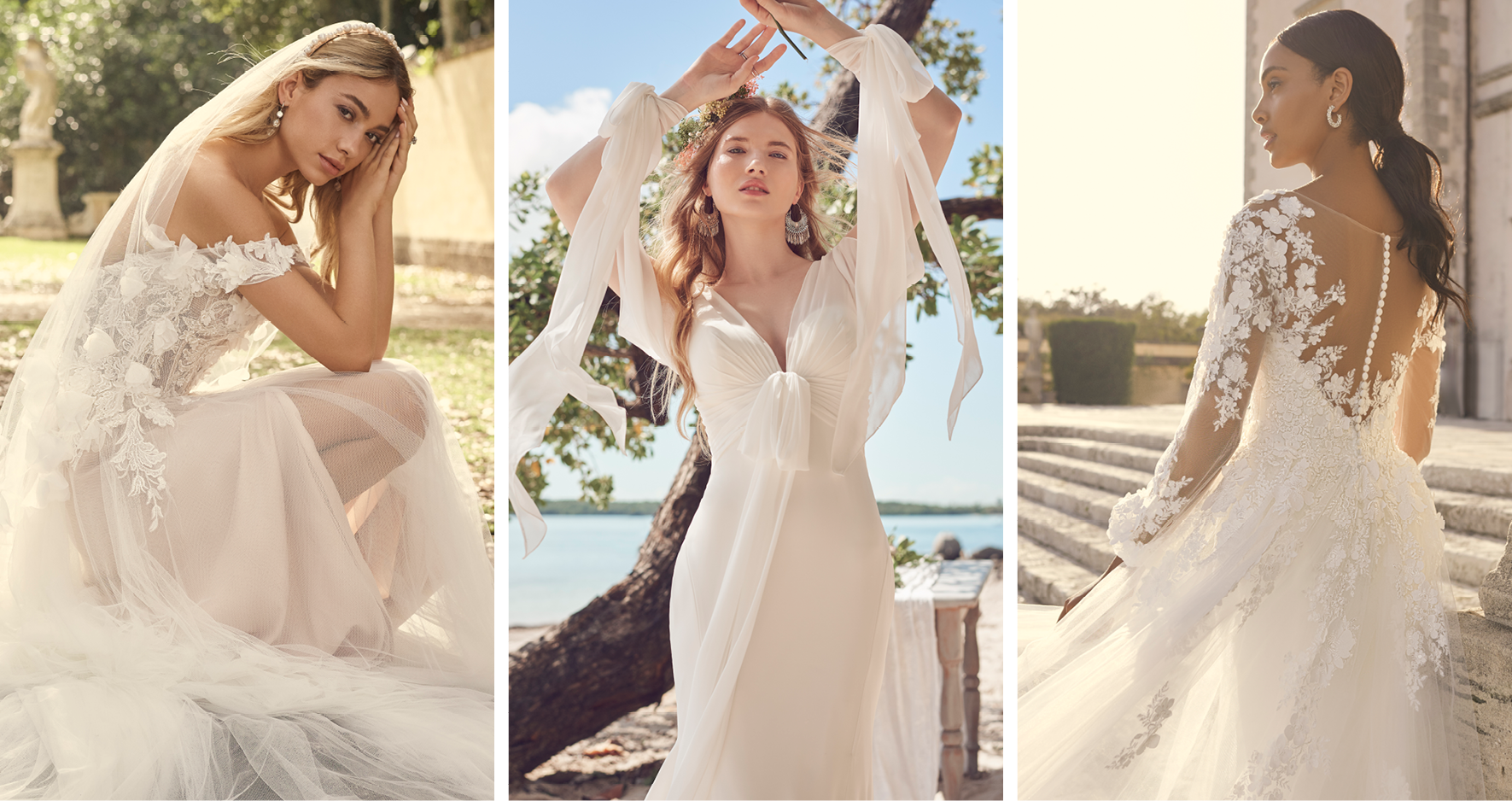 Trendsetters, you've come to the right place. We know everything it takes to be a trailblazing fashionista: scanning the glossy pages of the latest fashion magazines, keeping a close eye on runways and collection debuts, meticulous outfit and accessory planning, and of, course, being an innovator in the fashion realm. Now, you're getting married, and it's time to select a dress for your greatest fashion moment yet. Let us take some of the hard work from you. We've compiled the up-and-coming wedding dress trends from our new Fall 2021 collections to consider for your big day.
As a global brand with Authorized Retail Partners around the world, we always have our ear to the ground on international wedding dress trends. We've ensured these wedding dress trends are trailblazing—from LA, Milan, NYC, Sydney, Paris, and beyond!
Keep reading to stay ahead of the game with the top wedding dress trends from Maggie Sottero's Fall 2021 collections.
Wedding Dress Trends from Maggie Sottero's Fall 2021 Collection
First, some introductions are in order. We are proud to introduce our Fall 2021 collection and its inspiration.
For Maggie Sottero, we invite modern romantics to come with us to your personal bridal dreamscape and enjoy unrestricted imagination. Whether that means romping around the golden era of fashion and sparkling champagne, indulging in the kaleidoscope of floral glamour, or exploring the world of a not-yet realized whimsical fantasy.
Sottero and Midgley's inspiration is glamour and its many forms. Find the many facets of elegance in our newest collection: masterpiece symmetrical lines, luxe texture, extraordinary depth, elevated lace, and unexpected celestial details. Discover the crescendo of chic style for the unapologetically trendy and unique bride.
Finally, Rebecca Ingram is all about the divine and surreal feeling of a summertime holiday. This includes moonlit memories, bursts of rich-hued blooms, and quiet, blissful mornings with your forever.
Now, keep scrolling to see our lineup of international wedding dress trends for Fall 2021!
Romantic Tulle Wedding Dress with 3-D Florals: Mirra by Maggie Sottero
This romantic tulle wedding dress already feels like it's come right off the pages of a fairytale book. And the 3-D floral elements amplify the whimsy of this sentiment. Psst—3-D elements are the ultimate romantic trend.
Also, let's talk about the other divine details of this bridal gown. Say hello to subtle sexiness with a sultry thigh-high slit and floral motifs that extend from the bodice to the skirt. If you're a trend-seeking fashionista with an inclination towards modern, romantic details, Mirra by Maggie Sottero is for you!
Crepe Bridal Gown with the Backless Wedding Dress Trend: Alda by Rebecca Ingram
Dare to bare the hottest wedding dress trend: backless. That's right, it's time to show off your femme fatale figure in this crepe bridal gown with lace and illusion and a sexy back. This affordable wedding dress is lined in stretch jersey for comfort so you can show off those dance moves all night long.
Alda by Rebecca Ingram proves that simple and dramatic don't need to be contradictory. Exaggerated lace motifs create a beautiful silhouette worthy of its own headline. Go completely glam in this stunning, simple wedding dress.
For elevated elegance, we present Kitara by Sottero and Midgley. This simple wedding dress comes with a deep V-back, dramatic train, side illusion cut outs, and luxe satin lining. Extravagance just became a material form in Kitara.
There is beauty outstretched in every direction of this bridal gown. The delicate details, sensual silhouette, thoughtful construction, and sophisticated design accentuate the female form in numerous ways. This wedding dress was made just for you and your unique expanse of creativity.
Vintage-Inspired Lace Wedding Dress with Off-The-Shoulder Sleeves: Edison by Maggie Sottero
Speaking of vintage-inspired, off-the-shoulder sleeves are in demand and on fire this season. These lace off-the-shoulder sleeves come with elastic, so you can have amble mobility in this wedding dress, and the sleeve will stay put all night. Yay!
Edison by Sottero and Midgley is the epitome of fashion-forward yet functional. So chic!
Chiffon Bridal Gown with Maxi Bows Wedding Dress Trend: Bobbi by Rebecca Ingram
Channel Stevie Nick's 70s rebellious glamour in this chiffon bridal gown complete with maxi bow. Maxi bows are a wedding dress trend that feels plucked right from an airy, enthralling dream. And, the covered buttons trailing down the back and onto the train enhance the vintage dreaminess of this simple, affordable wedding dress.
And, you guessed it! Bobbi by Rebecca Ingram is lined in stretch jersey for extra comfort.
Elegant Lace Wedding Dress with Square Neckline: Cairo by Maggie Sottero
Square necklines are not only a super-stylish wedding dress trend, but also super flattering! Cairo by Maggie Sottero is expertly modern, fresh, and fashion-forward. The lush lace and square neckline make for an ultra-romantic and playful wedding dress.
The stretch crepe, lace, and illusion side cutouts add an element of subtle sexiness. And like any marvelous art piece, having embroidered lace elements elevate this chic wedding dress.
This wedding dress trend has transcended around the globe and through time. Bishop sleeves have always been a staple in fashion. More recently, Hollywood Starlets dawned these on red carpets in the 1930s and free-spirited dreamers loved this sleeve treatment in the 1960s. We're here to modernize this wedding dress trend (while still letting its vintage charm shine).
Take Arta by Sottero and Midgley for example. The combination of illusion and 3-D flowers on the bishop sleeves take this lovely crepe wedding dress from vintage sophistication to modern, fashion-forward elegance. So chic!
The minimalist wedding dress trend ignited in Paris, and now brides all over the world love to make a simple, stunning statement with their bridal fashion. This international wedding dress trend shines in Augusta by Rebecca Ingram.
Take a look at the thoughtful construction of the seams, which is sure to outline your gorgeous figure. We also adore the small but impactful detail of the plunging scoop back with crisscross straps. This bridal gown is a Grade-A example of the minimalist wedding dress trend, and we're obviously obsessed.
Sparkly Bridal Gown that Embodies the Maximalism Wedding Dress Trend: Verina by Sottero and Midgley
On the opposite end of the spectrum is the Maximalism wedding dress trend. This international wedding dress trend is for those who love over-the-top moments, believe that you can never have enough accessories, adore the spotlight, and crave that extra special touch to a bridal fashion moment.
So, as you can see by the amount of shine from this wedding dress, Verina by Sottero and Midgley hits the mark on the maximalism wedding dress trend. Embrace ALL the elegance with this ball gown wedding dress made of sequin lace over patterned glitter tulle.
Picture it now- a statement train floating down the aisle, creating a truly regal moment. Statement wedding dress trains are an international wedding dress trend popularized by Princess Diana in the 1980s. Fun fact: her wedding dress train was 25 feet long (!!!).
Recreate that iconic moment in fashion history with Gretna by Maggie Sottero. In addition to the statement scallop illusion lace train, we love the lace motifs over Chantilly lace and sparkled textured tulle! Gorgeous!
There are few things as exciting as cutting edge-fashion and picking out your very own wedding dress. Combine the two, and we're in bridal trend heaven. Has a wedding dress (or two!) from the list above caught your eye? Head to our Store Locator to find a Maggie Sottero Authorized Retailer near you.
And, if you want to see more of our beautiful wedding dresses (how could you not?), click here to indulge in our Spring 2021 collection.
If your wedding date is quickly approaching, don't worry, we've got you covered. Click here to view a few of our favorite, fabulous bridal dresses with quick shipping.
Congratulations on your upcoming wedding. We can't wait to see which wedding dress trend you choose to flaunt on your special day. Be sure to tag us in your wedding pictures (@maggiesotterodesigns) so we can feature you on our social media!
Cheers to wedding dress trends, bridal fashion, and finding your dream dress!