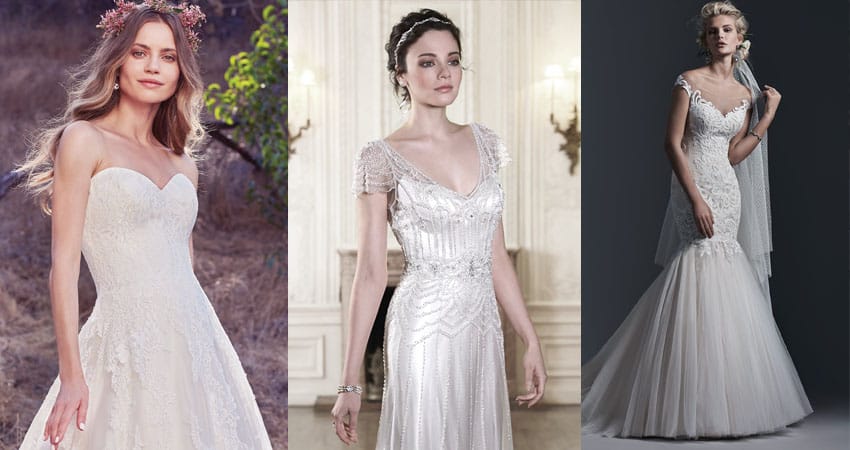 Brides in the United States are all about heirloom lace and strapless fit-and-flare wedding dresses, but there's a big world of Real Maggie and Midgley Brides out there! Keep scrolling for a breakdown of our hot international gown trends. Find an Authorized Retailer near you to explore more gorgeous designs.
Canada Brides
Fancy yourself akin to the Canucks? You'll love classic lace wedding dresses like Winifred, Melanie, and Emma.
Fast facts about Canadian brides: the average age for a woman to get married is 30, compared the US average of 27. Most engagements happen in December, and most marriages during the summer months (the most popular month being August). Like the US, the cost of a Canadian wedding averages around $30,000.
UK Brides
Brides across the pond are big fans of vintage-inspired gowns like Ettia, as well as illusion detailing on gowns like Mercedes, Beckett, and Montgomery.
A big trend in the UK is the "luxury micro wedding," an elopement-style occasion with plenty of style and substance. Of course, brides in the UK continue to love the rustic wedding trend, but with more emphasis on haute details and "authentic" earthiness, including organic food, open spaces, and effortless décor. Chic urban and industrial spaces also offer a refreshing counterpoint to the tried-and-true rustic vibe.
European Brides
Our continental brides love breathtaking ballgowns like Zelinda, Layla, and Sybil, as well as chic and understated A-lines like McCall and Olea.
Like the US, European weddings are inspired by media and pop culture, including blockbusters like Star Wars, Alice in Wonderland, and James Bond. Films like these inspire plenty of luxe fabrics, unique details and entertainment, and offbeat accents. European brides also have access to breathtaking wedding venues, including centuries-old cathedrals and countryside manors, even caves and fairytale-like forests!
European brides are excellent globetrotters, both in and out of the continent. Brides from Spain and France love to visit Ireland and Scotland, as well as southern Europe and classic tropical destinations like the Bahamas and southeast Asia.
Latin American Brides
Alluring gowns like Jade and Wyatt are a big hit in countries like Mexico, Chile, and Colombia, as well as classic lace fit-and-flares Winstyn and Cadence. Irma is a gorgeous lace A-line wedding dress, and Cassandra a stunning mermaid gown with illusion details along the neck and shoulders.
Brides in Latin America love lavish parties, live music, and indoor-outdoor settings. Latin American weddings are all about glamour, opulence, and swanky details, but with an air of exuberance and festivity. Emulate these bashes with big florals, hanging décor, a banquet table, and, of course, a raucous dance floor!