Real Weddings
|
May 16, 2016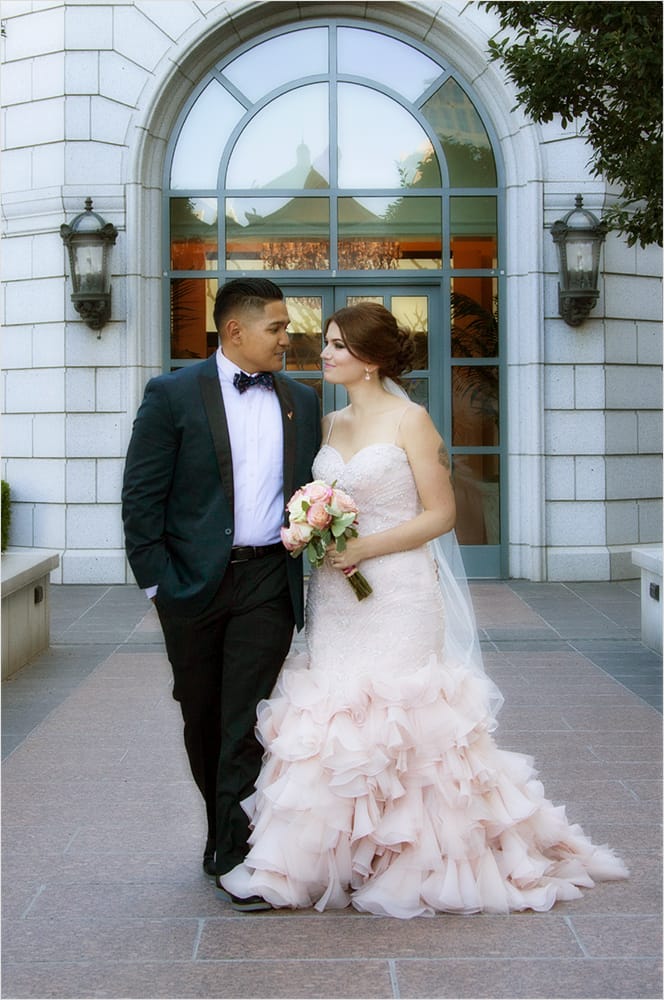 Maggie Bride Katelyn's wedding look is a perfect example of how a sweet blush gown can look fierce and elegant. The Serencia dress fit Katelyn like a dream and looked totally on point next to her groom's military uniform and bridesmaids' white sheaths. The nuptials took place at the Grand America Hotel in Salt Lake City, Utah, against a backdrop of classic architecture, stately rooms, and elegant chandeliers. As a bridal consultant herself, Katelyn executed a flawless and uber-elegant occasion! Scroll down for more photos, captured beautiful by Kresta Leigh Portrait, and details from these high school sweethearts' beautiful wedding. Click the link to view more colored wedding gowns.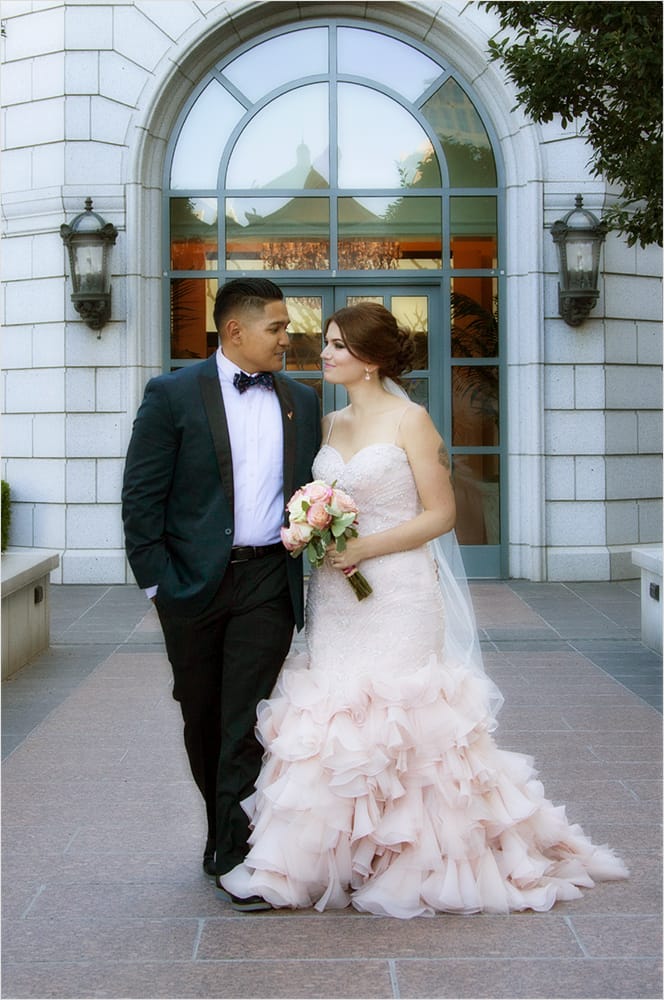 How did you know when you found "the dress"? I did not have the typical dress shopping experience. Because I own a bridal store (Terry's Bridal), and I'm a Maggie Sottero retailer, I saw the preview of the Serencia a few months before launch and had the dress saved in my phone for months. I didn't know the name or anything and finally I called my account manager and asked her what the name of the dress was and when it would launch. She told me and the next day it launched. I then reached out to my sales rep and asked her if I could order it. By the time I hung up, I had a surreal moment and asked myself, "Did I just order my dress?" I never told anyone I ordered it, never tried it on until it came in. But it was absolutely perfect.
Which Maggie Sottero gown did you wear? I wore the Serencia in blush.
What was your favorite part of the dress? I think my favorite part was the color. It just fit my personality so perfectly.
What was your favorite wedding day moment? My favorite moment of the day was after my husband changed from his military uniform into his suit, he asked my to tie his bowtie. We were standing in the courtyard all alone and I was fixing his tie. Someone even happened to snap a photo of us in that exact moment.
What advice do you have for future brides? I tell my brides that come into my shop all the time that when it comes down to the wedding day, you've done all you can do. Just relax and enjoy the day. Let anything and everything roll off your shoulder.
How did you and your husband meet? High school sweethearts. We met in at the beginning of 10th grade in high school, got together at the Christmas Formal, and have been inseparable ever since.
How did he propose? We were supposed to go on a family vacation to Hawaii where he had originally planned to propose. However, being military, he had to do training so we didn't get to go. So, instead he promised me to take me to Charleston when he got back from training, (I always told him how much I love Charleston and how beautiful it is). He proposed after a day of fun at the aquarium and bike riding down to the very edge of Charleston, in a park called, "White Point Garden" that overlooks the water.
Where did you get married? We got married in his church in Layton, Utah, and had our reception at the gorgeous Grand America Hotel in Salt Lake City.
Did your wedding have a theme? Our wedding didn't have a theme as much as colors and style. We just wanted everything to be very elegant, classic and a little stylish.
We stuck with lots of blush and gold tones with a little navy here and there.
How did you decide what you wanted your wedding to look like? I have always liked classic ideas, so I wanted to stick with that and add just a modern touch. The Grand America Hotel was perfect for the style we had, there was not much that we had to do on our part. It already had a gorgeous chandelier and big tables.
Describe your wedding in one word: Elegant.
Love Serencia? Check out our selection of colored wedding gowns!