Tips and Trends
Wedding Inspo
|
May 21, 2021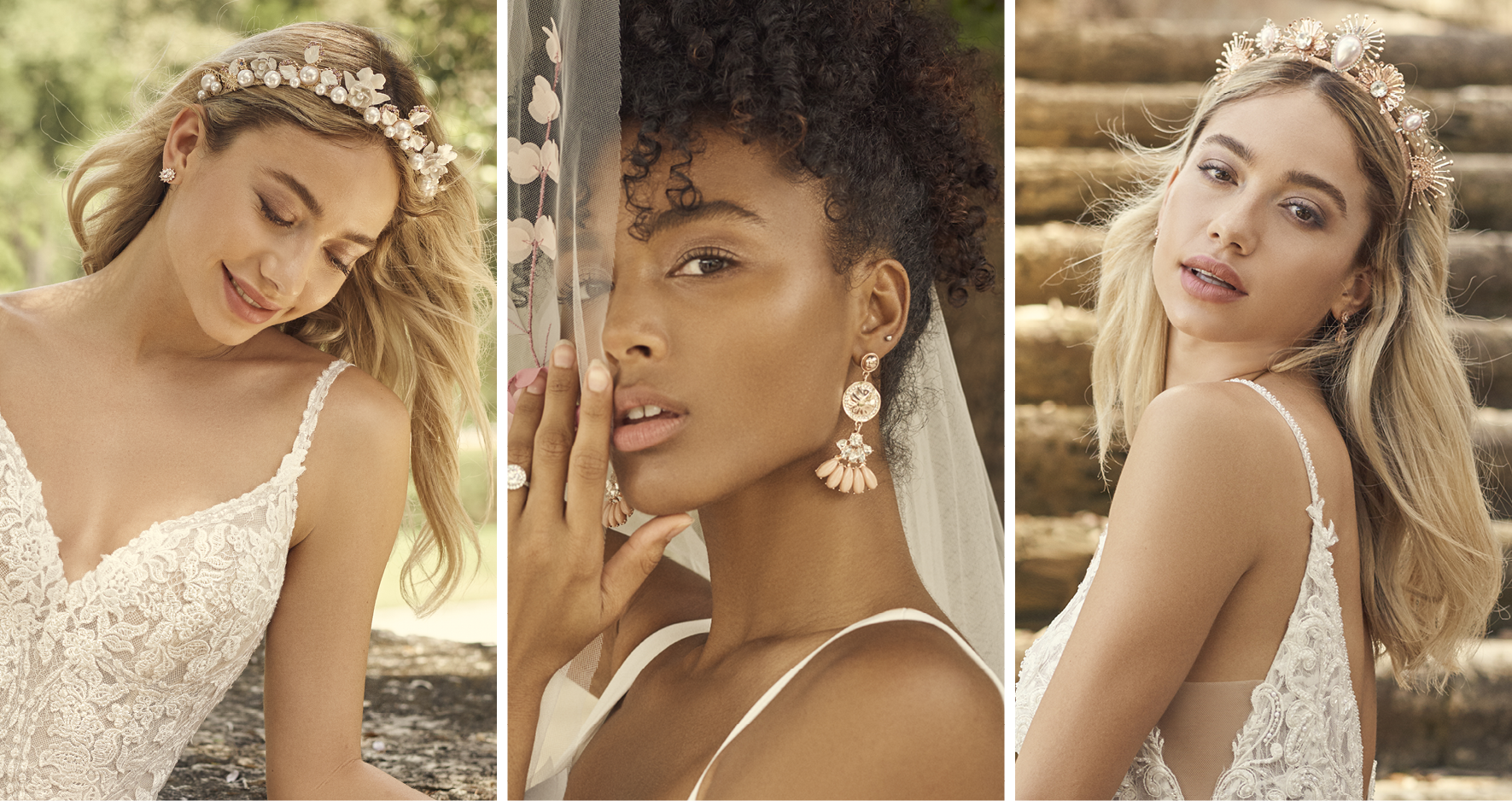 In 2020 we launched Personalize It for Your Love Story, and we continue on that path of personalizing your wedding day look in 2021! So, in the spirit of more good news, we are SO excited to announce a major creative collaboration: a divine and covetable collection of bridal crown and wedding earrings designed with the ever-talented Australian designer, Ashlee Lauren!
There's no better way to show off the A'El Este accessory capsule than with our runway-fresh wedding gowns, so we've put together a gallery to show off every new flourish and embellishment for Fall 2021 below. Keep scrolling!
Our first (gorgeous) bridal tiara is Alanis, a dreamy shell and crystal design inspired by Old Hollywood glamour (think Esther Williams meets George Barbier). This accessory is a true statement piece and works with several different aesthetic.
And these matching Art Deco drop bridal earrings complete the overall vintage-inspired Hollywood look. They're a lovely juxtaposition of decadent and vintage styles.
One of the first bridal gowns we imagined for Alanis is Adrianna by Maggie Sottero. This simple yet luxe design features a classic crepe mermaid silhouette and ultra-fine embroidery along the bodice and waistline.
It's designed to accentuate your curves while feeling chic and silky, and it's perfect to style with a vintage bridal crown. And of course, add the drop earrings for a complete red-carpet ensemble!
Another brand-new bridal gown we love is Sondra: a simple but high-impact A-line bridal gown with impeccable fit and tailoring. The elegance of this design makes it the perfect canvas for all your statement accessories.
Brianne is a gorgeous bridal headband that can be played up or down depending on the drama of your wedding dress. (It's also easy to layer with other pieces for a more personalized design.)
The Kiandra earrings, featuring crystal and pearl accents, pair well with the Brianne bridal headband because of their vintage-inspired aesthetic. Gorgeous!
This pearl headband also pairs magically with a bold wedding dress like London by Maggie Sottero—a black lace number for a chic and nontraditional flair. We love this ensemble for a Gothic-chic fall celebration or moody winter soiree. (Maybe some pearl accents in the bouquets to complement your bridal headband?)
For a soft and feminine vibe, opt for a shimmery and romantic wedding dress like Drita by Maggie Sottero: This vintage-inspired lace complements Brianne's pearl accents without looking garish or matchy-matchy.
Psst—the Brianne headband also makes for a distinctive wedding-party accessory. Your bridesmaids will love to wear this classic yet captivating design!
The Calaveras bridal crown adds a perfect dose of color and whimsy to your wedding gown. Pair with a floral style to play up your chic boho aesthetic. Or, keep it chic and polished with a romantic sheath wedding gown in crepe and 3-D lace.
The matching Calaveras floral drop wedding earrings add a summery aesthetic to their matching bridal tiara, creating the perfect fairytale-inspired summer love story!
Tiffany by Maggie Sottero is perfect for a warm-weather wedding celebration and prancing through a spring meadow. Plus, it's a great choice for curvy brides looking for that princess-inspired look!
Bevan by Maggie Sottero makes a stunning entrance (and exit!) with its 3-D flower long illusion train. This distinctive sleeved wedding gown shows how this bold and colorful wedding tiara can be styled to different effects.
The exquisite detailing on Deandra makes it an obvious choice for an array of vintage-inspired bridal aesthetics. We love the rose-gold and gold colorways for a soft and romantic feel, and the silver as a ritzy and ultra-polished accent.
We also love the glamorous aesthetic of the Deandra teardrop pearl earrings. It's hard not to be captivated by this luxe and distinctive design!
We love the idea of pairing Deandra with a soft princess wedding gown like Gretna: The crown's tiny sunbursts and pearl accents are the perfect offset to this gown's lush and organic lace motifs. It's a unique juxtaposition that's sure to look incredible in portraits.
Another gorgeous candidate is our Augusta bridal dress by Rebecca Ingram. This simple wedding gown features a formfitting silhouette in a shimmery satin fabrication. It's the perfect canvas for statement accessories, drop earrings, and unique pops of color.
Wondering about the beading, pearls, crystals, and metals that make up a bridal tiara or statement drop earring? The thing we love about these accessories is that they look super luxe and detailed, but they're designed with lightweight and hypoallergenic materials that won't cause a fuss on your big day. These designs are also easy to mix, match, and layer with other accessories without weighing down your hair or crowding your head-to-toe ensemble!
Speaking of pops of color, these crystal drop earrings are a stunning choice for brides who aren't afraid of a chic palette refresh. Choose blue for your "something blue," or pair pink with your favorite blush heels. Either is divine!
Dress-wise, we picture these earrings with a soft floral bridal gown like Mirra by Maggie Sottero. The 3-D bodice embellishments are just subtle enough to by styled with unique accessories but distinctive enough to hold their own on the dance floor.
We'd also love to pair these earrings with a wedding dress style like Keeva: A lovely lace design that's about the train and bodice details.
If you're looking to wear a larger pair of earrings but love the idea of adding color accents to your wedding party, these starburst earrings are also a gorgeous choice for bridesmaids!
Featuring a unique floral design that's a little Grecian-inspired and a little fairytale-esque, the Florentina earrings are a perfect choice for bohemian brides with a contemporary flair.
We think this bridal jewelry would look stunning with a minimalist crepe wedding gown like Astley by Maggie Sottero (simple and sleek) or Kitara by Sottero and Midgley (simple and sleek with a little flourish in the train). You'll look positively statuesque!
We also love the idea of matching these unique earrings to Kitara by Sottero and Midgley. Opt for nontraditional wedding details to echo the earrings' circular design and garland trim. Or, design a similar floral backdrop to incorporate into your ceremony décor. It's all about the chic and elevated details!
The Hayden earrings are another statement choice featuring unique flourishes and a shimmery colorway. We love how this style has both organic and symmetrical elements for a unique and stylish juxtaposition.
The detail of the Hayden earrings makes them a perfect accent for a lavish wedding gown like Fantasia by Rebecca Ingram—a layered lace A-line with unique flutter sleeves and a stunning back design. (SO dreamy.)
We also love the high-impact lace design of a style like Cairo by Maggie Sottero. Just book an enchanted garden venue and you're set!
For subtle sparkle and classic vintage styling, check out the Kensington earrings in gold and silver. These pair beautifully with a variety of bride and bridesmaid looks and can be worn over and over for special occasions to come.
The Kensington earrings are super versatile, so they'd add a perfect touch to virtually any wedding gown. We especially love a stunning design like Sawyer by Sottero and Midgley; the organic lace placement is a chic offset to these studs' classic and symmetrical design.
Another wedding gown option is the ultra-luxe and bohemian Dover wedding dress. This silhouette is so striking on its own, you hardly need any embellishment for jewelry and headwear. A simple pair of the Kensington earrings adds the perfect dose of sparkle to this eyelet and fringe masterpiece.
A simple starburst design makes the Marvita earrings a unique but versatile bridal accessory that can be worn again and again. They're also a gorgeous choice for bridesmaids and would make a perfect gift for the wedding party.
The Marvita studs would pair beautifully with a sexy and shimmery wedding gown like Arta by Sottero and Midgley, especially when displayed with a simple updo and luminous makeup look. To up the glam factor, add a bridal crown in a matching colorway. Stunning!
This star design of these earrings would also add a perfect sparkle to a simple lace bohemian style like Hesper by Rebecca Ingram. The lace on this dress has a beautiful river-current motif and makes a lovely complement to nature-inspired jewels and accessories. You could also pair with a bridal headband or flower crown to play up the soft bohemian charm.
When it comes to bridal jewelry, there's nothing like the classics. A pair of drop earrings like Recinda adds a dose of timeless sophistication to your romantic wedding gown without going overboard on embellishment, AND makes a glam accent for future occasions and special events. Perfection!
One wedding gown we'd love to pair with the Recinda earrings is Jenessa by Sottero and Midgley. This Grecian-inspired design pairs easily with soft and romantic accessories, but a classic teardrop earring would add a lovely dose of sophisticated glamour.
If you love the effortless and feminine styling of Jenessa, check out the Waverly wedding dress as well. This A-line wedding dress features delicate cascades of lace and soft sleeve accessories for a dreamy and enchanting vibe. And the Recinda earrings would make a lovely anchor for this effortless and ethereal design.
Another stud earring design that's perfect for all occasions is the Rosaria pair. These make for easy styling and all-day wearability. They're a gorgeous choice for your wedding day, your wedding party, or pre-wedding events such as bridal showers and rehearsal dinners.
For wedding-day styling, consider adding the Rosaria earrings to a glam fit-and-flare like Dublin by Sottero and Midgley. This pairing makes for an effortlessly sexy and sophisticated vibe, keeping the main focus on your stunning silhouette and chic HAMU.
Another divine mermaid bridal gown is Forrest by Rebecca Ingram—a romantic lace design with an ultra curve-friendly silhouette. This wedding dress is made for the spotlight, so there's really no requirement to go overboard on the statement accessories. A simple pair of studs like the Rosaria style do the trick just fine.
For a classic pair of drop earrings with a little more glitz factor, get inspired with the Seraphine earrings in gold and rose-gold. You'll be so pleased to add this pair to your collection!
One wedding dress that's gorgeous to style with the Seraphine design is Verina by Sottero and Midgley. This stunning ball gown silhouette features a unique lace and lovely layers of textured tulle, complete with sheer bodice design and a horsehair-trimmed hemline.
(This design is exceptionally flattering, as it nips in the waist and loosens at the hips while playing up your height and bustline.) Add these crystal drop earrings for a regal and romantic effect.
We're also smitten with the idea of styling Beverly by Rebecca Ingram with these drop crystal earrings. The shimmery nude bodice on this sexy crepe sheath just wouldn't feel complete without a blingy accessory. And the Seraphine pair would be divine. (A bridal crown would also look smashing, especially for a sexy siren or fairy-princess vibe.)
(Looking for more affordable wedding dress options like Beverly? Check out our full Rebecca Ingram collection, including our latest arrivals, in the link!)
Can't wait to shop these exquisite bridal accessories? Along with the complete Fall 2021 collection, they'll soon be available at an Authorized Retailer near you!
We're also so pleased to present our latest additions to bridal veils, overskirts, capes, sleeve additions, and more with Our 13 Favorite Boho Wedding Accessories for 2021.
Each designed to help you create a chic and personalized wedding look that's completely yours. (You can browse this complete lineup on our Find Your Style page for bridal accessories.)
In the meantime, be sure to follow us on Instagram to enjoy features of our wedding dresses, bridal crowns, and jewelry. We have everything from styled shoots and inspo galleries to advice from real brides and industry experts. Shout-out to Ashlee Lauren for her incredible work and talent for the A'El Este line. If you love these accessory designs, stay tuned for more gorgeous collaborations in coming seasons!