Style File
Tips and Trends
|
October 3, 2017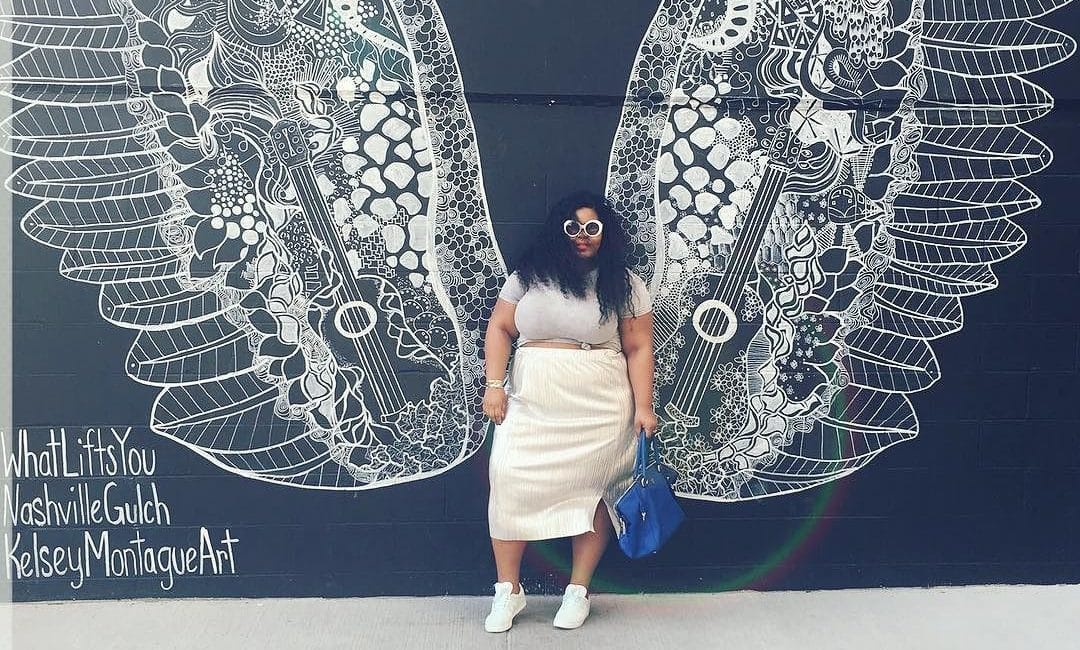 I am Whitney Brown—personal stylist, plus-size fashion connoisseur, and your new best friend! I've collaborated with Maggie Sottero Designs to bring you this segment for Ask a Plus-Size Fashionista: The Ultimate Guide to Wedding Gowns for Curvy Brides

I use my social media platforms to connect with women who want to improve their God-given beauty from the outside in. I look to find beauty in all things.

When I was growing up, the plus-size industry was basically nonexistent. I had to get creative in finding clothes that matched my body type and personality. Finding my day-to-day looks turned into a hobby, which eventually led to my Fashion Degree and landed me an amazing career with a top luxury designer.

My work also led me to love! I met my husband through my career. I started planning my wedding the first time we met! I just knew he was the one.

Shopping for my perfect wedding gown was fun and super exciting. My bridal boutique was absolutely beautiful, which made me feel like a princess. The gown I picked was nothing like I envisioned in my mind. I can remember my sister telling me to try them ALL on, so I did! I knew I wanted something different and in pink. I did not want any of my body insecurities to restrict myself to finding my perfect gown. I tried on every sleeveless, sheer, back out and most formfitting gowns. When I tried on the Divina and the Serencia, I knew they were the exact styles I loved. I love how the corset bodice hugged and accentuated my curves. In the end, I chose the Divina because it didn't have a beaded bodice, and I wanted my statement to come from my brooch bouquet.

Walking down the aisle in that beautiful Maggie Sottero was absolutely magical. Seeing the wow factor on everyone's faces was priceless and totally unexpected.

My desire is that my tips help you feel confident, absolutely beautiful and ready for love.

Happy Dress Shopping,
Whitney Brown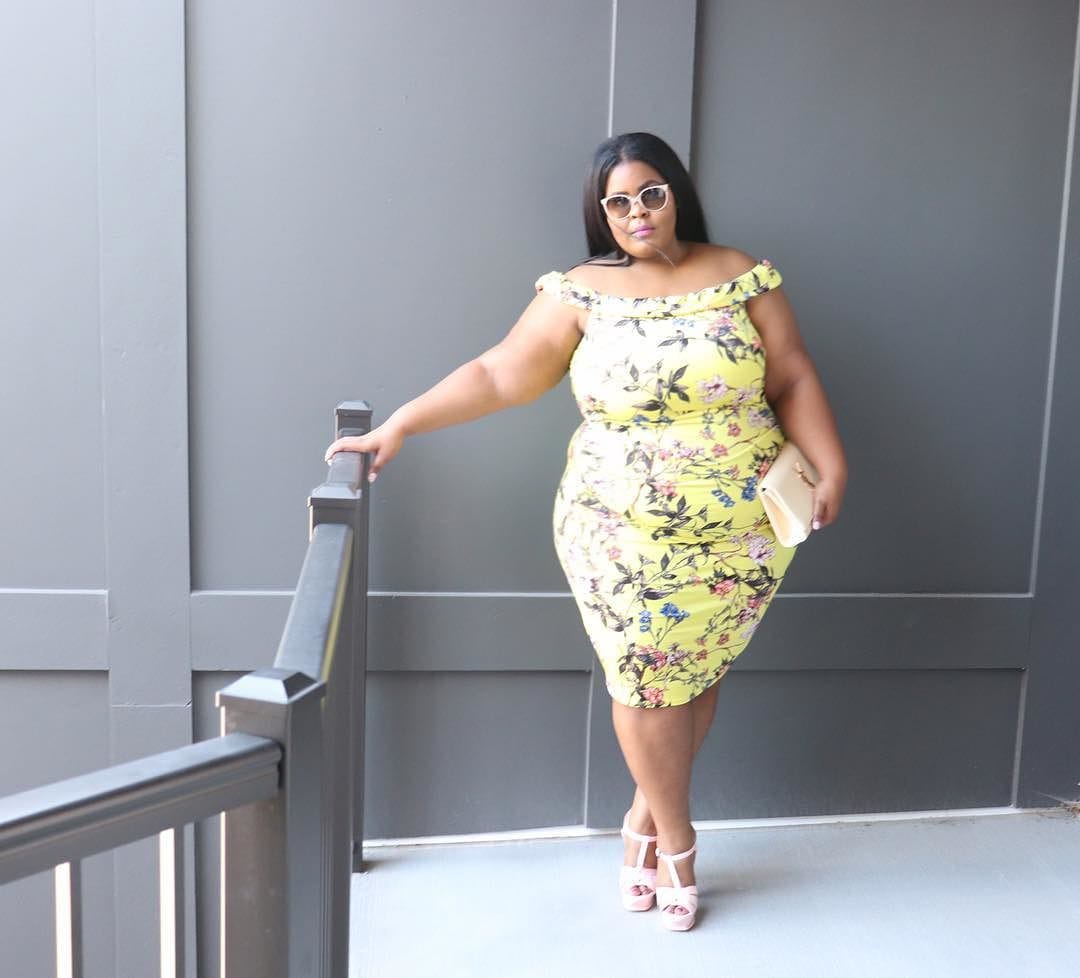 My Favorite Wedding Gowns
Here are a few gowns that I have personally tried on and loved! I've also included new gowns that I think will highlight and complement a plus-size figure. I love Maggie Sottero Designs for providing so many beautiful plus-size options to choose from. I connected most with this brand because I felt like the designers understand that you can have love at any size. Every woman, no matter her size, wants to be radiant on her special day. Some things you shouldn't have to sacrifice, and Maggie Sottero Designs displays amazing craftsmanship and detail on every gown.

Abbie Lynette's sweetheart neckline and fitted bodice is one of the best fits for a pear or hourglass-shaped woman. The lace detail on the waist and flare at the bottom creates the perfect feminine silhouette. The illusion details gives a special touch of sexy.
My favorite part about Carrie is the lace illusion neckline. It would look beautiful on plus-size women who may be heavier in the bust and shoulders but smaller in the hips. The empire waist and belt help create a feminine waistline, and the beautiful layers of tulle add volume and proportion to the hips. This dress reminds me of a floating princess. The white and nude color options are great, too!
I am so captivated by the sweet and simple elegance of Charlene Lynette. This gown would be stunning on any body type, but would be especially flattering for curvy women with a smaller bust, as the beading on the bodice will make you look fuller. I love the Grecian-glamour of the flowing skirt with the slit; the sparkle and movement would be beautiful coming down the aisle.
Chic, timeless and classic are the best words to describe the McKenzie Marie. I love how this gown offers a modest look, as it gives full coverage from head to toe, but its formfitting silhouette still creates a beautiful and alluring silhouette. I also love that you are not restricted by what style undergarments to wear underneath, like needing a fancy strapless or backless bra. My favorite thing about this gown is that your pictures will always look timeless—no one could ever date your dress to a specific year based off trends.
Luanne is one of my favorite lace gowns. I love the lace sweetheart neckline and fitted bodice and trumpet flare is the perfect silhouette for plus-size brides. If you want flare without the volume, this will be an ideal gown to try!
How dreamy is Bianca Marie? I am absolutely swept off my feet with this design and silhouette. I especially love the feminine detail of the layered ruffle. This gown would be perfect for the tall and curvy bride.
The Olyssia gown and the overskirt is for the sleek and modern curvy bride. I love how the form of this gown fits closely to the body, showing every beautiful curve. The long sleeves and illusion back are such a trendy twist to a classic silhouette. If you're more on the petite side, this gown will elongate the torso and create a taller, slimmer look. Add or remove the overskirt for more of the hip coverage, but enjoy wearing whatever undergarments to suit you best with the full coverage of the gown.
Shauna Lynette is an ideal gown to help you feel confident owning your curves. The beading of the bodice and full skirt will allow you to move and dance without worrying about the midsection trouble areas, and the beautiful tiered tulle skirt is the perfect accent to this elegant style.
Zulani is so breathtaking! I love the off-the-shoulder neckline with the pleated bust. The sleek bodice accentuates the natural curve of the waist, while the exposed neck and shoulders makes your look romantic and alluring.
Illuminate your curves in embroidered lace Claire Ann gown. The simple and sleek design of this Fit-and-flare silhouette will hug your curves while giving a little volume in the skirt.
Every curvy bride will look stunning in a mermaid-style dress. I love Brinkley Lynette for its elegant and charming back design. The close-fitting bodice with beautiful lace and crystal appliqué will make any curvy bride feel radiant.
Tips for Shopping for Your Dream Wedding Dress
Earlier is Better
Start shopping early! Most boutiques need at least 3 months to order your gown, and any accessories you may need like a veil or belt. Allow plenty of time for fittings and alterations once the gown has been ordered and delivered.

Budget!
If you have a budget on how much you can spend on your gown, set it and stick to it. Let your sales consultant know what your max spend is. There nothing more disappointing than trying on a $10,000 gown with an $800 budget. Don't even think about it—not even for kicks and giggles!

Try Different Styles
When shopping for the gown of your dreams, remember to keep an open mind. Of course you like what you like, but don't hold back from trying on styles that you normally would not choose. In my shopping and fashion experience, I've noticed that on the hanger, the look of a gown can be deceiving.

Body Support & Undergarments
When shopping for a dream dress, I wouldn't immediately invest in a new or expensive strapless bra or body support. However, I would wear a moderately supportive convertible/strapless bra and body shaper to give you an idea of a gown's fit. As you get closer to finalizing alterations, you'll want to finalize your choice of undergarments for the big day.

Good Company
Speaking of support, bring a friend or three, but no more than three! You don't want to cloud your judgment with a lot of different opinions. There's nothing worse than falling in love with a gown and being ready to buy, only to see seven of your friends frowning and rolling their eyes.

You Are Your Perfect Size
It's best to avoid ordering a gown too many sizes smaller in hopes of losing weight before the big day. Unless you have major lipo scheduled with Dr. Miami, I would order a gown in your current or recommended size, and let the alterations team take care of the rest. You can always fix a gown that's too big, but trying to squeeze into something that's way too small is almost impossible. I suggest looking for a corset-style dress that will give you more flexibility. It's great to get healthy and work out, but set a realistic weight-loss goal for yourself.

Photograph Everything
Take lots of photos of your favorite gowns and accessories. After a long day of shopping, it helps to make a good decision when you can look at your options the next day. I recommend taking photos of other things you may want to consider for the wedding, such as flower girl dresses and accessories. There's nothing worse than trying to track down a white dress or veil without a reference. Photos help you and your sales consultant be more efficient and precise.

Bring Special Pieces
If you are pretty sold on wearing your grandmother's pearls, or any accessory that you know you'd love to wear on your wedding day, bring it to your shopping and alterations appointment. This will help give you a better idea of your completed look.

Remember Why You're There
Shopping for a gown can be a little overwhelming for any bride, and being a special size may require extra searching, and extra patience. Don't settle for something you don't absolutely love, and don't let snooty sales people make you feel like you don't deserve good service or a beautiful gown because of your size. Stay in good spirits by remembering why you are trying on gowns—you are celebrating your love story, and your sweetheart who cannot wait to spend the rest of their life with you!
Read on:
5 Tips To Say "Yes!" to Your Dream Dress
Find The Perfect Dress For Your Body Type
Dream Big, Save Big On Your Wedding