Real Weddings
|
December 16, 2016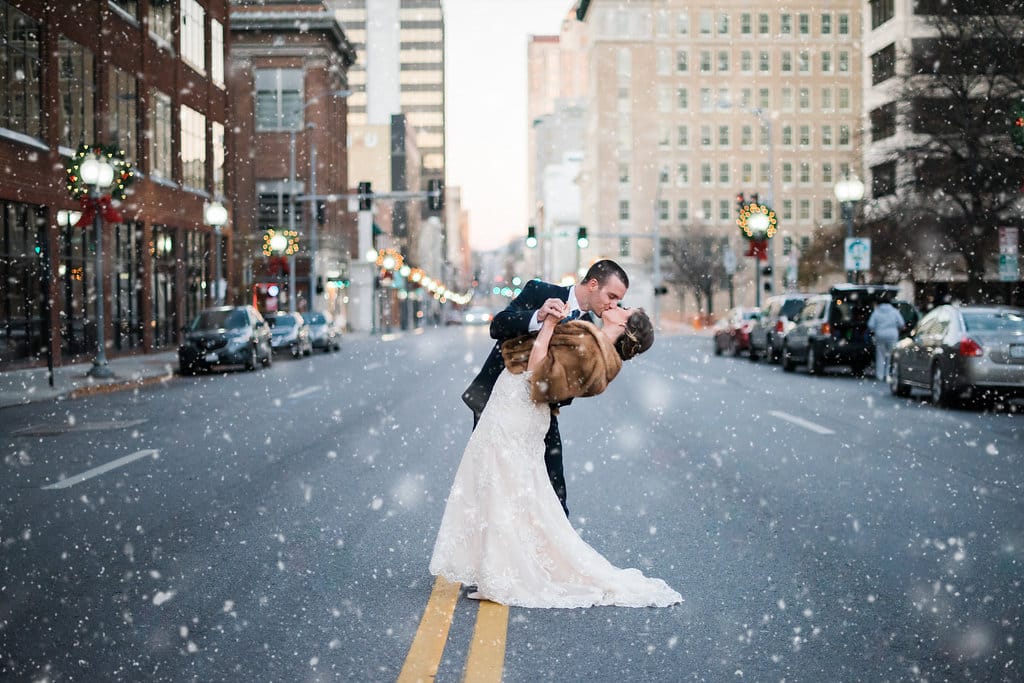 Regal, vintage-inspired, and a little glitzy, Heather and Worth's wedding infused winter-wonderland glamour with southern charm. Heather's sleeved wedding dress, Verina by Maggie Sottero, fit her venue perfectly, and opulent details, like red-and-white florals and gilded accents, gave the reception a cozy yet elegant air—everything we love about cold-season nuptials!
This stately occasion was shot beautifully by Melissa Durham Photography. Love Heather's look? Browse our sleeved wedding dresses and vintage-inspired wedding dresses, and get inspired by our wedding themes for 2017.
Which Maggie Sottero gown did you wear?
Verina by Maggie Sottero.
How did you know when you found "the dress"?
As soon as we scheduled a winter wedding, I knew sleeves were a must. The venue we booked was a historic hotel in downtown Roanoke, VA, that dates back to 1925. I was inspired by the southern charm and architecture of the building, and so the hunt began for a vintage lace gown and a fur mink stole. I first visited the Maggie Sottero Designs website and browsed "vintage wedding dresses." I saw Verina, and my heart exploded. The search was over! Even though I still went dress shopping and tried on over 100 dresses, I went back to Verina. She was the one all along.
What was your favorite part of the dress?
The open back really showed off the work I'd put in at the gym "shredding for the wedding." The intricate detailing of this dress was also simply to die for.
How did you and your partner meet?
We met through mutual friends. We were actually both seeing other people when we met! A few weeks after we started dating and I knew he was the one.
How did he propose?
Worth proposed to me on a cruise to Aruba. I totally was not expecting it!
Where did you get married?
The Patrick Henry Hotel in downtown Roanoke, Virginia. Our wedding ceremony and reception were both here in a beautiful ballroom.
Did your wedding have a theme?
I would say our theme was a very traditional, southern wedding. There were magnolia leaves and Christmas trees, and lots of ivory with navy and gold accents, which created a very regal setting.
How did you decide what you wanted your wedding to look like?
My maid of honor, who is also my older sister, is a party planning extraordinaire and creative genius. She can look at a space, a dress, a pair of shoes, a piece of furniture, and within five seconds, she'll have an amazing idea. She saw the venue and immediately said, "Okay this is what we're doing," and it turned out amazing. My mom also had a December wedding in a Virginia governor's mansion back in the eighties, and we used her wedding for a lot of our inspiration.
What was your favorite wedding day moment?
There were so many! Dancing with my groom and our friends at the reception is something I'll never forget.
Describe your wedding in one word.
Stately.
What advice do you have for future brides?
Try to enjoy the moment because your wedding day will go by so fast. Let others help in handling details so you can relax. I also recommend a wedding day coordinator, so your groom, bridesmaids, and family members can also enjoy the day.