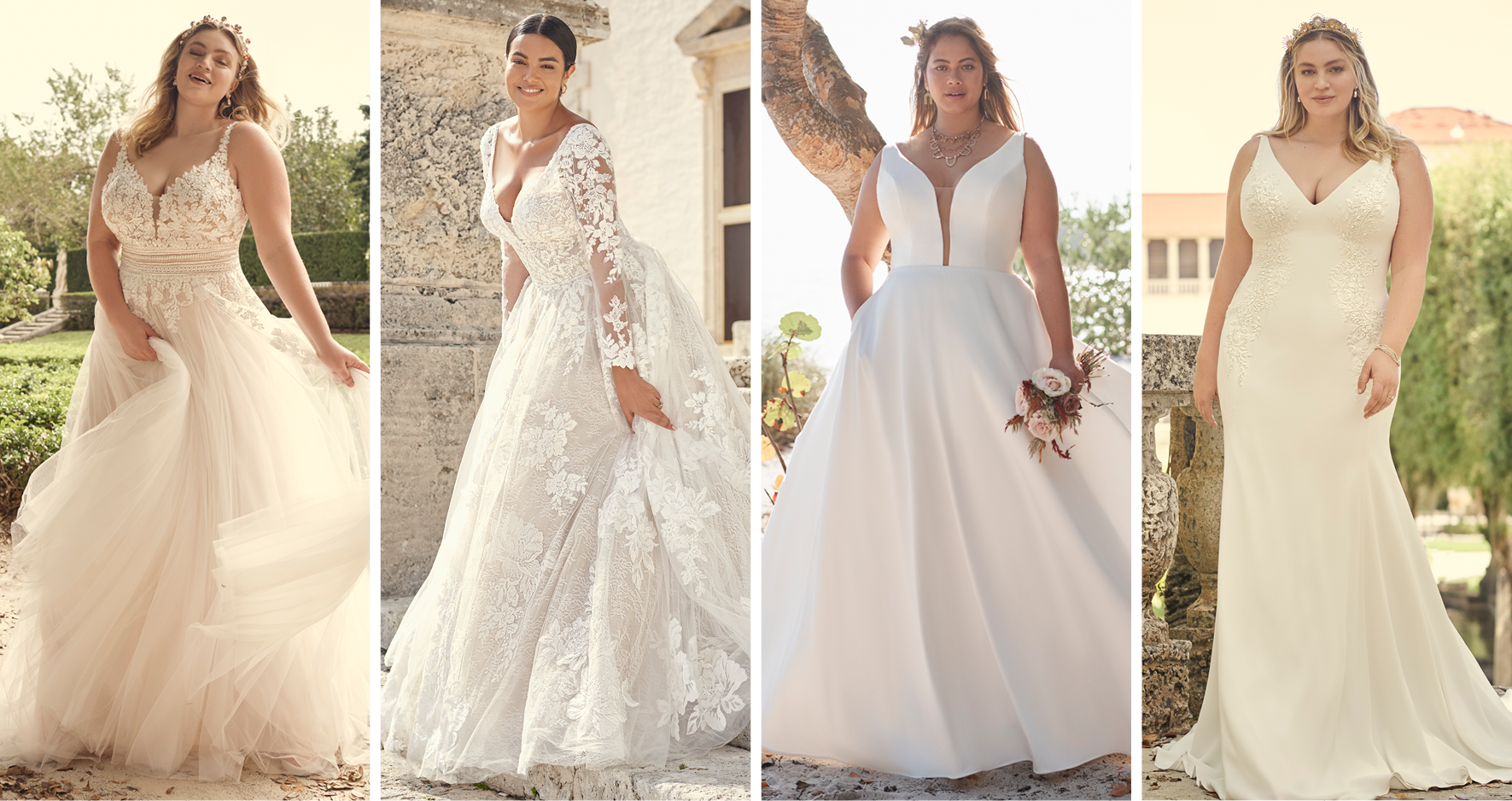 When dressing for your body type, it's best to work to enhance your favorite features while balancing out your natural proportions. As part of our ongoing series on wedding dresses for diverse body types (tall and slender, hourglass, pear-shaped, etc., you name it!), we present another post about applying those fit guidelines to finding the best wedding dress for apple shape body types!
If you've taken our wedding dress quiz to narrow in on your unique wedding vision, consider next which bridal gown silhouettes will help you feel like magic on your big day. For brides of the "wedding dress apple shape" body type (typically with a bigger midsection, full chest, narrow hips, and slim legs), these gorgeous wedding dresses just might be everything you're looking for! Scroll on!
This unique Mikado A-line wedding gown checks off all our requirements for apple-shaped body types. First, it has a unique illusion neckline to draw attention to your shoulders, décolletage, and visage. Next, it has a slightly higher waistline to create the illusion of cinching in your midsection.
The lines on Pearl by Rebecca Ingram are also simple and symmetrical, which lets the clean satin underlay flatter and elongate your frame. And finally, the A-line silhouette is feminine and romantic. It's the perfect look to show off your classic style while playing up your best features!
If you have an apple-shaped silhouette, you likely tend to widen at the midsection and narrow at the arms and legs. To add a little curvature, consider a relaxed A-line wedding dress like Lancaster by Sottero and Midgley.
These lace florals and flourishes add the illusion of curves to your bodice, waistline, and décolletage. Plus, the linear motifs in the skirt are designed to enhance your long and slender legs. So chic!
Nature-Inspired Bridal Gown for a Round Figure: Ohara by Maggie Sottero
We're getting boho ballerina vibes from this floral lace wedding gown. Ohara by Maggie Sottero is a soft and flattering bridal dress for all manner of heights, proportions, and figures.
Nature-inspired lace and shimmer create a head-to-toe slimming effect, while the plunging V-neckline and V-back add visual interest to your upper half. It's a sweet, romantic, and effortlessly elegant wedding dress for apple shaped plus size body types!
Affordable Wedding Dress for Apple-Shaped Brides: Judy by Rebecca Ingram
This breezy wedding gown is all about the bodice and silhouette. Delicate beaded motifs add visual interest to your V-neckline, while a higher waistline helps to create the illusion of a narrow midsection. These spaghetti straps are also a gorgeous choice for apple-shape brides. They flatter your shoulders and collarbones without detracting from the curves you already have. Gorgeous!
Our Judy wedding dress is also part of our affordable Rebecca Ingram line, which features gorgeous wedding gowns at irresistible prices for the modern bride. Here you can find all kinds of classically flattering bridal gowns at or under $1000. From flattering A-lines to dreamy ball gowns, you'll be able to find the best wedding dresses for apple shape body types!
If you have an apple-shaped figure and a flair for the dramatic, consider a black wedding dress in a romantic A-line silhouette. Our favorite candidate for your adventurous aesthetic? Santiago by Sottero and Midgley—bold, charming, and perfectly on point for a nontraditional wedding vibe.
These black motifs are complementary to a variety of body types. But they're especially gorgeous for brides looking to flatter their midsection and play up their bust and waistline. (In other words, another best wedding dress for apple shape brides!)
The all-ivory color version of this style is also a lovely choice for a more classic brides. The relaxed ball gown silhouette and soft lace motifs draw attention to your bodice, while a sweeping train enhances a long, graceful silhouette. Divine!
Sexy Crepe Wedding Dress for Apple-Shaped Body Types: Adrianna by Maggie Sottero
Who ever said apple shaped brides have to stick to A-lines and ball gowns? Say hello to sexy in crepe and lace, AKA a perfect fabric combo to slim, slenderize, and enhance your natural curves. The simple lace helps to add visual interest to your bodice and décolletage, while clean crepe creates a long and slender bottom half.
Adrianna by Maggie Sottero features a hint of stretch jersey to smooth and define your hips and legs, while delicate illusion details add definition at your bust and waistline. It's the best wedding dress for brides with apple shape frames, rounder midsections, and wider torsos looking for a sexy bridal aesthetic.
We're forever fans of the long sleeve boho bridal gown. It's romantic, chic, and effortlessly style-able for a variety of body types, aesthetics, and wedding visions. One of our current favorites for apple-shaped frames is Valona by Sottero and Midgley—an effortlessly dreamy A-line bridal dress featuring a luxe embellished bodice and swishy tulle skirt. Psst—the delicate illusion sleeves help to bring attention to your graceful upper frame while still supporting your bust and bodice.
Love this sequin lace bodice? These motifs do double duty for apple-shaped brides—drawing focus to your upper half while creating the illusion of a cinched waistline. When shopping for wedding dresses to complement your rounder midsection, look for similar details to balance out your frame and silhouette. The placement of beading and embellishment plays a big role in enhancing your proportions.
If you have an apple-shaped figure and a fabulous bust, your dream bridal gown is all about the waist and neckline. Lucky for you, Flora by Rebecca Ingram features criss-cross ruching and soft lace motifs.
It's the perfect way to define your waistline while playing up your shoulders and décolletage. And the best part? This bridal dress also features a slim A-line skirt to add fullness to one of your loveliest features: your legs!
A relaxed silhouette is key to complementing an apple-shape body type. It flows downward from your bust, thus defining your waistline and elongating your lower half.
From there, add pretty shoulder details (like these cold shoulder sleeves!) to complement your upper half and play up your graceful arms. One of our best wedding dresses for apple-shape body types, Houston by Sottero and Midgley, will help you do all this with ease!
Seriously, don't be afraid of some big skirt action in your wedding dress for apple shape body types. For example, the shimmery ball gown tiers on Timbrey help balance out a full midsection to avoid looking top-heavy.
For a flattering bodice look, consider shimmery beaded lace, a romantic sweetheart cut, and delicate spaghetti straps. These elements will enhance your bustline without drawing too much attention to your torso and midsection. Timbrey by Maggie Sottero really is one of our best wedding dresses for apple shaped plus size brides!
Flattering Mermaid Wedding Dress for an Apple Shaped Figure: Faustine by Rebecca Ingram
If you have an apple-shaped figure, you need not hide your bust and waist. Instead, play up your gorgeous assets with this flattering mermaid wedding gown. This soft and classic style is designed with a gorgeous bodice and effortless silhouette.
You'll love how the illusion bodice on Faustine by Rebecca Ingram nips in your waistline while flaunting your back, shoulders, and décolletage. It's basically a complete package of affordable gorgeous-ness!
Ready to go wedding dress shopping? Finding the best wedding dress for apple shape body types (or maybe an athletic build or curvy silhouette) is all about playing up your favorites features—e.g., defining your curves, elongating your frame, and flattering your bust, arms, and shoulders.
So, what are you waiting for? These dreamy bridal gown styles feature everything you need to enhance your assets and balance your proportions. Head to an Authorized Retailer to experience them IRL today!