Real Weddings
|
January 31, 2017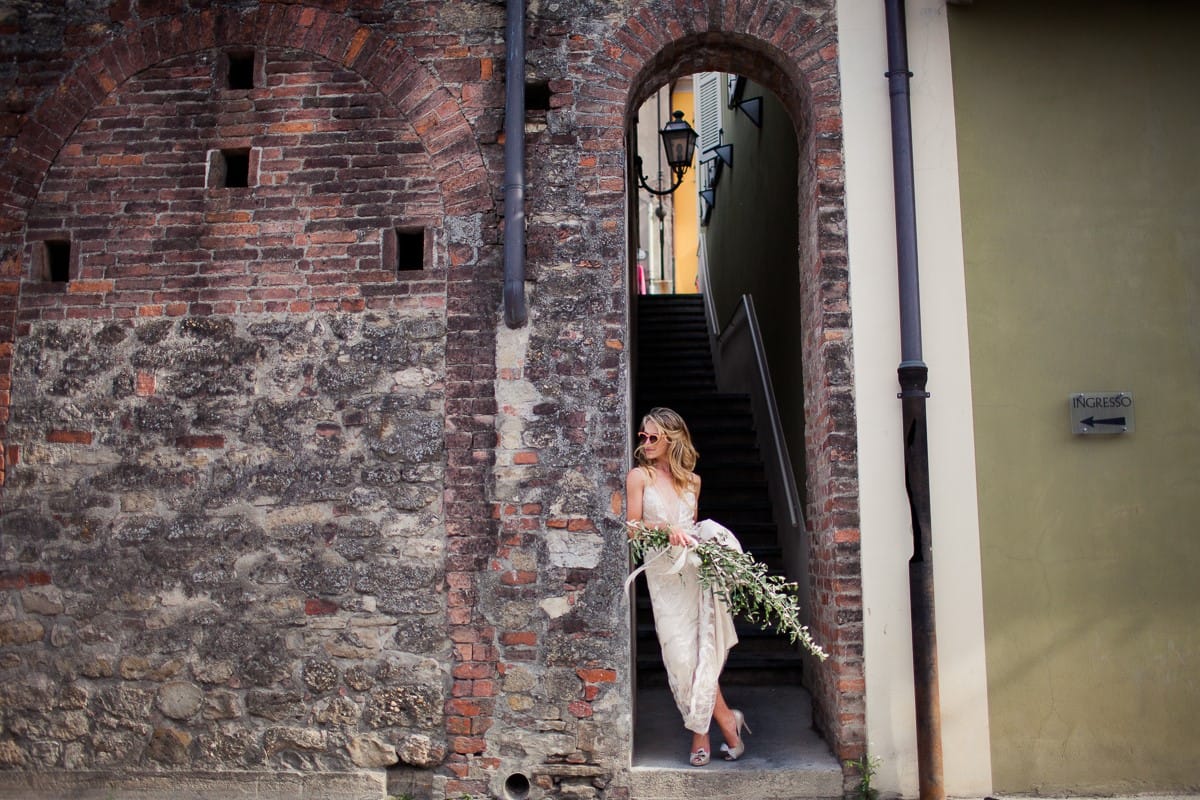 Take a little surfer-girl chic, add some vintage-inspired romance and Italian vistas, and you've got yourself one magical and glamorous occasion. Keep scrolling for Maggie bride Katherine's love story, and check out our 11 Gowns for 11 Destination Elopements to start planning your own adventure.
Shot beautifully by James Allan Weddings, this occasion also appeared on James' photo blog and Love My Dress.
Which gown did you wear?
Gianna Marie* gown by Maggie Sottero
Gianna Marie has since been discontinued. See Petra for a similar style.
How did you know when you found "the dress"?
My gown was unique, stylish and fit all my criteria for the perfect dress: not strapless, not mermaid, no fishtail, un-hipster, and above all – no ruching. After trying on several designer gowns, I was left feeling underwhelmed. On my second dress shopping excursion, we went to a fairly bustling boutique on a Saturday, so you can imagine how busy it was. The moment I put on what seemed like a slightly daring dress (the Gianna Marie), every other bride to be and their family and friends could not stop looking over at us – it had that much of a wow factor. It was unique, I felt great in it, and I knew then and there that this was 100% the right dress for me.
What was your favorite part of the dress?
The way the light caught the ornate beading and embellished metallic embroidery.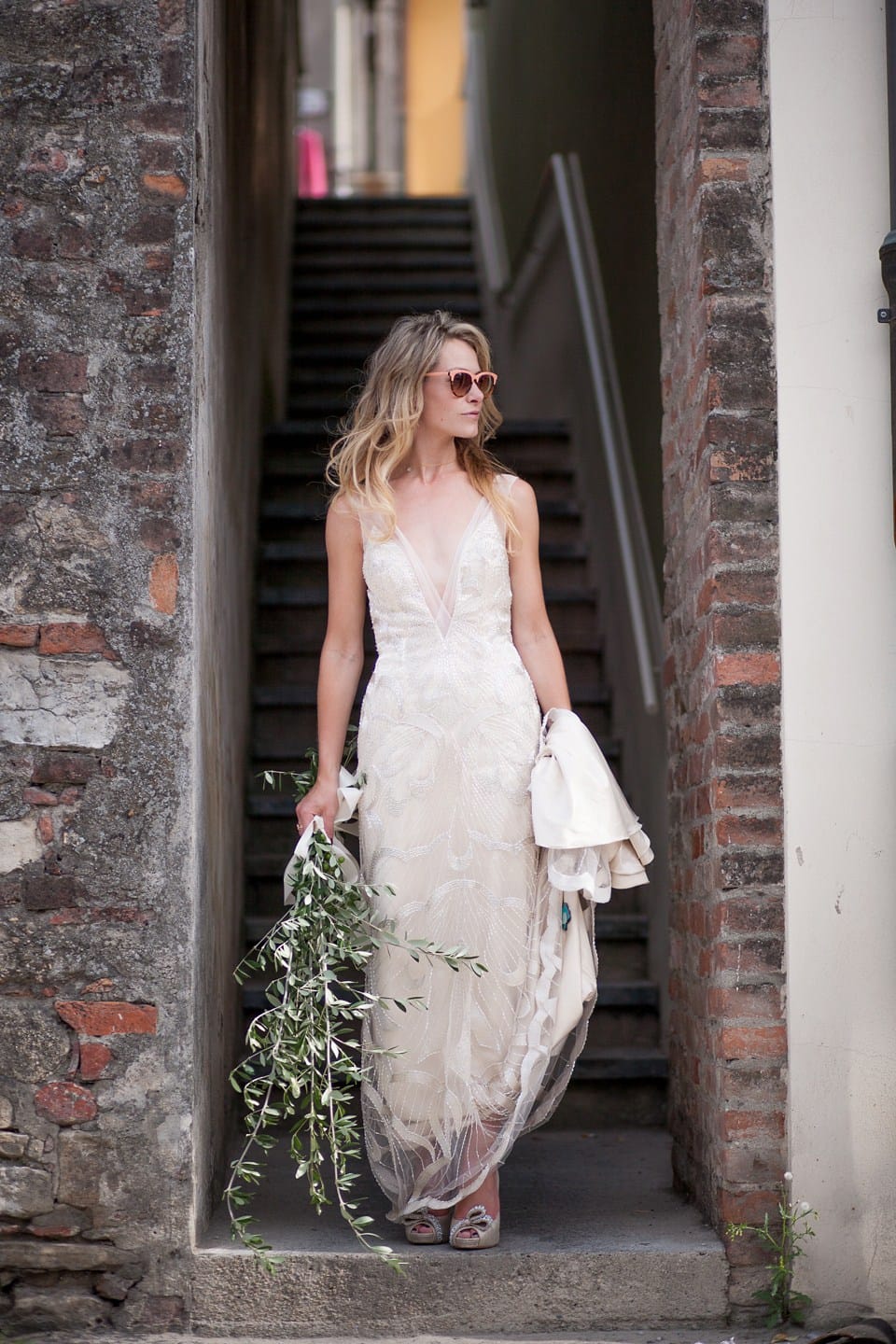 How did you and your partner meet?
We met in Vancouver in December 2008 and started dating a few months later. We lived mere blocks from one another on the Westside of Vancouver for years before meeting one fateful evening in December 2008, on the Eastside. After two hours of our constant across-the-room eye contact, my best friend ran an interception by distracting Mike's party date, thus clearing the way for me to make a beeline for Mike. "We don't have much time…," I said, – and the next 30 seconds involved quick introductions, another Christmas Party invite for the following weekend and an exchange of numbers. I dashed away leaving Mike's date none the wiser. The rest is history. We were friends for almost six months, before our first date on 8th May, 2009, and within a couple of months, we were Europe-bound for an extended vacation where we spent seven weeks really getting to know each other in Italy, Spain, Holland, Ireland and France—one full month of which was spent in Lucca, Tuscany, where Mike was treated to my handmade gnocchi. There was simply no going back after that!
How did they propose?
We got secretly engaged in December 2012 on the Pont Louis-Philippe in Paris, and then had our "official" engagement celebration in southern Spain a few months after that.
Where did you get married?
In the Barolo vineyards in La Morra, a small Piemonte town in northern Italy.
Did your wedding have a theme?
We chose a vintage Italian countryside Vanity Fair style.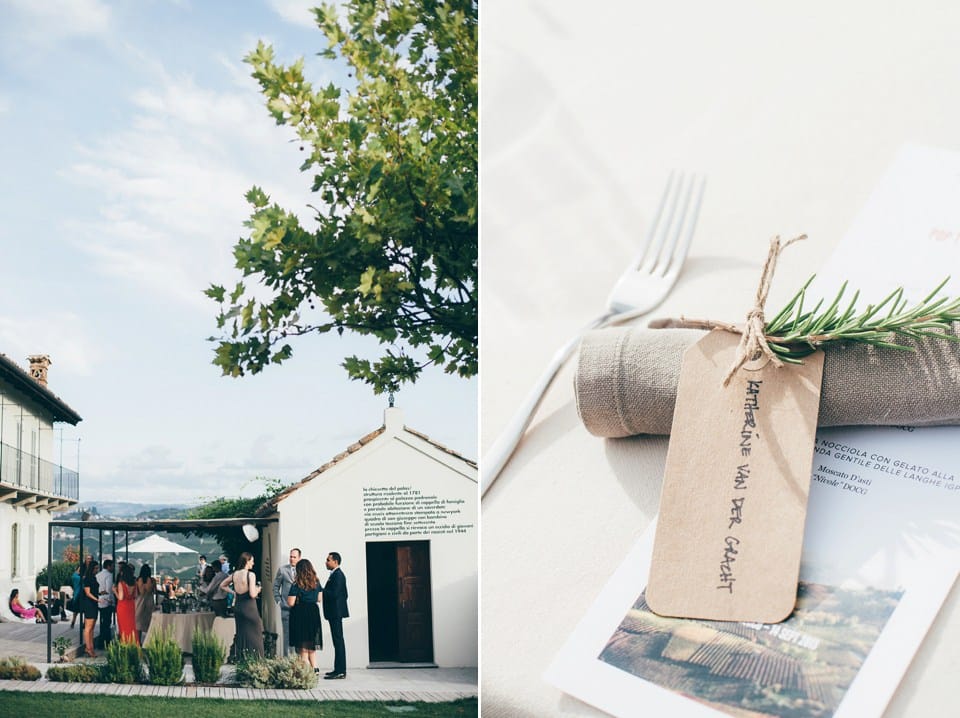 How did you decide what you wanted your wedding to look like?
The most important thing to us regarding our wedding day was ensuring a memorable, over-the-top, weekend-long celebration for all our guests. Nothing from a wedding "must-do" list or anything cookie-cutter. We wanted to create a never-before-seen or felt experience for all while introducing our guests to a gorgeous and unique setting in which we knew they would fall in love. It was a whole weekend-long affair and "destination wedding" in its truest sense. The backdrop of the gorgeous rolling hills and vines provided all the natural touches we needed. We chose to keep things natural and opted not to hire a florist, feeling that the environment provided all the natural beauty required for the day.I chose a simple lofty "bouquet" of fresh olive branches tied together with cream ribbon. Mike sported a boutonnière of olive branch stalks featuring tiny, green, unplucked olives on his Dries Van Noten suit. Dinner tables were set with simple arrangements of fragrant rosemary sprigs, fresh lavender stems, and bundles of green olive branches.
What was your favorite wedding day moment?
The spontaneity of it all was my favorite aspect of the day – we surprised guests with trivia questions and those who answered correctly were put on the spot as impromptu MCs and speech-givers to the amusement of all in attendance. To keep it fun and light, we played "First Dance Roulette" whereby we acquired guests' song submissions and suggestions, and on the night of we picked from a hat. The winner? "The Final Countdown" by Europe! It was a total riot. I loved the sense of camaraderie too – from wine tours to lunches and dinners all weekend long, everyone got to spend time getting to know one another. When it came time to be goofy and have fun while parading around town on our enoteca-crawl photo shoot after the ceremony, everyone was able to let loose and be a real part of the overall wedding experience. And the after-party in the wine cellar at Palas Cerequio was off the hook. We danced (sometimes on the bar!) until three in the morning.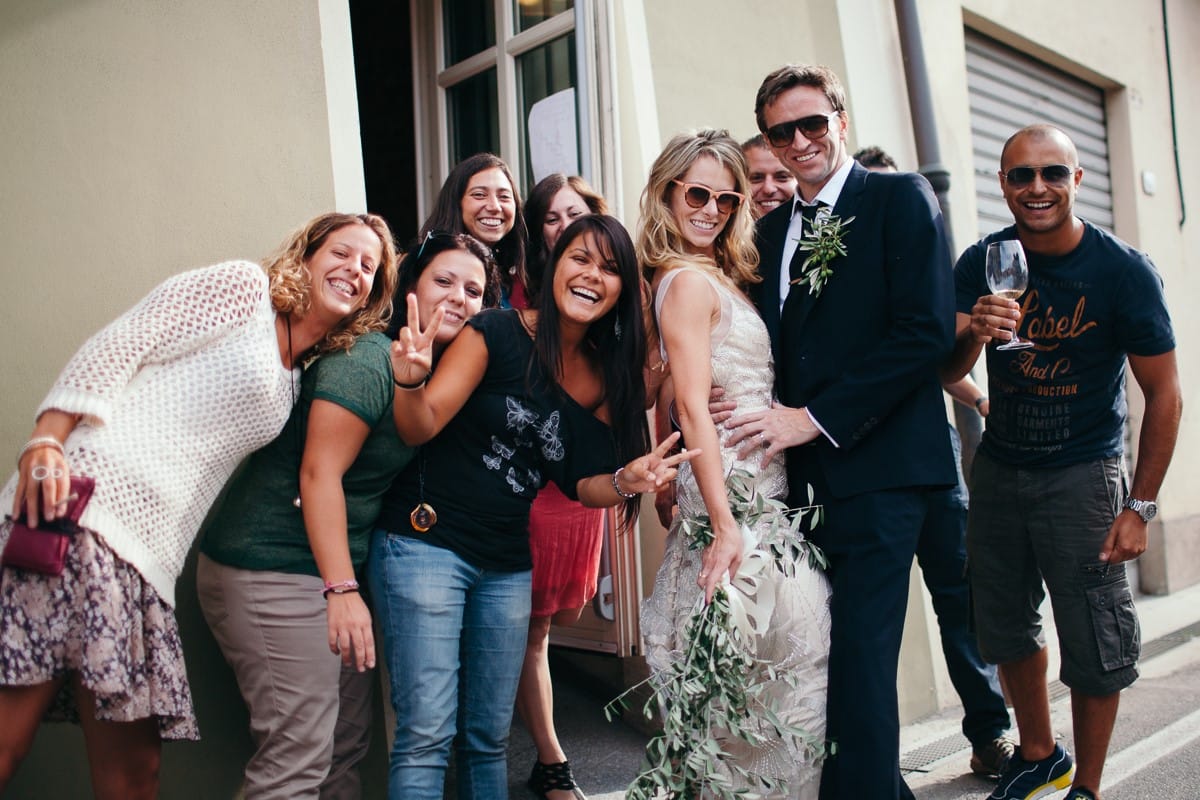 Describe your wedding in one word.
Incomparable.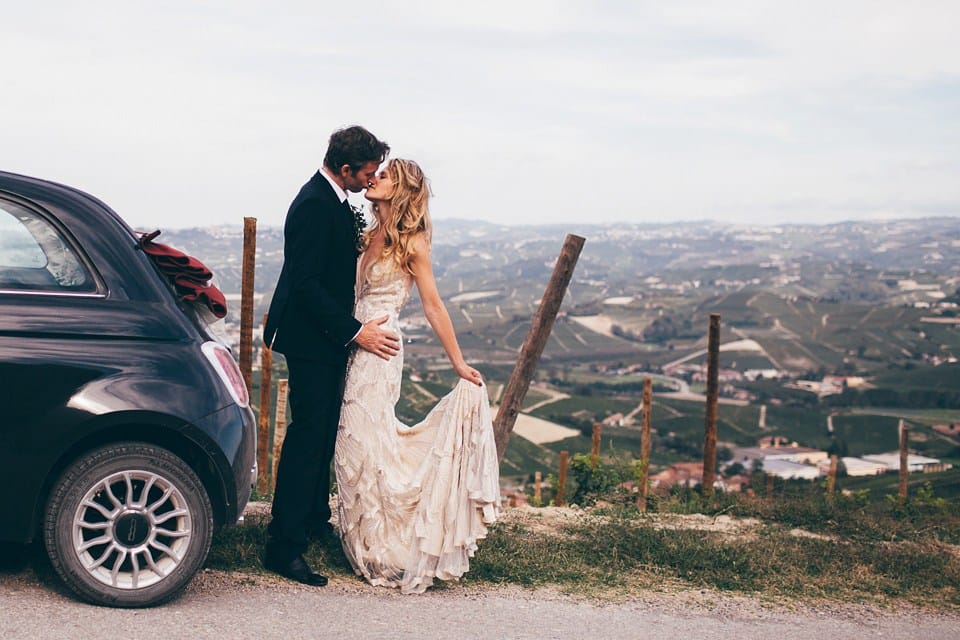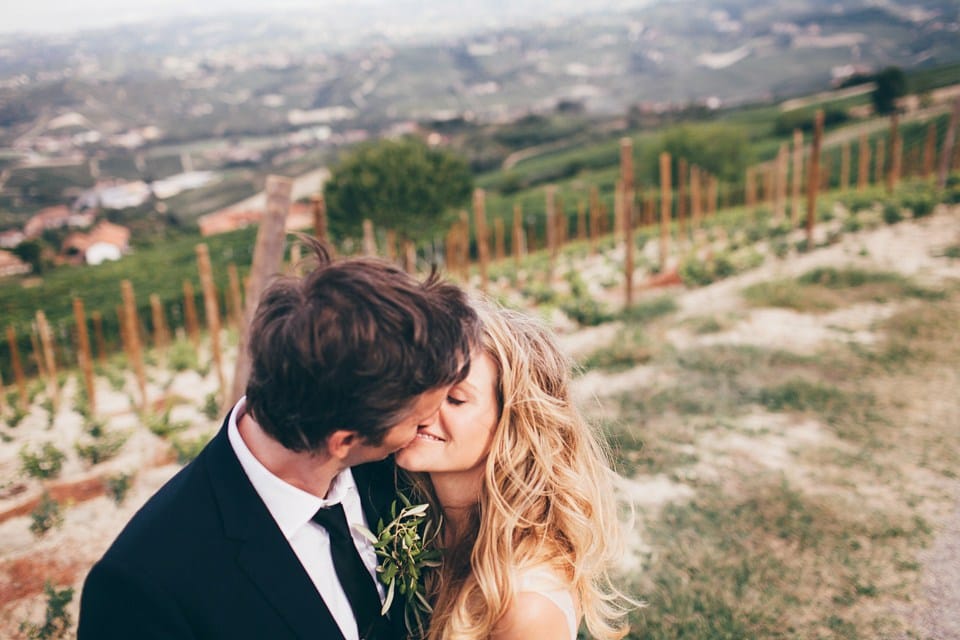 What advice do you have for future brides?
Ditch the checklists for weddings. Dream up how you want your guests to feel and create that experience with a clear vision in mind, not the so-called "must-dos." No one remembers your cake, colors, flowers, speeches or signs. Spend time thinking about the photos and memories you'll want to create and how you will accomplish them. Keep your guests involved and interacting with one another all weekend. These organic experiences will build lasting memories of your wedding. It doesn't matter if the ribbon matches the napkins that match the menu font that match the bridesmaid sashes! Plan an experience for your guests – how do you want them to feel at the ceremony, reception, etc.? Will they remember the nitty gritty décor details? They will not. Focus on creating a fun and inviting and memorable experience that people will be talking about for years to come. Legitimately make it the #bestweddingever! Everything about the entire weekend was perfect – we just went with the flow and enjoyed ourselves. Wouldn't change a thing.