Dresses
|
February 27, 2018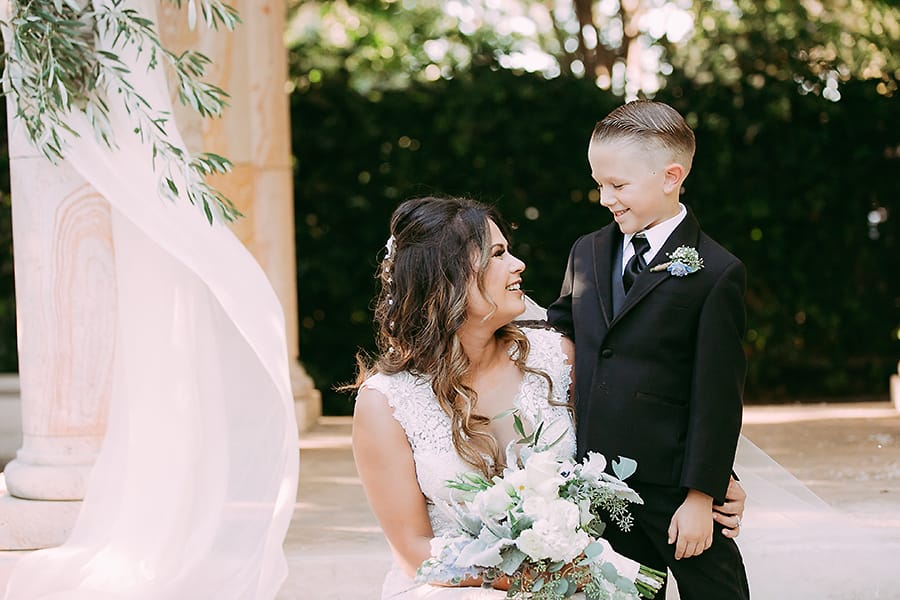 Talk about major romance movie vibes—today's real couple met in junior high and were friends for over a decade before they tied the knot! We love how this bride put special thought into creating a soft and timeless wedding-day look, from the muted palettes to the DIY centerpieces. Keep scrolling for all the pretty details…
This breezy occasion was captured by Anita Martin Photography
Head to an Authorized Retailer to find your perfect Sottero & Midgley gown today.
Which Maggie Sottero gown did you wear?
Wyatt, purchased at the Trudys Brides.
How did you know when you found "the dress"?
Before finding my dress, I went to multiple dress stores and tried on a variety of styles to make sure I explored all my options. I remember the dress consultant who was helping me that day walked by me with the dress in her hand, and I was like "Oh, what is that?" The pattern of the lace was so different—it wasn't something I would have pulled just by looking at it. But I tried it on anyways, and the second I looked in the mirror I knew it was it! I had to have that dress.
| | |
| --- | --- |
| | |
What was your favorite part of the dress?
How can I pick one favorite part, the dress was the complete package for me. It had a vintage feel with all the beautiful detailed lace and buttons down the back; it was formfitting and sexy with the deep neckline, but still classy with the illusion mesh chest to keep everything tucked in and together. The thin built-in silver beaded belt hit my waistline perfectly and the champagne undertone of the satin beneath the lace made every little detail pop. Most of all it made me feel glamorous and flawless.
| | |
| --- | --- |
| | |
How did you and your partner meet?
Brian and I met in junior high. We hung out with the same group of friends, and in high school we became better friends when we had classes together and started spending more time together. After graduation we remained the best of friends and have shared many memories throughout the years—proms, parties, birthdays, relationships, and breakups. We were always been there for one another for all the big and small moments in each other's lives. Soon twelve years of friendship became more—I guess it was all in the timing. After dating for three and a half years Brian finally popped the big question. .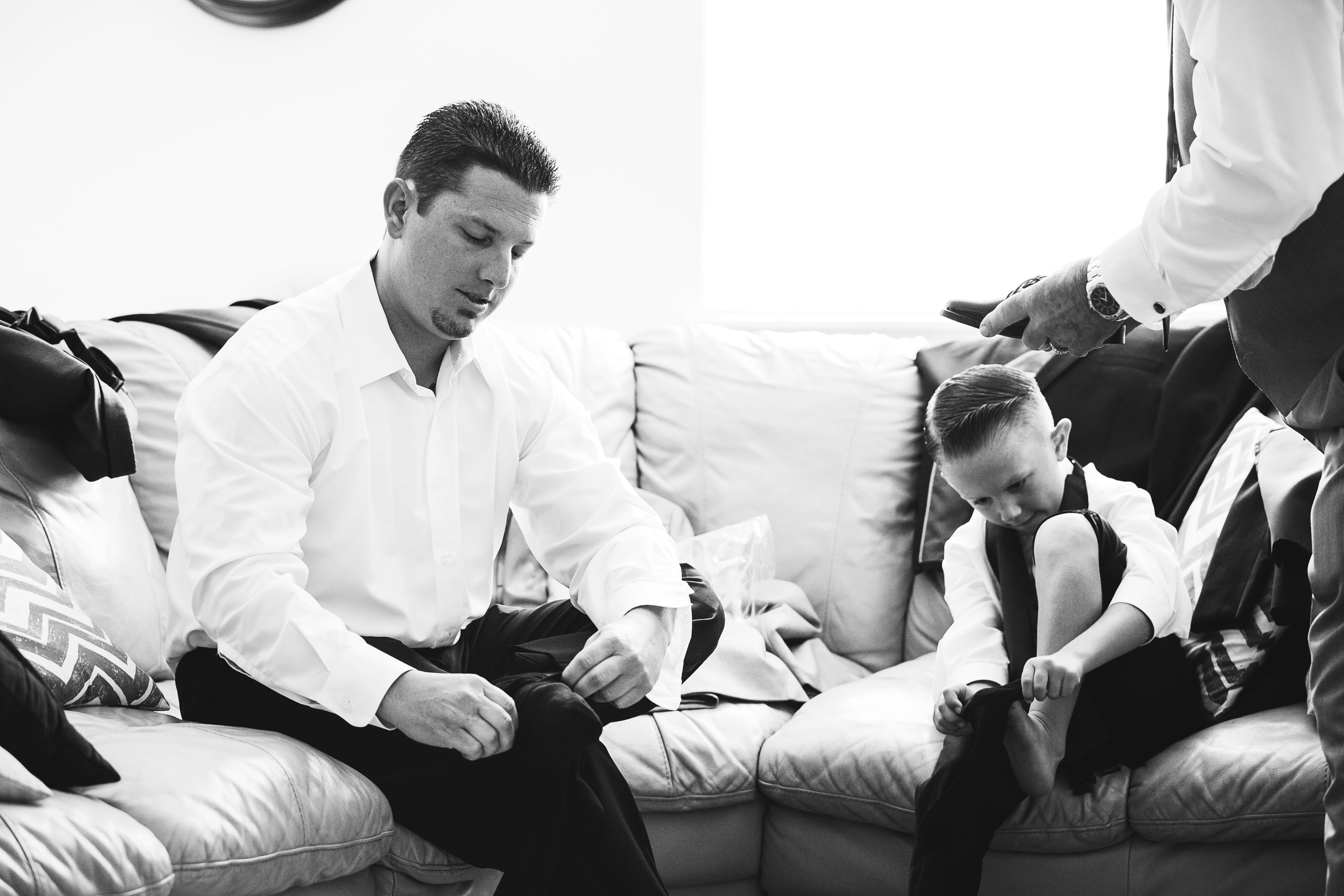 How did he propose?
Brian planned the big day around the Super Bowl on February 7th, 2016. It was the perfect time—we were already having all our family and friends over to watch the game, and I wouldn't suspect anything since he always said he would do it in private with just the two of us. Right before kick-off Brian made an announcement and asked Desirae to come to the living room. He then said, "Everyone thinks they are here for the game, but really we are here so I can ask my best friend to spend the rest of her life with me." Of course I didn't believe him. In fact I said, "No you're not!" Then I realized Cameron (Brian's six-year old son) was wearing a shirt that said, "Soon to be Family of 3." I was completely caught off guard, surprised and emotional. Of course I said, "YES!"
Where did you get married?
Brownstone Gardens in Oakley California.
Did your wedding have a theme?
Not really, I guess it was a bit of a mixture of vintage, rustic and shabby chic touches.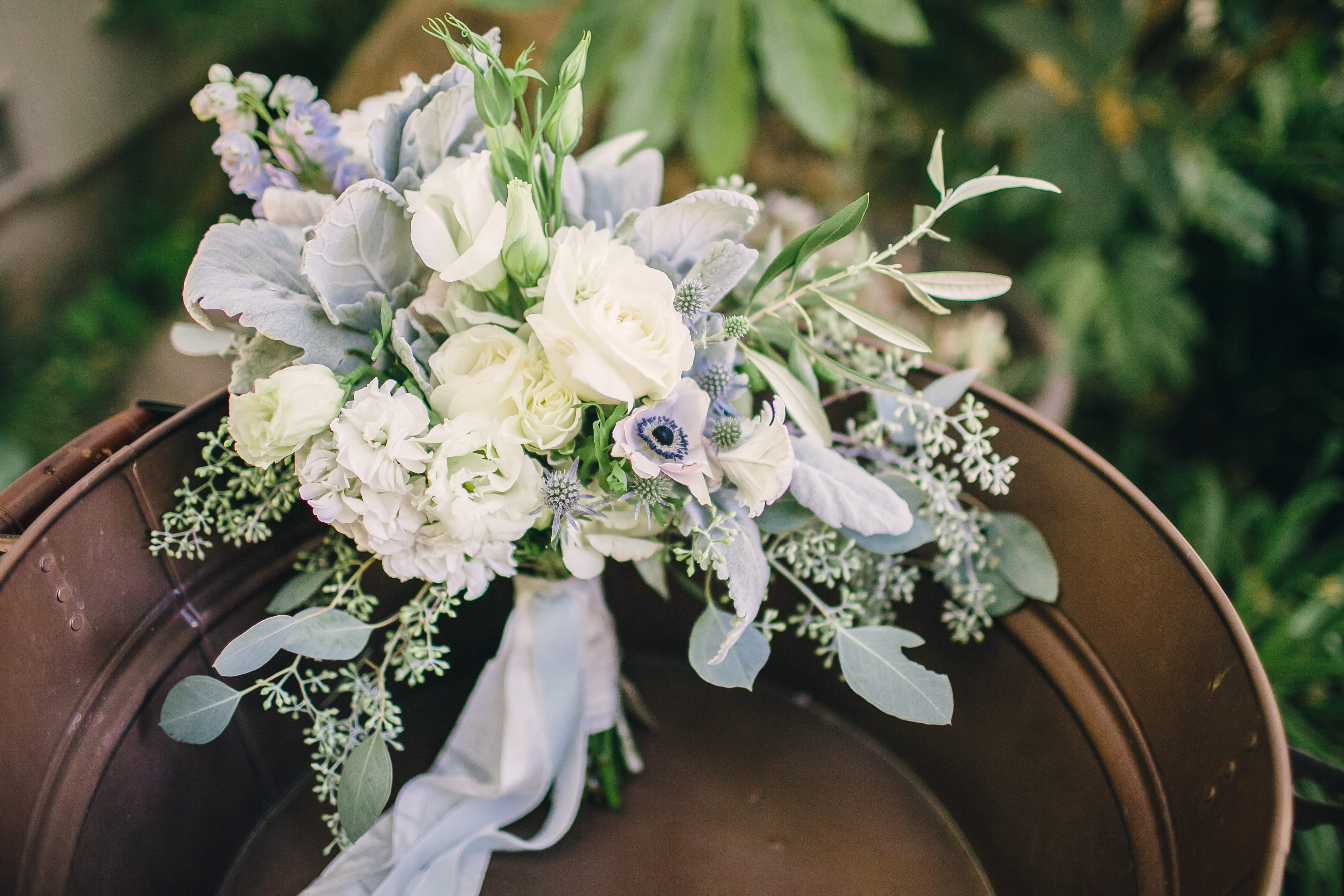 How did you decide what you wanted your wedding to look like?
I am almost the last of all my girlfriends to get married, so I have seen it all. Plus like every other girl out there I spent hours/years looking through Pinterest planning my future wedding. So I knew I wanted our wedding to have a timeless look, something I could look back at in 20 or 30 years and still love. I didn't want anything too trendy or any loaded bright colors. That's why I picked the soft, muted, blues and greens that I fell in love with while bridesmaid dress shopping with my girls. I didn't really know what colors to go with until that point. After the colors where picked everything else fell into place. I was very picky and specific on where I wanted things and how I wanted them to look, every little detail was important to me. I took pictures and put every centerpiece in a box labeled and ready to go. I put together and found all my own decorations and centerpieces, all except for the flowers. My florist did an amazing job bringing my Pinterest floral dreams to life. I was really stressed out about how everything was going to come together since I couldn't set up myself but the day of the wedding I let it all go and let everyone else do their jobs and it came out perfect.
| | |
| --- | --- |
| | |
What was your favorite wedding day moment?
The whole day was perfect but if I had to pick one moment it would be my seven-years old step son, Cameron's, surprise speech. He was adorable and touched my heart with every little word he said. He brought tears to every guest that attended. It was a very emotional and special part of our wedding day.
Describe your wedding in one word.
Breathtaking.
What advice do you have for future brides?
Take it all in—every second of the process and even more of the big day because it all flies by so fast, the next day your left feel like…what happened? The few weeks after you go through all these emotions of being happy and excited for the future and that it happened, but sad that it's all over.