Style File
|
May 28, 2016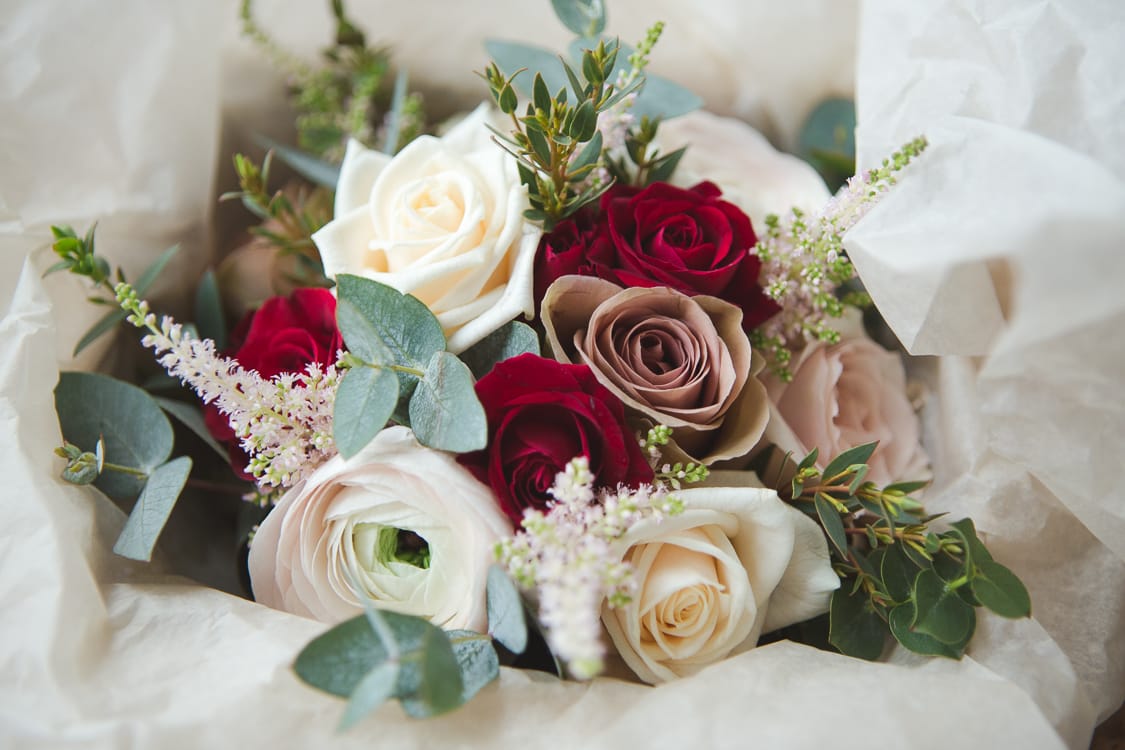 Ahh, roses. We love them, but not because they're particularly groundbreaking. It was sweet to get a long-stemmed, crimson rose from your high school boyfriend on Valentine's Day, but the guy who gave you a cactus or an orchid was just so much more intriguing, you know? So how do you approach the question of roses on your big day? They're a wedding staple and come in a seemingly endless array of colors and cultivars, but on journey of wedding customizations it's tempting to look for the roads less traveled by. Here are twelve reasons not to pass on roses for your big day, despite your flair for the idiosyncratic:
1.
Roses are inexpensive and easily accessible. You won't have issues getting commercially grown roses at any time of year except Valentine's Day and Mother's Day due to increased demand.
2.
Roses come in a variety of shapes and hues. From tiny antique buds to full, blushing grandifloras, roses are suited to nearly any shape or texture of bouquet, and come in shades of pink, orange, purple, yellow, red, white, ombre, and even blue colors! (Truly black roses, on the other hand, have yet to be perfected. The Turkish Halfeti rose comes close; it appears midnight-black to the eye but is in fact dark crimson.)
3.
Roses have a rich and fascinating history. The oldest fossils of roses are about 35 million years old (found in Colorado), and cultivars have graced the pages of Chinese, Middle Eastern, European, and North American history for centuries.
4.
Damask varieties of roses smell incredible. This bouquet of fruity, minty, citrus, and sweet notes interacts with various receptors in our noses and brains, creating all sorts of sensory delights!
5.
Roses evoke classic Americana. Wild roses are native to the U.S., and in the 17th century Samuel de Champlain brought the first cultivated varieties to North America. In 1986, President Ronald Reagan certified the rose as the national flower of the United States.
6.
Roses are incredibly prolific. The oldest still-growing rose is at the Cathedral of Hildesheim in Germany, and is estimated to be 1,000 years old. The largest rosebush in the world is in Tombstone, Arizona: it grows from a six-foot wide trunk and spreads across an 8,000 square foot arbor. Its original root was brought from Scotland in the 19th century!
7.
Roses are ubiquitous in art and literature. They symbolize love, friendship, and celebration, and evoke all kinds of sentiments and histories. From Shakespeare's "A rose by any other name would smell as sweet" to the classic folksong "Yellow Rose of Texas," this bloom has made an indelible mark in our cultural history.
8.
Roses are edible! The petals taste soft and fragrant, and rosehips are tangy and full of Vitamin C. (Love edible flowers? See more on our list here.)
9.
Roses are steeped in mythology. The Romans believed white roses were the fallen tears of Venus, the goddess of love and fertility. Legend also has it that Venus's son Cupid is responsible for the thorns on a rosebush: Cupid accidentally shot an arrow into a rosebush after being stung by a bee, causing the stems to grow thorns.
10.
Certain cultivars of roses are named after some fantastic women in history, including Princess Grace of Monaco, Dolly Parton, Agatha Christie, Amelia Earhart, and Ingid Bergman. (Plus a couple of uber-talented men like Mark Twain and Freddie Mercury.)
11.
Roses make excellent confetti! Imagine walking through clouds of pale pink rose petals as you make your grand exit.
12.
Roses are perfect for a June wedding; it's National Rose Month!