Tips and Trends
|
March 2, 2021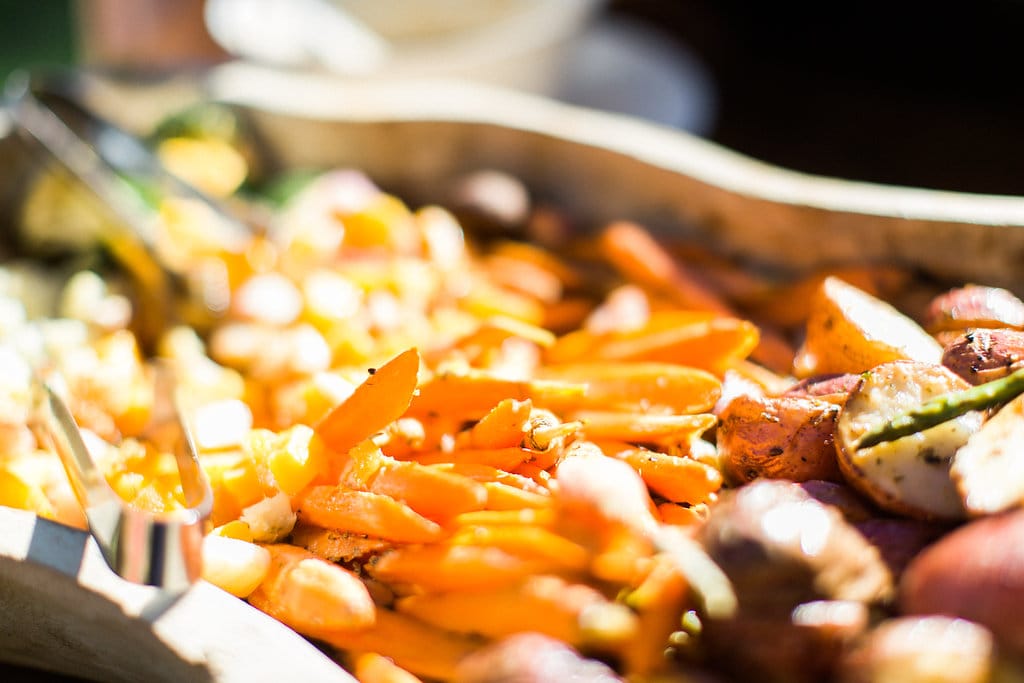 You have all your wedding details in order, including your perfect wedding dress, venue, and color palette. But with just months (or weeks) to go before you say "I do," you've probably started thinking about how to feel and look your best on your wedding day. If you're overwhelmed with where to start, don't worry! We've compiled a list of 10 foods to avoid before your wedding so you not only look but also feel your absolute best on your special day.
1. Dairy
Studies show that regular milk, cheese, and yogurt consumption is linked with moderate to severe skin breakouts. Additionally, if you are sensitive to dairy products, you may experience bloating and cramps. Stay clear of dairy close to your wedding with the exception of Greek yogurt, which will actually aid your digestion and is packed with protein to help you feel full longer.
2. Carbonated Beverages
Anything from soda to champagne should be avoided at least three days before your wedding. In short, if it has bubbles, stay away. As innocent as drinks like sparkling water may seem, they release carbon dioxide, making you feel bloated and gassy. So, this is definitely a food to avoid before your wedding.
3. Salty and High Sodium Foods
Salty snacks are one of the top foods to avoid before your wedding. Foods that are high in sodium cause your body to retain water, which in turn causing bloating and sluggishness. Too much salt in your diet can also cause headaches. Try to stay under 2,000 mg per day during the days and weeks leading up to your wedding.
4. Beans
We will say one thing: beans are a good source of non-meat protein. But during the week leading up to your wedding, try to avoid them since raffinose, the type of sugar in beans, isn't digestible in the human body. Once this sugar hits the intestine, your stomach bacteria try to break it down. This produces gas and bloating as a result, two things you probably don't want to experience on your wedding day.
5. Cruciferous Vegetables
Although high in nutrients and low in calories, vegetables like broccoli, cauliflower, cabbage, and Brussels sprouts contain raffinose (just like beans) as well as fiber, which both cause bloating and gas. If you must eat these veggies leading up to your wedding, or even on your wedding day, choose to eat them cooked rather than raw to help break down this gas-producing sugar before all of your wedding celebrations.
6. Caffeine
Caffeine is a stimulant and an irritant, especially to the nervous system. Caffeine is also dehydrating, which can contribute to dark circles around your eyes. For at least a month before your wedding, put down any caffeinated beverage packed with heavy cream and loaded with excess sugar. You'll thank us later!
7. Artificial Sweeteners
This is one of the top foods to avoid before your wedding day. Sweeteners like sugar alcohol (such as xylitol or sorbitol) are commonly found in chewing gum, diet drinks, and energy bars. You can usually recognize this ingredient by the -ol ending. These sweeteners are hard to digest for many people, leading to bloating and discomfort.
8. Processed Foods
Another one of the 10 foods to avoid before your wedding is processed foods. These tend to be high in sugar and salt content. This means they slow down digestion and make you feel lethargic after your sugar high has faded. Try to avoid processed foods as much as possible for at least one month leading up to your wedding. This will also help in maintaining a healthy weight before the big day.
9. Alcohol
As much as it hurts to say, avoid alcohol during the weeks leading up to your big day. Alcohol can make your skin look red by dilating your blood vessels. Additionally, it can make you appear puffy due to its sulfur-bearing gases and other qualities that weaken your immune system. to stay as healthy as possible, avoid alcohol before the wedding. However, on your wedding day, feel free to treat yourself!
10. Juice Cleanses
This last one on our list might seem surprising. However, juice cleanses are high in sugar and spike your blood sugar without filling you up. Remember that food is fuel; you will need energy to get through all of your wedding planning. This is not the time to stop fully nourishing yourself.
There you have it. We hope this list of 10 foods to avoid before your wedding has helped give you a place to start. Our final tips to avoiding these foods is to replace them with healthier foods. Replace the unhealthy options above with plenty of fruits and vegetables (except the cruciferous ones). Incorporate lean cuts of meat for protein and whole grains for carbs in your diet. Drink plenty of water and make sure you get at least 6-8 hours of sleep every night.
After doing all of this, you'll be able to wake up on your wedding day and feel refreshed, radiant, and have plenty of energy to enjoy your entire celebration!
Check out our related content below:
Mental Health and Wedding Mindfulness for Engaged Couples
The Ultimate Bridal Skincare Routine for Brides-to-Be