Tips and Trends
|
August 6, 2016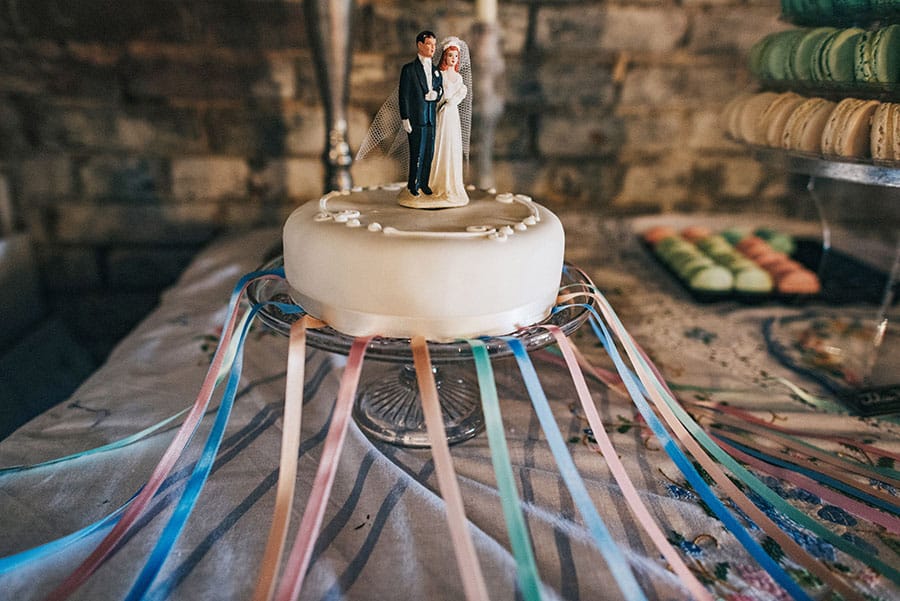 Have you heard? Maggie Sottero Designs has Authorized Retailers and real brides in over 70 countries around the world! We love browsing our international weddings for styles, ideas, and cultural practices that make each bride beautiful and unique. Check out our list of customs and traditions that might inspire your own occasion:
• In Sweden, it's a lighthearted tradition for guests to plant kisses on the bride or groom when either leaves the room. In 2016 it's a gender-neutral game, so anyone can sneak a kiss to the couple!

• Another Swedish tradition sends the bride down the aisle with the financial backing of her parents: a gold coin from her father is placed in her right shoe, and a silver coin from her mother in her left.

• In countries like Afghanistan and the Congo, it's not uncommon to see a frowning bride and groom. Marriage is considered a happy occasion, but with emphasis on solemnity and respect for such a major milestone in life.

• Peruvian brides have tons of fun with the "cake pull" tradition: small charms are baked into the bottom layer with ribbons attached, and the female guest who pulls the fake wedding ring is the next to marry!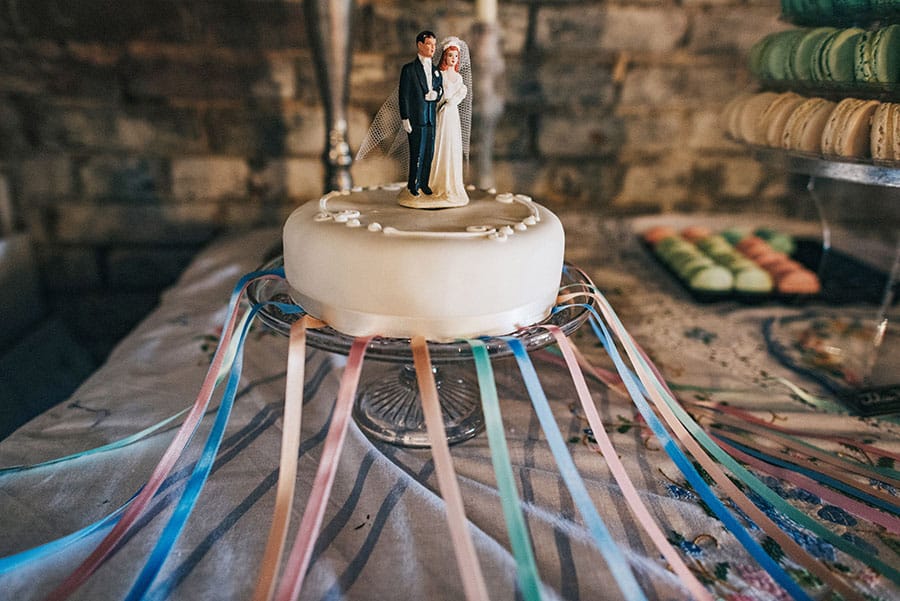 • In many German weddings, the couple cleans up porcelain dishes smashed by guests during the reception (meant to scare away evil spirits). The joint task marks the beginning of the couple's commitment to work together and solve any issues that come their way.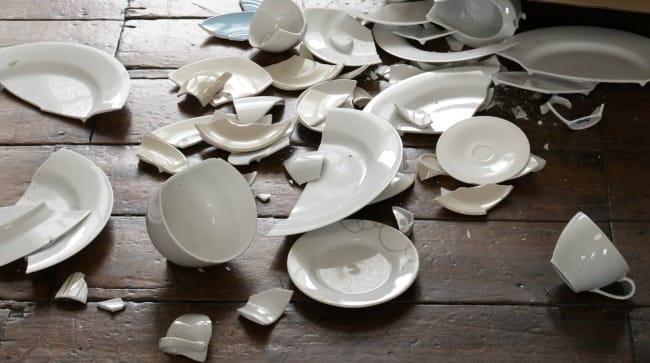 • Also in Germany, couples receive a wedding gift of twelve Christmas ornaments that symbolize happiness and prosperity: a fish, a fruit basket, a rose, a house, a Santa, an angel, a rabbit, a teapot, a bird, a heart, a pine cone, and a flower basket.

• In certain parts of China, brides and their wedding parties practice a month-long crying ritual before the wedding. Each night, the bride sits with her mother, grandmothers, sisters, and aunts for an hour, all crying in unison to form a kind of celebratory "song" to mark the occasion.

• In other parts of China, it's customary for brides to wear three distinct looks for their wedding: a traditional embroidered gown for the ceremony, a Western-style wedding dress for the reception, and a cocktail dress for an after party. Talk about too much dress-up fun!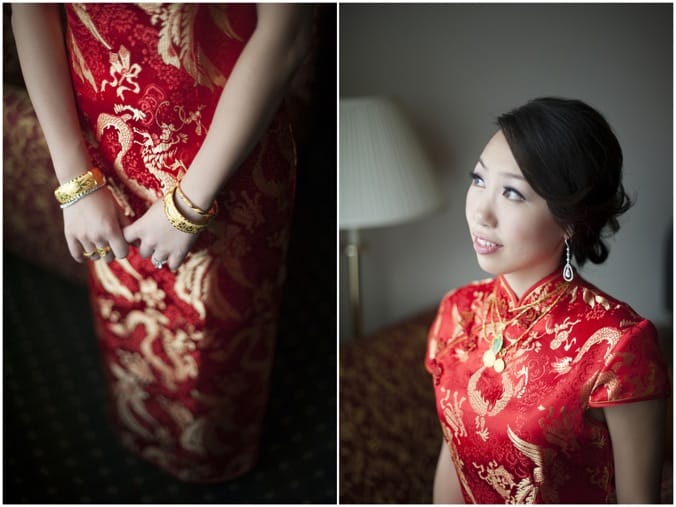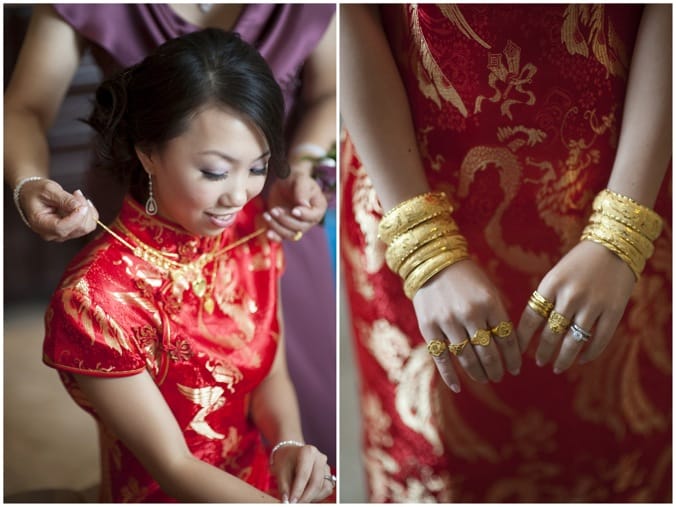 • Fairies seem to be a pest problem in Ireland: brides must keep both feet on the ground while dancing lest those spritely creatures whisk her away. Time to practice your moonwalk!

• In Wales, brides give cuttings of myrtle to their bridesmaids as a token of affection and good luck. If a bridesmaid plants her cutting and it takes root, she will be the next to marry! Click here for our post on flower symbolism and traditions.

• Jewish weddings are meant to be a mixture of joy and sadness. The groom stomps a glass cup held in a napkin as a reminder of the destruction of the Holy Temple in Jerusalem.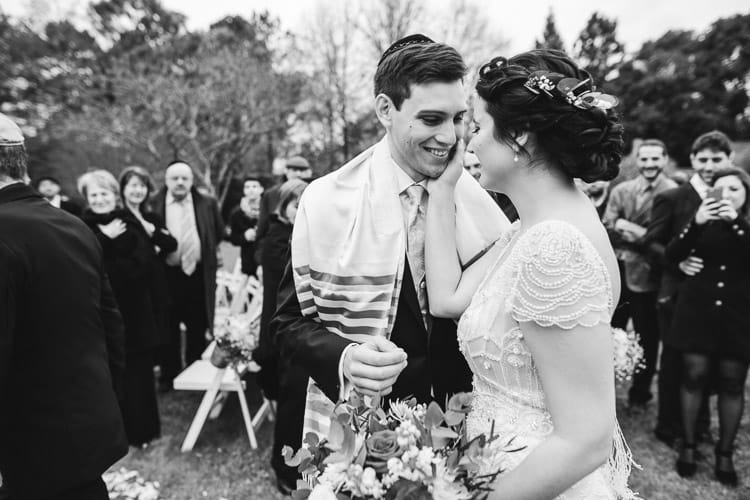 • In Scotland, some brides endure the "blackening of the bride," or a public humiliation ritual in which she is covered in molasses, mud, paint, and feathers—all to prepare her for the trials of lifelong commitment!

• Moroccan brides purify themselves with water from their rivers before their wedding.

• It used to be common practice in French villages for the groom to walk with his bride through the streets on their wedding day. Children would string white ribbons across the road in front of the couple that the bride would cut as she passed through.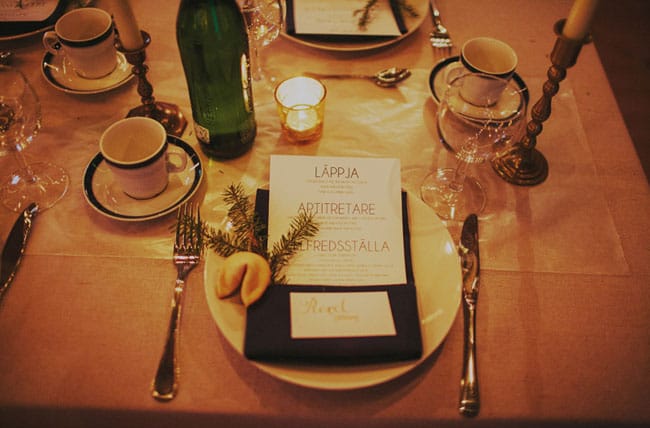 • Couples in the Netherlands host a pre-wedding cocktail party for their bridesmaids and groomsmen. It's a great way to relax and set the mood for the day!

• In Australian weddings, each guest holds a stone during the ceremony, then places it in a large bowl as a beautiful keepsake for the couple.

• Many couples in Italy believe getting married on a Tuesday or Friday is bad luck.

• In the Czech Republic, the wedding party plants a tree on the couple's big day, decorating it with technicolor ribbons and painted eggshells.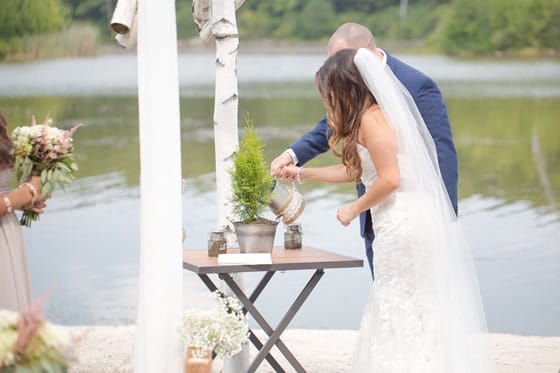 • Mexican weddings involve a "lassoing" of the bride and groom: the ceremony's officiant wraps a cord around the couple in a figure eight to represent eternal love and unity.

• In Poland, the bride and groom must pass through a series of gates or checkpoints guarded by members of their bridal party. To get through these "passing gates," the couple must give the gatekeepers a little vodka. (Best keep an eye on those festivities if you want your bridal party to walk straight!)
Love the idea of personalizing your wedding based on culture and heritage? Check out our post on family heirlooms for more inspiration!