Real Weddings
|
November 21, 2017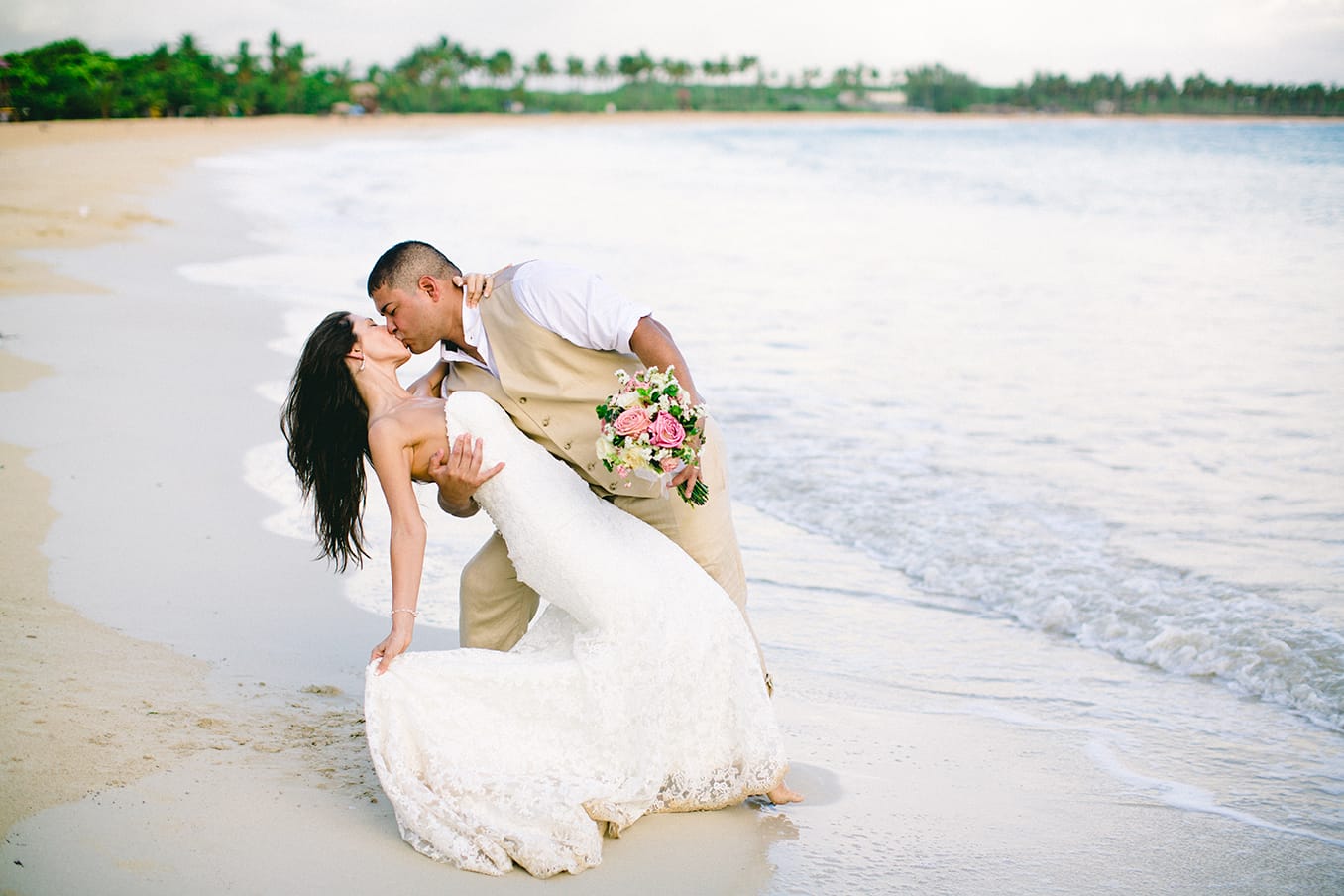 If you and your S.O. just announced your engagement in matching holiday sweaters, a steamy beach wedding probably sounds delectable right now. Like, imagine yourself booking tickets for the perfect destination, and falling in love with a romantic and lightweight gown, and inviting your nearest and dearest to a one-of-a-kind weekend getaway… then the day finally arrives and you leave your icy driveway and Netflix behind for a dreamy tropical haven, and you step off the plane into absolute dreamsville, and you kick off the celebration with icy drinks and extreme lounging and…
Ok, ok, ok, long story short, get inspired by this steamy boudoir shoot and love story in Punta Cana, shot beautifully by Katya Nova Photography.
Which Maggie Sottero gown did you wear?
I wore the absolutely stunning Britannia by Maggie Sottero.
How did you know when you found "the dress"?
I knew Britannia was the one the moment I put her on. Everything I had been searching for in a dress was now pinned on me, hugging my body and looking right back at me in the mirror. I felt like this gown was embracing me and screaming "I am THE ONE!!" I had searched high and low (4 states and many stores to be exact lol!) for a backless gown but most of them have straps in order for the dress to stay up. Straps didn't flatter me and once I tried on Britannia and saw the low back with the sweetheart neckline I was in LOVE!! Throw in that amazing lace train and I said heck YES to the dress!!
| | |
| --- | --- |
| | |
What was your favorite part of the dress?
Do I have to pick just one?! My absolute favorite part of Britannia is the stunning low back! I love that this dress allowed me to have the backless dress of my dreams while keeping with the neckline that was most flattering for my body. The train is to die for! The lace and the way it scallops on the edges is incredible! I was given so many compliments about the lace on this dress—it is delicate and timeless.
How did you and your partner meet?
My husband and I met 12 years ago during a recreational game of basketball. His cousin and I are friends and she invited me to tag along with her that afternoon. My hubby and I ended up guarding one another and after quite a bit of flirting we exchanged numbers. And to think, to this day I don't know the first thing about basketball! To say that I am glad that I took a chance that day is an understatement 🙂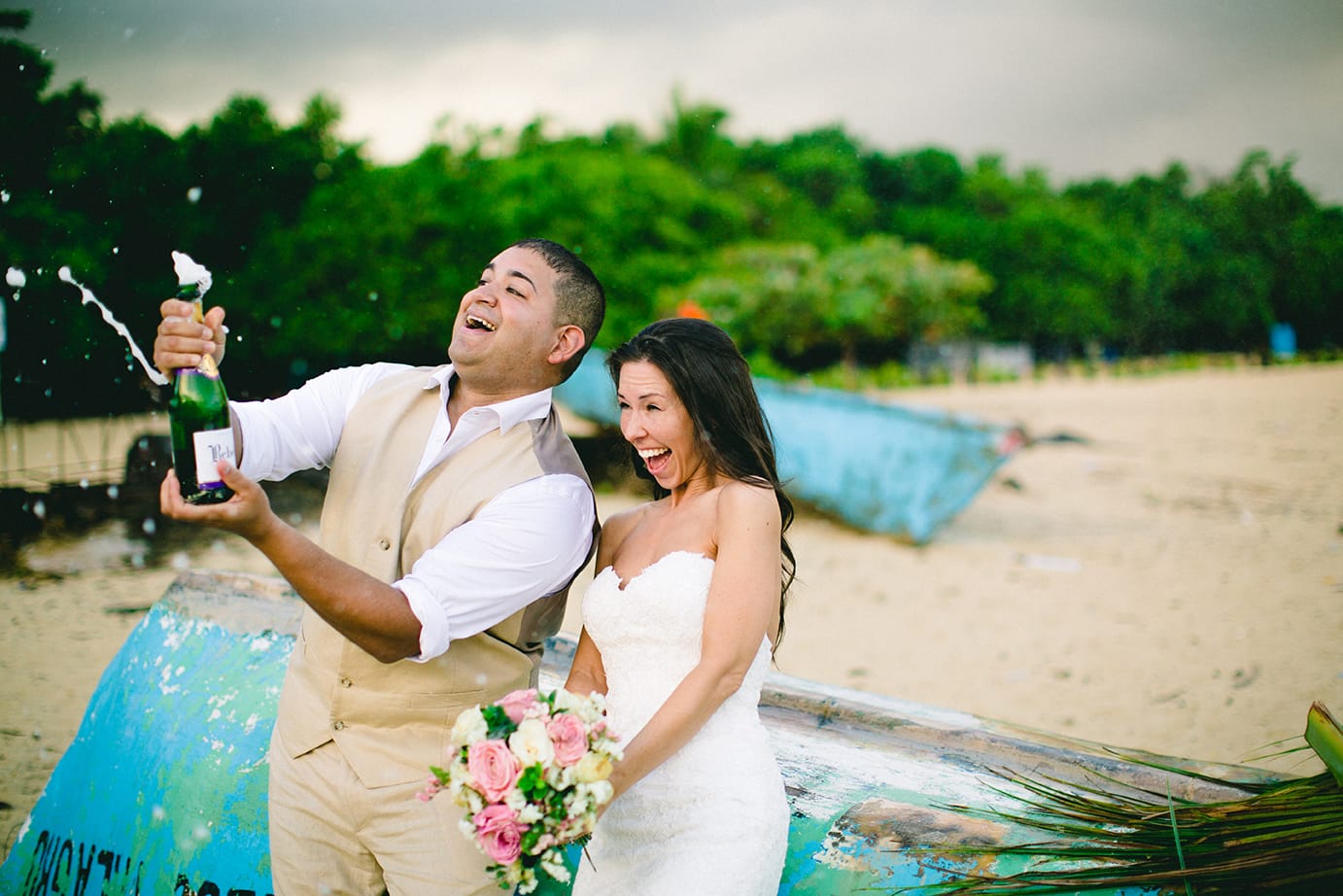 How did he propose?
Kelvin took me to Cape Cod for a weekend getaway and he surprised me with a seal cruise. We spent the morning on a small boat watching the seals (and hoping to see a shark!). When we got back to the shore Kelvin helped me off of the boat and asked if we could take a walk on the beach. We walked to this amazing area where there are weathered rocks and all you can see is the ocean on the horizon. He took my hands and told me that he loved me and wanted to spend a lifetime making memories like these, and then he took the ring out of his pocket and popped the question. I threw my arms around him and screamed yes!!! through a mess of happy tears and laughter.
Where did you get married?
We were married at Kukua Beach Club in Punta Cana, Dominican Republic, on June 20, 2017.
Did your wedding have a theme?
Our theme was soft and romantic. I really wanted our wedding to have a delicate feel, and the wedding coordinator at Kukua Beach Club nailed my vision. Our colors were blush, ivory and gold and everything was gorgeous! It felt like I had stepped into a bridal magazine.
How did you decide what you wanted your wedding to look like?
I spent hours (probably months if I am being honest) on Pinterest looking at weddings and decor. I also found several Facebook groups for Punta Cana brides, where ladies discuss decor, their venue, flowers, pretty much everything right down to the cake topper and barefoot sandals. Once I picked out Britannia, I was inspired to start planning my colors and decor vision. The lace on Britannia is so beautiful and delicate, so I knew that I wanted a soft, romantic color palette.
What was your favorite wedding day moment?
The ceremony. We had our good friend officiate the wedding, and she personalized the whole ceremony for us. Sean and I also wrote our own vows.
Describe your wedding in one word.
Fairytale!
What advice do you have for future brides?
On your wedding day stop, take a deep breath and enjoy every moment that you possibly can. Live in the moment because your special day goes by so quickly and it is gone before you know it.