Real Weddings
|
December 4, 2017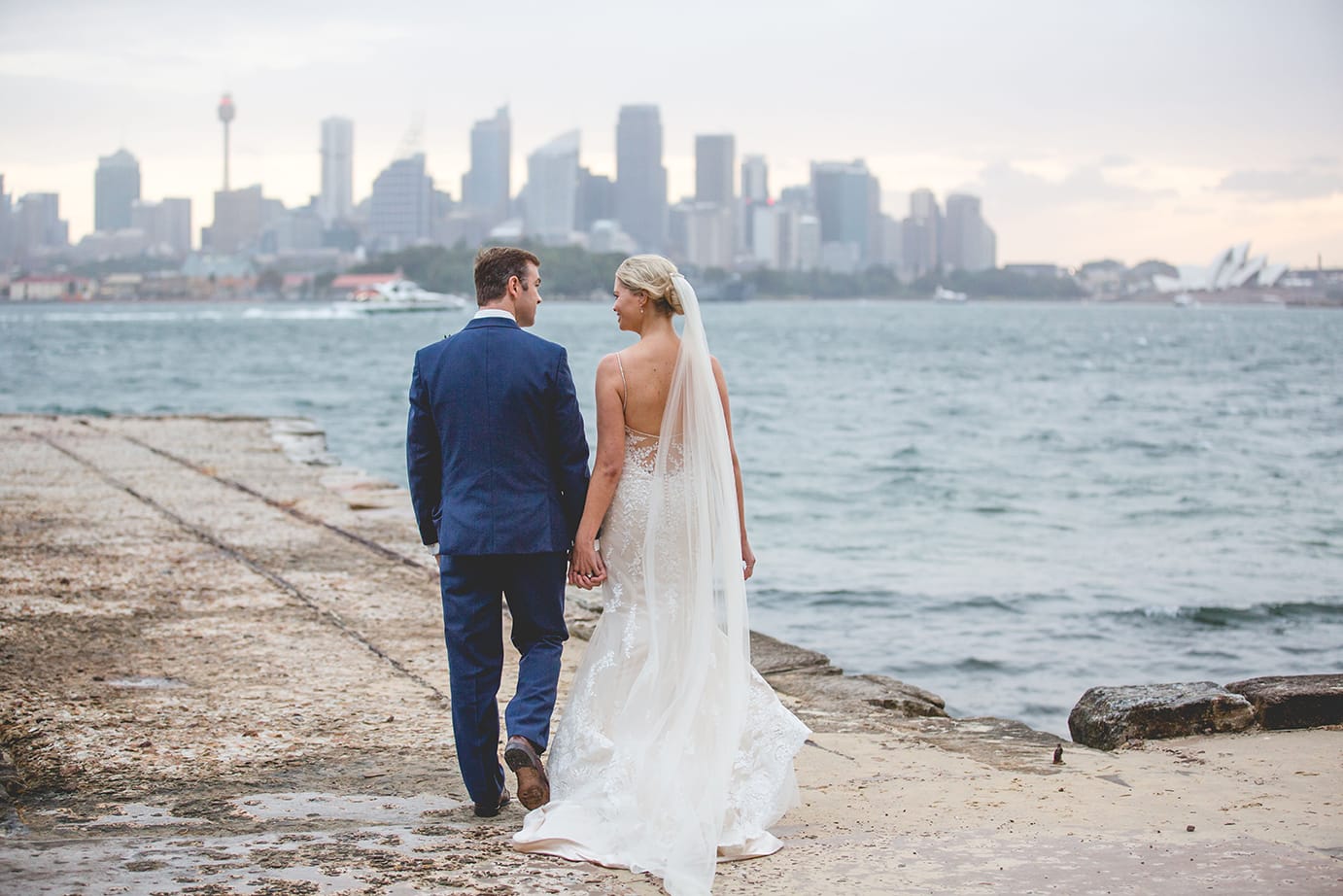 We love how today's real wedding shows how much the bride cares about her guests and sweetheart. First of all, Abby found a gown that she and her friends and family all loved. Second, she dressed her bridesmaids in oxblood, which works for a variety of skin tones. And third, she incorporated little personal details into the ceremony and reception in honor of her soon-to-be husband. Plus, Abby and Jon got engaged at the perfect location… Keep scrolling for the full love story!
Abby chose romantic Nola for her big day, featuring a striking lace hem and subtle illusion detail in the back. Find this soft fit-and-flare (with a short delivery date!) at an Authorized Retailer near you.
Images courtesy of Karina Illovska Photography.
Which Maggie Sottero gown did you wear?
Nola by Maggie Sottero.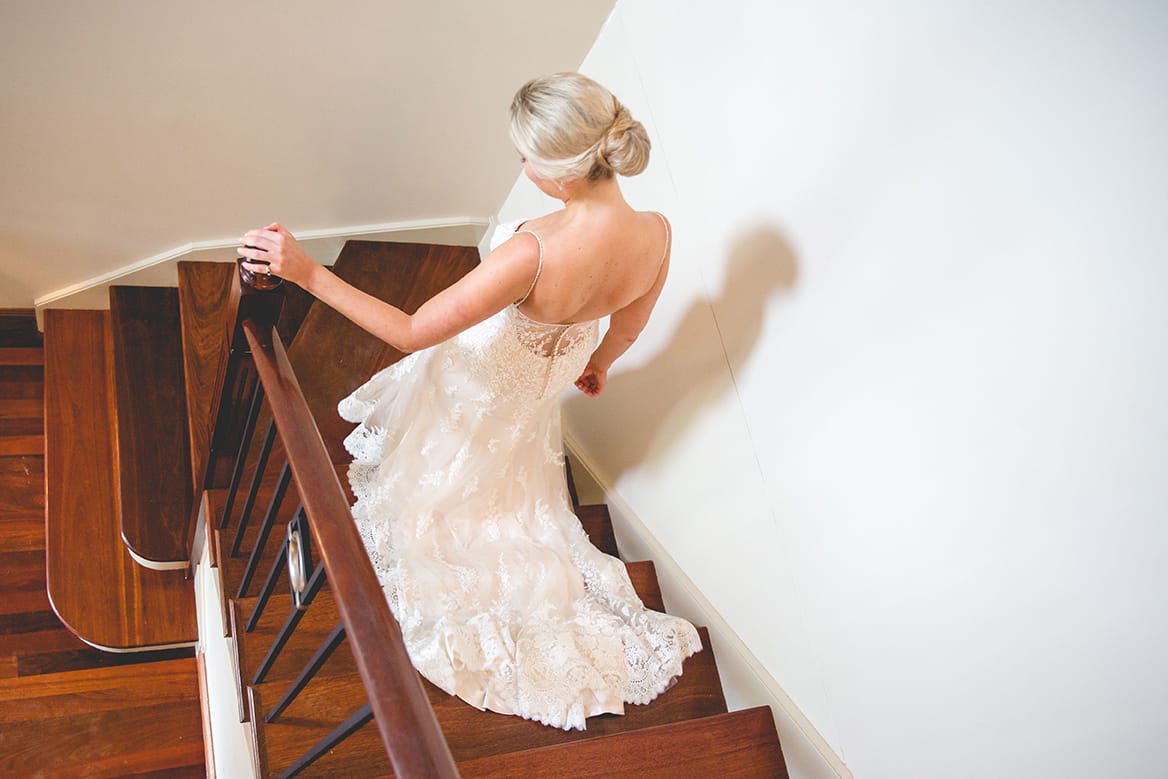 How did you know when you found "the dress"?
I found "the dress" at the second bridal boutique I visited – Abbey Bridal in Sydney (a sign perhaps?). I was really keen to go in with an open mind to soak up the full wedding dress shopping experience and spent quite a bit of time walking around the floor selecting lots of different styles to try on. But after trying 3 or 4 very nice dresses, the sales assistant suggested I try the Nola dress, and I was immediately drawn to the scalloped lace hem. It sounds cheesy, but as soon as I saw myself wearing it in the mirror, I got a bit emotional and then when the veil went on my Mum, my sister, my best friend and I all burst into tears! The sales assistant was a bit worried, but I assured her it was a definitely a good thing – we'd found "the one"! The more I looked at it, the more I loved it – the elegant lace, the beautiful sparkles and the stunning back and train, it was truly love at first sight!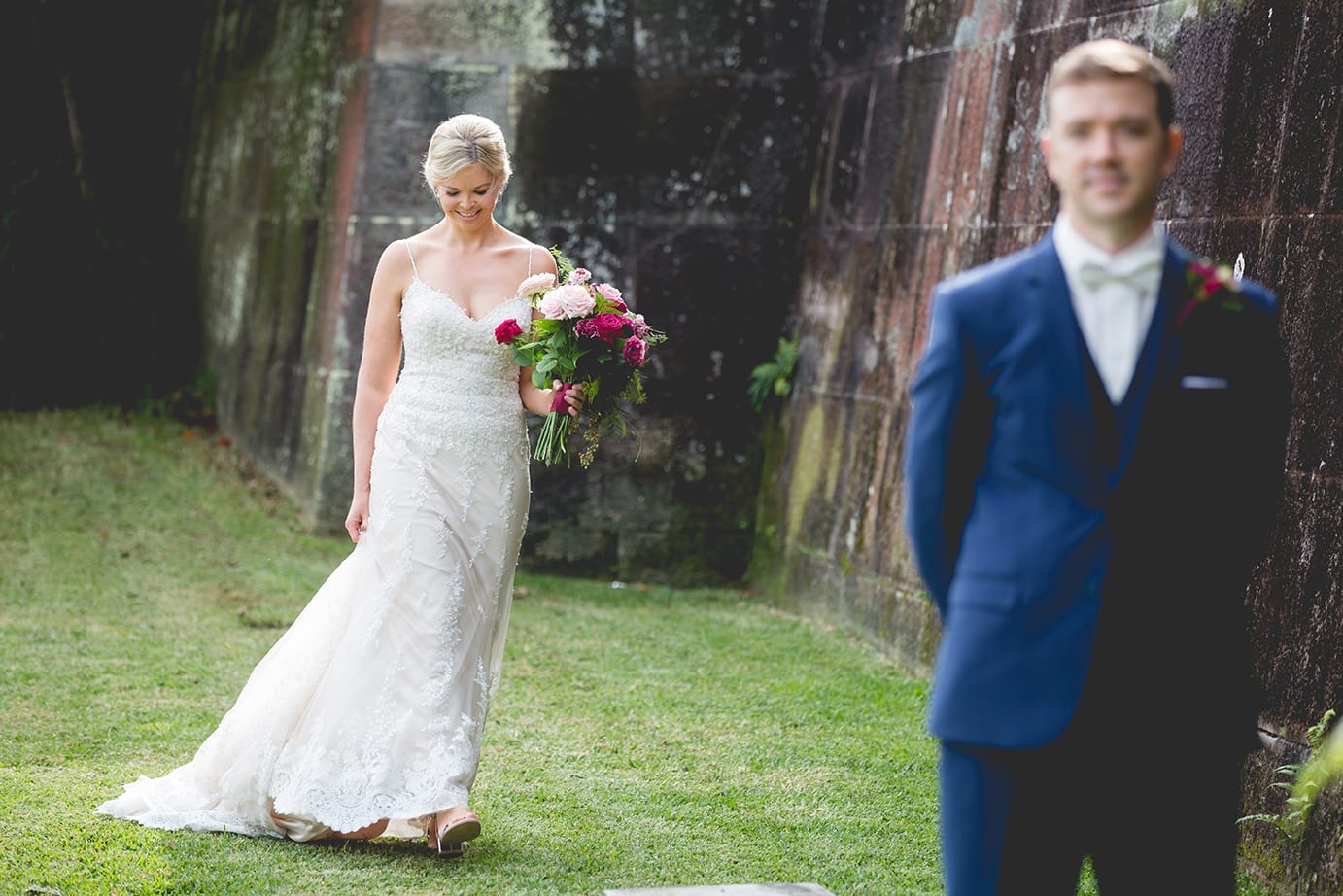 What was your favorite part of the dress?
Definitely the scalloped lace and the train – when else would you wear a dress that beautiful?
How did you and your partner meet?
We met online! I'm so glad we both took the plunge into online dating – it still carries some stigma, which is silly because sometimes it can be hard to meet someone when all your friends are coupled up. We definitely both had our fair share of bad dates before each other, but it was totally worth it to end up with Jon.
How did he propose?
We were a few days into our 3-week European holiday and had been doing a lot of sightseeing in London. Somehow Jon managed to get me up on to the highest level of the St. Paul's Cathedral dome. We walked around the tiny platform and Jon found a quiet spot where he got down on bended knee. No one saw the proposal so we were able to have some time up there just to ourselves, taking in the view and what had just happened. What I love most about the proposal is that every time I see St. Paul's in the movies, on TV or in photos, I'm reminded of that special moment.
Where did you get married?
We got married in Gunners Barracks in Sydney, Australia, in March of 2017.
Did your wedding have a theme?
The wedding had a very vintage and classical feel to it, with some really personal touches. For example, our cake topper was a bride and groom with a miniature prop from one of Jon's favorite TV shows, Doctor Who.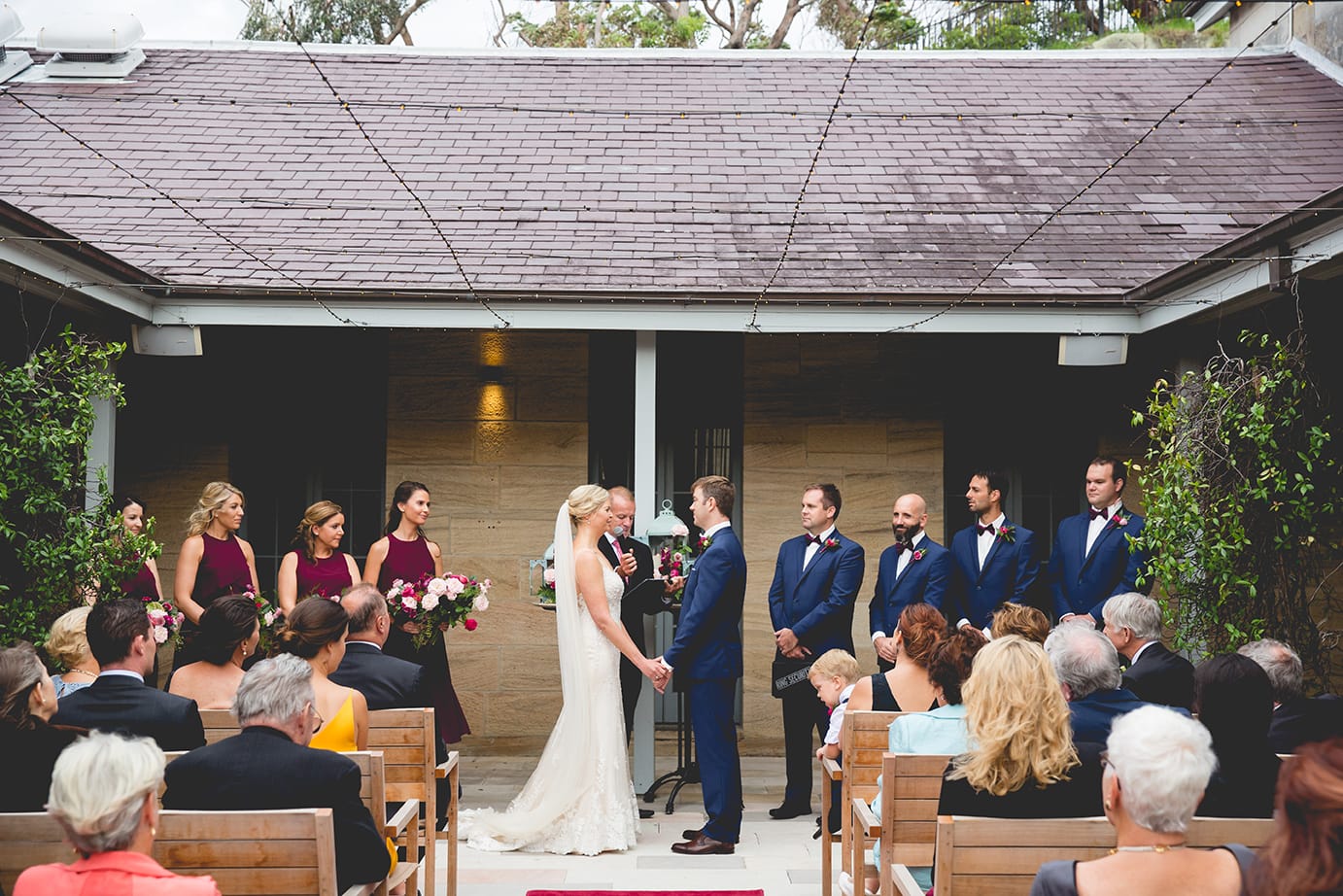 How did you decide what you wanted your wedding to look like?
It was really important to us to choose a venue that would allow us to hold both the ceremony and reception in one place, and provide a wet weather option should we need it. We wanted to makes sure our guests would be looked after while we took photos, and we didn't want the worry of organizing a wet weather option on the day. We love the look of old sandstone buildings, and were completely blown away by the views and the space that Gunners Barracks had to offer.In terms of colors, I chose oxblood / maroon for the bridesmaids dresses as it's a color that worked well with all their different complexions and suited an Autumn wedding. From there, I pulled the colors through into the flowers, stationery and signage and added soft pinks, greens and cream. The colors also complemented the ivory & champagne tones of my dress, and the boys wore navy as it was softer than black.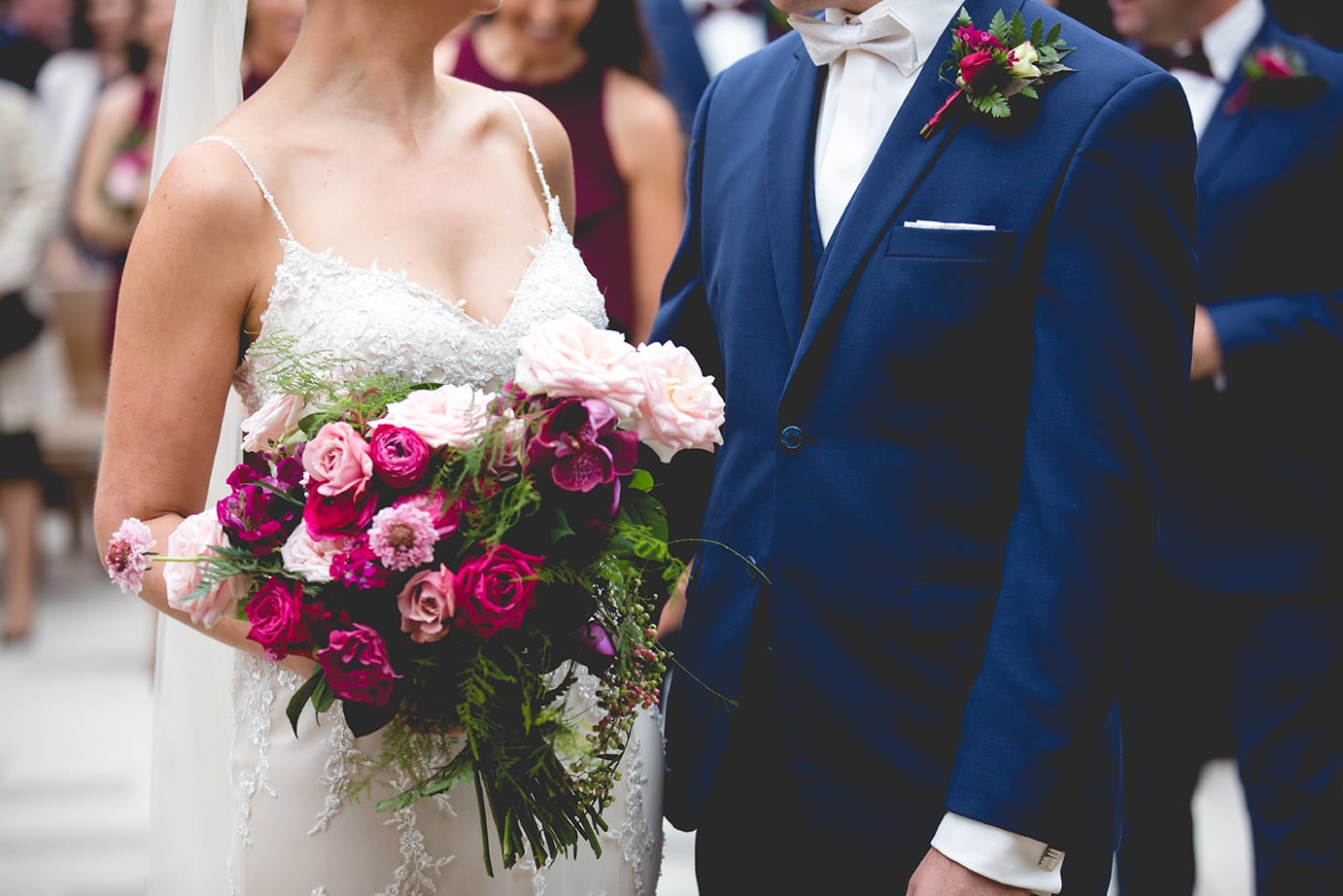 What was your favorite wedding day moment?
After the ceremony, we went down Sydney Harbor—just the two of us and our photographer. It was so nice to have a few minutes to ourselves to check in and really enjoy the special moment that was our wedding day.
Describe your wedding in one word.
Magical.
What advice do you have for future brides?
I'm quite an introvert, so the thought of walking down the aisle in front of 80+ people without tripping over or getting overly emotional made me feel quite anxious. I did a bit of research online to get some tips to help calm the nerves, and came across the 'first look' concept which is quite popular in the US, but relatively unheard of here in Australia. So, we organized for Jon & I to meet up half an hour before the wedding, with a photographer in tow, to have our 'first look' moment without the nerves and pressure of 80+ people watching on.On the day, I felt nothing but excited to see Jon and we captured some beautiful photos of just the two of us before we headed off for the ceremony. I highly recommend this as an option to anyone whose feeling a bit nervous about walking down the aisle.
Flowers by Francis Floristry / Venue at Gunners Barracks