Real Weddings
|
November 8, 2016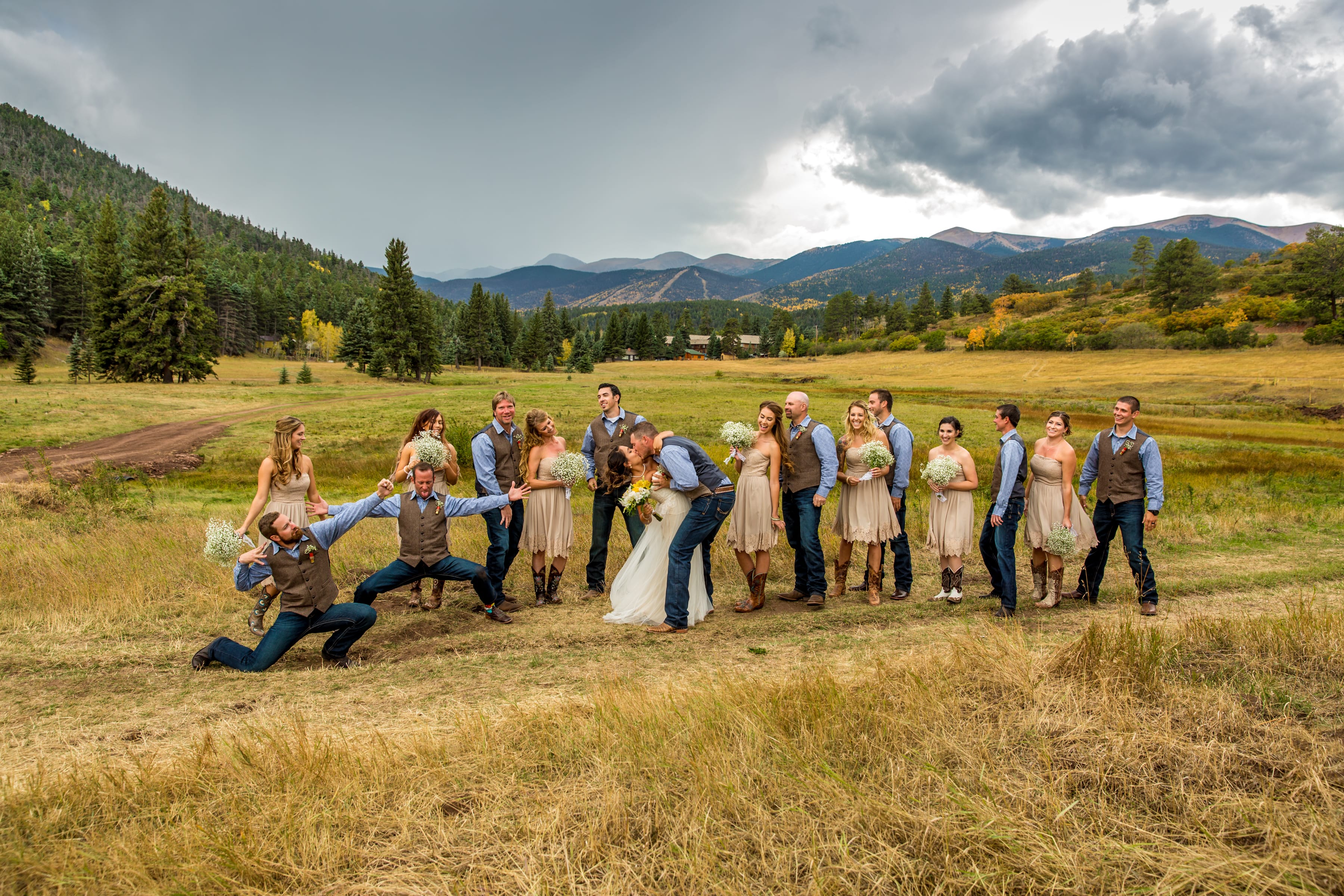 Rustic weddings are still a major trend forecast for 2017, and Maggie Bride Brooke leads the pack with her gorgeous mountain nuptials. We love everything about this wedding, from the repurposed barn and picturesque scenery to the cowboy boots and sweet-pretty-fabulous florals.
Thanks to Aldabella Photography's impeccable shots, it's abundantly clear that Brooke and Dustin are madly in love, and their guests are having a really, really good time at the reception. We so want to join the party…
Keep scrolling for Brooke and Dustin's love story, and check out our selection of lace wedding dresses and guide to DIYing your occasion.
Which Maggie Sottero gown did you wear?
Patience.
How did you know when you found "the dress"?
I cried when I put the gown on for the first time. I was in love with its simplicity, but also its intricate details on the bodice.
What was your favorite part of the dress?
I loved how the sunlight sparkled through the netting of the train as I walked down the aisle.
How did you and your partner meet?
He was my brother's best friend who had a crush on me for years. One day, I let him catch me.
How did he propose?
Our favorite places, as you can tell by our wedding, are in the mountains of Colorado. He planned a trip with his parents and mine at a hot springs area near our favorite place to camp. He set up a fake wine tasting down in the meadow by a beautiful rolling river under an arbor of Aspen trees. As I approached the "wine tasting table," he got down on one knee and said, "God gave you me in my life. Will you do me the honor? Will you be my wife?"
Where did you get married?
We were married at the Yellow Pine Guest Ranch in Cuchara, Colorado, a sweet little mountain town not far from where we live. We were married next to the pond with the changing aspens and mountainous views beside us, and the reception was held in the old barn. The ranch had many tiny cabins on the property so our families could stay.
Did your wedding have a theme?
I didn't want any one theme or strict colors. I wanted rustic mountain chic, but with a less formal, more eclectic vibe. I tried to incorporate Dustin's love of hunting with touches of antlers and wildlife, but had my touches with antique lace tablecloths and furniture, such as the blue truck.
How did you decide what you wanted your wedding to look like?
I spent so much time planning every detail. I wanted it to reflect us, our taste, our love and our passions. And it was, perfectly us!
What was your favorite wedding day moment?
Walking toward the love of my life with my daddy by my side and my family and friends surrounding us. His emotions and love for me were so raw and written beautifully on his face.
Describe your wedding in one word.
Us.
What advice do you have for future brides?
Things will go wrong or not as planned, but some of those things ended up being favorites when looking back. On the day, you have no control, so enjoy the ride. Oh, and take a shot before walking down the aisle 🙂 My dad asked me if I wanted a shot right before we walked out. He tipped the fireball under my veil and away we went! It took the edge off just enough and was a cute moment for my dad and me.