Real Weddings
|
October 16, 2017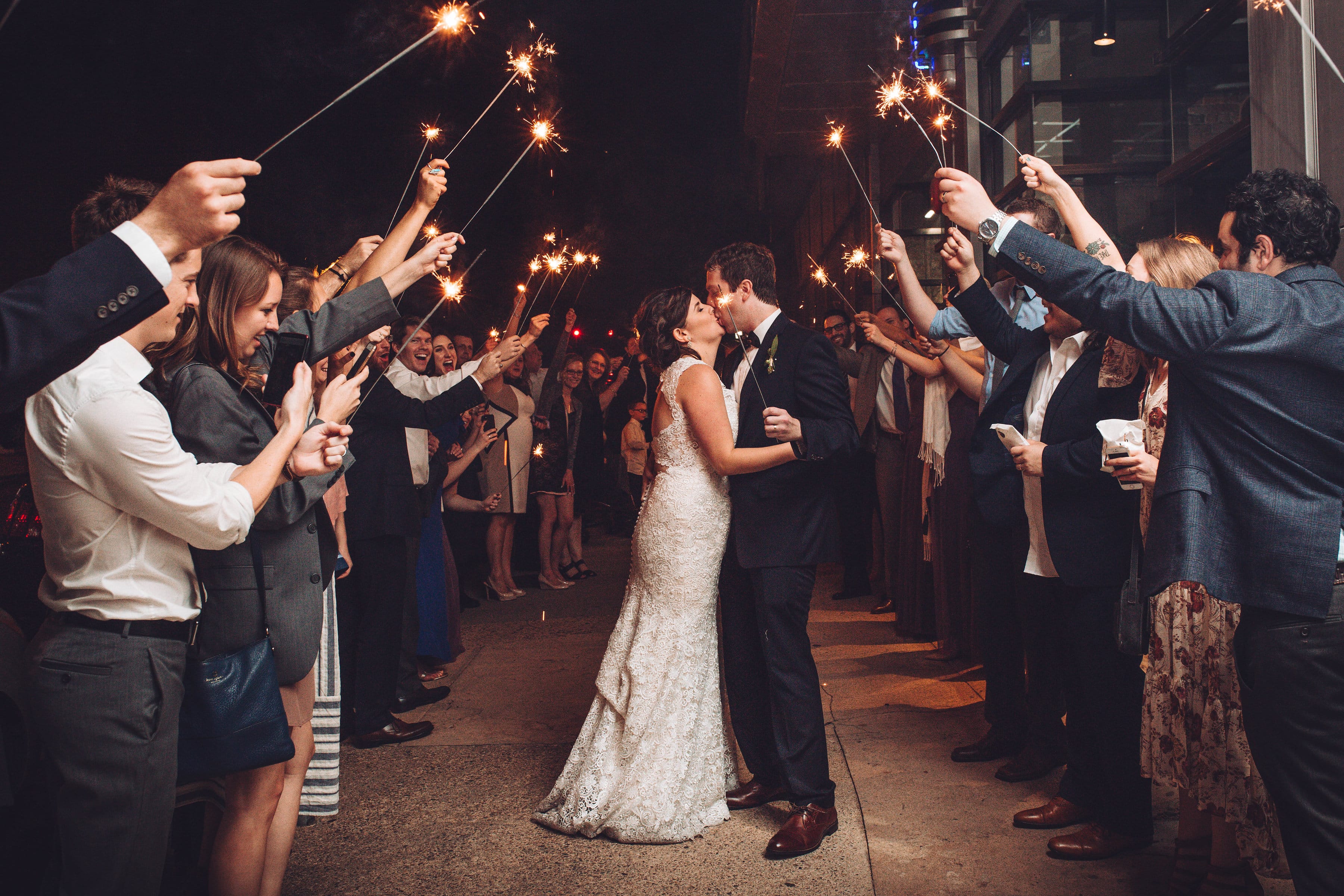 Today we have another Rebecca Ingram bride! Casey chose lace wedding gown Hope for her big day, featuring a soft fit-and-flare silhouette and a double-keyhole back. We love that Casey kept her look chic and simple with a soft updo and pretty peach florals—perfect for transitioning from church to garden.
This lovely occasion was shot by Taylor Meo Photography.
Have you browsed the latest affordable gowns by Rebecca Ingram? Head to an Authorized Retailer to find your perfect fit!
Which Maggie Sottero gown did you wear?
Hope by Rebecca Ingram.
How did you know when you found "the dress"?
My mom's face. By this time, I had tried on what felt like a million dresses and was feeling really discouraged. As soon as I came out, she lit up. I looked in the mirror and there was nothing that I wanted to change. I knew it was the one from there.
What was your favorite part of the dress?
The lace and the buttons that went all the way to the bottom of the dress!
How did you and your partner meet?
We met during the first round of the NCAA basketball tournament through a mutual friend while in college. I was there cheering for UNC and he was there cheering for Tennessee. We became friends from the game. Our real story started when I went as Marcus' wedding date to a wedding in St. Augustine, FL. We've been together since that day. We say it all started with a swing because we swung in a porch swing at the Bed and Breakfast for hours after the wedding. That's when we both knew we were more than friends.
How did he propose?
Marcus proposed three years after that wedding on a porch swing at the same Bed and Breakfast from his friend's wedding. We go on vacation every year for our "dating anniversary" there, and St. Augustine will always be a very special place to us. That day was just a normal day. That evening, we were on the swing and Marcus got on one knee and proposed! It was the perfect story for us.
Where did you get married?
We got married at Grace Episcopal Church in Asheville, NC and had our wedding reception at The Venue in downtown Asheville, NC.
Did your wedding have a theme?
No.
How did you decide what you wanted your wedding to look like?
I wanted our wedding to have a classic feel but have personal touches that represented us. Marcus and I started dating with a message on a Post-It note and a box of cookies. I had kept the Post-It note so we displayed it at the wedding and used the same lemon cookies for our guest favors. We also had a porch swing as our signing bench.
What was your favorite wedding day moment?
Breakfast with Marcus before the day started. It gave us a time to share in the excitement together before the craziness of the day started.
Describe your wedding in one word.
Perfect.
What advice do you have for future brides?
Enjoy the day. It goes so fast but it's just one day in the rest of your life together. The little things all work out and the ones that don't you'll never remember. Also, plan a moment to spend alone with each other. The majority of the day is spent talking to everyone but each other. Marcus and I went to breakfast that morning but we also had 30 minutes during our cocktail hour that we just spent in a side room by ourselves. We were just married and that time was really important to us. We would both say it was one of our favorite parts of the day.